Are you facing the hassle of a Google Lock on your Android device? This comprehensive guide delves into the various methods and techniques on how to remove Google Lock from Android phone. Whether it's a forgotten password or an activation lock hindering your access, this article offers detailed insights into navigating through and bypassing the Google Lock.
Part 1. What is Google Lock?
Google Lock, in essence, is a protective mechanism woven into Android phones. It manifests in two primary forms: the Google Account Lock and the Factory Reset Protection (FRP) Lock.
Google Account Lock acts as a sentry, barring unauthorized entry into the device without the requisite Google account credentials.
FRP Lock acts as a resilient shield, activated after a factory reset, demanding the original Google account credentials to reestablish the device—an additional layer of defense against potential theft or unauthorized resets.
Often, Google Lock arises in scenarios where devices are misplaced, lost, or worse, pilfered. Forgotten login credentials also stand as frequent catalysts, plunging users into the labyrinth of lock screens and blocked access. This is when you need a Google lock removal.
How to Check if Your Phone is Google Locked?
Access Google Verification: Check if a Google account verification screen appears during device setup. This indicates Google Lock.
Check Device Settings: Go to Settings > Accounts. If a Google account is linked and requires authentication, it's likely Google locked.
Attempt Factory Reset: When initiating a factory reset, if the device asks for Google credentials after rebooting, it's Google locked.
Part 2. How to Remove Google Lock from Android Phone without Password?
If you forgot your Google account credentials and got locked out of Google account, here are some workarounds to remove Google lock without passwords.
1

Use a  Professional Android FRP Unlocker [No Password Needed]

Professional Android FRP Unlockers are efficient solutions to bypass Google lock without passwords. They ensure swift removal of FRP protection, providing access to your Android device without requiring the password. There are many tools in the market and how to choose the best one?

Look no further. iDelock (Android) is one the best Android unlocking tool that can remove Samsung, Xiaomi, Redmi Google lock in minutes and bypass Google verification without passwords. The whole process would be done swiftly and efficiently, granting access to your device in no time.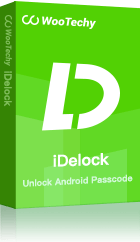 Highlights of Wootechy iDelock (Android)
User-Friendly Interface: iDelock offers an interface so intuitive that no technical prowess is necessary; it's designed for effortless navigation by anyone.

Swift Performance: Unlike its counterparts, iDelock ensures a lightning-fast FRP bypass, eliminating the long waiting periods.

Compatibility with Various Devices: Flawless Google lock removal operates across a broad spectrum of Samsung, Xiaomi, Redmi devices, spanning from Android 2.3 to Android 13.

Screen Lock Removal: Not only Google lock, iDelock(Android) can also remove any kinds of screen locks on your Android phone.

Security Measures: iDelock employs state-of-the-art security protocols, ensuring FRP bypass without compromising device integrity or user data.

24/7 Support: A dedicated support team is available round-the-clock, assisting users with queries and guiding them through the bypass process.
How to Remove Google lock with iDelock(Android)?
Step 1. Begin by downloading the FRP bypass tool onto your PC. Launch the tool and select the "Remove Google Lock (FRP)" option. Connect your Android device to your computer using a USB-cable.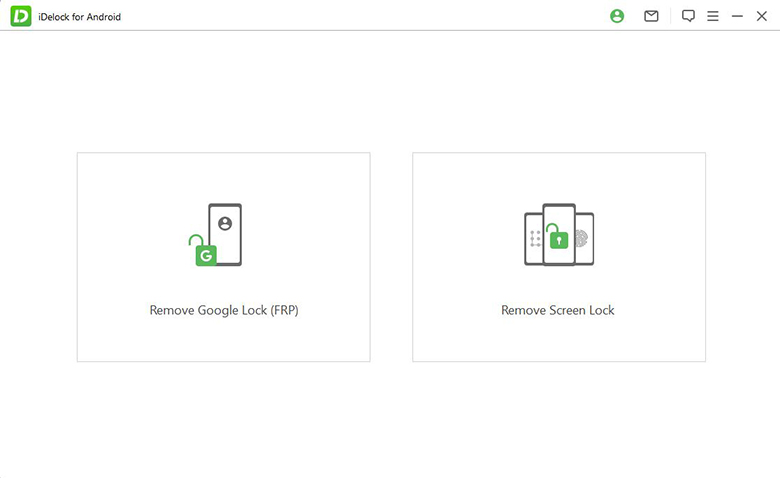 Step 2. Within the tool, choose the specific brand and system version of your Android device. WooTechy iDelock will then automatically prepare the required data installation package tailored for your device.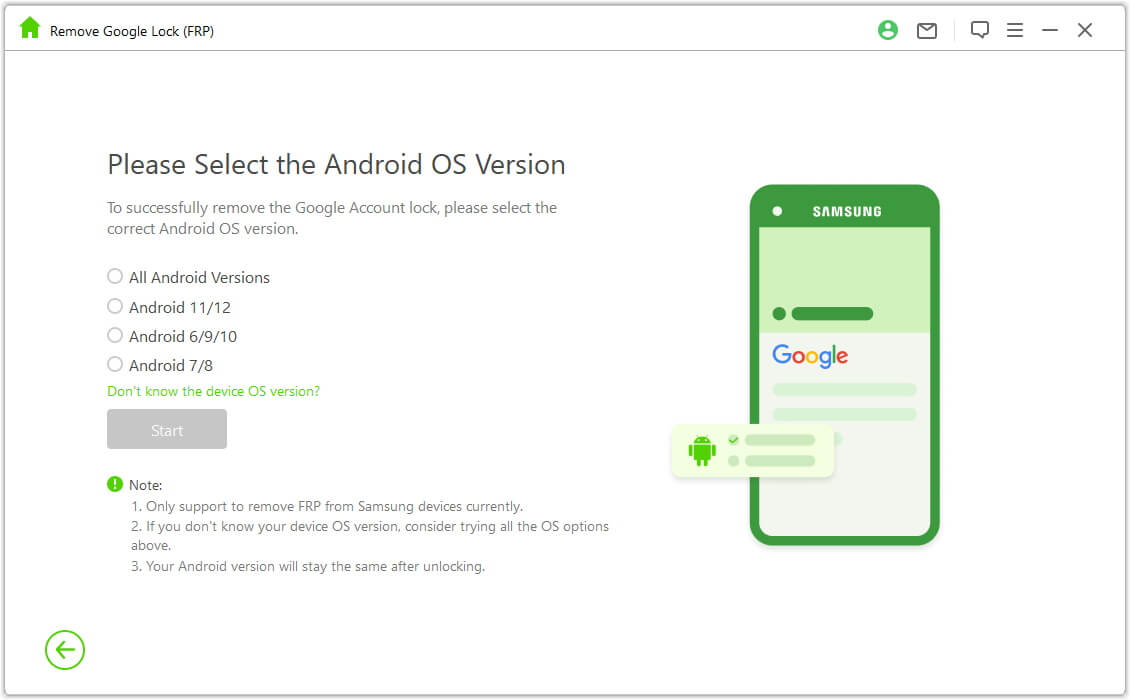 Step 3. Review the on-screen instructions carefully, ensuring all necessary steps are understood. Click on "Confirm" once you've checked the provided notes.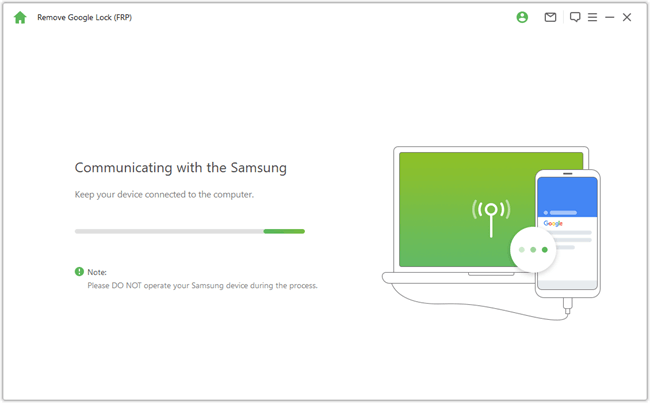 Step 4. Once everything is set and confirmed, WooTechy iDelock(Android) will initiate the unlocking process. This process typically takes a few minutes. Upon successful completion, you'll be able to reset your device and log in using a new Google account.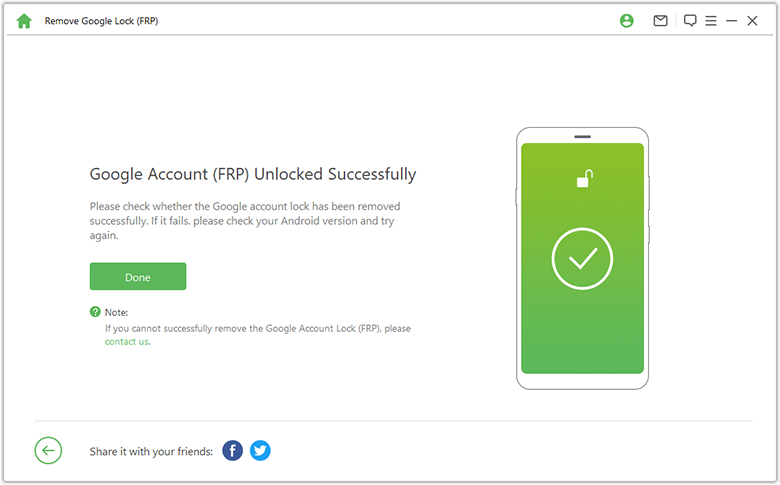 2

Remove Google Lock using FRP Bypass APK

Using FRP Bypass APKs allows for the removal of Google Lock on Android devices without a PC. These APKs offer a method to bypass Factory Reset Protection (FRP), granting access to locked devices. The process involves downloading the FRP Bypass APK onto the device, initiating the installation, and following the provided instructions to bypass the Google Lock.  Here is how you download it:
Start by downloading the FRP bypass APK on the Internet and prepare an OTG cable for the process.

While on the verification screen, link the pen drive to your device using the OTG cable.

The File Explorer should automatically open the folder where the FRP bypass APK is saved. Navigate to this folder and tap the APK file to initiate the installation.

Once installed, open the app. It will guide you to the device settings menu.

Navigate to "Back & Reset > Factory Reset" within the settings to perform a device reset.

After the reset completes, add a new Google account to your device. You can now use the device without restrictions.
Note
It's important to note that this method might not work universally across all devices or Android versions and might have varying success rates.
3

Remove Google Lock via Google Account Recovery

If you've forgotten your Google password, consider changing it. Begin by verifying your identity. Options include receiving a text or call on the linked phone. Alternatively, utilize recovery email or answer secret questions. Ensure access to the verification address or relevant account details.

Way 1: Recovery Email
Visit Google Account Recovery, select "Forgot email," and enter your recovery email. Request a one-time code to this address.

Check your recovery email for the code. Input the six-digit code to proceed to password change.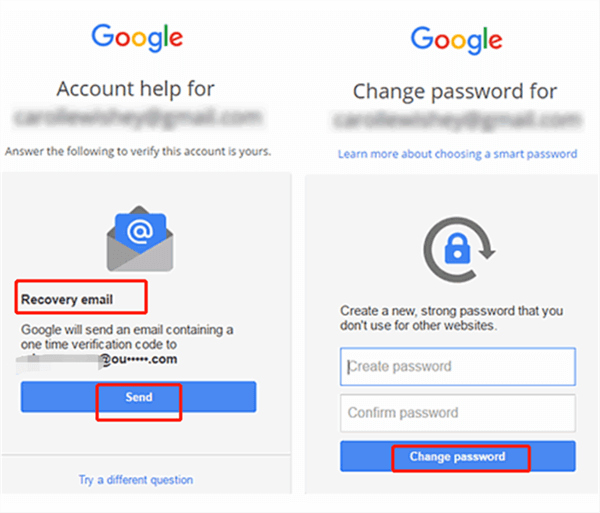 Way 2: Security Questions
If recovery email fails, choose "Try a different question." Answer secret questions like the account's creation year and month. Accurate responses grant the opportunity to set a new password.

These methods offer paths to reset your Google password, granting access to a previously locked phone. Ensure you have access to associated verification means for successful recovery.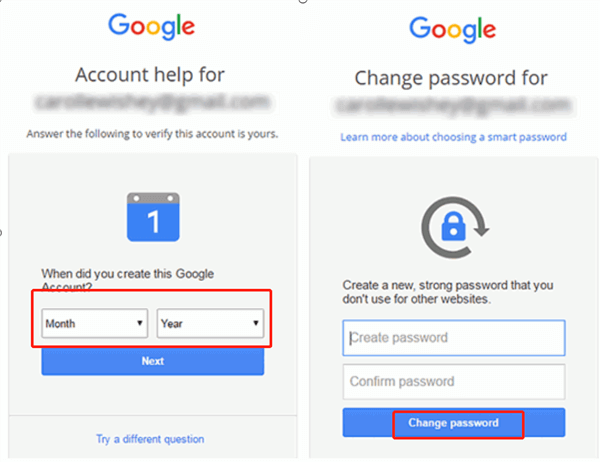 Part 3. How to Remove Google Lock from Android Phone with Password?
If you are lucky enough and know the Google account and password, you can remove Google lock through the normal way for free.
1

Remove Google Lock through Settings

Remove Google Lock on Android OS 9.0(pie):
Open Settings and navigate to "Accounts and Backup."

Tap on your Google account within Accounts and then select "Remove Account" to disable FRP.
Remove Google Lock on Android OS 6:
Go to Settings and choose "Accounts."

Tap on "Google," select the desired Google account, then tap "More" in the top right corner, and choose "Remove Account."
2

Remove Google Lock via Official Website

Removing Google Lock from a device associated with a Google account on the website is another helpful method. It requires access to the Google account linked to the device and an active internet connection. Here are the steps:
Access your Google account associated with the device.

Navigate to Sign-in & security in the settings.

Locate Device activity & notifications.

Choose Review devices among the recent devices listed.

Select the device you wish to remove the Google Lock from.

Tap the Remove button adjacent to account access.

Confirm the action by clicking Remove on the prompt.

After confirming, the access will be revoked from your device.
Conclusion
Encountering a Google Lock on your Android device can be an intimidating experience, luckily this article has got you covered, offering various methods to overcome this obstacle and regain access to your device with or without password. Utilizing professional Android FRP Unlockers like iDelock (Android), users can bypass Google Lock swiftly and efficiently.