"Hi, there. I have linked my iPhone with my son's with the same Apple ID to ensure that he won't do anything wrong and use the device in the right way. However, now he asks more freedom so I decide to unlink this two iPhones. Can anyone tell me how to do it? Thank you!"
When you link two Apple devices with one single Apple ID, you can sync and access the data on both devices. Nevertheless, sometimes, you might want to learn how to unlink iPhones so that you stop the connection between them.
In this article, we are going to answer your question "how do I unlink two iPhones using same Apple ID?" if you want to stop sharing between devices. And the four methods that you can use are easy to follow and don't require any technical knowledge. Let's check them out!
[Full Guide] How to Unlink iPhones
[Full Guide] How to Unlink iPhones
The methods that we are about to discuss are not only work when you want to unlink 2 iPhones with one Apple ID, they also work when you try to unsync iPhone and iPad, or disconnect your iPhone from Macbook. Let's find out how!
1

Unlink iPhones From Settings

The first method to unsync iPhones is to remove Apple ID from iPhone without password. This can easily be achieved through the iPhone's settings. By removing the Apple ID, you can unlink iPad from iPhone, for example, and all of your data will stop syncing. After this process, the specific device will stop appearing in the list of connected devices to this particular Apple ID.

The process for removing the Apple ID from your iPhone is the following:

Go to Settings, and then, tap your device's name at the top of the screen.

Scroll down and locate the device you want to unlink. Tap on the name of the device.

On the next screen, tap on the Remove from Account option. Then, you will see a popup window, where you need to tap the Remove button again.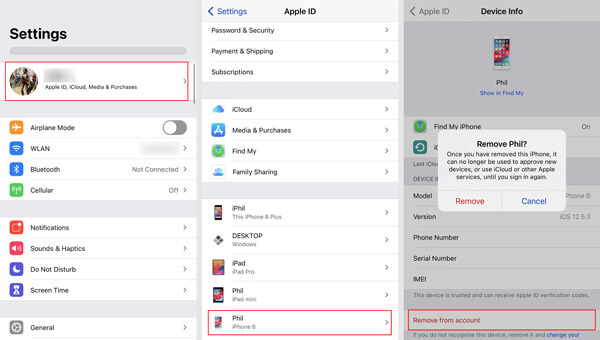 Follow the instruction that you will see on the screen, enter your Apple ID password, and turn off the Locate My iPhone option to unlink the device. You can also try out this method if you are wondering how to unlink iPad from iPhone or unsync iPhones with the same Apple ID.
2

Unlink iPhones via iCloud (Data Loss)

"I don't want my iPad and iPhone linked and I don't care about the data loss. What can I do?" In a similar way, you can also unlink iPhones via the iCloud website. You can easily access the website on any browser and unlink the device you want.

The process for completing this is the following:

Shut down your device so as to make it in offline mode at the very beginning.

Go to iCloud.com, and then, go to Find iPhone > All Devices.

Browse the list of all your devices and click the one you want to unlink. Click on the Remove from Account button.

Type your Apple ID, and then, click the Trust button to skip the verification process.

After a few minutes, the iPhone you choose will be unlinked with your account.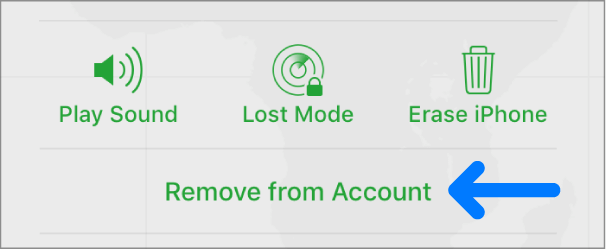 3

Unlink iPhones via iTunes

You can unsync iPhones through iTunes as well. To complete this method, you will have to use the application on your computer.

The steps to unlink your iPhone using iTunes are the following:

Launch the application and sign in with your Apple ID credentials.

From the menu, click Account, and then, click the View My Account option.

On the next step, click Manage Devices to get a complete list of all the connected devices. Locate the one you want to unlink and click the Remove button that you will find next to the device.

Wait for a few seconds for the process to be completed, and then, click the Done button.
If you are using a Mac computer, you can also do this in the Finder app. The process is completely the same as this.
4

Unlink iPhones Using iDelock [No Need for Apple ID & Password]

All of the above methods are very effective and quick. However, their biggest disadvantage is that you have to know the Apple ID and password. And if you forgot the password, and you have no clue of how to find Apple ID password. There is no way to unlink your iPhones, unless you use a specialized application like WooTechy iDelock.

This application can help delete Apple ID without password and is extremely user-friendly as it has a neatly designed interface that will guide you through the process. And you can check some other prominent features of this tool below.
Key Features of iDelock
75.000.000+
Downloads
Remove all the common iDevice locks (4/6 digits passcode, Touch ID and Face ID) without Apple ID and password.

Supports removing Screen Time restrictions without data loss.

Remove MDM profile and bypass MDM with 3 clicks.

No need to back up because iDelock will do the job.

Highest success rate compared to other competitors.

Super user-friendly interface that even the green-hand can unlock a second-hand iPhone or even a new device easily.

Great compatibility with all the Apple devices and iOS versions, including the latest iOS 16 and iPhone 14 Pro Max.
The steps to unlink two iPhones using same Apple are the following:
Install WooTechy iDelock on your computer. Then launch the app and click the Unlock Apple ID option.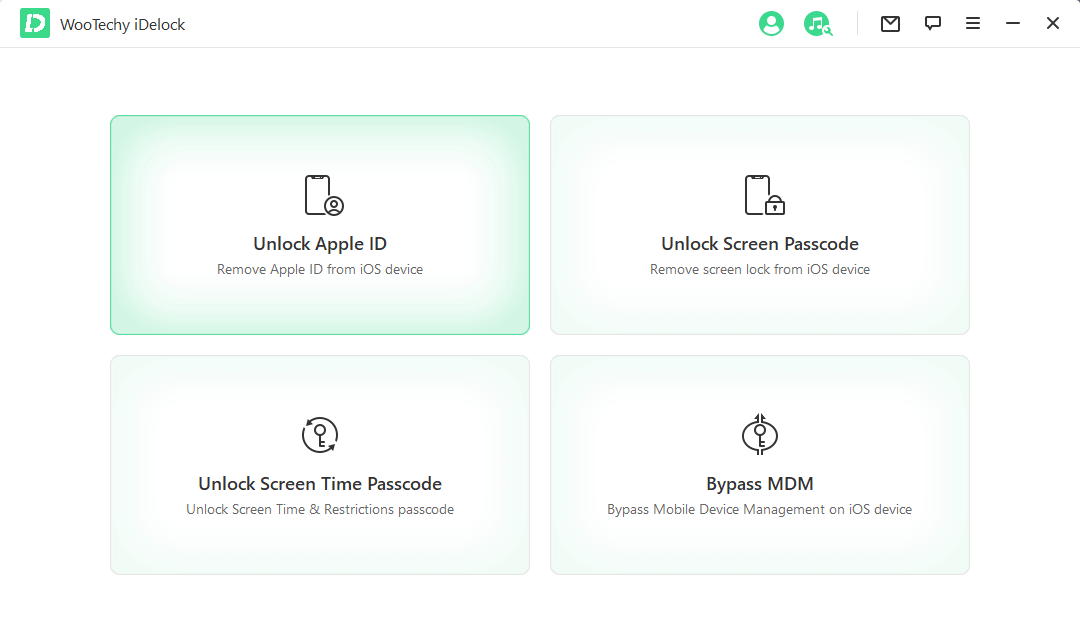 Connect your iPhone to your computer with a USB cable. Trust the PC and click Next to continue.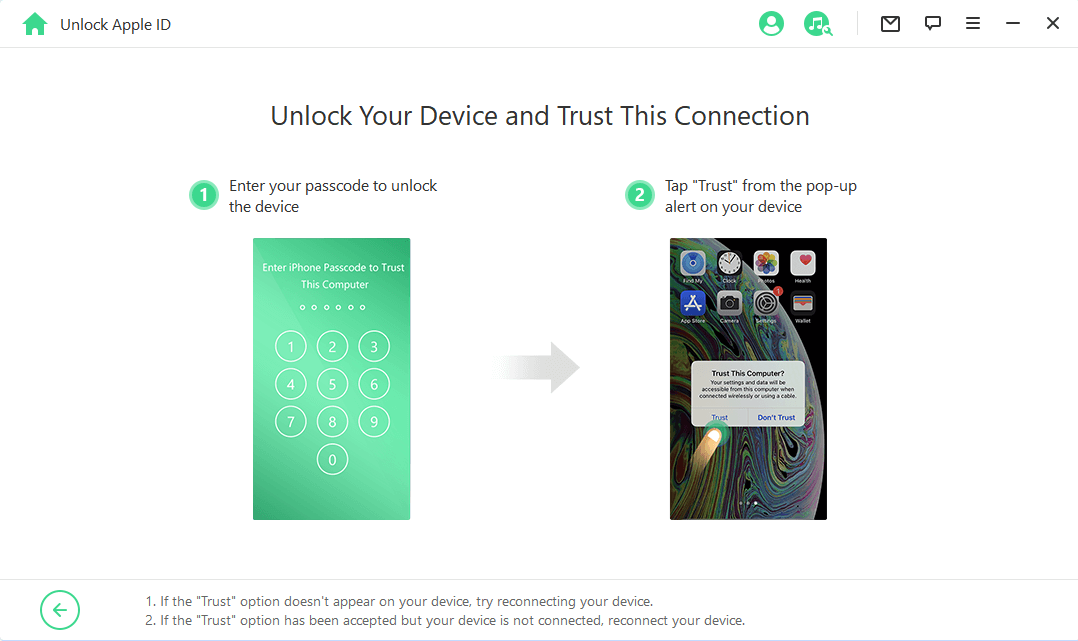 Click Start and wait for WooTechy iDelock to remove the Apple ID from your device. However, there are 3 possible cases in this step: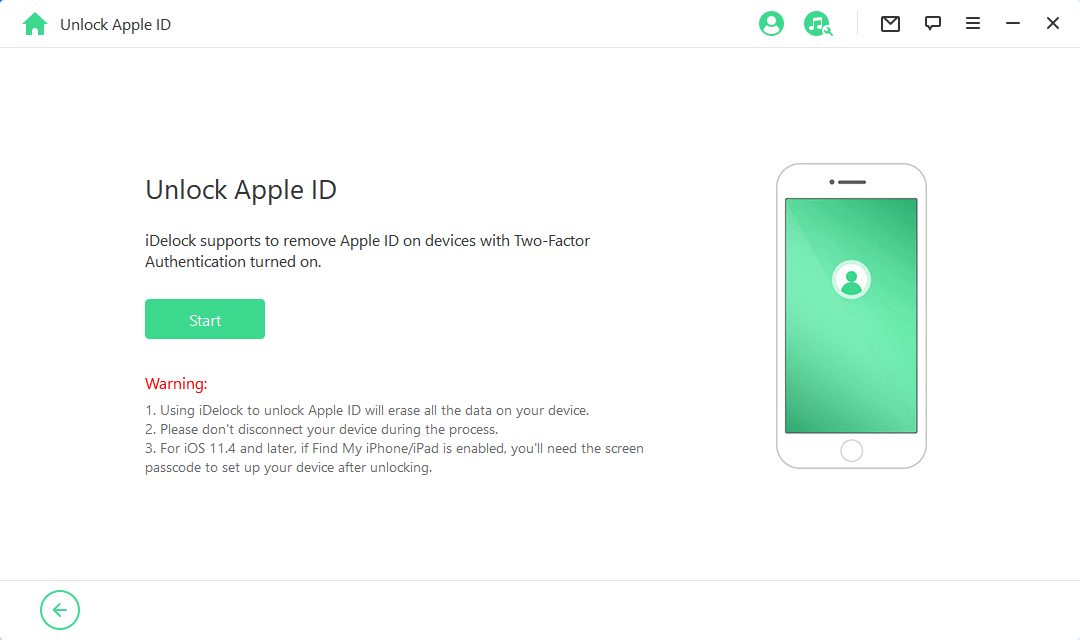 If the Find My iPhone feature is disabled (all iOS versions are supported), WooTechy iDelock will automatically unlock your iPhone. Wait for a few minutes, until the app has completed the task.
If the Find My iPhone feature is enabled (below iOS 11.4 are supported), then you have to reset all settings on your device. Go to Settings > General > Reset All Settings, and wait for your device to reboot. Then, iDelock will begin the process and it will unlink your iPhone from the Apple ID.
If Two-Factor Authentication is Enabled (iOS 11.4 and above are supported), you must take some additional steps. Before anything else, go to Settings > Apple ID > Password & Security to check if the two-factor authentication is on. Moreover, remember to set up the screen lock passcode.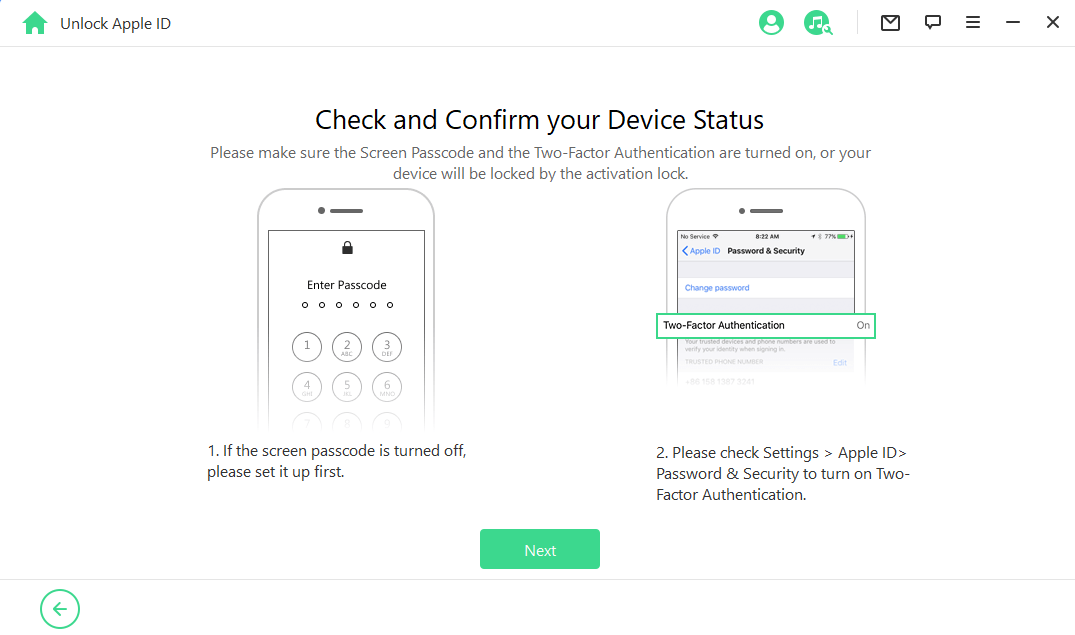 After clicking on Next, you will be prompted to enter 000000. Then iDelock will begin removing the Apple ID from your iPhone.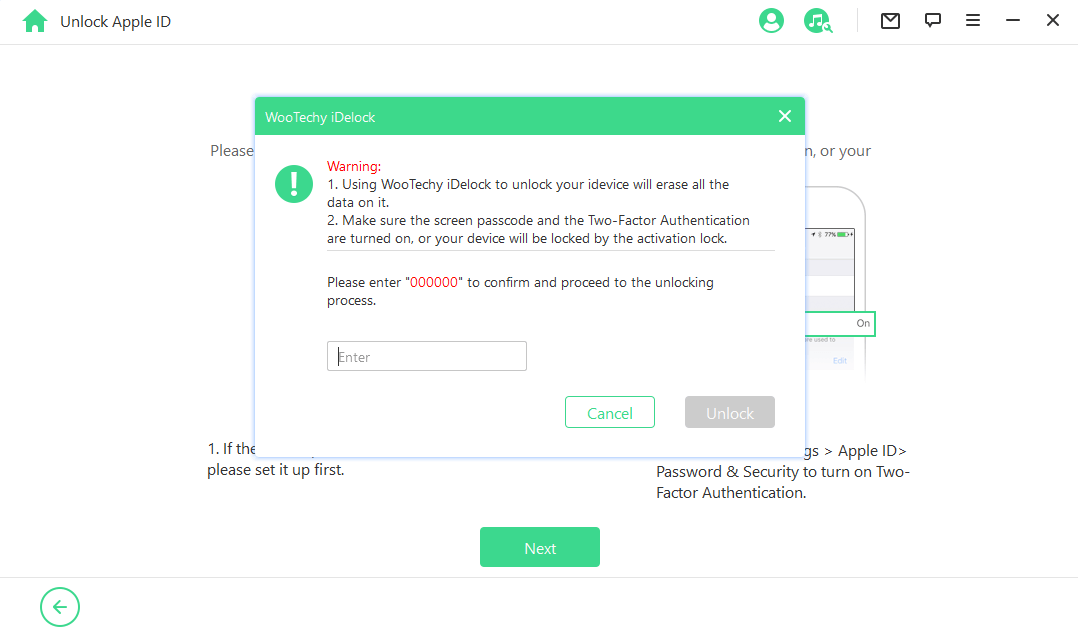 Please wait for several minutes, then you are all set. Your iPhone will restart as a new device. When you are asked for the Apple ID and password, tap the Unlock with Password button. Then tap the Use Device Passcode option and type your screen passcode. After these steps, you can finish the set-up and sign in to a new Apple ID.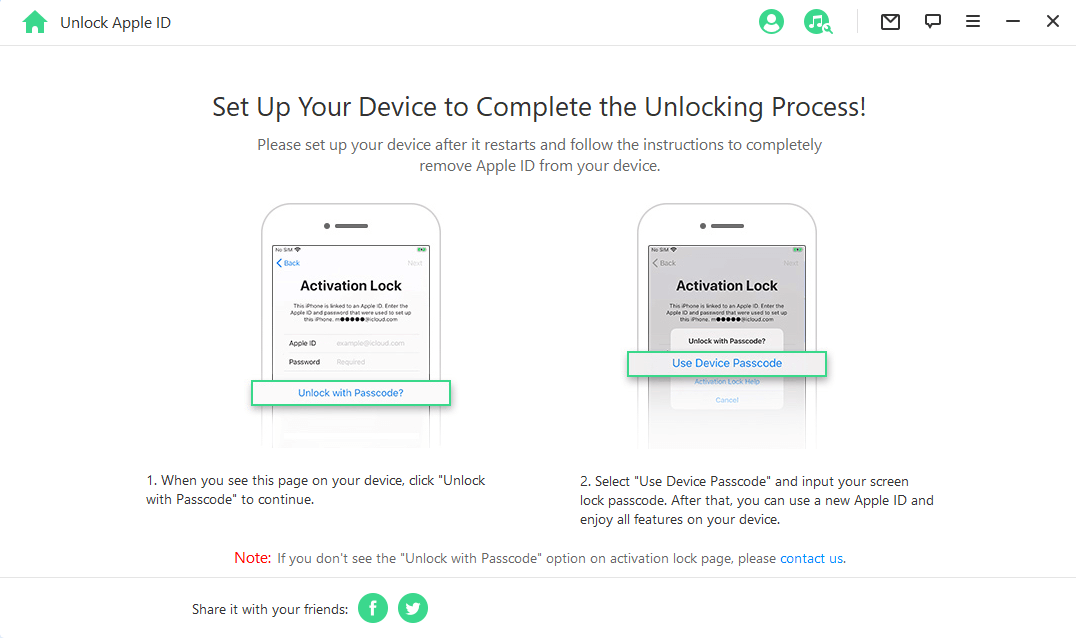 FAQs about Unsyncing iPhones
1. Can I have two Apple IDs?
Yes, of course. You can have two different Apple IDs, using 2 different e-mail accounts. The following steps are going to show you how to create a new Apple ID:
Open Settings and at the top you will see Sign in to your iPhone. Click on it.
Tap "Don't have an Apple ID".
Then you will be directed to Create Apple ID. Enter the essential information such as your birthday and email address.
After creating an Apple ID, if you want to merge the exsiting data on the phone. Tap on "Merge".
2. Why are my iPhones are linked?
iCloud will synchronize all of the data under one account. And one iCloud account can link to multiple devices, so all the data from all the devices would sync altogether.
3. How do i stop sharing photos between apple devices?
If you don't want the photos on your phone sync to other apple devices, just follow the steps below:
Open Settings and scroll down to find Photos App.
iCloud Photos feature would be turned on by default. You need to disable this feature.
Then click Remove if you don't need any copies of the photos.
Conclusion
No matter the reason why you wonder "how do I unlink two iPhones using same Apple ID?", you can easily unlink your devices with one of these methods. Among them, WooTechy iDelock is a reliable application that can complete this process even when you don't have the Apple ID password. Just download and have a try!