Recently many users have complained that whenever they try to verify their Apple ID on iPhone or iPad, an unknown error appears on their device screen saying, "This Apple ID is not active." Many users don't know why it is happening and how to solve it. If you are one of them, take it easy because this guide has mentioned the top fixes to solve this error in minutes so that you can  get your Apple device back on track in no time. Without wasting any time, let's see what are the ways to fix this bug.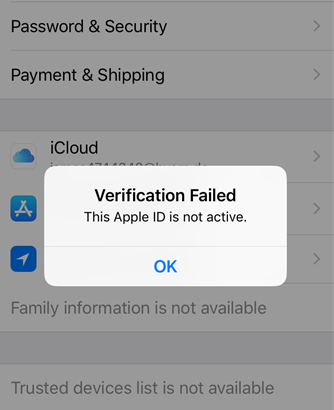 Why is My Apple ID not Active?
There can be several reasons behind Apple ID not active; below, we have mentioned a few of the most common reasons behind it.  
The account could have been deactivated by Apply due to non-usage.
Apple itself deactivated your account for account security concerns. 
There are minor bugs or glitches within your device.
You have an unstable Internet connection.
You are adding an incorrect Apple ID password.
Payment issues, such as an unpaid balance, can result in your Apple ID not being active.
Apple may suspend your Apple ID due to violations of their terms of service or community guidelines.
These are the most common reasons behind this issue, and many users have reported that by solving these issues, they have managed to get rid of the "This Apple ID is not active" error.
What Would Happen if Your Apple ID is Not Active?
When your Apple ID is not active, then you will face some issues on your Apple device. Here is the list of things that will happen on your device when your Apple ID is inactive.
You won't be able to verify your account.
Many Apple services will be disabled from your devices, such as iCloud, App Store, iMessage, Facetime, and more.
You won't be able to restore any data from your iCloud Backup.
You will lose all App purchases, subscription media content, and more from the App Store, iTunes Store, or Apple Books.
You won't be able to try the Find My services, which can help locate and remotely manage your devices in case they are lost or stolen.
The changes made on one device, such as contacts, calendars, or notes, would not reflect on other devices linked to the same Apple ID.
Now it's time to fix this problem so that you can restore all Apple services on your device.
How to Fix This Apple ID is not Active?
Here are the top fixes to solve the inactive Apple ID issue. Ensure to try them one by one to find a solution that can fix your issue.
Apple ID not Active Fix 1:
Restart Your Device
When you encounter a minor issue on your device, such as Apple ID not activated, you can always give your device a fresh start to solve the problem. Restart your device to solve this issue.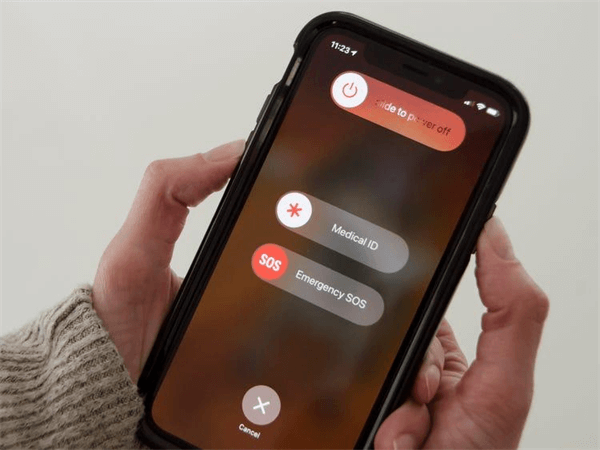 To restart your iPhone, Press and hold any volume key and then press and hold the side button until the power slider appears on your screen.
Now drag the slider to the right side to turn off your iPhone. Then wait for 30 seconds.
Then press and hold the power button to turn on your iPhone.
If the issue still appears, then move on to the next method.
Apple ID not Active Fix 2:
Check Your Wi-Fi or Mobile Data Settings
An unstable Internet connection can also cause verification to fail which could be the reason why your Apple ID is not active. First, you should ensure that your network is working properly; if your Internet connection is slow or even there is no Internet connection at all, then you should consider switching to another Internet connection.
Here is how to do it.
Open the Settings App on your iPhone and tap the Wi-Fi option.
Disconnect the connected Wi-Fi connection and choose a better one from the Network section.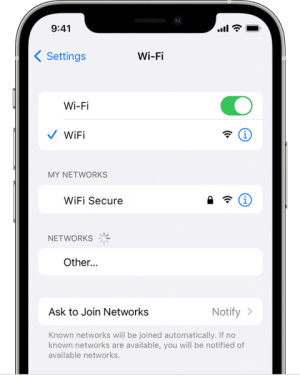 Once you have connected to a new internet connection, see if your issue is resolved. If not, then move on to the next method.
Apple ID not Active Fix 3:
Check Apple System Status
As we all know that like other phone companies, Apple also has a website from where you can check bugs and errors status. So it is a great idea to go and check the Apple System status to ensure that all systems are working correctly.
Follow the below instruction to check Apple System Status online.
Open Safari on your Mac device and go to www.apple.com/support/systemstatus/.
All the services offered by Apple will appear on your screen; if all the circles are green, then it means Apple System is working normally.
If the circle is yellow, it means Apple System has some problem. Wait until the yellow circle turns green, and then check.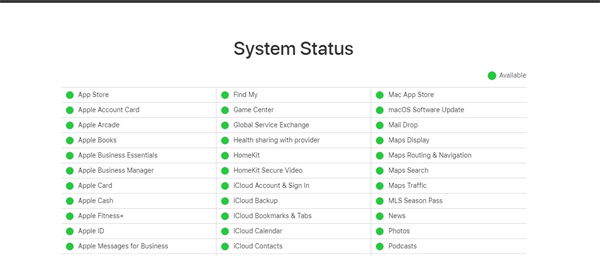 Apple ID not Active Fix 4:
Unlock Apple ID via iDelock
If all the above methods are failed to solve your issue, then the best chance to fix the "This Apple ID is not active" issue is via the third-party program. We all know it can be very frustrating when your Apple ID is not working or locked. To solve this problem, you must unlock your Apple ID, and the best program for this job is WooTechy iDelock.
This program is an all-in-one iOS unlocking tool that allows you to unlock many iOS locks such as Apple ID, iCloud Account lock, screen passcode, and more without password at all. Even if your Apple ID is disabled, iDelock can still help you remove it to regain access to your device.
Key Features of WooTechy iDelock
75.000.000+
Downloads
Remove Apple ID without password from a second-hand iPhone/iPad.

Remove screen passcode including 4-digit/ 6-digit/ Touch ID/ Face ID and Screen Time Passcode.

Bypass MDM restrictions without informing the company or organization.

Compatible with all iOS versions and iPhone models, including the iOS 16 and iPhone 14.

It has one of the highest success and safety rates for unlocking.
Just follow the below guide to unlock your Apple ID via iDelock.
Step 1: Download iDelock then launch it on your computer. Now choose Unlock Apple ID mode from its main interface.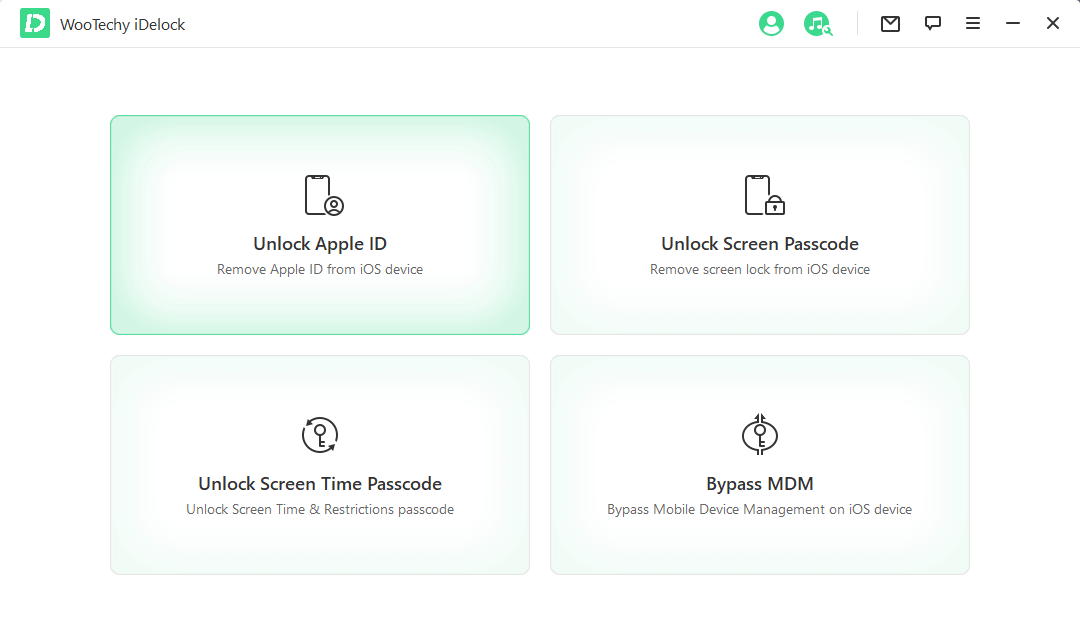 Step 2: Connect the locked phone to your computer and give all access by selecting the "Trust" option from your iPhone Screen.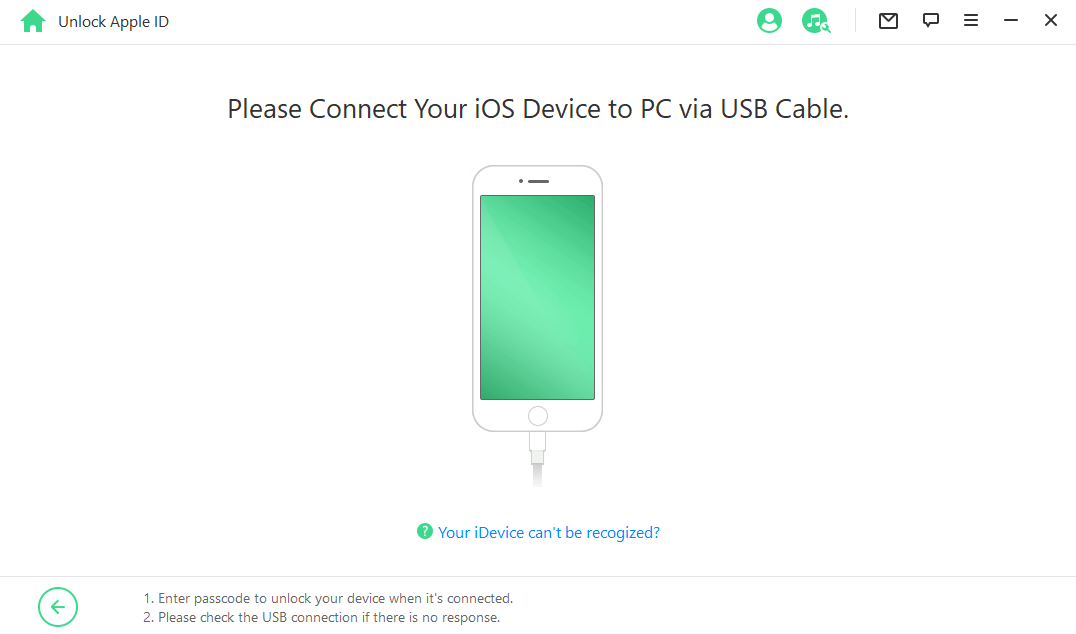 Step 3: If Find My iPhone is already disabled from your iPhone, click the "Start" button to remove Apple ID from your iPhone. The program will start unlocking Apple ID from your iPhone.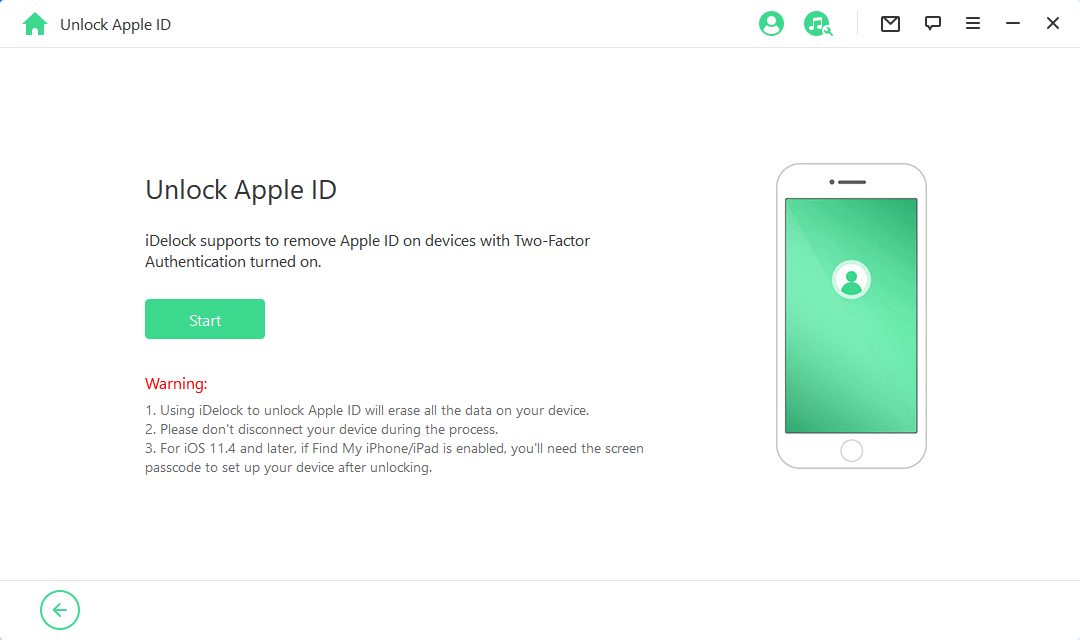 Step 4: If you have enabled Two-Factor Authentication, you will be prompted to verify your device's status. Click "Next" and ensure that you have set up a screen lock passcode on your device.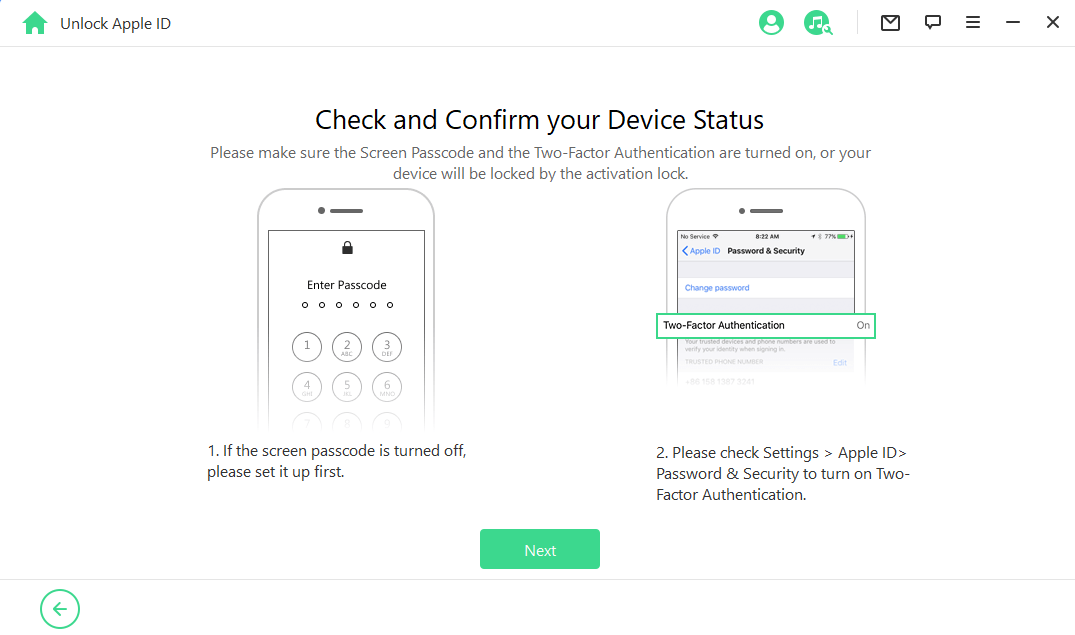 Step 5: A pop-up window will appear, asking you to confirm by entering the code "000000". After entering the code, click on "Unlock" and allow iDelock to handle the remaining steps.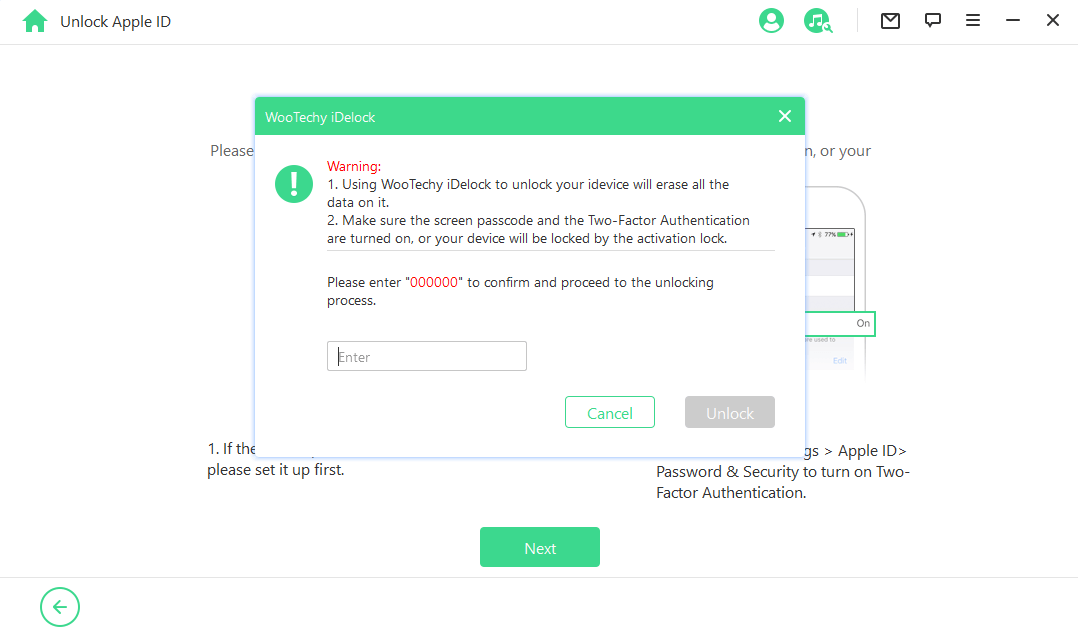 Step 6: Exercise patience for a few minutes while iDelock removes the Apple ID from your device. Once the process is finished, a success message will appear on your screen.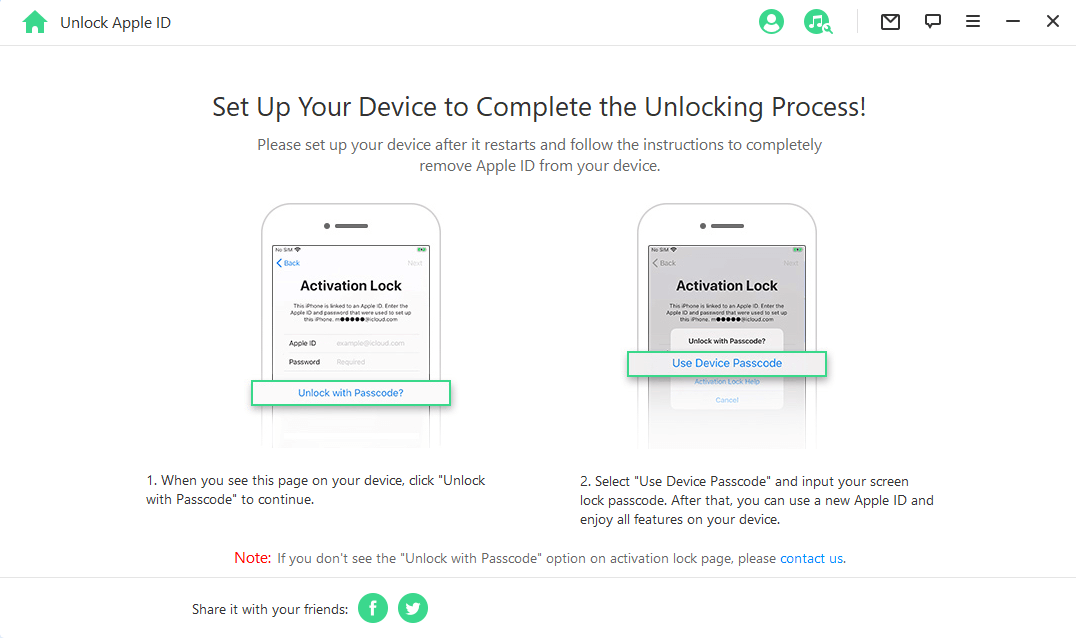 That's it! With the above method, you can easily unlock your Apple ID and enjoy all your Apple services again.
Apple ID not Active Fix 5:
Reset Apple ID Password
If the problem still exists, you can try resetting your Apple ID password to solve this issue.
Here is how to reset your Apple ID password from your iPhone.
Go to Settings on your iPhone and then tap on your Apple ID.
Now select the Password and Security option and tap the Change Password option.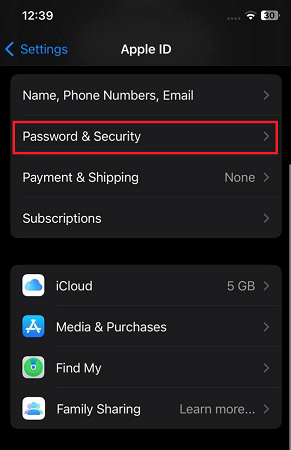 Enter your device Passcode to verify it, and then enter and reenter your new password.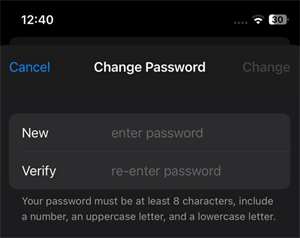 You have successfully reset your Apple ID password; if you still face the same issue, follow the last fix to solve it.
Apple ID not Active Fix 6:
Contact Apple for Support
If you are here, it could only mean that all the above fixes failed to solve your issue. Now the only option left for you is to contact Apple for support. Go to Apple Support and tell them about your issue. They will provide you with possible solutions to recover your Apple ID.
How to Delete an Inactive Apple ID?
After trying many fixes to activate your Apple ID, it remains inactive. The only option left for you is to delete the inactive Apple ID so that you can register your device with an active Apple ID.
However, there are other reasons to delete Apple ID from iPhone, such as Forgot Apple ID Password, Apple ID doesn't belong to you, and more.
Here is how to delete Apple ID.
Open your Web Browser and go to Apple's Data and Privacy site.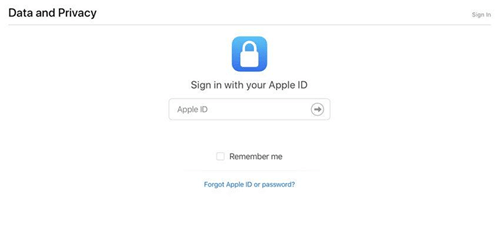 Sign in with the Apple ID you want to delete permanently.
Scroll down and select the Request to delete your account option in the Delete your Account Section.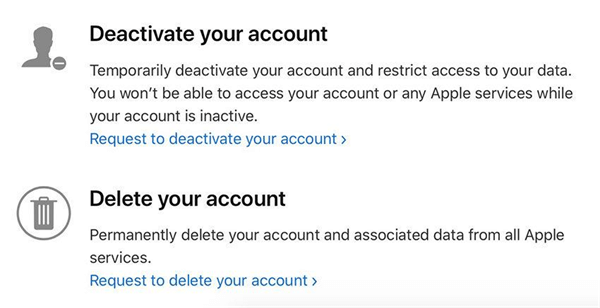 Select any reason to delete your Apple ID from the drop-down menu, then press the Continue option.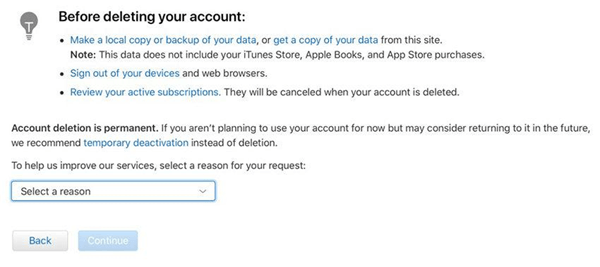 Then follow the on-screen instruction to complete the deletion process.
Note
Apple can take up to seven days to delete your Apple ID completely.
Conclusion
That's it! We have discussed all the possible ways that you can use to fix your Apple ID not active. You can try all these methods and fix this issue. Apart from that, you can delete your inactive id if you are still seeing this error on your screen. Moreover, you can also try third-party apps such as WooTechy iDelock, which helps fix various issues, including Apple ID is not active.