Apple always tries to improve the security features of the devices. In iOS 9, Apple has introduced a 6-digit passcode to replace the previous 4-digit passcode, which improves data safety by increasing the total number of possible combinations. However, some people found their iPhone keeps asking for 6-digit passcode that they never set after iOS update.
Don't worry if you are struggling with this problem because we are going to give you several solutions to this issue. Keep reading.
Solution 1: Never Set a Passcode? Try Default Passcode
If you have never set the passcode on your device and the device is asking for a 6-digit passcode, you might be frustrated. This usually happens when you update the iOS version. In this case, you can try the default passcodes.
You can enter 123456 or 000000. These are the default combinations that might work in your case. Keep in mind that you need to try these passcodes only once to prevent your device from being disabled. If the passcode works, you must change it or remove it.
Solution 2: Unlock/Remove the Unknown 6-Digit Passcode Directly - WooTechy iDelock
If the default passcode combination does not work, you need to go with alternative ways. You can use WooTechy iDelock to get rid of this problem. It is a third-party tool that works well on all iPhone and iPad models. iDelock can help reset your iPhone & iPad without restrictions passcode in a high success rate.
Reasons to Choose iDelock
iDelock can remove screen password, Apple ID password, Screen Time password and MDM in several minutes.

iDelock is a very easy and simple tool that can help you unlock the device all on your own.

iDelock has the highest success rate among all the competitors.

iDelock is for all iOS versions including the latest iOS 16. You can also check the compatibility of the device using the free version.
How to Use iDelock to Remove the 6-Digit Passcode
Watch Video Tutorial of how to unlock iDevice without passcode
[Video Transcript]
Step 1: Open iDelock on your computer. You will have 4 options. Click on Unlock Screen Passcode.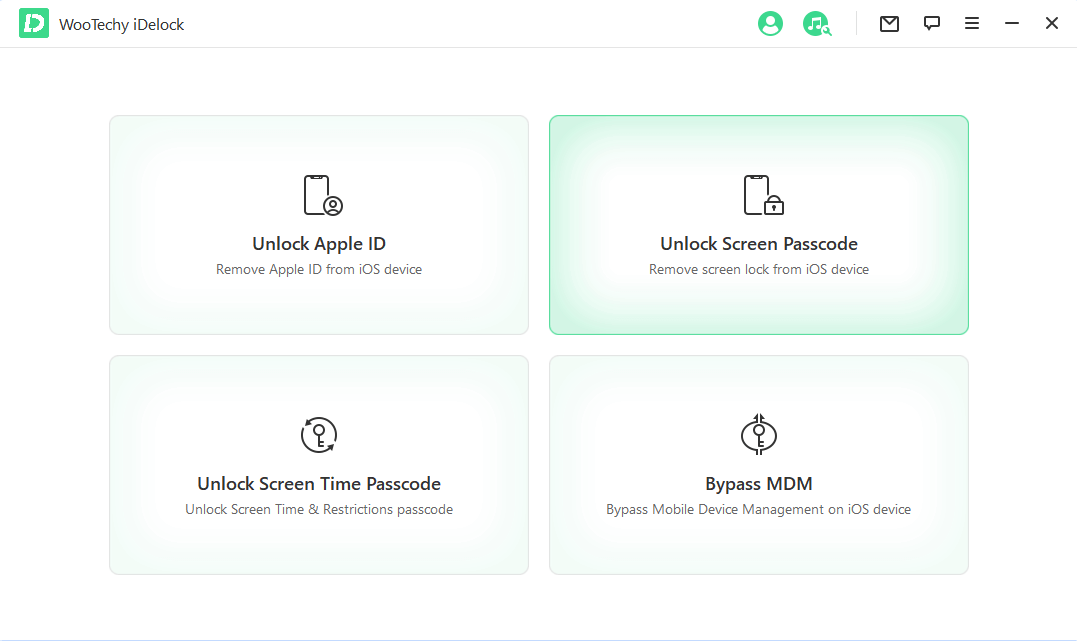 Step 2: Now, connect your device to the computer via USB cable. From this stage, you need to make sure that the device remains connected to the computer. Then, click on Next.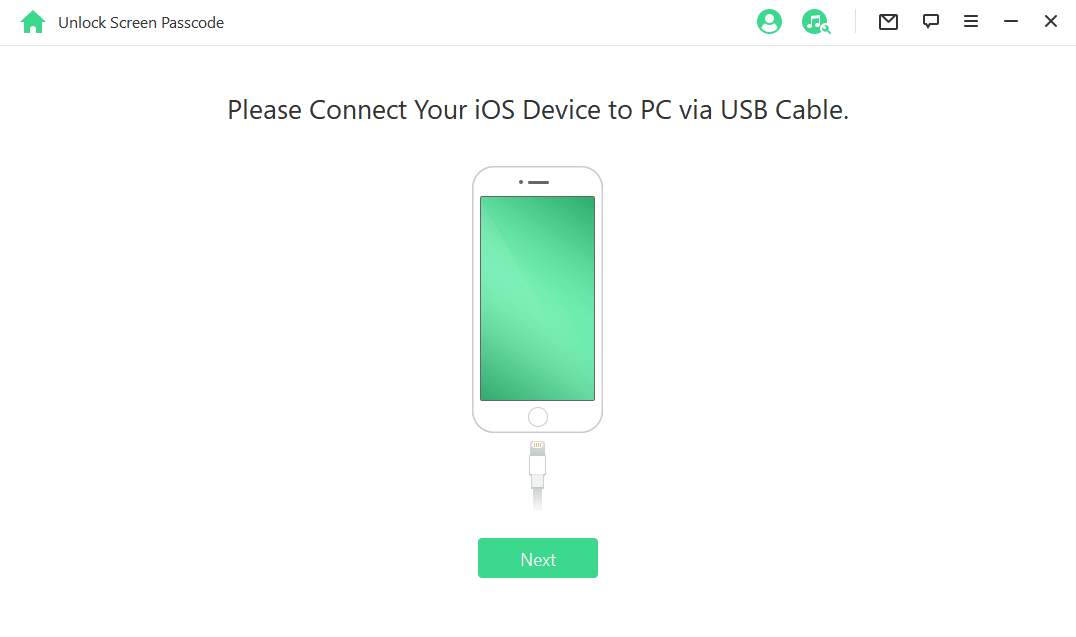 Step 3: If your device is not recognized, check your USB cable. If the cable is perfect, put your device in the DFU/Recovery mode through the instructions given on iDelock.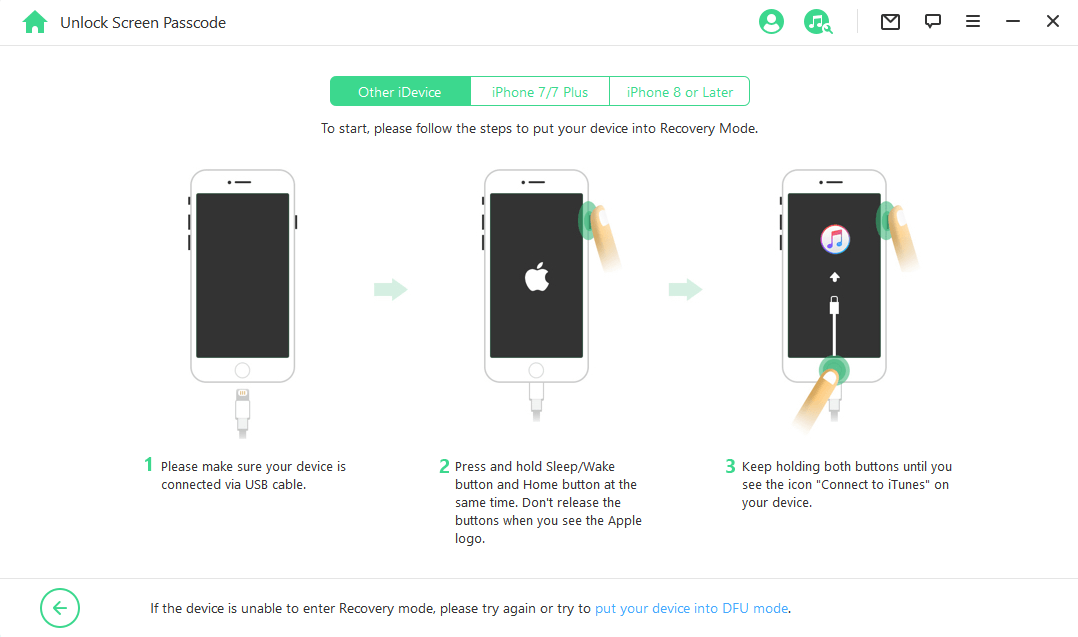 Step 4: You will see the download firmware screen. Select the iOS version and click on Download. The file will be downloaded automatically. If the download does not start, click on Copy and download the firmware using any browser. After that, click on Select to open the file.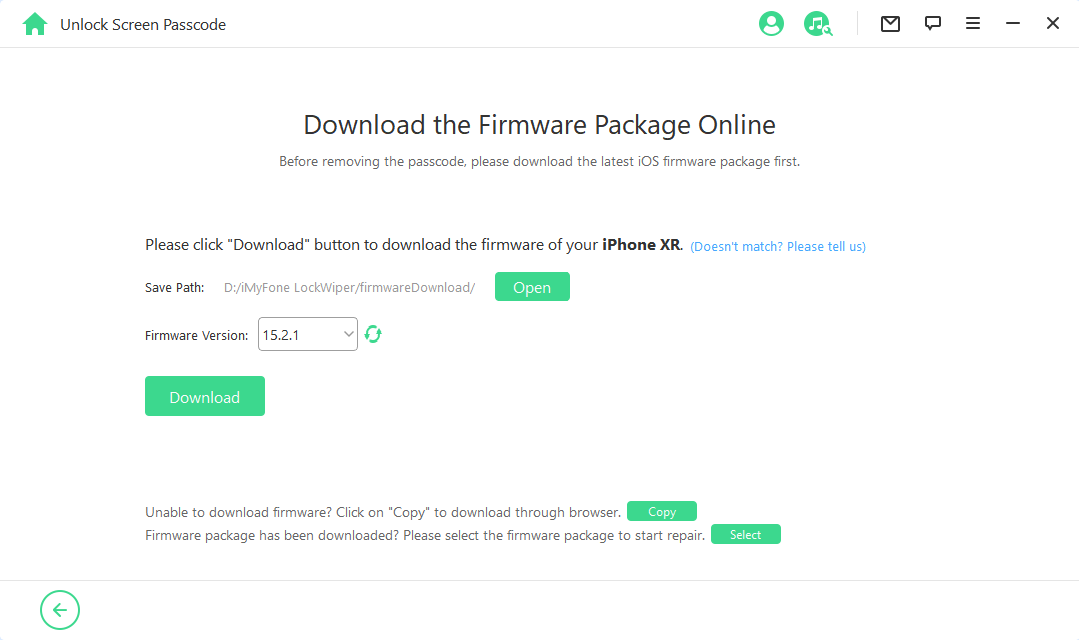 Step 5: Now, iDelock is ready to bypass the passcode. Click on Unlock. You will see a confirmation box. Enter 000000 to confirm your action.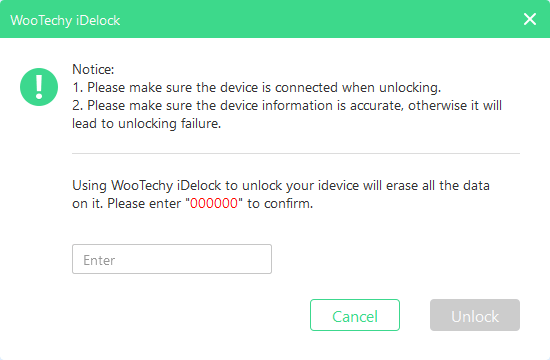 Step 6: The passcode will be bypassed within a few minutes. After that, you can set up the device.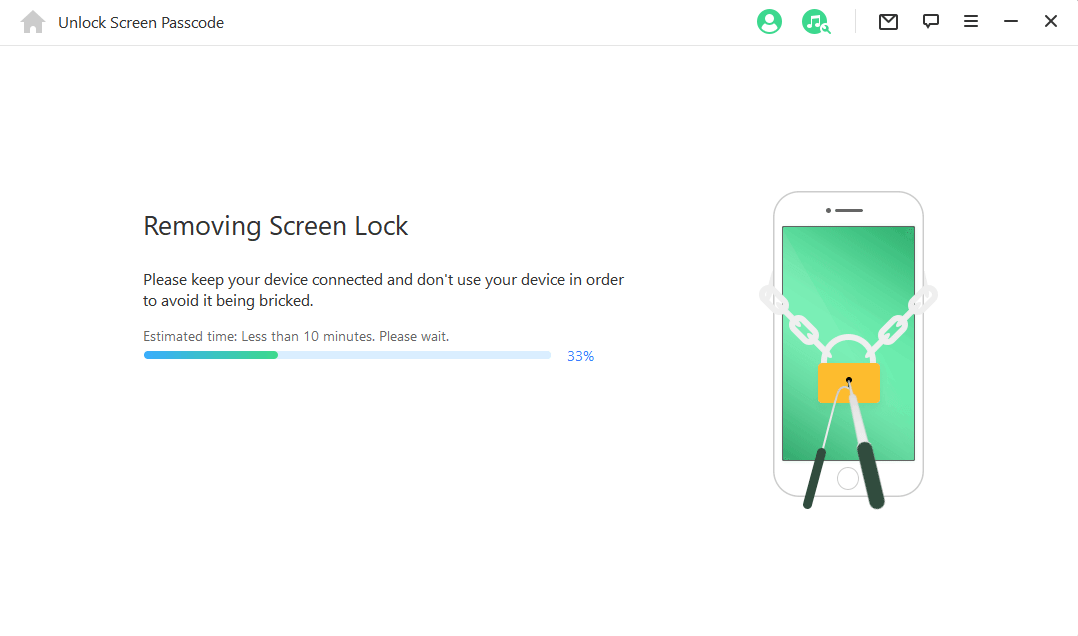 FAQs About Using iDelock:
How can I know whether my device is supported or not?
Download the free trial version of iDelock on your computer. Connect your device and click on Unlock Screen Passcode. Click on Start. If your device is not supported, you will see the message Your device is not supported.
Will it remove my data?
Yes, your device will be reset if you use iDelock to unlock screen passcode, and the iOS version will be updated to the latest.
Is iDelock safe?
iDelock is 100% safe. There are over 2 million customers of WooTechy, and iDelock is its commendable tool. It will safely remove the passcode, and you will be able to use your device again.
Solution 3: Restore iPhone with iTunes
Restoring iPhone through iTunes is the official method to remove the screen passcode. However, it does not work well on all devices. There can be an error or problem. Moreover, there are some prerequisites.
Prerequisites:
iTunes should be up to date.

Your device should be synced with iTunes before, or you need to put your device into recovery mode.
Steps to Use iTunes for Removing Passcode
Step 1: Open iTunes on your computer. Update it to the latest version.
Step 2: Connect the device to a computer. And Open iTunes. If your device can be detected normally, then you can see a device icon on the top-left corner. click on it and choose Restore iPhone on the next interface.


Step 3:
If your device is not detected, then you need to put your iPhone into recovery mode. Follow the instructions below to do it.
For iPhone 8 or later models: Press and release the Volume Up button, and then the Volume Down button. Finally press the hold the Side button until you see the recovery mode screen.
For iPhone 7/7 Plus: Press and hold the Volume Down and Side buttons together. Don't release it until you see the recovery mode screen.
For iPhone 6 or older versions: Press and hold the Home and Side buttons together. Release it when you see the recovery mode screen.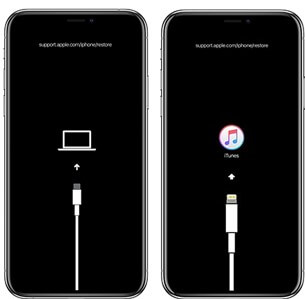 Step 4:
Then you can see a pop-up window. Click
Retore
on it. After that, follow the on-screen prompts to finish the whole process.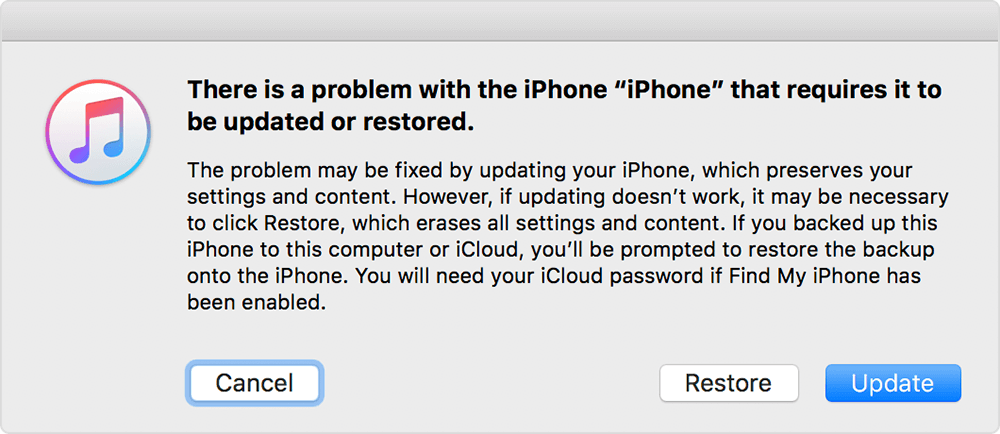 Solution 4: Erase iPhone via iCloud
iCloud can erase the iPhone or iPad remotely. It is an easy and quick way to get rid of the passcode. It also has some prerequisites. You can either use this method on your computer or any other mobile device.
Prerequisites:
1. You need Apple ID and password to log in to your account.

2. Find My iPhone should be enabled on the device.
Steps to Erase iPhone Using iCloud
Step 1: Open any browsers on your computer or mobile phone. Go to iCloud.com.
Step 2: Log in to your account by entering the credentials.
Step 3: On the next screen, choose Find iPhone > All Devices. You will see the list of devices registered with your ID.
Step 4: Click on the device you want to erase and select Erase iPhone option. You need to enter the credentials on the device again to confirm the erase.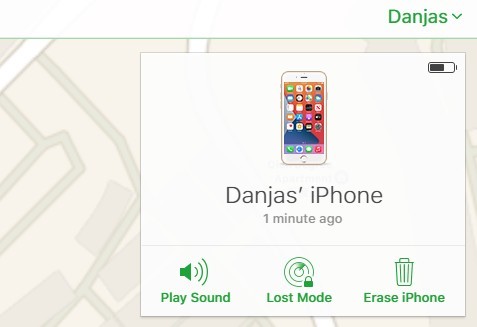 Then, you need to wait for a few minutes, and your device will be erased. After that, you can set up your iPhone like a new device.
Tips for Other iOS Update Issues
Wi-Fi Disconnection
This problem was noticed by many users when they updated their system version to iOS15. While using the device, the Wi-Fi is disconnected automatically. The connection also drops on the lock screen and sleep mode.
This problem has been fixed in the later versions of iOS. If you are facing this problem, you just need to update your device again.
iPhone Gets Stuck on Slide to Upgrade Screen
This happens to you when you try to update to iOS 15. Many people have encountered this problem. If this is the problem with your device, you should force restart the device. If it works well, there is nothing to worry about. If not, you need to restore your device using iTunes. You can also use iDelock if iTunes does not work in your case.
Restart Loop
People have noticed that their phone restarts again and again after updating to iOS 15. It enters in the restart loop that does not end, and your device restarts again and again. It is better to force restart the iPhone, but if it does not work, you need to restore the device through iTunes.
iPhone Gets Stuck at Apple Logo
If the device is stuck at the Apple logo after the update, you need to restore the device. Again, you can use iTunes or iDelock in this case.
Final Words
If your iPhone keeps asking for 6-digit passcode after updating the iOS versions, you can use any of the above methods to get rid of the problem. All methods work well, and they have distinct prerequisites, features, pros, and cons. Among them, we recommend WooTechy iDelock because it has everything you need.
You will be able to unlock your device on your own. It will take a few minutes only, and your passcode will be permanently removed. Just download and give it a try!