When it comes to security, Apple focuses on only high quality. So, if your device is passworded, it'll be safe if you always keep your password in mind. If you do forget it or you enter the wrong one too many times, don't lose hope. You can still unlock your iPad.
Although it'll take a long process of resetting, sending and receiving data in your iPad, you can follow the processes below to unlock iPad without password.
Part 1. Unlock iPad without Password with WooTechy iDelock (iPadOS 15 Supported)
WooTechy iDelock is an all-in-one iOS/iPadOS decrypter and unlocker which can go around Apple's security system. It has a high success rate in unlocking Apple devices for those who have forgotten their passwords.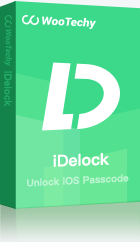 Great Features of WooTechy iDelock
The unlocker can work with the OS versions from iOS 7.0 to the newest iPadOS 15.

Its solutions have a high rate of success.

It can bypass any problem you have with iCloud account/Apple ID, screen passcode, iTunes backup encryption settings, Screen Time passcode, MDM lock and iTunes backup lock.

It is compatible with iTunes, Windows 10/8.1/8/7 and MacOS 10.9 – 11.0 pre-installed on your computer.
Watch this video to unlock iPad easily when you can't remember password for iPad
Find below the detailed steps to unlock iPad without password using WooTechy iDelock:
Step 1. Launch WooTechy iDelock
Using your computer, launch the WooTechy iDelock program. Select the 'Unlock Screen Passcode' mode. Click 'Start' to begin the process. Your device must be connected to the computer throughout the process, and your iOS version will be updated to the newest one. Keep in mind that your device will be reset, so you should have a backup.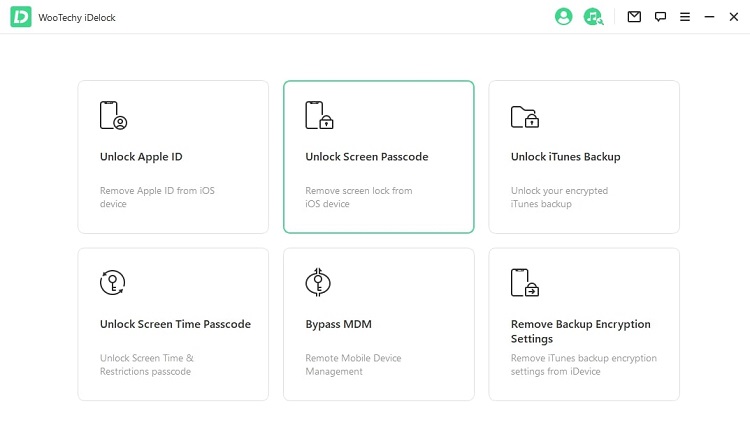 Using a USB cable, connect your iPad and click on 'Next'. If it does not recognize your device, make it manually detected by putting it in DFU/Recovery mode.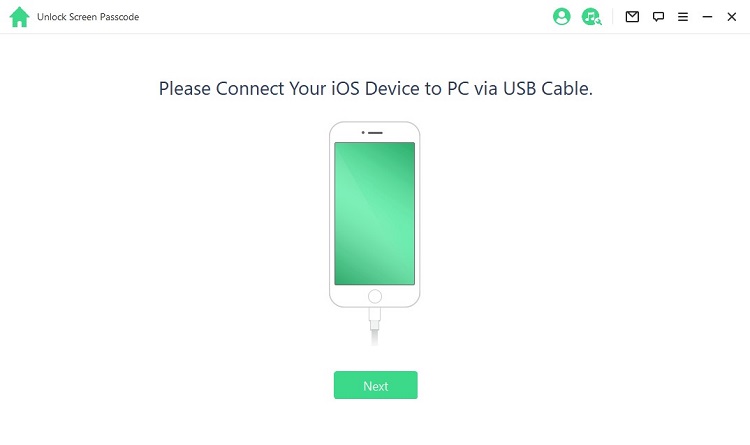 Step 2. Download & Extract Firmware Package
The WooTechy iDelock program will auto-detect your iPad, then you will choose the firmware version and Download it. You can also copy it into the browser and download it if it's not downloading directly. Then, Add the firmware package to your computer.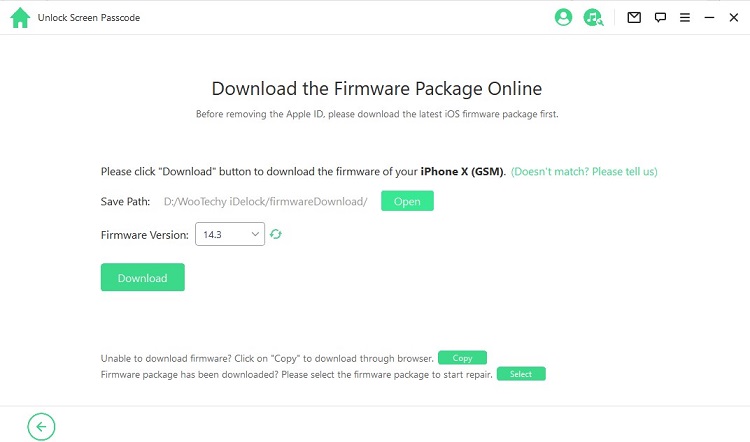 Once you have successfully verified it, click 'Start to Extract' and wait until it's complete.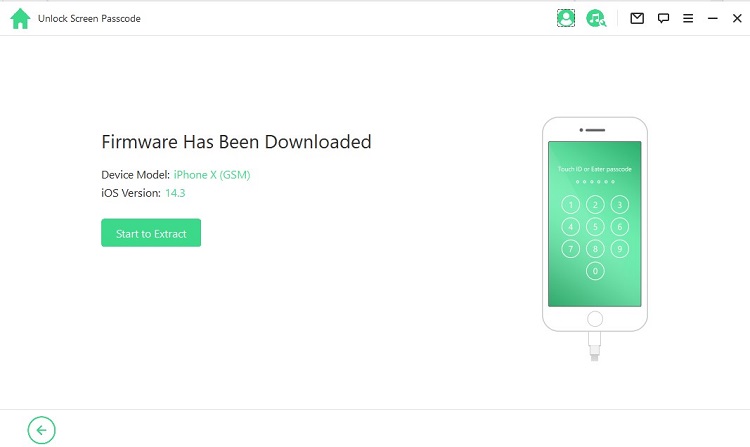 Step 3. Unlock Screen Passcode
Select 'Start Unlock' and ensure your iPad is connected to the computer throughout the process. Read the instructions correctly and double confirm the action with the '000000' code. When you click on 'Unlock' your device enters Recovery Mode.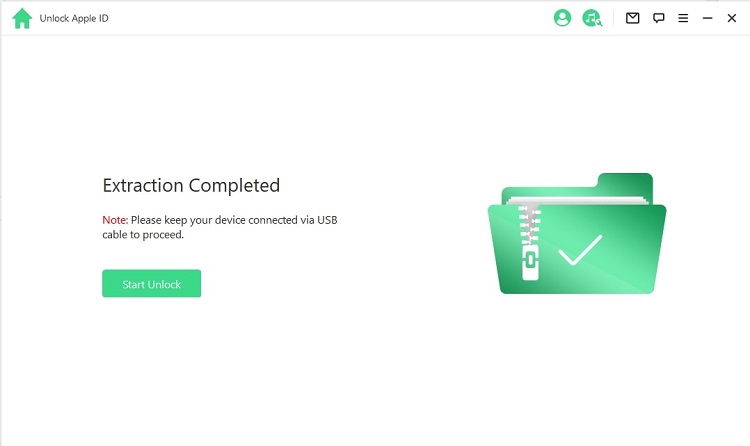 If this doesn't happen automatically, you will be guided to do it manually through the DFU/Recovery Mode. Then, your iPad will unlock.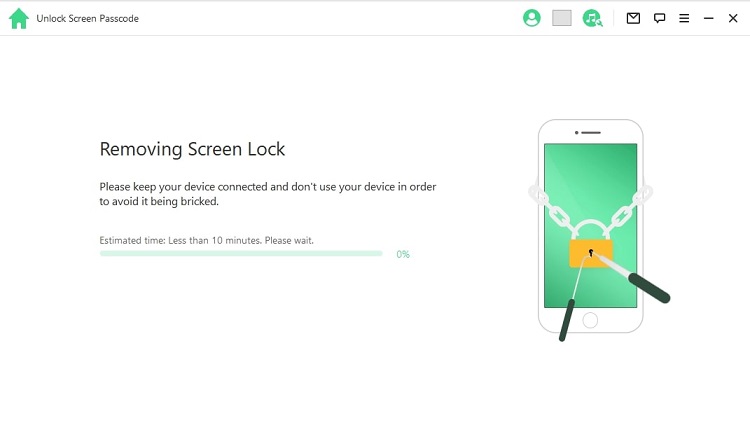 Part 2: Unlock iPad without Password with iTunes
Another method that allows you unlock iPad without password and keep your data involves iTunes. This works best when you have a recent backup using iTunes or iCloud on your computer. This way, you can restore your iPad by erasing the data on your device and replacing it with the backup.
Step 1. Connect Your iPad
Turn on your computer, start iTunes and connect your iPad to the computer with a USB cable.
Step 2. Force Your iPad into Recovery Mode
If your iPad has Face ID, press the Volume Up button, Volume Down button and then the Power button very quickly, until you see the recovery mode screen on the iPad screen.
But, if the iPad as a home button, press the Home and Power buttons simultaneously and hold them down until you see the recovery mode screen.
Step 3. There will be a dialog box on your computer screen which will state there is a problem with the iPad that requires it to be updated or restored. Select the Restore option. Then, you will unlock iPad without password and restore your backed-up data.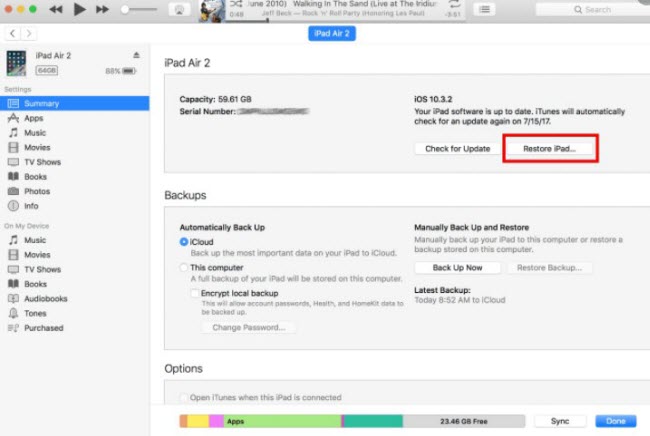 This method only works when your iPad was synced to your computer before, so you should always ensure it's synced in case you forget your password.    
Part 3: Unlock iPad without Password via Find My iPhone
Find My iPhone is an app and service provided by Apple Inc, but it can be used to unlock your iPad. It is mostly used for locating and keeping track of all your iOS devices, and comes in handy when you can't find any of your devices.
But, if you don't have the iTunes app on your computer or you don't want to start installing it, you can go through another route using Find My iPhone. You can also go for this method if you have Find My iPhone already on your computer or another iOS device around you. And, if you have previously enabled this feature. Here are the steps to follow to unlock your iPad.
Step 1. Open the Find My iPhone Website
The first step to unlock iPad without password is with the Find My iPhone website or app, depending on whether you're using a computer or iOS device.
Step 2. Find Your Device
Using the app or website, find the name of your iPad and click on it. Then, click on the 'i' with a circle around it if you're using the website. If it's the app, click on 'Actions.'
Step 3. Erase iPad
Then, regardless of whether you're using the app or website, click on the 'Erase iPad' option. You need to enter your Apple ID password for this to work.
Once the iPad data has been erased, the device will restart. Then, you can use a recent backup from iCloud or iTunes to restore your iPad.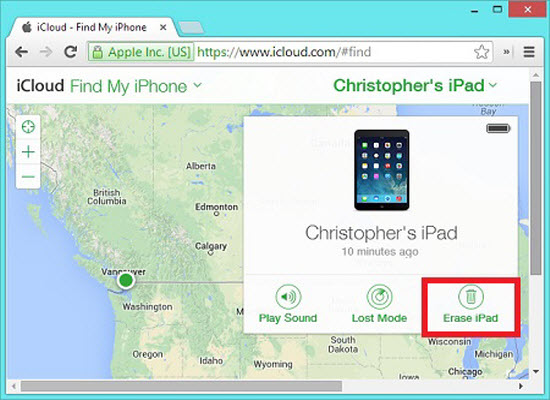 It's important to note that most of these methods require you to have backup data for your iPad. Without the backup, you might
unlock iPad without password
, but you will lose your information anyway. Thus, always ensure your iPad is backed up, as you never know when you will forget your password.    
Tips: Contact Local Apple Store to Help Unlock iPad
If none of these plans are working out well for you, or you're finding it hard to understand them, you can contact the local Apple store to help you unlock iPad without password. Using the Apple support online, you can get solutions and use them to open your disabled or locked Apple ID.
Apple ID can provide you with recovery key which you can use to regain access to your account. You can also use two-factor authentication if you have a trusted phone number or device to reset your Apple ID password and unlock your account. You can go to iforgot.apple.com if you're having trouble.
FAQ about Unlocking iPad
Q

Is It Possible to Unlock an iPad without Apple ID?
You can only do this when you can prove beyond doubt and without your Apple ID that you are the owner of the iPad. This is nearly impossible, but you can still unlock your iPad without your Apple ID. To achieve this, you will need professional-grade software.
Q

Can Someone Unlock My Stolen iPad?
Except your password is guessed correctly or they know your Apple ID, no one can unlock your stolen iPad. You can also remotely report the iPad device and erase it, making it even harder for whoever stole it.
Q

Can iPad Be Tracked after Factory Reset?
After Factory Reset, all the features of the iPad will be erase and reset, including Find My iPhone. So iPad won't be tracked after Factory Reset.
Q

How Do I Remove Previous Owner's Apple ID from an iPad without Password?
You can do this by signing into iCloud.com and going to Find My iPhone. Then, select 'All Devices' which will show you a list of devices linked to that account, and choose the device that you want to remove.
Conclusion
With either the WooTechy iDelock program, Find My iPhone or iTunes, you can unlock your iPad whenever you forget the password. You shouldn't have to panic whenever you can't remember your password, as this article has solved this problem. Anyone that wants to unlock iPad without password can choose any of these steps.