Clownfish and other AI voice changer software have enhanced the way we communicate entirely. With a few simple steps, you can change the way you sound and create an entirely new voice for yourself. This is not only great for chatting apps like Discord, Skype, and Zoom, but also can make gaming and content creation way more creative and fun.
If you're curious about what Clownfish has to offer and whether the Clownfish soundboard is the right choice for you, keep reading. We'll be going over this software in detail. In addition, we'll also introduce the best soundboard. WooTechy SoundBot is a great alternative to Clownfish. Especially if you want to stay updated with the latest and most cutting-edge voice-changing software.
Part 1. Comparison Between Clownfish Soundboard and WooTechy Soundboard
To give you a better idea of how Clownfish stacks up against our WooTechy SoundBot voice changer soundboard, we've created this chart. You can compare the features and capabilities of SoundBot and Clownfish below:
| Features | | |
| --- | --- | --- |
| Price | Free to download | Offer free voices daily. |
| Easy to use | Yes | Yes |
| Voice filter | 20+ voice filters. | 125+ voice filters. |
| Sound effect | 200 built-in sound effects. | 400+ built-in sound effects. The sound effects library is also updated weekly with new effects added in. |
| Real time | Yes | Yes |
| Audio file voice changing | No | Yes |
Part 2. A Full Review of Clownfish Soundboard
You might have some more questions about the Clownfish soundboard. While we talked about the features of this voice-changing tool, there is other information about Clownfish that you need to know. We'll talk about this here.
1. Does Clownfish Have a Soundboard?
The Clownfish software does have a soundboard. As we laid out in the chart above, you can customize your voice and change the audio settings and effects within the soundboard to create a voice that is perfect for chatting and other platforms.
You can customize and create unique voices with the soundboard. Clownfish has different effect settings that let you create a tone and pitch that is ideal. But it can be harder to get the precise voice you need because of Clownfish's limited effect options.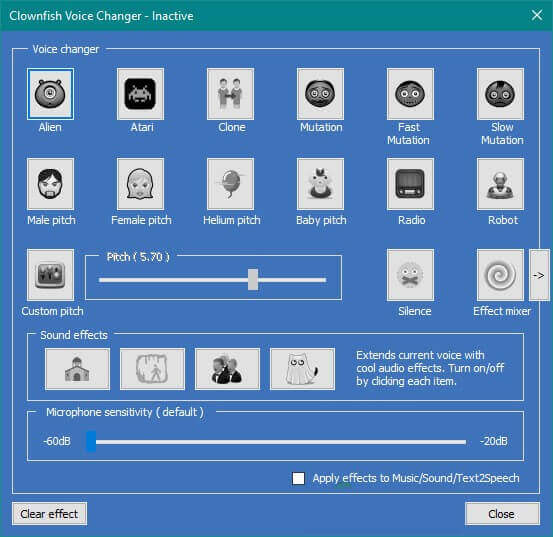 2. How Do You Open a Clownfish Soundboard?
You can start using the Clownfish soundboard almost immediately, as this is user-friendly software. To open up the Clownfish soundboard, follow these steps:
Go to the Clownfish website then download and install the program. Double click on the Clownfish icon once it's downloaded. This will start and set up the application.

Plug in your microphone. Then right-click the Clownfish icon. A menu will appear press Setup.

Next to the words Microphone press Install. Another window will pop up, set your mic as the default device.

Right-click the Clownfish icon again. Press Hear Microphone > Set Voice Changer. A new soundboard session will open.

Now you can begin using Clownfish to change your voice. Select the voice filter you want or make a new voice.

Then go to Discord or your other Apps. In your app settings, set your input device to Default.
3. Is Clownfish Voice Changer Virus?
Some people worry that the Clownfish voice changer might be a virus. Their website could look a little fishy as they don't have the most impressive web design. However, you don't have to worry about downloading this program and getting a virus. Just make sure you are getting Clownfish directly from their website so you don't accidentally get malware or other computer viruses. 
4. Can you Use Clownfish on CSGO?
Clownfish can be used to modify your voice through various online games. This also includes CSGO. If you are a counter-strike fan, definitely give Clownfish a go. Here are the steps of using Clownfish Voice Changer on CSGO:
Launch CS:GO and head to the friend's chat. Click on the Settings icon.
Click the Voice and further Select Input Device options. Similarly, you can choose the output device and volumes.
Part 3. The Best Soundboard -- WooTechy SoundBot
While Clownfish does have its positive points, it isn't the best soundboard. Not only does WooTechy SoundBot have more voice filters to meet your creative needs, but also offer hundreds of sounds that you can use to create and customize your very own vocal identity.
You can use your new voice to talk to people or make distinctive videos, live streams, and content for your audience.  It can be also used for your favorite programs and games such as CS:GO, LOL, etc.
How to use the perfect soundboard of WooTechy SoundBot :
Step 1 Start by downloading SoundBot to your computer and wait until it is set up. Plug in your microphone and your headphones.
Step 2 A menu will pop up asking you to choose your input and output devices. Your microphone should be set as your input. Your headphones or speaker should be set as the output.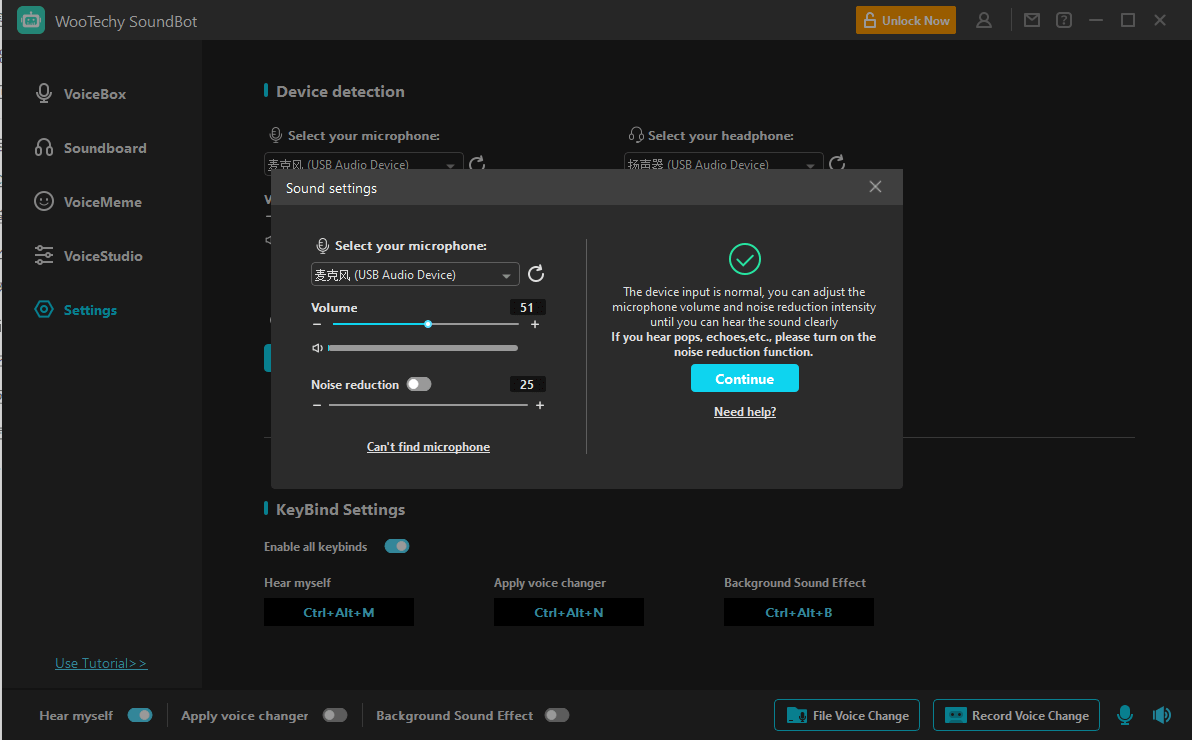 Step 3 Go to the side menu and click Soundboard. Here are different voice effects. Click on the one you like and you can add keybind to it.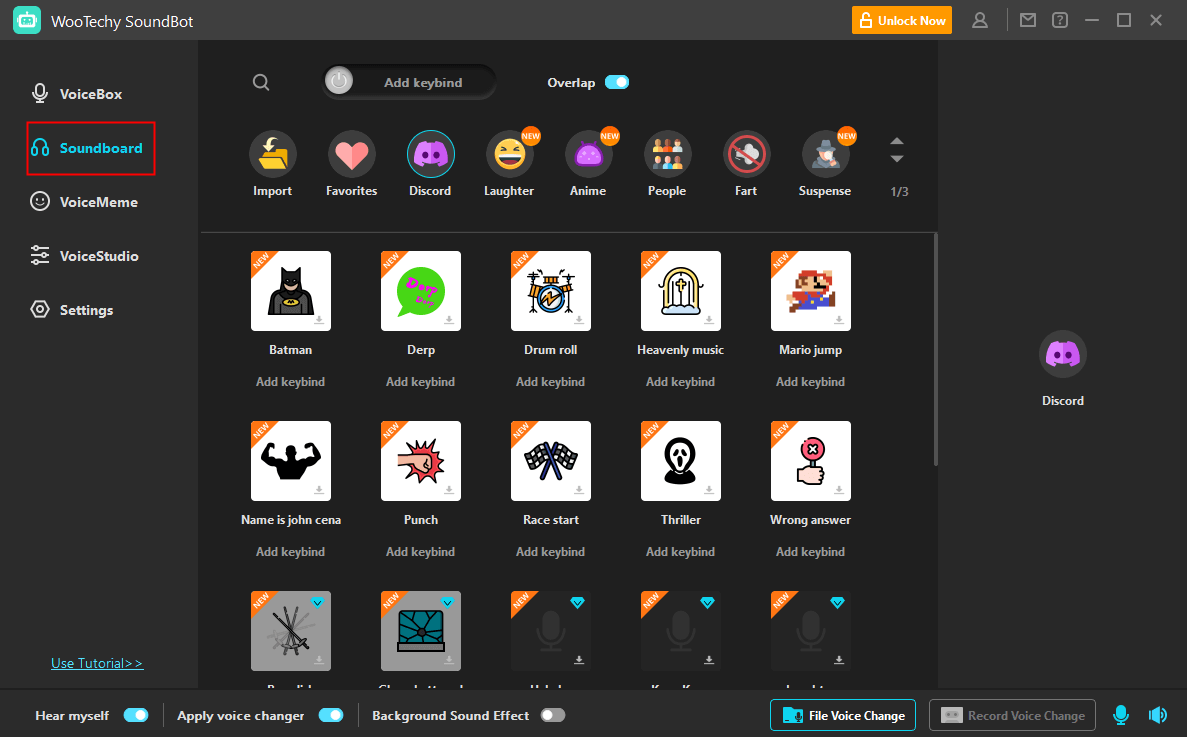 To use WooTechy SoundBot on CS:GO, only 2 easy steps are needed:
Step 1 Run SoundBot in the background and open CS:GO. Then set Voice Changer virtual audio device as default audio inut in CS:GO audio settings.
Step 2 Open and enjoy CS:GO with SoundBot.
Conclusion
If you are looking for the best soundboard, we recommend taking a look at WooTechy SoundBot. We went over some of the key features of our AI voice-changing product in the first section of the post. So, you already know that we have a few advantages over Clownfish in terms of capabilities.
Clownfish soundboard isn't a bad product, it just doesn't give you the highest level of voice modification. Anyone that wants a soundboard with all the features you'll need will love SoundBot by WooTechy.