Do you want to change your actual voice on Discord and add an element of fun to your content? If so, then you may have heard of Voicemod and want to use Voicemod soundboard on Discord.
But how to use Voicemod soundboard on Discord? Let's find out in this article.
Part 1. How to Use Voicemod Soundboard on Discord?
Voicemod is a complete solution for real time voice change and modulation, so you can avoid revealing your actual voice. By connecting Voicemod soundboard on Discord, you can add a voice filter to your voice and assign hotkeys to your fun and cool sound effects.
Here are the steps to get your Voicemod soundboard to work on Discord:
Step 1 Download and install Voicemod
First of all, you need to visit the official website of Voicemod and download the application to your computer. You'll be asked to connect with your Google, Discord, or Twitch account to download the setup file successfully.
Once the downloading completes, run the setup and install the app following the installation process.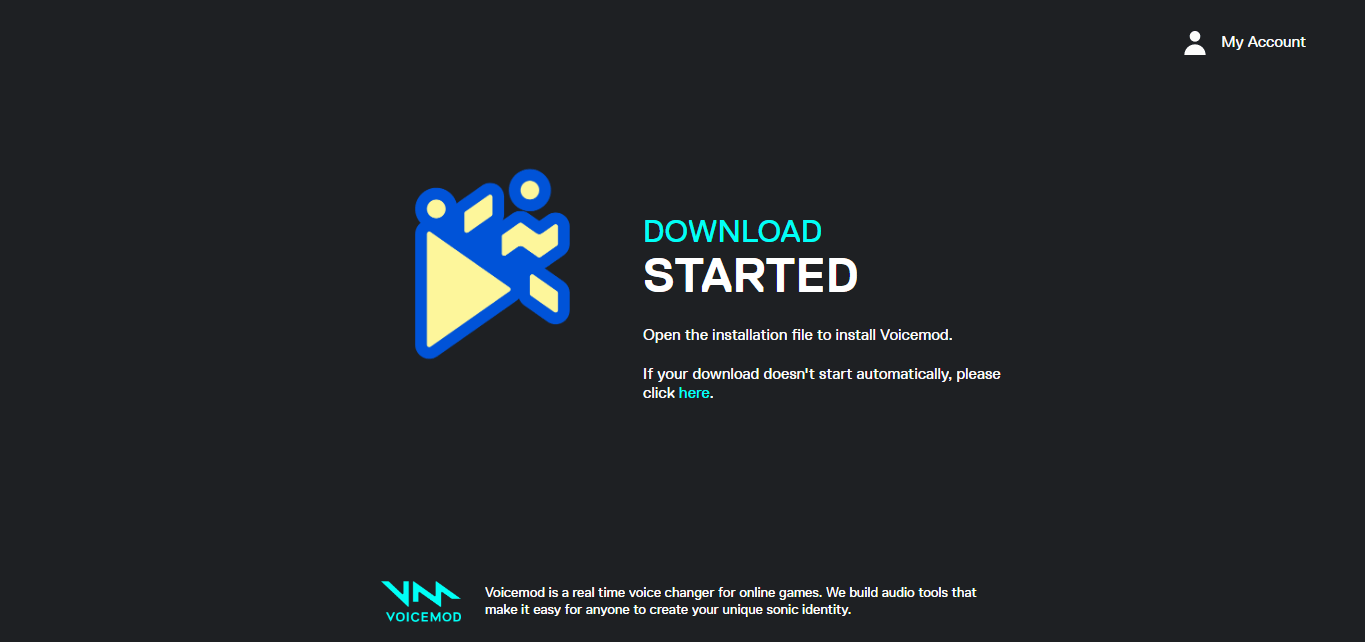 Step 2 Launch Voicemod and set your input device
After installation, open Voicemod and the first thing you'll need to do is to set your input and output devices. Make sure you use a microphone of considerable quality so others can hear your voice clearly.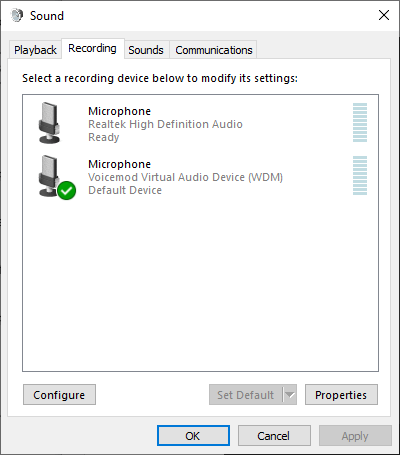 When you select your microphone, Voicemod allows you to test it for disturbances or distortions. You'll hear your voice through the output device you select. 
Step 3 Explore and select a voice filter
Voicemod has a variety of voice filters to choose from.
After setting up your input and output device, it's time to browse soundboards and assign hotkeys to your favorite sound effects. Voicemod lets you create your own sound effects as well.
If you use the free version, you'll have access to free voices daily or you can become a paid user and access its complete library of voice filters.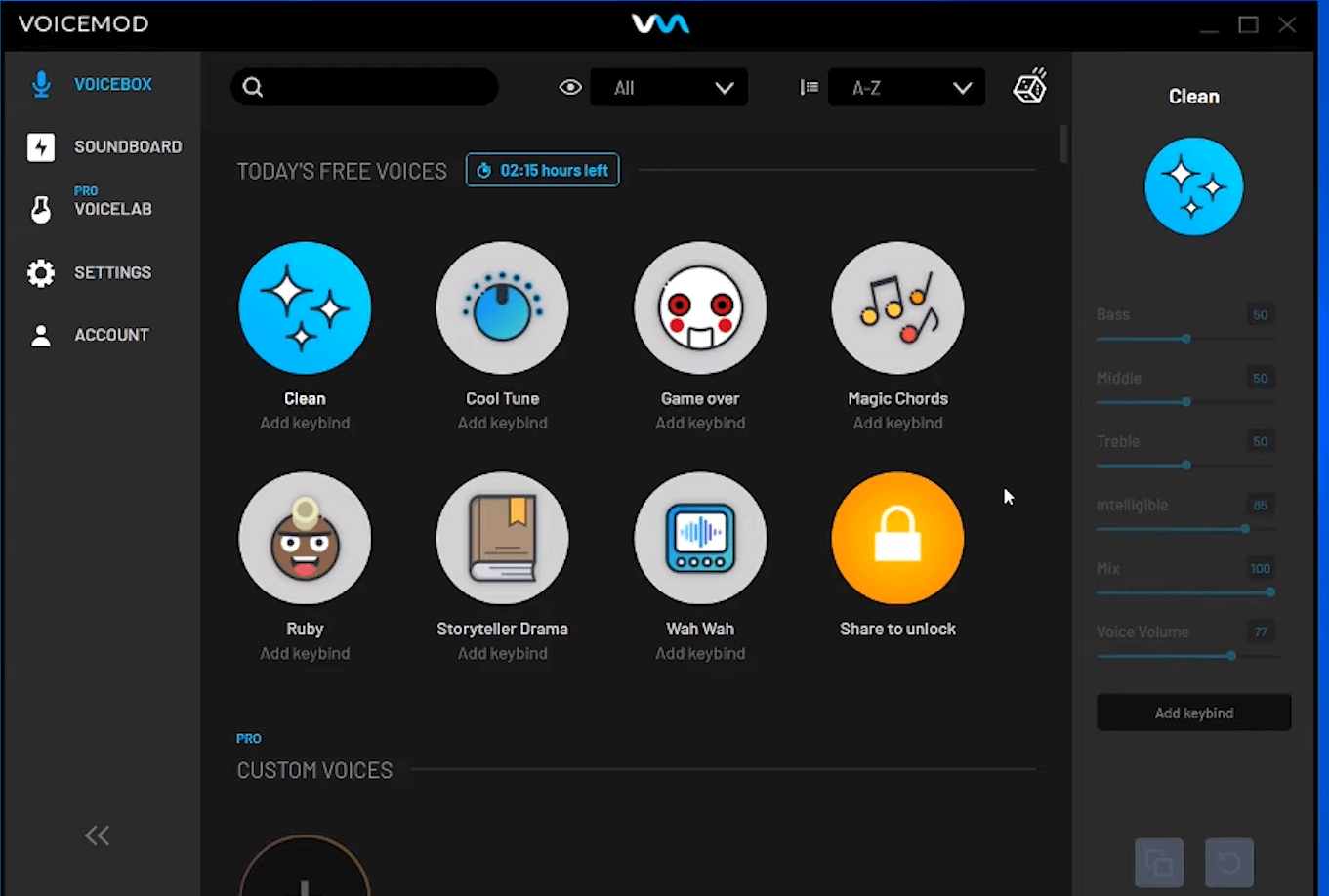 Step 4 Change settings in Voicemod
At this point, you need to change settings in the application to use Voicemod soundboard on Discord. To do so, go to Settings, select Voice & Video, and set Voicemod Virtual Audio Device as the Input Device.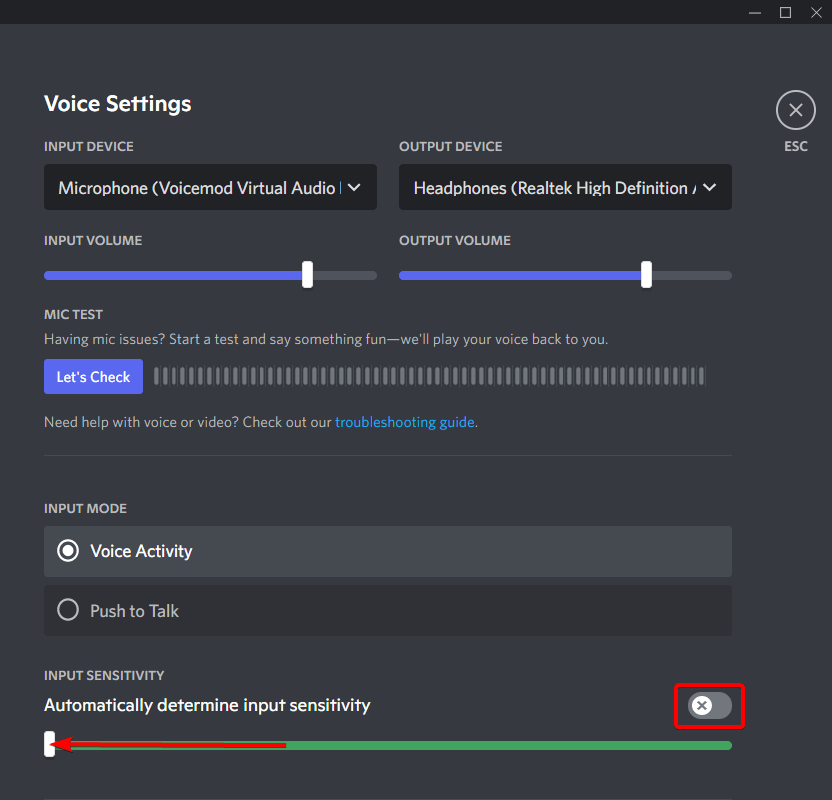 Following these steps will answer how to use Voicemod soundboard on Discord.
Part 2. Why Does My Voicemod Soundboard Not Work on Discord?
At times, Voicemod can encounter technical glitches and you might wonder how to get Voicemod soundboard to work on Discord. Well, you first need to know what issues you can come across and the reason behind them.
1. Poor or distorted input voice
A common problem you might come across is poor input voice or no voice at all. One reason is that your microphone is of poor quality or is broken. Another reason might be the faulty microphone jack.
To be sure, plug in your microphone in another device and see if the issue persists. Voicemod allows you to set up your microphone and test whether or not it captures the voice. You can go to the Voice & Video settings in Voicemod and test your microphone.
2. Non-compatible operating system
Another reason you might wonder how to get Voicemod soundboard to work on Discord is because of a non-compatible operating system. This issue often occurs at the installation time but that's not necessary.
If you don't update your operating system, some features of Voicemod might not be compatible with the current release of the operating system. Always make sure that you're using the updated version of your OS.
3. Auto-restart or glitch
Glitches in real-time voice change or auto-restart is another problem that can disrupt your experience. When this problem occurs, the cause is either too much load on computer memory or a problem in the files of Voicemod.
The quick fix to get rid of this issue is to first restart your computer—and if the issue persists—reinstall Voicemod.
Part 3. The Best Voicemod Soundboard Alternative
It pays to have a powerful and flawless voice changer installed on your computer since Voicemod is known to experience some glitches.
It goes without saying the alternative should be better both in terms of functionality and reliability. That's why you need WooTechy SoundBot. It's an excellent alternative for its myriad of features, flawless functionality, and ease of use.
WooTechy SoundBot offers an impressive collection of features and benefits, which include:
A generous collection of voice filters that include both commonly used and new voices.

Users can assign hotkeys to their favorite sound effects and have maximum fun on the go.

Over 100 sound effects of all kinds to add to the soundboard on Discord.

Capability to pick your voice clearly and produce smooth output with a changed voice in real-time.

Works on most of the popular platforms, including Discord, Twitch, Skype, Zoom, and more.
All in all, WooTechy SoundBot is the best Voicemod alternative for soundboard on Discord. And here are steps on how to use WooTechy SoundBot soundboard on Discord:
Step 1 Download, install and set up WooTechy SoundBot on your computer. Launch Discord and click the settings icon at the bottom.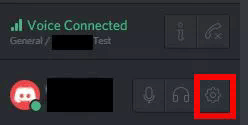 Step 2 Select Voice and set Microphone (Voice Changer Virtual Audio Device) as Input Device.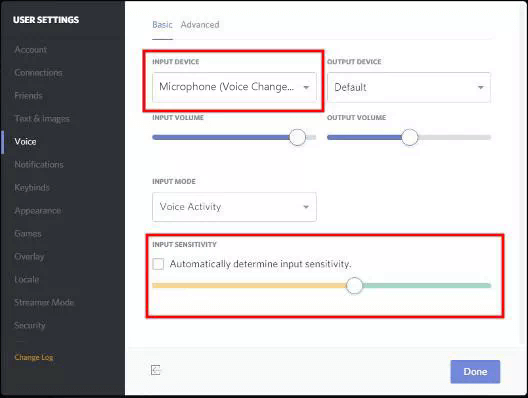 Step 3 Turn off Automatically determine input sensitivity. Speak into your microphone and adjust the setting. Finally choose Escape.
Wrap up
Soundboards, in general, add an element of fun and secrecy to your content or conversations on platforms like Discord, Twitch, etc. Voicemod soundboard serves the purpose, but glitches can disrupt the whole experience.
If you want to avoid glitches at all while having the right experience using it for soundboards on Discord, WooTechy SoundBot is excellent.