Interacting with your audience in different funny and dramatic voices is an amazing way of increasing their engagement. Imagine you're doing a live stream, and suddenly your voice changes to a flavorful little girl voice with a quality male to female voice changer! It will definitely give a huge smile to your audience.
That's the reason little girl voice changer software is increasing in demand, especially for fun voiceovers and streaming online.
Let's discuss if it's actually possible to change your voice using a male to female voice changer.
Part 1. Is It Possible to Change My Voice to Female Characters?
There are many real-time mtf voice changing software available online that can be used to alter your voice into a female's. Whether you want to sound like a little girl, grandma, college girl Alice, or any other female voice, quality voice changers like SoundBot can make it hassle-free for you.
There are a few that offer real-time recording, while others can work with pre-recorded voices as well. Choose the one that perfectly fits your needs.
Part 2. How Does Voice Changer Software Work?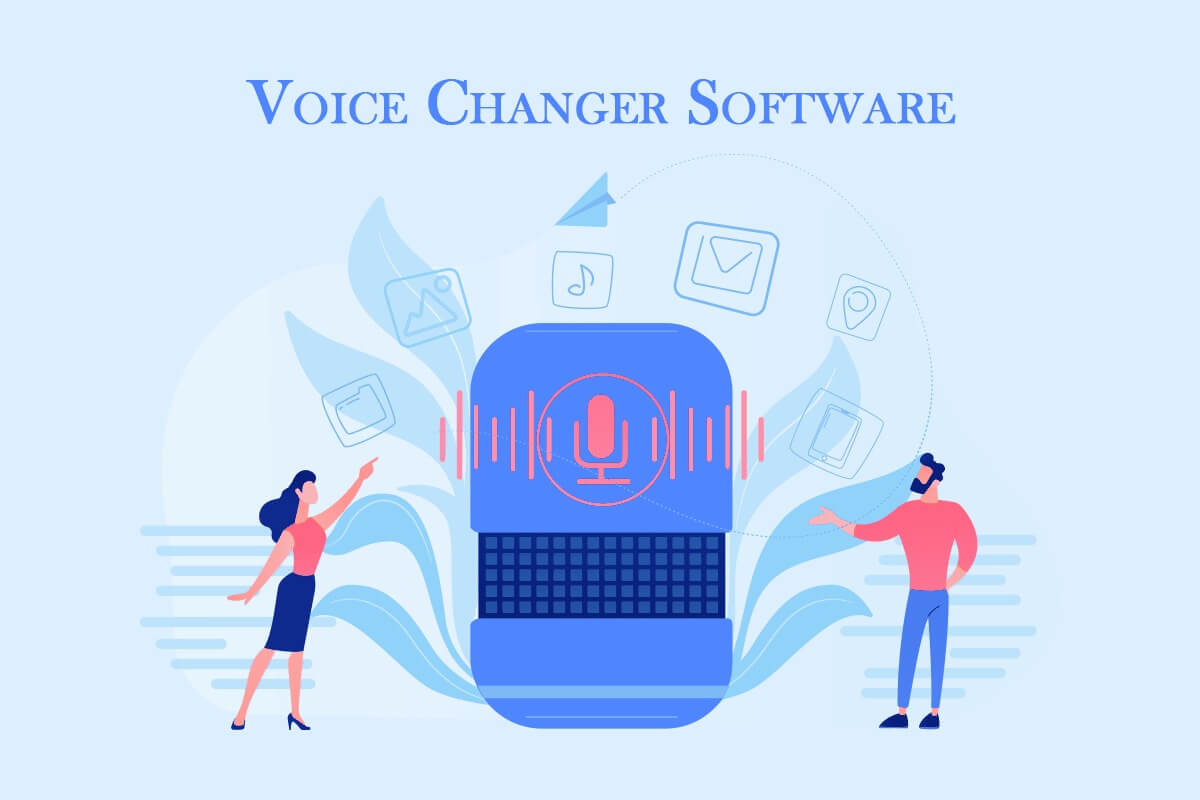 Voice transformation algorithms change a voice by modifying its amplitude, tone, and pitch. These factors can be modified specifically to transform a man's voice into a woman's and vice versa.
Some voice changer software gives more realistic outputs than others. So it's always a good idea to read feedback from previous users about how real and natural the transformed voice sounds.
Part 3. Can I Make My Voice Sound Like Little Girl?
Many software in the market let you convert a male voice into different sounding female voices with different accents. This includes changing a male's voice into a little girl's voice.
There are many reasons one may want to change their voice into a little girl's:
1

Voiceovers

Among all other smartphone apps, Youtube has the highest audience reach of 74%. A lot of these videos contain videos created by adults specifically for children. These videos often use little girl voice changer software for voiceovers. The transformed voice lets children's viewers connect with the videos and stay hooked.
2

Anime

Many anime shows use voice changer software to get a specific-sounding voice for a character. These include voices for little girl characters. This saves the money that would be needed to hire a voice actor.
3

Animated Videos

Cocomelon is the second most-viewed youtube channel owner of all time, with approximately 143.7 billion lifetime views. The channel mainly comprises nursery rhymes with animated characters. A little girl voice changer can be used to sing nursery rhymes for such videos.
4

Pranks

Voice changers are the best for pranking someone. This could be a prank calling someone over the phone, via Skype, or even tricking people during online games.
Part 4. How Can I Change My Male Voice To Female?
Wootchechy SoundBot is an amazing tool for a male to female voice conversions. It's packed with tons of amazing features, hundreds of exciting voice filters, and a massive collection of sound effects and meme voices. It's free to install, and the interface is as easy as ABC; even novices can use it without any hassle.
Use WooTechy SoundBot: Your Little Girl Voice Changer
Step 1: Setup WooTechy SoundBot
Download WooTechy SoundBot from the official website and install the setup files. On-screen instructions will ease your way of installation— it's just a few clicks operation.
Step 2: Sound Settings
The software will require access to your PC's input and output device. Select your headphones as the output device and your microphone as your input device.
If you have more than one input and output device connected to your PC, make sure you choose the right ones during the selection.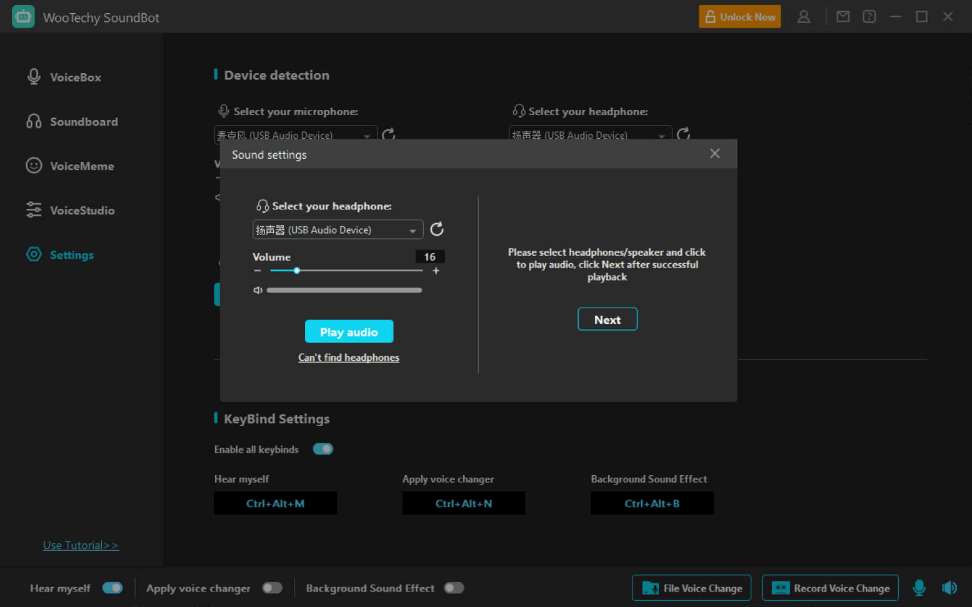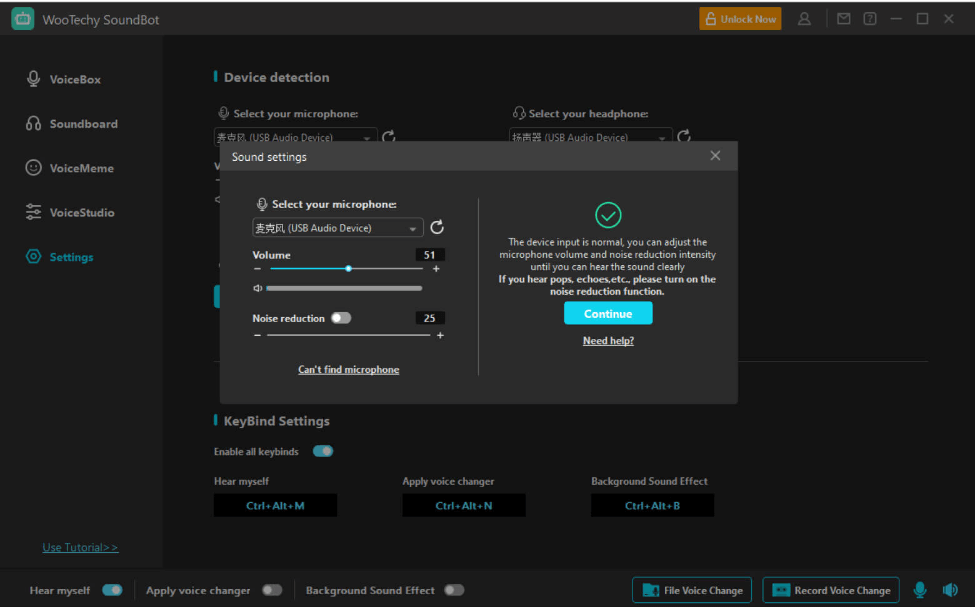 Once the software tests the input and output devices to be working, it'll notify you of the sound setup completion with a Congratulation pop-up.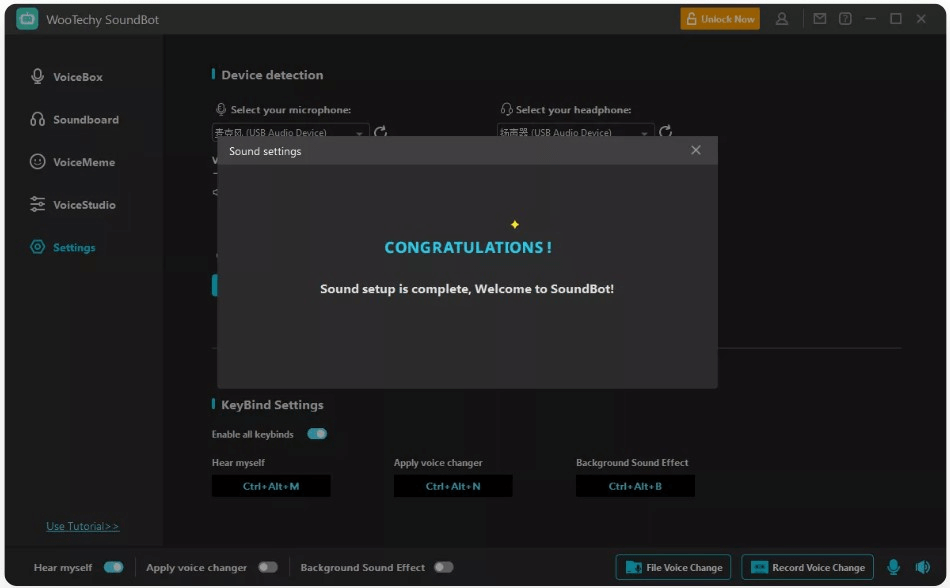 Step 3: Voice Filters and Memes
After everything is set up, you'll have access to more than 500 voice filters (e.g., ghost, robot, musical) to have fun with. By clicking on each filter, you can test which one is best for your voice changing needs. The software has many female voice filters, including the Little Girl voice filter.
Go to Voicebox and search Little Girl, and your required filter will appear instantly.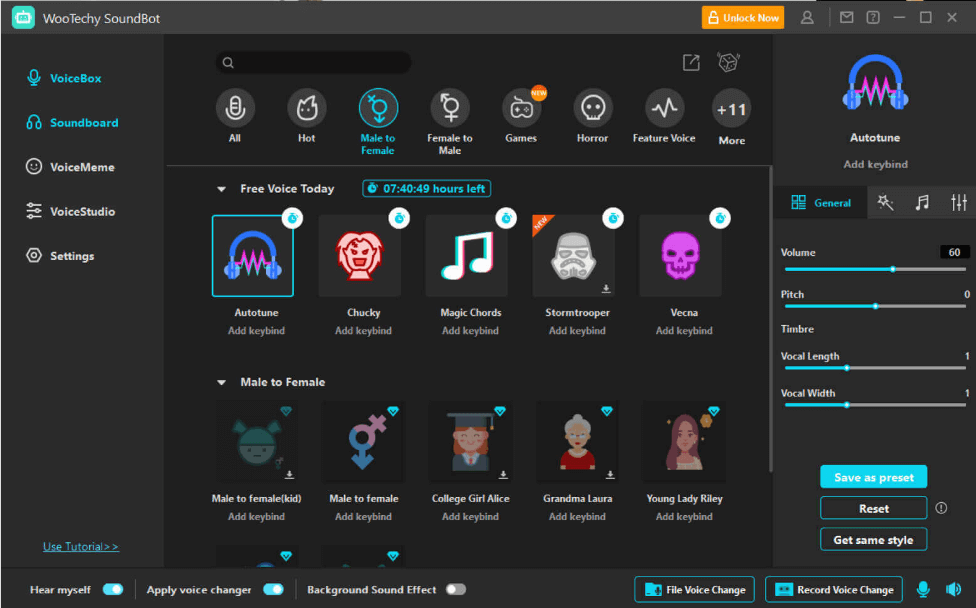 Step 4: Platform Settings
You'll have to alter some settings to use the voice changer on different platforms like Skype, PUBG, and Fortnite.
Go to the platform you want to integrate the voice changer with. In its settings option, select "Microphone (Voice Changer Virtual Audio Device (WDM)" as the input device.
You can also import your own MP3 or WAV files to the software and include them in the sound effect library. The software also lets you add key binds for sounds to play during the audio.
Conclusion
Using voice filters and using sound effects can double up the fun. Just download WooTechy SoundBot, and start using it as male to female voice changer. It's free and easy to use!
Give it a try now!