Super Mario is one of the most beloved video games of all time. From its iconic music, sound effects, and characters, it's no wonder that millions of people around the world have grown up loving this classic game. But what if you'd like to bring the sounds from Super Mario into your own projects, or just want to have some fun with them?
In this article, we'll show you the best places to get Mario sound effect and how to apply them to your voice using an excellent Mario voice changer -- WooTechy SoundBot.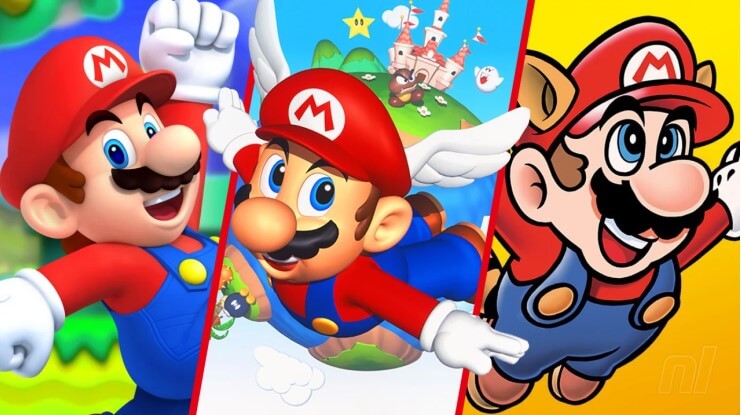 Part 1. Super Mario - A Popular Video Game
The Super Mario franchise is a classic and beloved video game series that is still popular today, both with its long-standing fans and those discovering it for the first time. These iconic games featuring Mario, Luigi, and their friends have become a source of nostalgia and entertainment for many around the world.
Since its release in 1985, the highly acclaimed series has seen numerous titles released on various platforms, allowing players to join in on their epic adventures.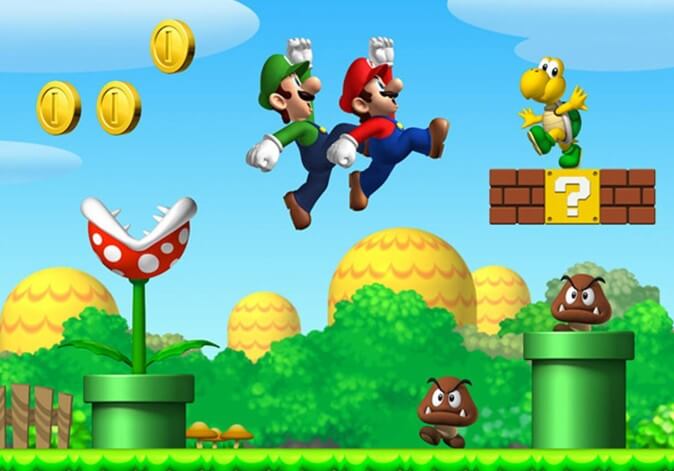 While the franchise began by taking players on a grand adventure to rescue Princess Peach from Bowser, it has become beloved for its strategic level designs, fun characters, and of course, iconic sound effects, which have become amongst the most recognizable in history.
Part 2. Where Can You Get Mario Sound Effects?
There are several ways to get authentic Mario sound effects for your projects or just for fun. Here are the 3 most popular methods:
1

Downloading Sound Effects Online

There are numerous websites where you can download sound effects for free or at a low cost, including specialized sites like FreeSound and FreesoundEffects. These sites have high-quality sound effects from a variety of sources, including Nintendo games.

However, these sites may not have all the sounds from Super Mario that you're looking for, and you may run into issues with copyright if producing content with these effects.

In addition, if you are using a free website, you have a high probability of downloading a defective audio file or virus, which could cause severe damage to your computer. Therefore, we highly recommend avoiding downloading sound effects online unless it is from a paid, reputable service.
2

Recording Your Own

If you own a copy of any Mario game, you can record your own sound effects by playing through the game and recording it with a microphone or other recording device. This is an easy way to get any sound effect you need but it also requires some effort since you need to actually play through the game in order to record each individual sound effect.

Not only is this a time-consuming task to complete, but accessing the exact sound effect you're looking for will likely be difficult without a platform to organize the audio files you have on hand. Not to mention that if want to change your voice to sound like Mario or any other character from the Super Mario universe, you won't be able to.
3

Using Sample Packs

Sample packs are collections of pre-recorded sound effects that can be used in various projects without having to worry about copyright issues or playing through an entire game to record each individual sound effect.

They are often available online for purchase at reasonable prices and can save you time when it comes to finding specific sounds from Super Mario. Unfortunately, there are no sample packs that include a voice changer, so if you're interested in sounding like Mario without buying Mario sound effects, this probably isn't a good choice.
Part 3. How Do You Apply Mario Sound Effects on Your Voice?
With the help of WooTechy SoundBot, you can supercharge your experience and sound like Mario in no time! Aside from the Super Mario voice changer, this amazing software has many features that will upgrade your gaming experiences, such as morphing effects and real-time support for subtitles.
It also includes several presets with predefined settings that allow users to quickly apply more complex transformations, such as robotic voices and celebrity impressions, enabling you to express yourself more creatively when engaging with friends online.
75.000.000+
Downloads
Comes With Over 500 Voices: Beside Mario voice, you can also make gaming voice change, male to female voice change, Minion voice change and more.

Free Voice SoundBoard: SoundBot will provide several popular and interesting voice filters each day. If you are lucky enough, you can use the Elf voice changer for free.

Real-time voice: The best thing about Soundbot is that you can change your voice in real time. You don't need to stop your game or shut-down your computer to change the voice effect.

Easy to Operate: Just a few simple steps are needed during the whole process, you can change your voice as an elf with more ease.

Wide Use: SoundBot can be widely used by users from all around the world without any OS limitation.
To make use of these awesome features, all you need to do is follow these simple steps:
Step 1 To get started, download the SoundBot and launch it.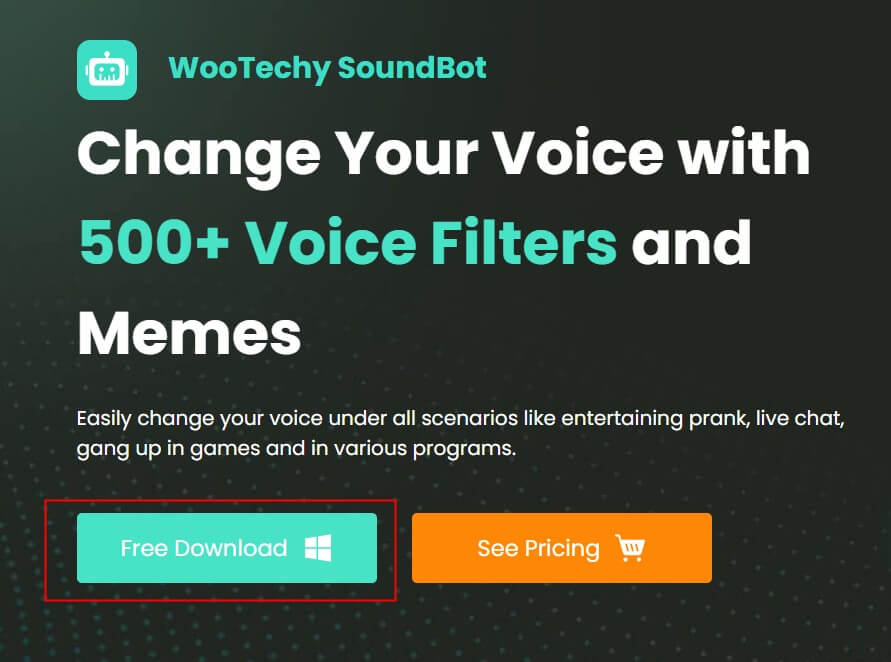 Step 2 On the home screen of the app, select the correct Output and Input device.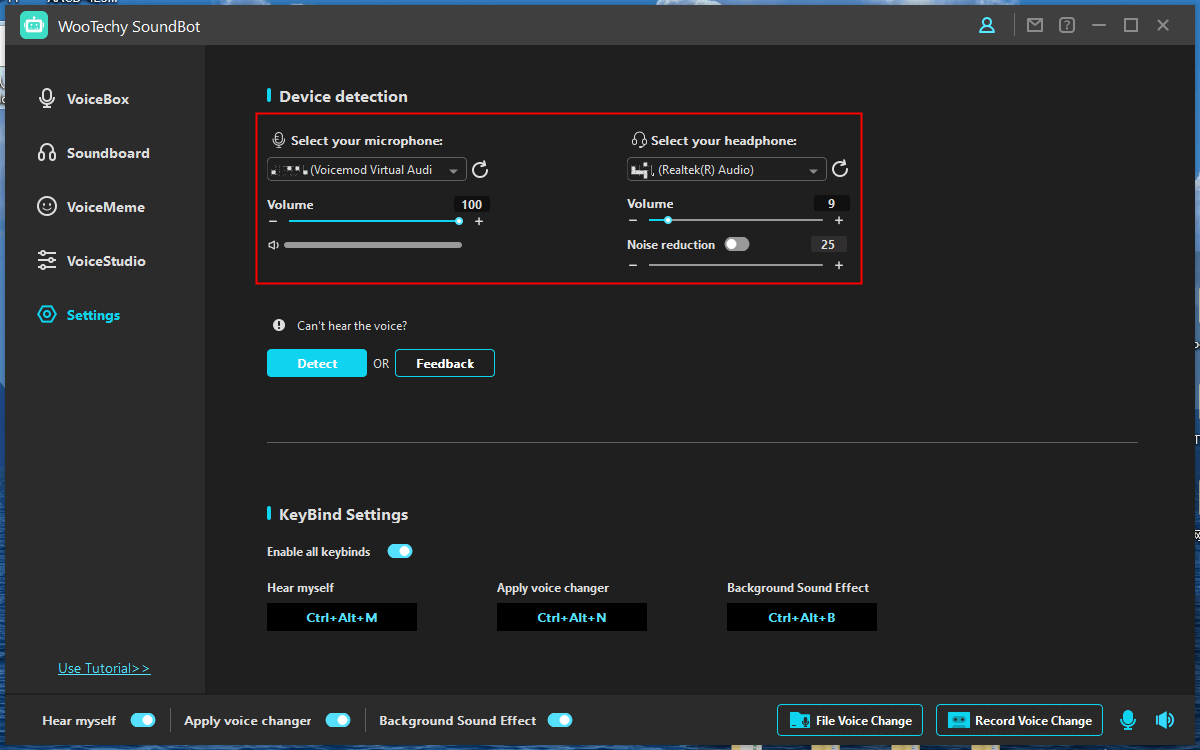 Step 3 Click VoiceBox option from the left side, select the Mario sound effect. Then you can record your voice and change it into Mario sound effect in real time.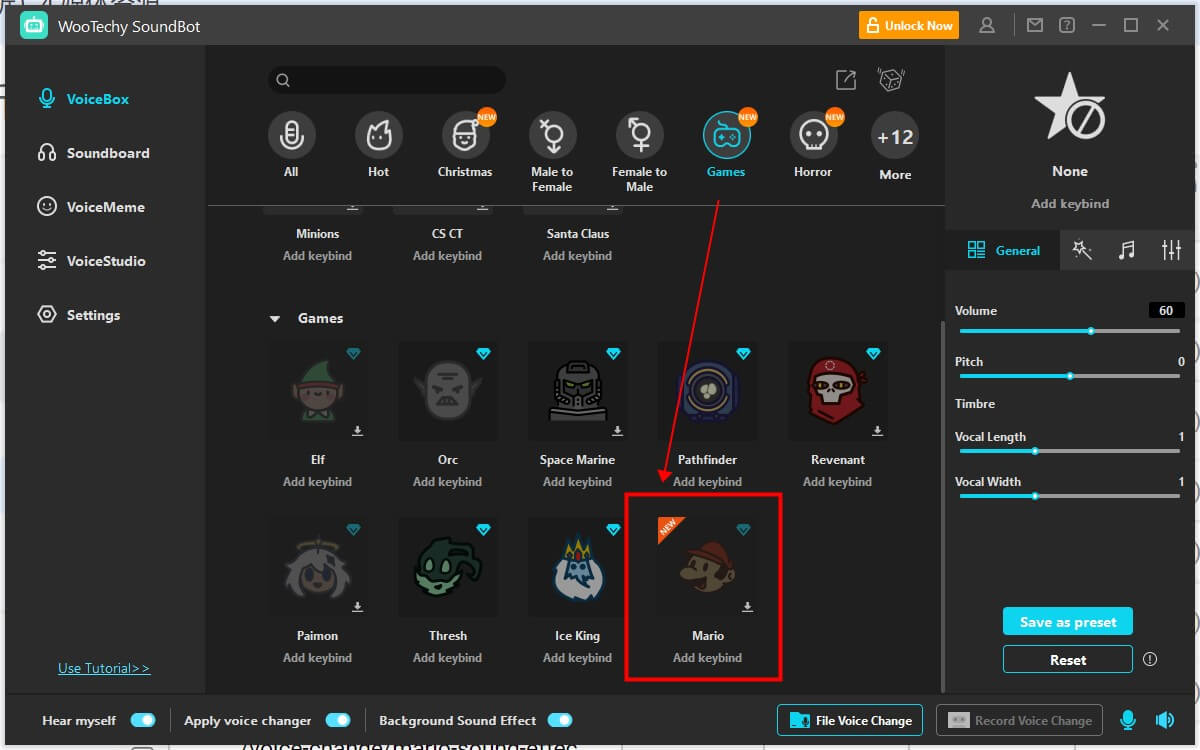 As long as you follow these short, simple steps, you can change your voice to sound like Super Mario within no time at all! With WooTechy SoundBot, users can easily create their own custom voice-over recordings and apply sound effects to their voices in just minutes!
Conclusion
With this guide, we hope that we've provided enough information on how to find authentic Mario sound effects and apply them to your voice using WooTechy SoundBot's advanced features!
Whether you're looking for realistic audio clips for your projects or just having some fun with friends and family, introducing these classic Mario sound effect into your conversations will definitely add an extra bit of nostalgia! So go ahead - give it a try! You won't regret it!