Are you looking for a voice changer for Facebook messenger? Facebook Messenger simplifies communicating with text, media, and voice/video calls. Add some flair to your video calls by experimenting with different sound filters and effects.
If you're using Messenger for business purposes, there may be times when you wish to adopt a different voice to make a better impression on potential clients and consumers. This article will help you find the best FB messenger voice changer.

Part 1. Can I Change Voice on Facebook Messenger?
Yes, you change your voice on Facebook messenger. Due to technological advancement, various software such as WooTechy SoundBot makes it easier to change voice on Facebook messenger.
If you use Facebook to keep in touch with pals, you probably already know that you can alter your voice quality in video and audio chats. Facebook is a major player in the realm of social media.
Changing your voice is only one of several available customization options on Facebook. However, many people still don't know the most reliable voice-modification software.
Part 2. How to Change My Voice on Facebook Messenger?
Facebook messenger voice changer is easy if you understand the techniques to employ. Don't worry! That's why we are here for you.
Out of the innumerable messenger voice changer applications now available online, we have hand-picked some of the best ones for you to use. They all come with cutting-edge capabilities for changing one's voice that are both flexible and entertaining, and access to these functions is free.
After all, the paid edition is your best option if you want to take advantage of every one of the features. Here are some of the best voice changers in Facebook messenger that you can use;
1. WooTechy SoundBot -- Highly Recommend
Do you want the best FB messenger voice changer? WooTechy SoundBot ranks on top of our Facebook messenger voice changer app among all the other FB messenger voice changers selections.
If you're looking for high-quality sound effects with no effort, go no further than the WooTechy SoundBot. It boasts a high-quality sound system and can adjust pitch, pace, and loudness.
Moreover, it has an abundant of sound effects collection so that users can add humorous touches to their productions. This voice changer features a simple user interface and is compatible with Windows and Mac computers.
What Are the Features of WooTechy SoundBot?
75.000.000+
Downloads
Use WooTechy SoundBot to access a library of sound effects that may be used in your free FB voice changer.

SoundBot offers replay, mute, cycle, and overlap to play your sound effects.

Adjusting sounds with VoiceStudio allows you make a customized voice. Using the voice changer for PC, you can experiment with a wide variety of synthetic voices.

SoundBot enables you to modify your voice in various programs such as Facebook, Zoom, Skype, etc.
How to Use SoundBot to change voice on FB?
Step 1: Install WooTechy SoundBot via clicking the Free Download button on the official website. And launch the app on your computer.

Step 2: Click the Settings menu and set the corrupt output and input settings.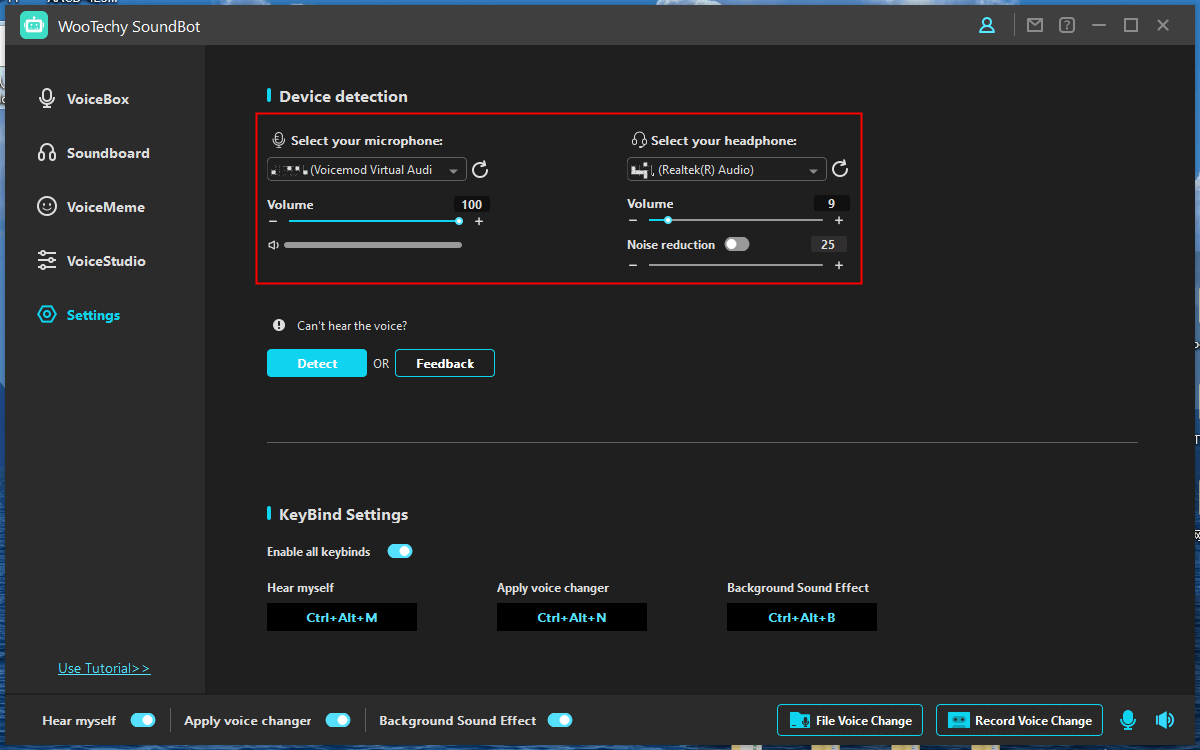 Step 3: Assess the effects of voice-changing. Select your preferred voice sound effects from the VoiceBox menu on the left side.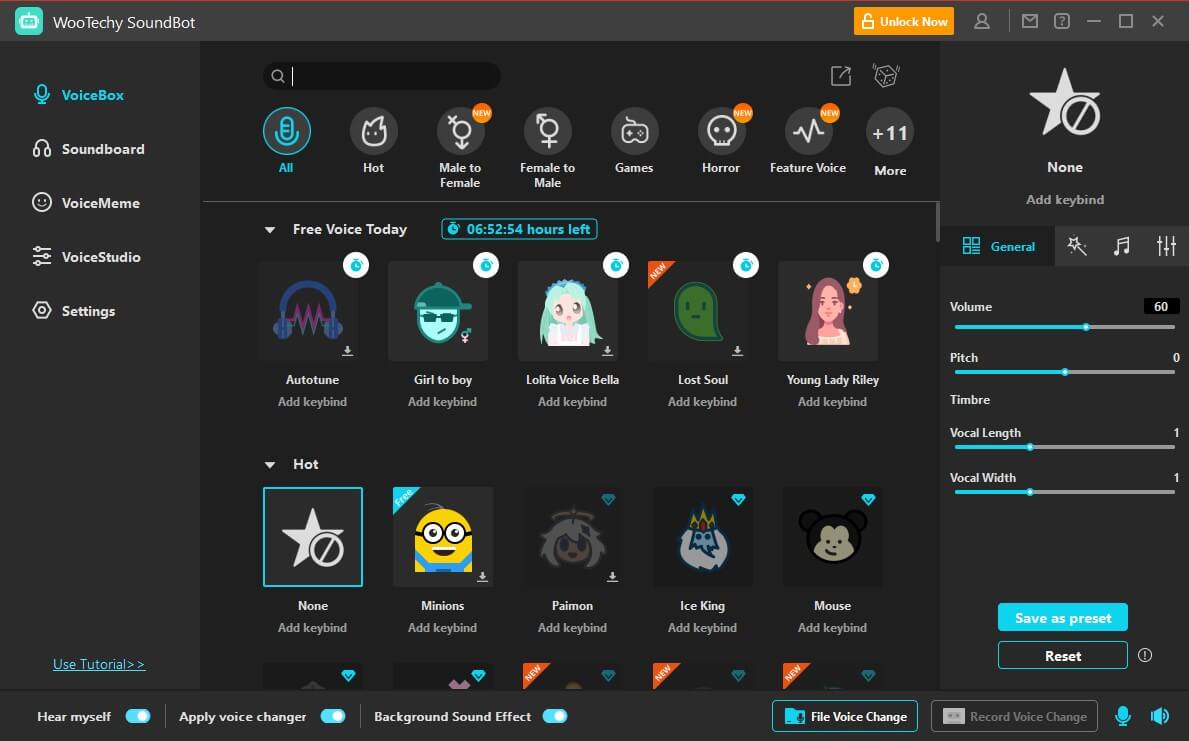 Step 4: Navigate to your FaceBook. In the Home page, click the contact's name, then click the video camera icon near the top right chat window. Then the video chat window.
Step 5: Select the Microphone icon near the bottom of the chat window. And then choose the Microphone connected with SoundBot voice changer. Then you can start your voice changing.
2. MagicMic
MagicMic is a speech-modification program with 125+ downloadable voice filters for Windows PCs. You can experiment with one of the more than 600 available voice memes and sound effects in no time.
In addition, it has a voice changer that can be used in games and other programs without resorting to an external voice changer. The program also allows you to alter the voice of a recording or audio file.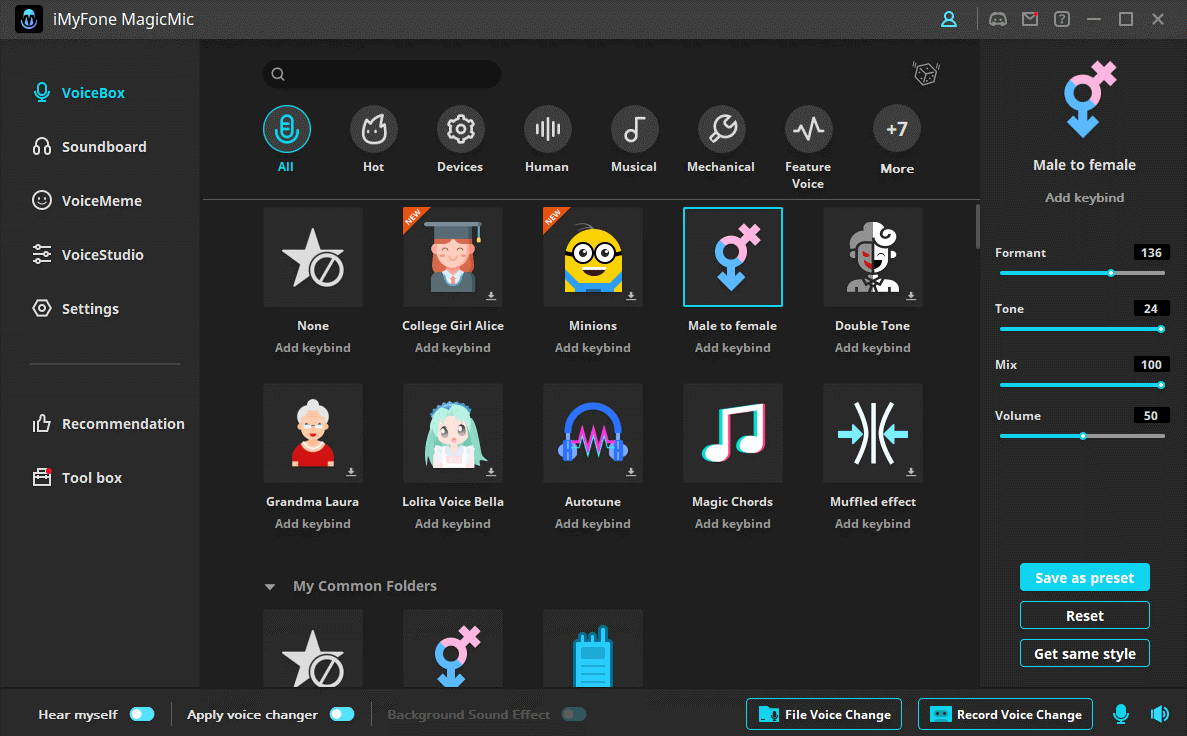 Pros
More than 125 voice effects.

One-click access to 125+ unique voice effects for instantaneous transformation.

There are around 150 voice memes and 400 voice effects available.

Useful for simulating real-world audio in places like video games, real-time chat, and virtual classrooms.
Cons
People have reported that it frequently freezes.

The free version of MagicMic's voice effects and customization options are very lacking.
3. VoiceMod
Voicemod is currently one of the most well-known and widely used pieces of speech modulation software available. It provides a real-time voice changer that may be utilized in various online settings, including streaming platforms, gaming websites, and even discord servers.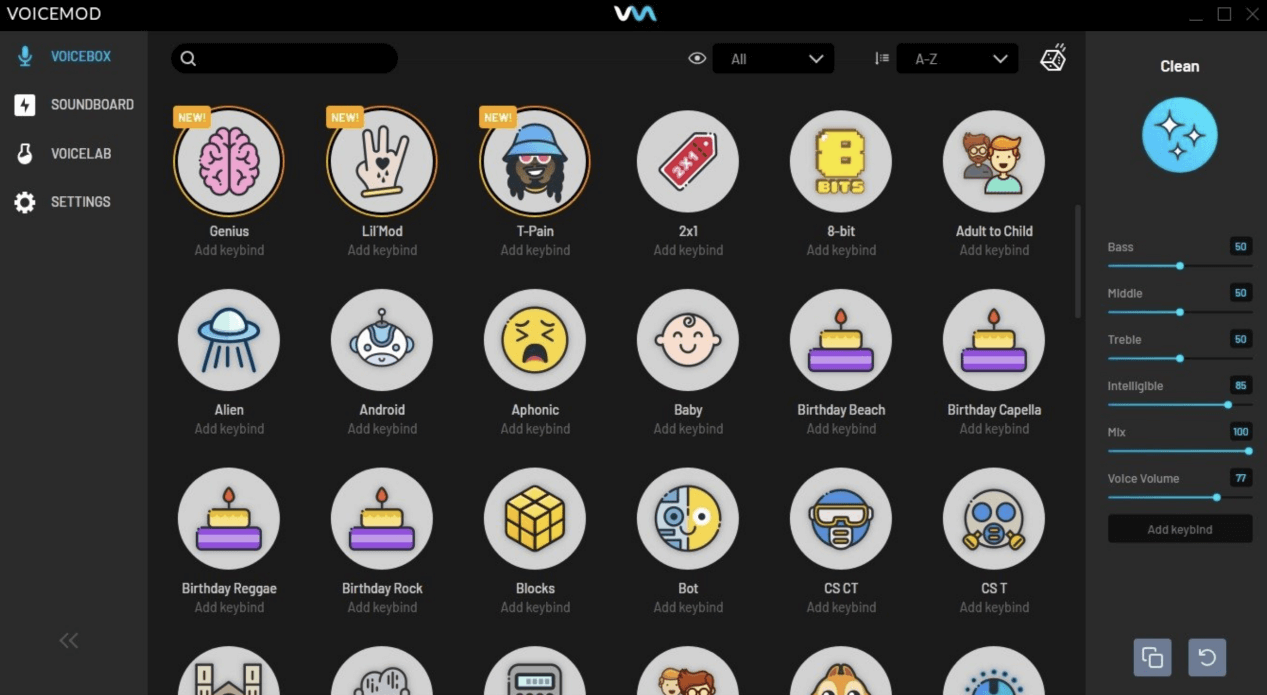 Pros
Both a free and a premium version of Voicemod's voice changer exist.

Availability of customization and voice options.

Plenty of voice effects to choose from.
Cons
Voicemod is prone to regular crushing.
Part 3. How to Make Voice Meme with SoundBot?
It's simple to obtain your preferred meme sounds by downloading them to your device. If so, you'll need to record their voices and upload them to a voice changer. You can customize your favorite web-based game, live stream, or podcast with your favorite meme sound effect!
How to use SoundBot to make voice meme:
Click the VoiceMeme button over on the left. You can use the many meme-related sound effects that are included there.
Choose Import button, then you can click Import local files to make your unique voice meme.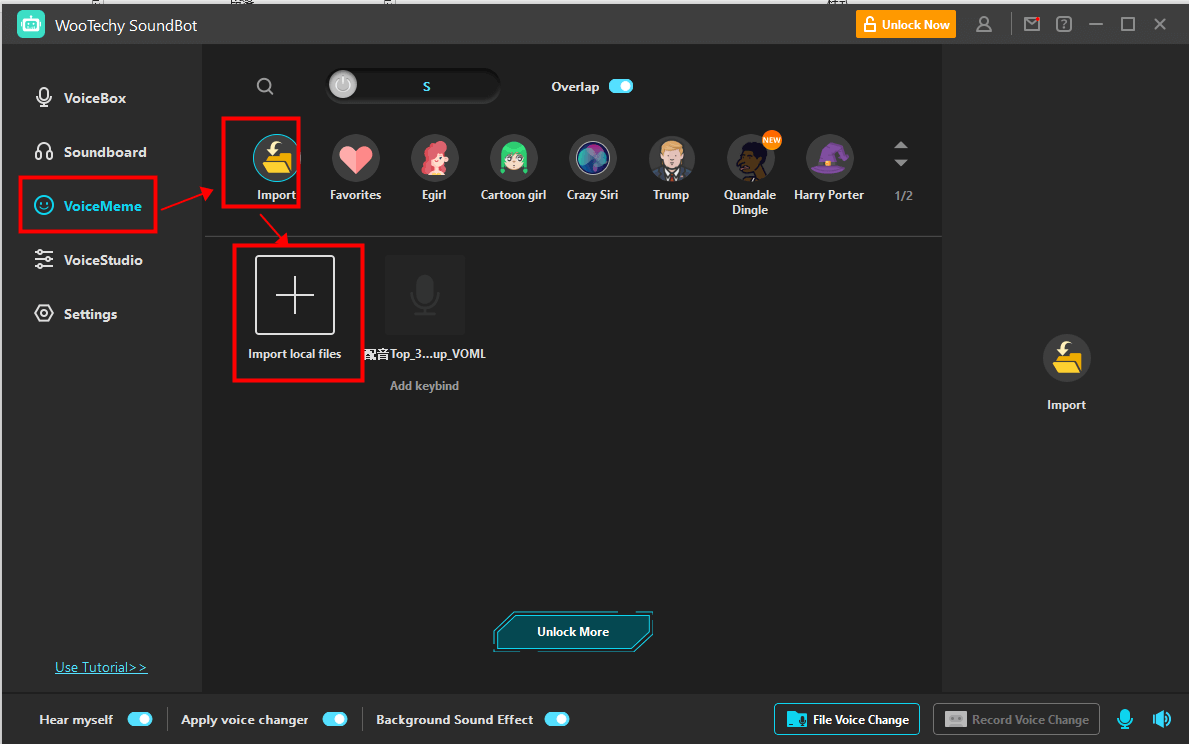 The sound effect you select will play when you click on it. As a result, meme sound effects can be used across all your chosen channels. Ensure that Voice Changer Virtual Audio Device is selected as the system's audio input and output. Then have fun with the meme jukebox.
Conclusion
Are you a Facebook or Facebook Messenger user? If you are interested in a voice changer for Facebook messenger, then you must have been helped by the above-discussed platforms. WooTechy SoundBot is the smartest Facebook voice changer, which is trustable and highly recommended.