When you accidentally delete or lose WhatsApp contacts on your Android phone, you might experience frustration and anxiety about how to get those precious contacts back. There's a common misconception that once you delete a contact from WhatsApp on your smartphone, it's gone forever. But that's not true!
So, if you also come across the same problem of losing your WhatsApp contacts, then this guide is all you need. Here, we are going to introduce 4 different methods to help you get back deleted WhatsApp contacts on Android, regardless of whether or not you have a backup of your data. So, let's begin!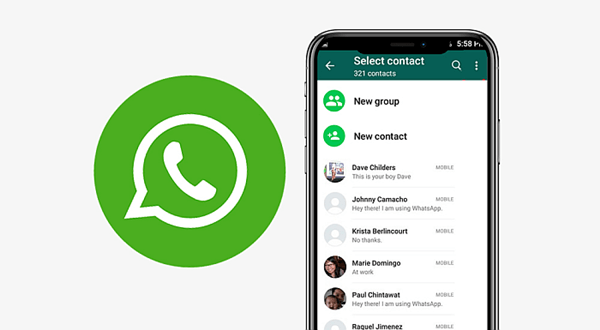 Method 1. Recover Deleted WhatsApp Contacts from Phonebook
If you recently opened WhatsApp and noticed that all your contacts seem to be not showing, it's possible that you've denied WhatsApp permission to access your phone's contacts.
Generally, your phone's address book is the only main source that WhatsApp uses to populate your contact list and then adds them to its contact list.
Therefore, if you accidentally denied WhatsApp permission to access contacts on your Android device or if it was caused by a bug and cache problem, you can follow these steps to check and retrieve WhatsApp contacts:
On your Android phone, go to the Settings app and tap on Apps & notifications.
After that, you can see the App permissions option and tap on it.
Now go to the Contacts menu, then tap WhatsApp and enable the toggle.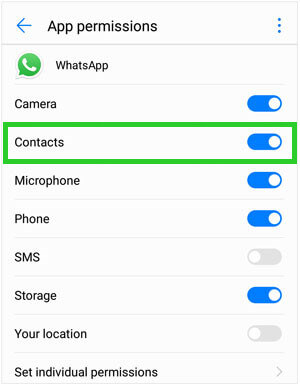 If you already allowed WhatsApp to access your contacts, try turning off its permission and turning it back on again. Then go to WhatsApp and refresh the contact list; hopefully, all your contacts will now be re-synced.
Method 2. Recover Deleted WhatsApp Contacts from Google Address Book
If your contacts are still not showing up in WhatsApp after you update the app's permissions, it's likely because you deleted the contacts from your phone's address book and automatically deleted them from WhatsApp as well.
However, there is good news: if you previously had synchronization enabled on your phone with the Google address book, then those deleted contacts should still be stored in the cloud.
You can follow these steps to check and recover deleted WhatsApp contacts from Google address book:
Open the Settings app on your phone, go to Accounts & Sync > Google, and select your Gmail address. After that, make sure that the Contacts switch is turned on.
Now that you know your phone syncs with Google Contacts, you can use this service to easily manage all of your contacts in the Gmail address book. Log into your Gmail account and choose More > Restore Contacts. After that, select the date from which you want to restore the address book.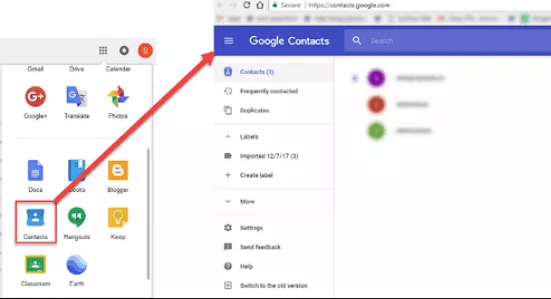 After you have recovered your Google Address Book contacts to your phone using the steps above, WhatsApp will automatically detect them.
Method 3. Recover Deleted WhatsApp Contacts from Chat Backup
If you've tried all of the above suggestions, and your deleted WhatsApp contacts are still missing, you can try to recover them from a chat backup.
WhatsApp provides a built-in backup feature that allows you to easily back up your data. You can create a manual backup or set up an automatic backup to Google Drive so that you can easily restore it in case you accidentally delete something important or your phone is stolen/lost.
However, keep in mind that it will overwrite all the existing data and there is no option to preview the backup before recovery. So, if you want to avoid this then jump to method 4.
Here is how to restore deleted contacts in WhatsApp from a chat backup:
The first step is to open WhatsApp and go to Settings > Chats > Chat backup and check when the last backup was taken.
If a backup exists, then you can proceed with uninstalling and reinstalling WhatsApp on your smartphone.
Once you have installed WhatsApp successfully, open it and verify your phone number.
Once it's done, you will be prompted to restore your WhatsApp backup. Just select Restore, and all of your deleted contacts should now appear back in WhatsApp.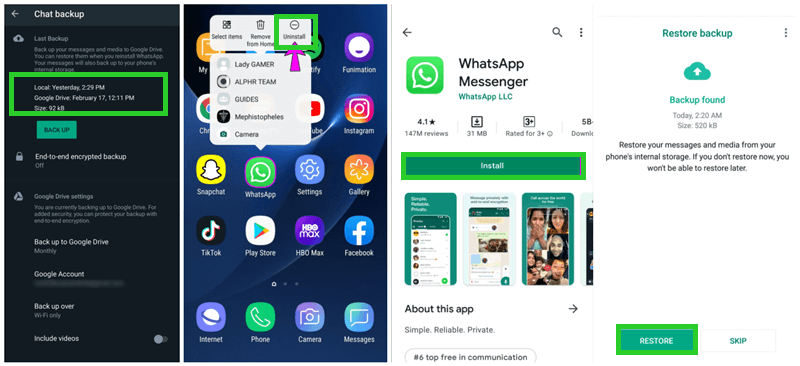 Method 4. Recover Deleted WhatsApp Contacts Without Backup
If you have a chat backup, you can easily recover deleted WhatsApp contacts with the steps above. But what if you don't have a chat backup or if the backup is too old to be of any help?
Well, you don't need to worry because that is where iSeeker WhatsApp Recovery comes in to save the day. It is a convenient and easy-to-use WhatsApp data recovery tool that can help you recover deleted WhatsApp contacts from Android without backup in a few simple clicks.
The program is pretty straightforward even for non-techies; you can recover your lost data without having to worry about removing your existing data or going through a complicated process.
Some other key features of WooTechy iSeeker WhatsApp Recovery
100.000+
Downloads
It can recover lost WhatsApp data without backup on both Android and iOS devices.

It supports almost all Android system versions and supports over 6000 Android and tablet devices.

It allows you to preview and select recoverable data before you restore them.

It provides a free trial to users to help test the utility.
Follow the below steps to learn how to restore WhatsApp contacts using iSeeker WhatsApp Recovery:
Step 1. Select Recover WhatsApp Data from Device Storage.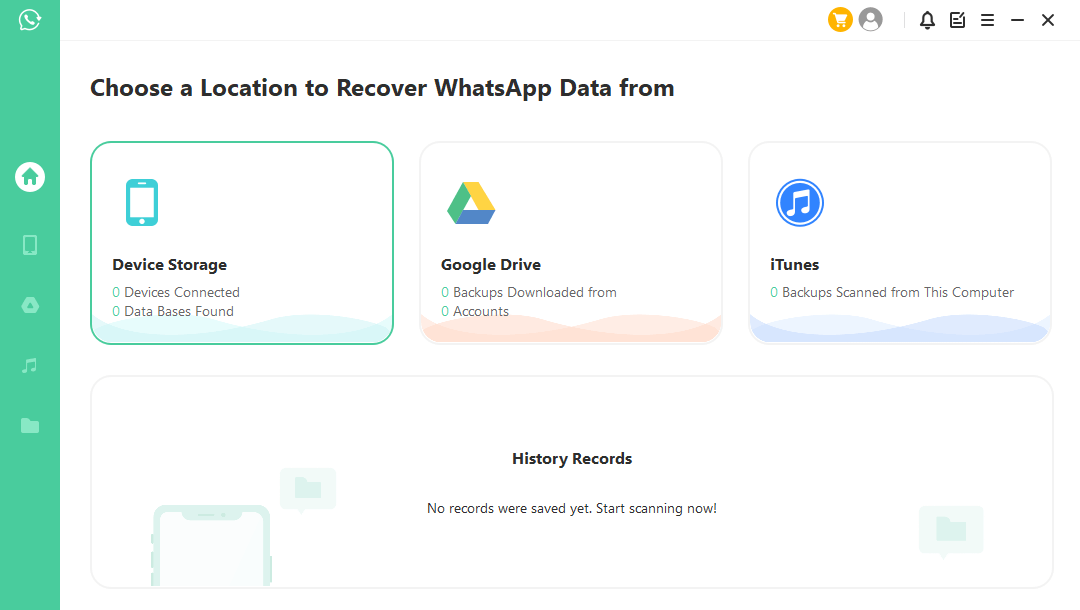 Step 2. Connect your phone to the computer. Allow USB debugging on your Android or tap Trust this computer on your iOS device. Choose a place to store restored data and click on Start.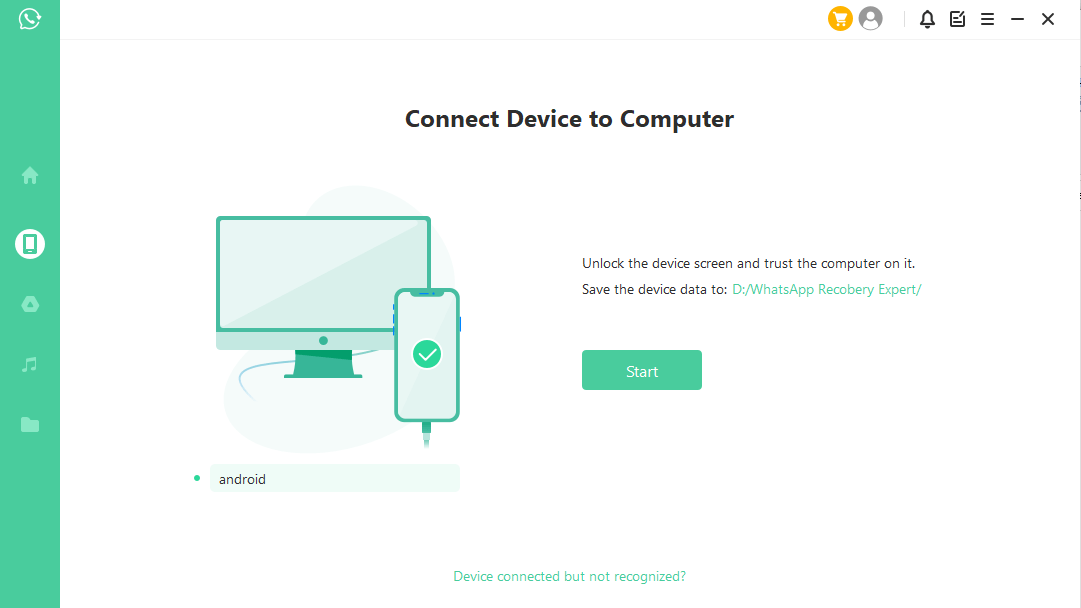 Step 3. iSeeker will then scan your device for the WhatsApp data. After scanning is completed, click Next to continue.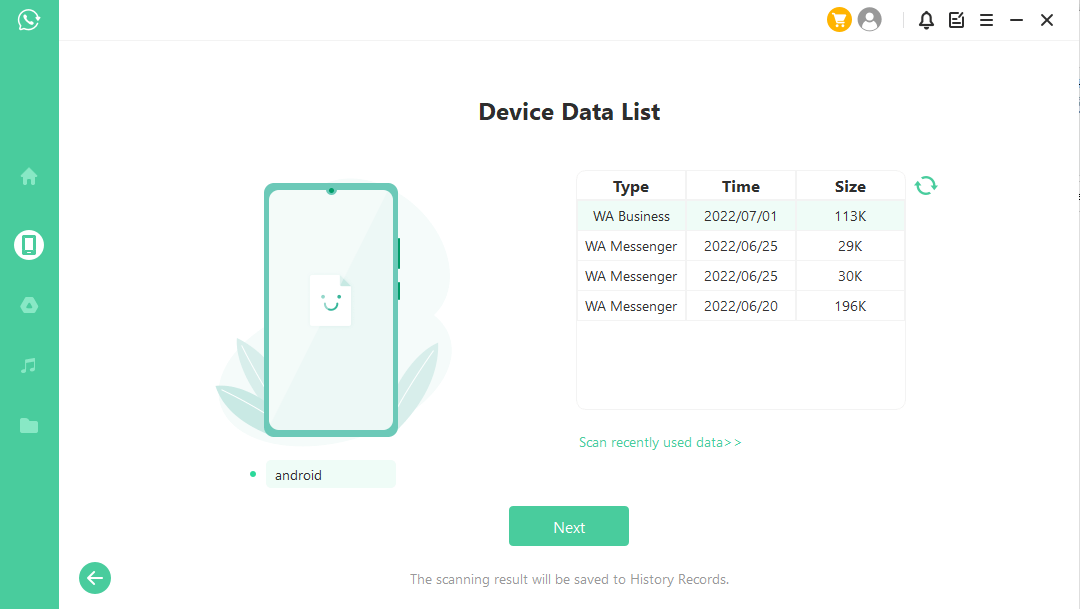 Step 4. Enter your phone number and veritify your account accroding to the prompt on the screen. Then iSeeker will display all the chats on the screen, preview and choose the chats you want to restore and then click Recover to Device or Recover to PC.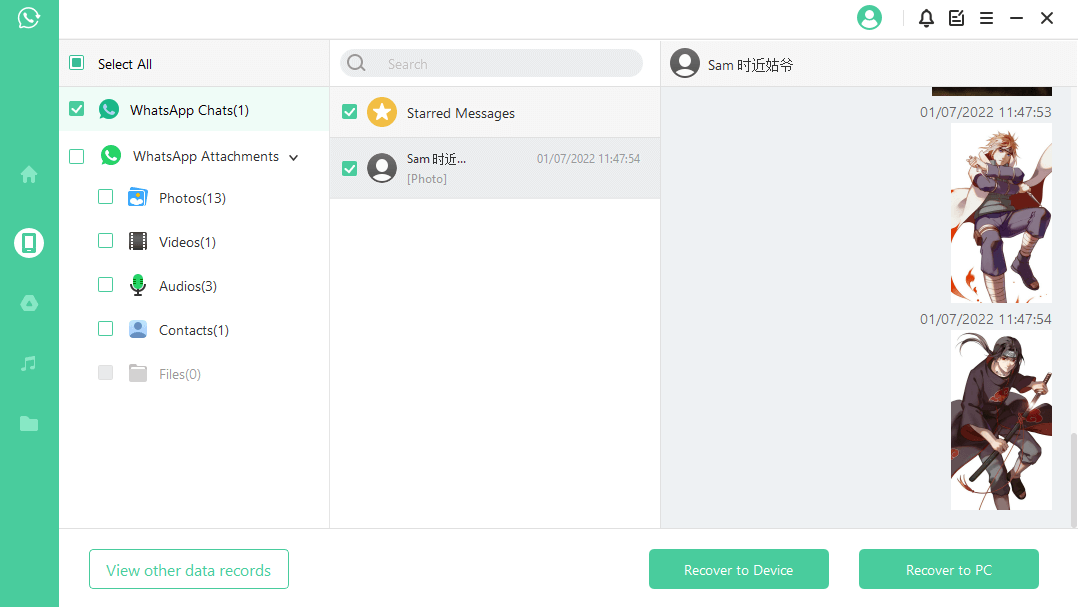 Conclusion
We hope that this guide has helped you to understand how to recover deleted WhatsApp contacts on Android devices in an easy and efficient way.
Although all of these methods are effective and guaranteed to work, we recommend using WooTechy iSeeker WhatsApp Recovery as it is the fastest and most efficient way to restore lost data. So, make iSeeker your go-to tool the next time you accidentally delete any of your important data.