WhatsApp is one of the most widely-used IM apps for both iOS and Android users. This app is perfect for texting your family and friends since it offers you many convenient features. However, you might come across people that offend you or someone that you want to get rid of. In this case, you can block this user and prevent his messages from arriving on your device. But what can you do if you want to read the blocked messages?
In this article, we will show you how to retrieve blocked WhatsApp messages on Android so that you never miss a single text. There are multiples way that you can try.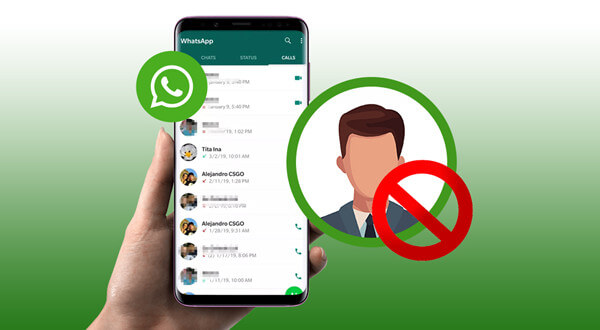 Part 1. Retrieve Blocked WhatsApp Messages from Archived Chats
There are multiples way that you can try if you want to retrieve blocked WhatsApp messages on Android. The first one is to restore any messages from blocked contacts from the archived chats. This is definitely the simplest way to find your previous chats with any blocked contact.
You can complete this method by following these steps:
Launch WhatsApp and go to the Chats section.
Scroll down until you find the Archived chats button. Tap it to view all the archived chats.

Locate the blocked contact in this list and tap on it to view the conversation.
Part 2. Retrieve Blocked WhatsApp Messages from Backup
Another way that shows you how to retrieve blocked WhatsApp messages on Android is to take advantage of the backups you have kept. In WhatsApp, you can either back up your data on Google Drive or keep a local backup.
1. Restore from Google Drive Backup
The great thing about WhatsApp is that it allows you to keep frequent backups. This way, you can save any important conversations at any moment. You can check when was the last backup sent on your Google Drive by going to Settings > Chats > Chat Backup. Once you've ensured that you have backed up your data, you must do the following:
Uninstall WhatsApp from your device.
Then, download the app once again from the Play Store.
Launch the app and log in with your credentials.
When asked to do so, tap Restore to restore your data from Google Drive.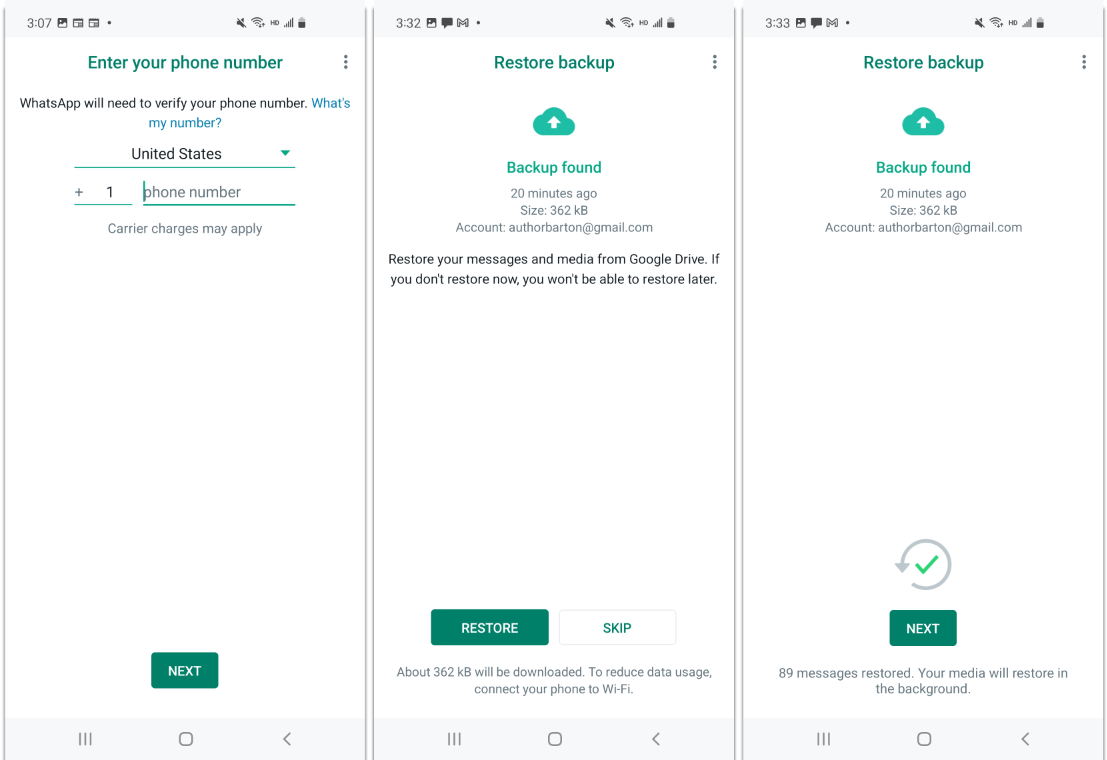 2. Restore from Local Backup
The other case is to restore your WhatsApp data through the local backup. If your most recent backup dates before you have blocked the contact, you will be able to view your conversation with them. To do that, you have to follow these steps:
Launch this File Manager to locate the backups that are stored locally. These files are found in the WhatsApp > Databases and will either be named msgstore-[date].
Find the backup with the date that you wish and rename it as msgstore.db.crypt-[date].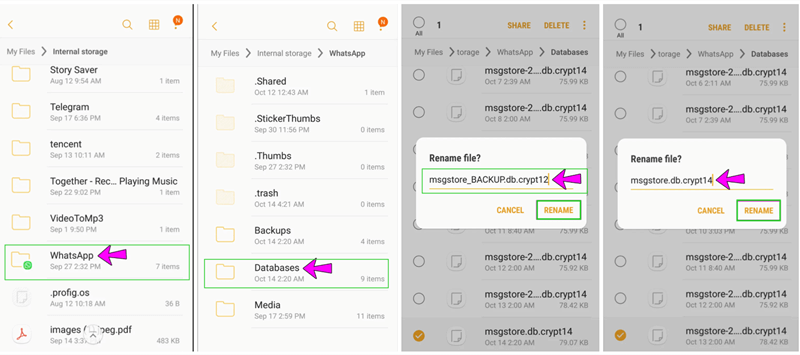 Uninstall WhatsApp from your Android device.
Download and install the app once more.
Once the app has been installed, tap the app to launch it, log into your account, and tap Restore.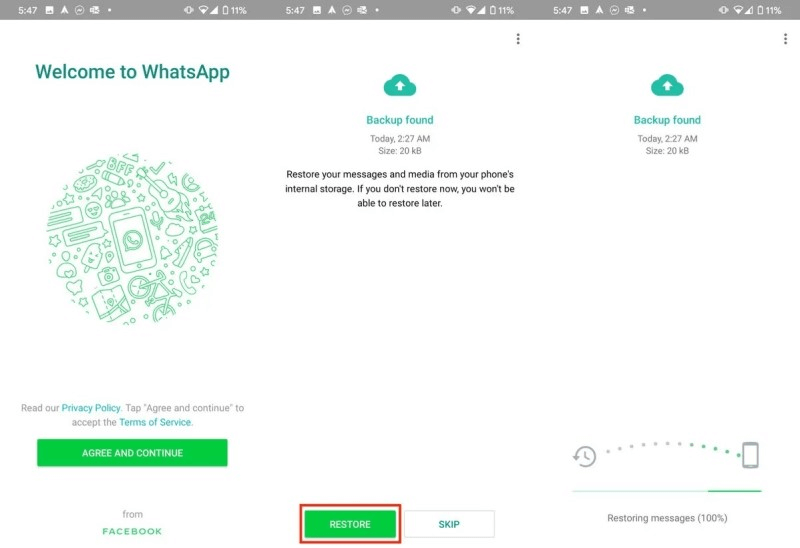 Part 3. Retrieve Deleted/Blocked Messages with a Professional Tool
By taking a look at the above method, you might think that you will never retrieve blocked WhatsApp messages on Android. However, the truth is that you can use a data recovery tool that will complete the process quickly and easily. WooTechy iSeeker for WhatsApp is the perfect solution for recovering any messages you might need from WhatsApp.
In fact, it can retrieve your chat history and the attachment from both WhatsApp and WhatsApp Business accounts. Moreover, it can recover data from Google Drive and a broken device. No matter the task you want to complete, iSeeker will guide you through the process, making sure that even beginners can follow the steps.  
Other notable features of iSeeker for WhatsApp
100.000+
Downloads
It can recover WhatsApp, WhatsApp Business and GB WhatsApp data directly from internal storage and from Google Drive.

It can recover your lost data without backup and without rooting/jailbreaking your phone.

It is compatible with both Android and iOS, and supports Android 12 and iOS 16.

It provides a free trial to all users, with which users can scan and preview the lost data for free.

It allows you to preview the data before restore and allows you to select the data you need to recover.

It allows you to recover the lost WhatsApp data directly to your phone or to your PC.
This is how to retrieve blocked WhatsApp messages on Android via WooTechy iSeeker for WhatsApp:
Step 1. Select Recover WhatsApp Data from Device Storage.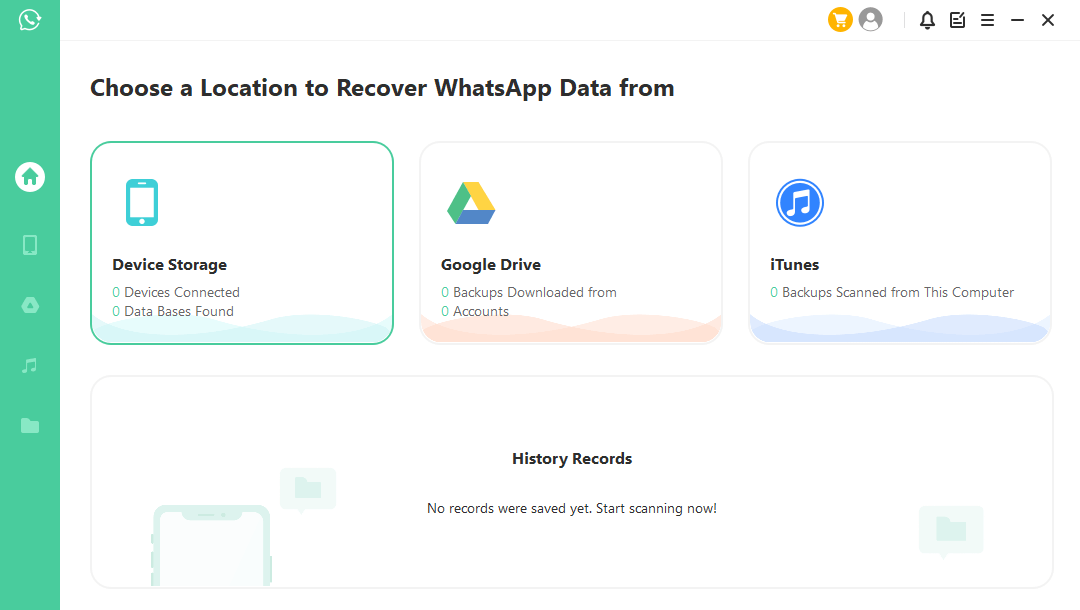 Step 2. Connect your phone to the computer. Allow USB debugging on your Android or tap Trust this computer on your iOS device. Choose a place to store restored data and click on Start.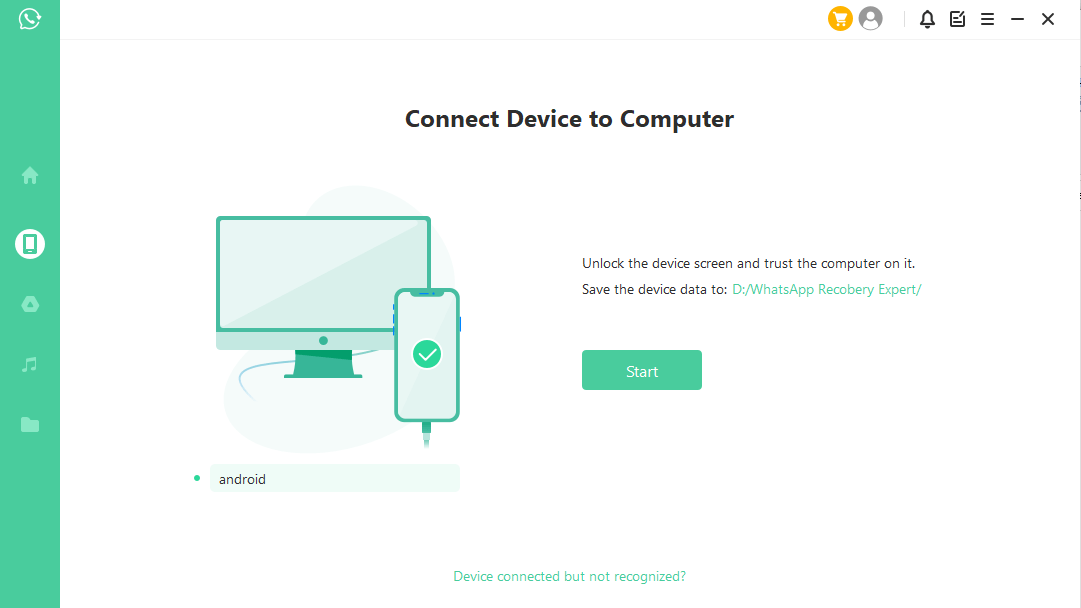 Step 3. iSeeker will then scan your device for the WhatsApp data. After scanning is completed, click Next to continue.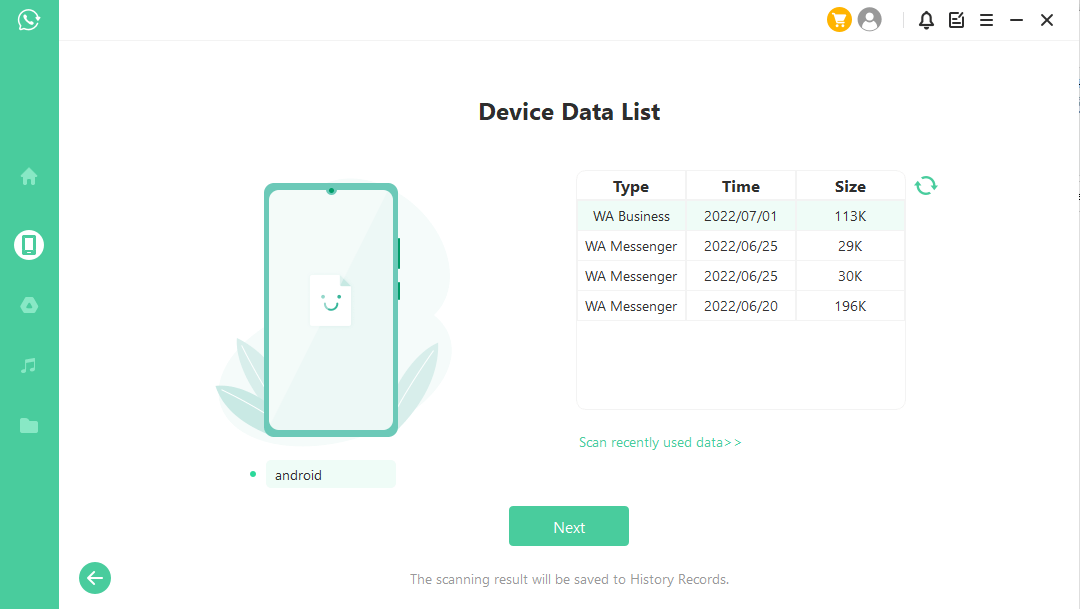 Step 4. Enter your phone number and verify your account according to the prompt on the screen. Then iSeeker will display all the chats on the screen, preview and choose the chats you want to restore and then click Recover to Device or Recover to PC.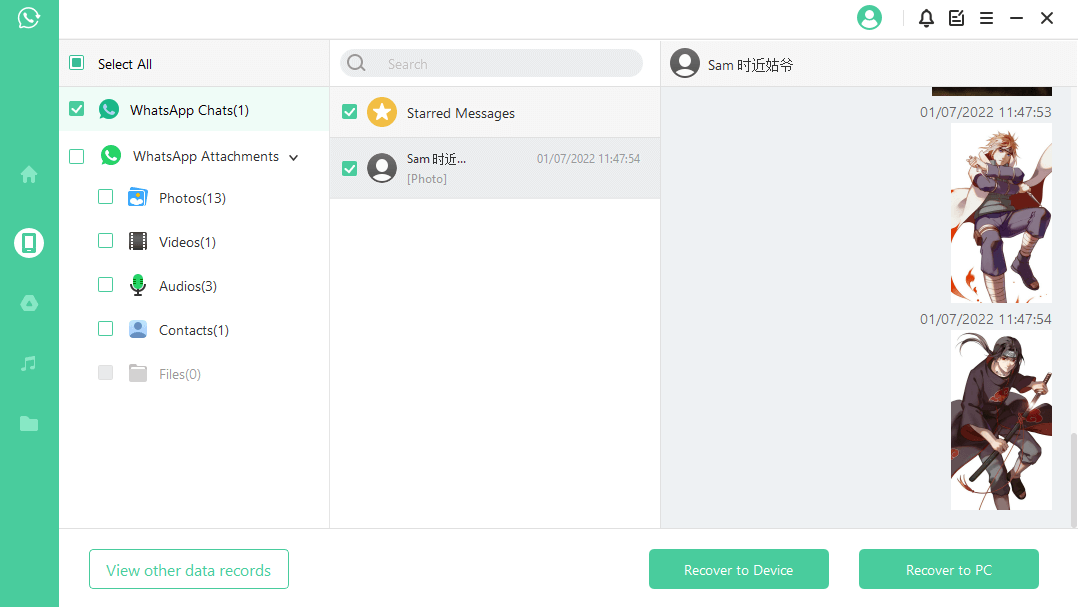 FAQs about Blocking WhatsApp Messages
1. Can I see WhatsApp messages after unblocking?
When you block a contact, its number won't be removed from your contact list. However, when you unblock that contact, you won't be able to receive any messages, calls, and status updates that the contact had sent you when blocked. Moreover, if you unblock an unknown number, then the phone number or contact won't be restored to your phone.
2. How to Block a Contact
Knowing how to block a contact is very helpful as you can get rid of unwanted contacts. You can easily do it by following these steps:
Go to WhatsApp's Settings menu.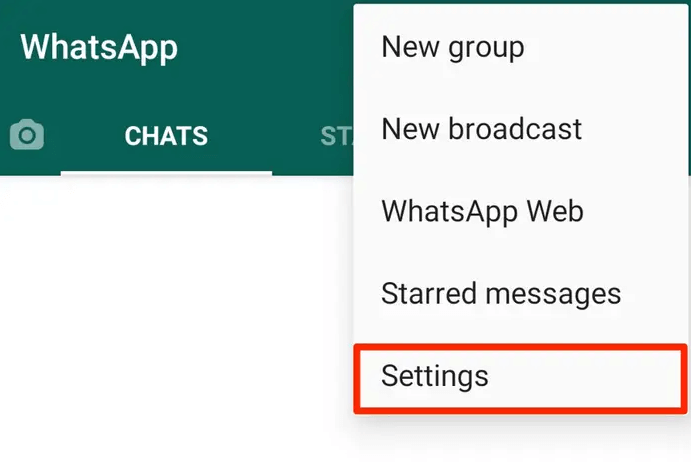 Then, go to Accounts > Privacy > Blocked Contacts.

Tap the Add icon and select the contact from your contacts list.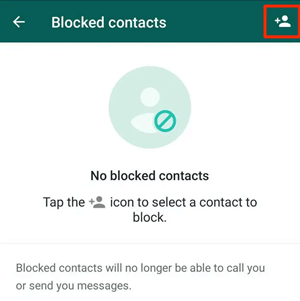 3. How to Unblock a contact
If you have regretted blocking a contact on WhatsApp, you can easily unblock it. The process for doing this is the following:
Go to Settings > Accounts > Privacy > Blocked Contacts.
Tap on the contact you wish to unblock. Tap the Unblock button.

The Bottom Line
There is no denying that in some cases blocking a contact is essential. However, by blocking it, you might lose some important messages. In this case, you can recover these messages with one of the above methods. WooTechy iSeeker for WhatsApp provides you with all the features you need to retrieve any type of data from your device. Download the app to get back the blocked WhatsApp messages now!