WhatsApp stores a lot of files on your Android phone, from chat backups to media files and documents. Combined with your device's other files and media, you might run out of storage and need to save WhatsApp data to SD card. However, WhatsApp will technically store all its data on your phone's internal storage, and you cannot move WhatsApp data to an SD card, atleast not at the moment. The solution, however, is to move your WhatsApp media files to your SD card and free up space. This article explores how to save WhatsApp data in SD card and explains where are WhatsApp audio files stored in Android. To know how to save WhatsApp data to SD card, read on.
Top Methods of How to Save WhatsApp Data to SD Card
Your internal storage is where WhatsApp stores all its data, including media files and chat backups. So, if you want to know where are WhatsApp audio files stored in Android, you can find them by going to internal storage>WhatsApp>Media>WhatsApp Audio folder.
There are several ways to move WhatsApp data to SD card; let's dive into them below. Note that WhatsApp does not allow you to move its storage to SD card by default unless on older versions of Android or using third-party tools.
1. Move WhatsApp Data to SD Card Using Windows File Explorer on PC
Windows File Explorer is a file management solution that allows you to move files between folders, even on external storage devices like your SD card. To move WhatsApp to SD card using File Explorer;
Connect your phone to your PC via USB and ensure your phone is recognized as storage and set to MTP File transfer mode under USB connection.
Open Windows File Explorer and select your Android phone
Open your internal storage folder on the File Explorer menu
Go to WhatsApp, open the Media folder, then cut the Media folder by long pressing it and selecting Cut/Move. Go back to My PC and open your phone
Click on external storage and click on copy to copy the Media folder to your SD card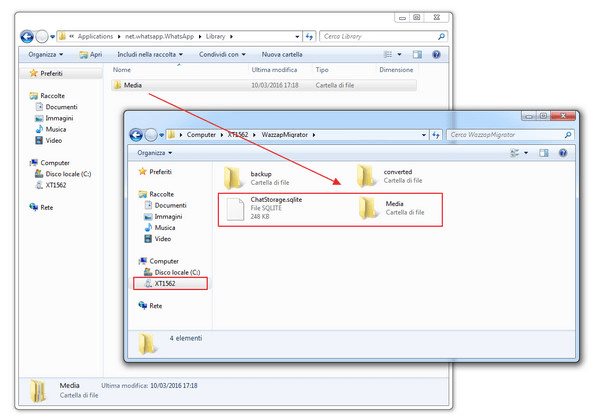 2. Move WhatsApp to SD Card Using a Mobile App
Whether you don't have a PC on hand or prefer to use your phone, you can move WhatsApp to SD card using ES File Explorer app if you don't have your native file manager app. ES File Explorer mobile app is a storage manager that can be used to configure your mobile phone storage. With a file manager app, you can move the WhatsApp folder from your internal storage to your SD card. To move WhatsApp to SD card on mobile using your file manager:
Install ES file explorer or use your internal file manager app. Note that your phone must be rooted by using ES file.
Launch the file manager/ES File Explorer, find the WhatsApp folder, and open it. It could be under Android>com. whatsapp folder
Find the Media folder, long press, and select cut/move option
Go back to your ES File Explorer or File Manager home page and open the SD card folder
Create a new folder and name it as you wish
Open the new folder and paste the files to the folder.
Your WhatsApp files should now be moved to your SD card.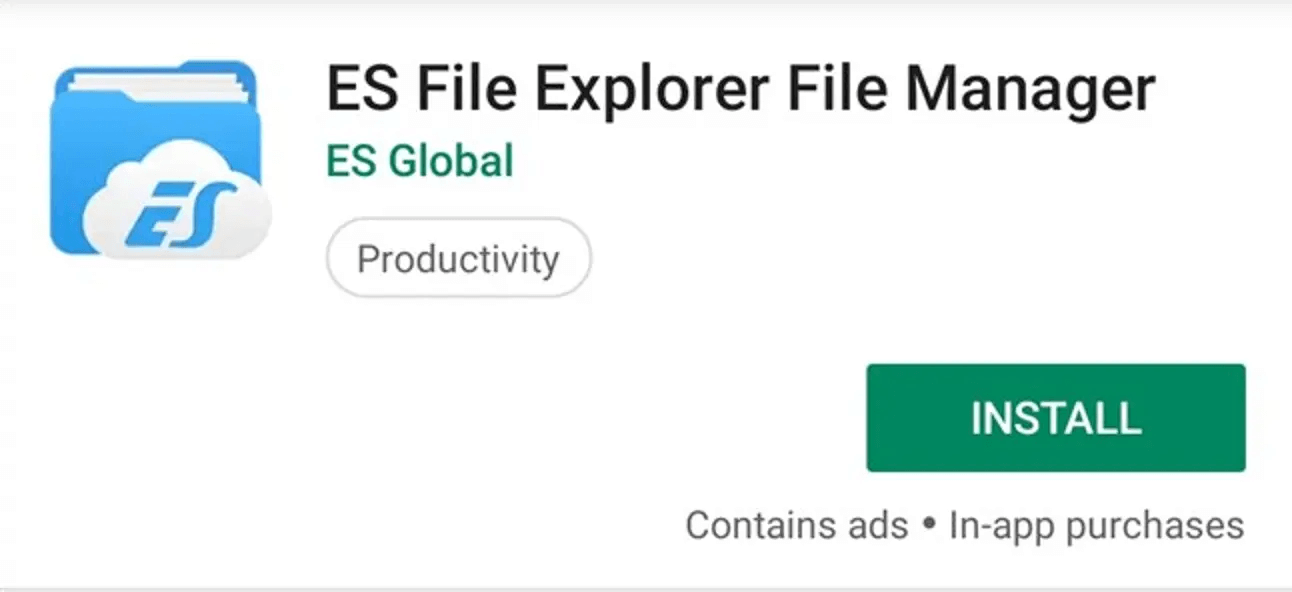 Best Option: Restore, Preview, Manage WhatsApp Data with iSeeker on PC
When your phone's storage is running out, and you don't have an SD card or want to recover deleted/lost WhatsApp data, iSeeker is your best option.
iSeeker for Android is a powerful WhatsApp data recovery tool that allows users to preview, recover and export WhatsApp data to PC without a prior backup. With iSeeker, you can effectively recover and retrieve deleted WhatsApp data from anywhere on your device with support for major Android versions.
Key Features of iSeeker Android WhatsApp Recovery
75.000.000+
Downloads
Restores WhatsApp chats, audios, photos, videos and files in a few clicks.

Supports iOS and Android, including the latest iOS 16 and Android 12.

Allows users to preview chats & attachments, and selectively recover them.

Guarantees high success rate thanks to its advanced technolgy.

100% secure that only you can access the data.
How to save WhatsApp data to SD card with iSeeker for Android
1. Download, install and launch iSeeker on your PC. Connect your device via USB and enable USB debugging. Click Start and choose where to save recovered data.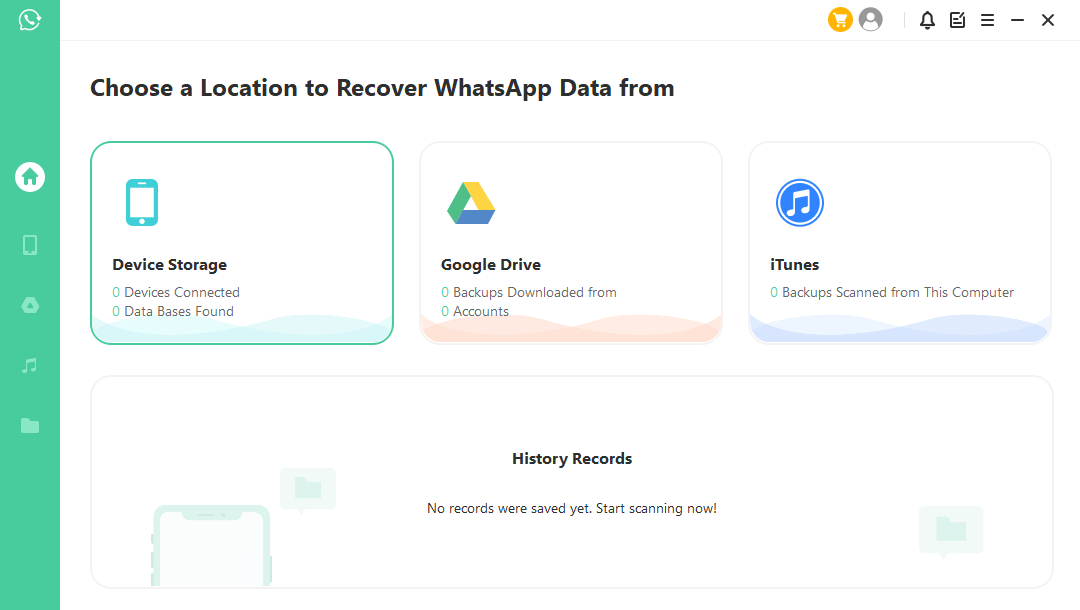 2. Scan device data, then click Next. Grant iSeeker permission to analyze the database and verify your phone number.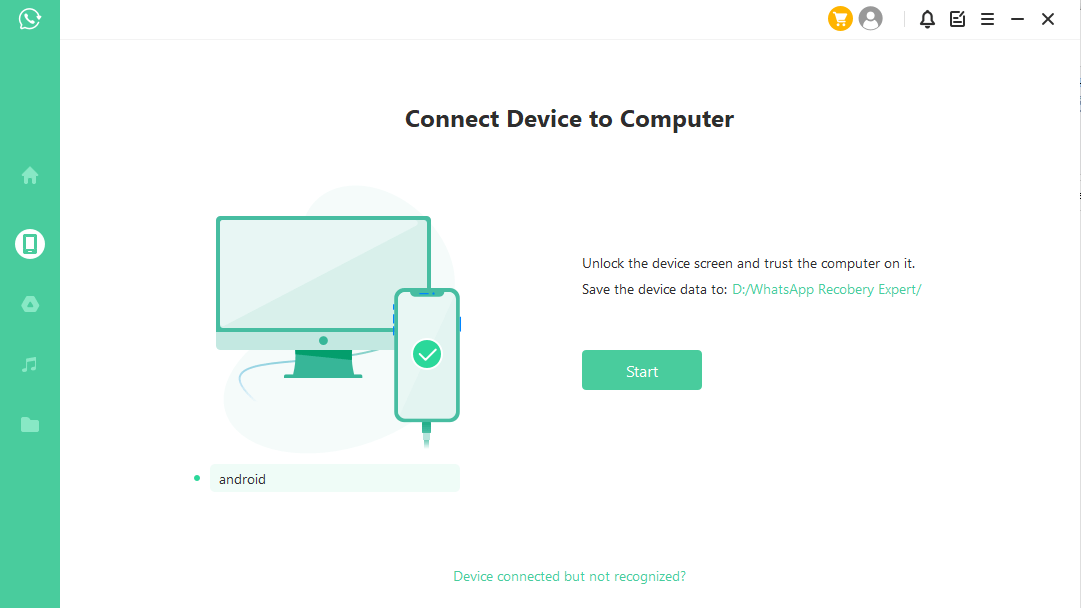 3. Preview and choose the data to recover by selecting them. To Recover to PC, select the file format to export to PC. For Recover to Device, ensure your device is recognized, then click Start.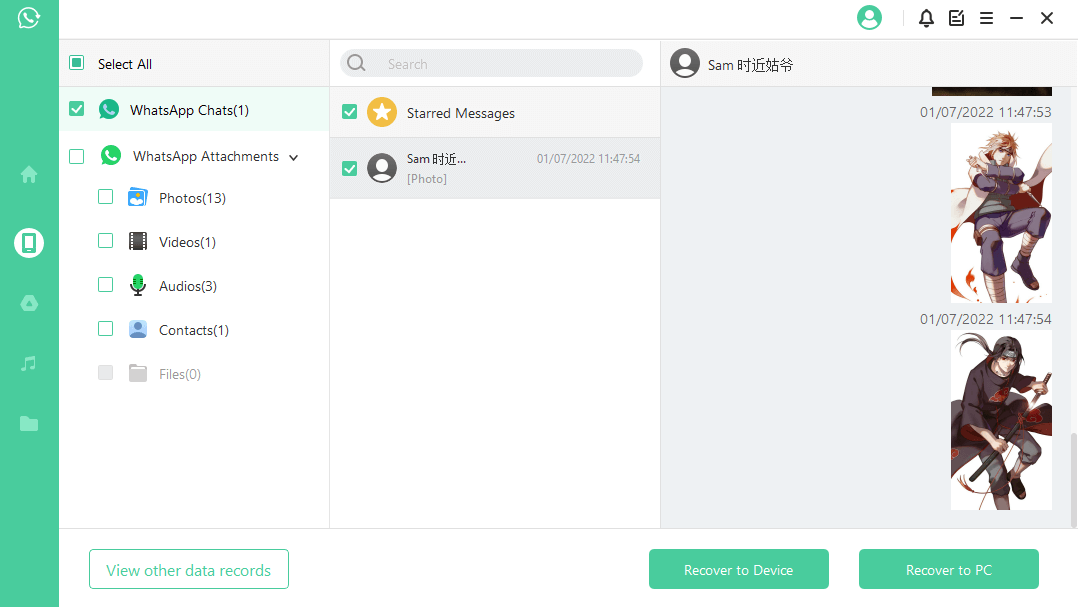 Wait for iSeeker to complete the transfer. With Recover to PC, you can insert your SD card into your PC and move the recovered WhatsApp data to your SD card.
Final Thoughts
Moving WhatsApp to SD card saves you a lot of space and allows you to move your WhatsApp files and export them using the SD card. This article explores all the methods of how to save WhatsApp data in SD card, including using a powerful tool like iSeeker for WhatsApp. iSeeker is a powerful WhatsApp data management tool that allows you to recover lost, corrupted, or deleted WhatsApp data from anywhere on your device, including the SD card, and export it. With iSeeker, you can recover WhatsApp data even without a previous Backup.
WhatsApp data lost or SD card issues? Try iSeeker and recover all your data with no fuss!