Have you ever been scrolling through your WhatsApp messages only to find conversations you wanted to reread are suddenly missing? It is never fun when important information about an upcoming trip, business project, school work, or even details about a first date are no longer accessible.
WhatsApp has introduced various ways of automatically removing these messages and there are other issues that could mean sudden deleting of older content. That is why we have put together a straightforward guide for how to recover deleted WhatsApp messages on Android devices. You'll be able to get the information you need without stressing over lost details. Let's get started.
Why Do My WhatsApp Messages Get Deleted Automatically?
WhatsApp added the feature of automatically deleting messages to compete with similar applications and to help keep conversations private. While they may seem like a great tool for users to enjoy, it also causes stress when you don't know how to retrieve deleted WhatsApp messages on Android.
Some of the reasons your messages will automatically delete include:
You can have Disappearing Messages option turned on which automatically removes messages after 7 days.
The sender of the messages may be deleting them from the conversation.
Senders may be using the View Once option which automatically deletes messages once you reach them.
You could be losing data whenever your Android phone is being updated.
How to Restore Deleted WhatsApp Messages Without Backup on Android
Now that you know these messages are being removed, don't panic! We have some straightforward methods for how to see deleted WhatsApp messages on Android mobile devices.
Use Top-class WhatsApp Data Recovery Software
The easiest method for how to recover deleted WhatsApp messages on Android without backup devices is to download and install the powerful recovery software called iSeeker for Android from WooTechy.
This easy to use application quickly recovers data from lost WhatsApp conversations stored on your device, in a cloud service, and by scanning previous iSeeker (Android) records. You can preview any content you are trying to recover first and target the information highly relevant to your needs. Once you are ready, you can export that data as HTML, PDF, Excel, or CSV files for ease of reading.
Key Features of iSeeker Android
75.000.000+
Downloads
Restore deleted files/data from your device and Google Drive without needing to factory reset your Android.

Highest recovery success rate in the industry.

Easy to use recovery system that does not require advanced training.. 

Supports 6,000+ different models of Android phones and tablets.

Safe and secure recovery method that does not risk the integrity of your Android device. 
To Use iSeeker(Android):
Downlaod and Install iSeeker for Android on your computer. Select the Recover WhatsApp Data option from the main menu.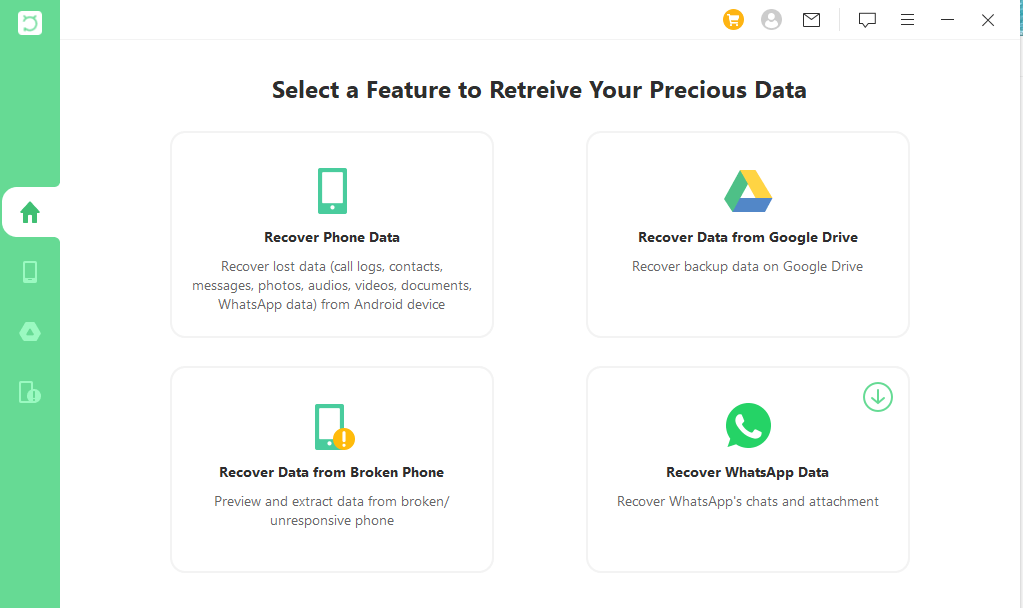 Step 2: Click start, sign in to your WhatsApp Account from the app, and follow the on-screen instructions.
How to Recover Deleted WhatsApp Messages (with Backup) on Android
Luckily, there are plenty of backup options for WhatsApp so you can learn how to recover deleted files from WhatsApp on Android. These are solutions you should try if a backup is present.
1 - Restore WhatsApp Data from Google Drive Backup
Google Drive offers a great backup system that syncs with WhatsApp. This allows you to restore all kinds of information including how to recover deleted WhatsApp voice messages on Android.
Option 1: Recover WhatsApp Data via Google Drive
Be sure that you remember the same phone number and Google Account that you used to create your WhatsApp backup. You will be asked to verify information and that is going to come in handy.
Step 1: Completely uninstall the WhatsApp application from your phone, and then reinstall it back.
Step 2: Verify the WhatsApp number is correct during the installation.
Step 3: You will be prompted to restore your WhatsApp data, chats, and medial files from a Google Drive. Click on Restore to start this process.
Step 4: Tap on Next once the process is complete and you should now have access to all your previous data.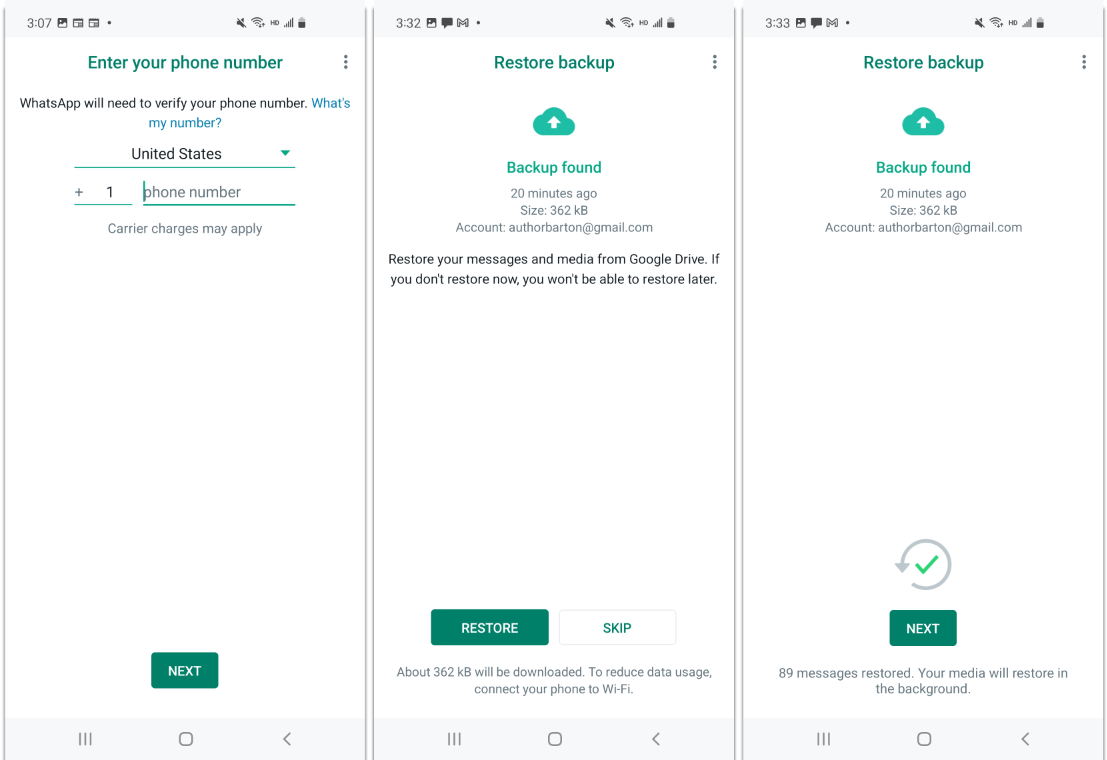 The only downside to this solution is that you had to have created a Google Drive Backup before the messages were deleted. Otherwise there is nothing for Google to restore.
Option 2: Search Google Drive Backup Using iSeeker(Android)
You can also use the iSeeker(Android) software for getting around how to restore deleted WhatsApp message without backup on Android if all your information is stored on a Google Drive instead of your device. This is better than the first option because it doesn't require you having to uninstall anything from your phone and turning back the clock.
Step 1: Choose Recover WhatsApp Data from Google Drive on iSeeker(Android) and log in to your Google Drive to access the data.
Step 2: Authorize your Google account and scan your Google Drive file after it is downloaded to your PC.
Step 3: Preview and recover any data you find from your download by clicking on the Recover to PC option after selected the relevant files.
Step 4: You can also Recover to Device if you wish to install an older version of WhatsApp to your Android.
2 - Restore Deleted WhatsApp Messages on Android from a Local Backup
This method words if you have previously made a backup of your Android WhatsApp collection of data onto your mobile device first. Without that package of data, you will not be able to restore any deleted messages.
Step 1: Go to Settings > Apps > WhatsApp and then tap on Uninstall to remove the app from your Android.
Step 2: Open the Google Play Store and download and install WhatsApp once again.
Step 3: Agree to the terms and enter in your country and phone number.
Step 4: Once verified, WhatsApp will automatically detect the most recent backup file on your device.
Step 5: Click on Restore and the app will launch again.
Again, this only works if the data was backed up locally previously. Otherwise you will still have deleted messages in the places where you wanted to view them again.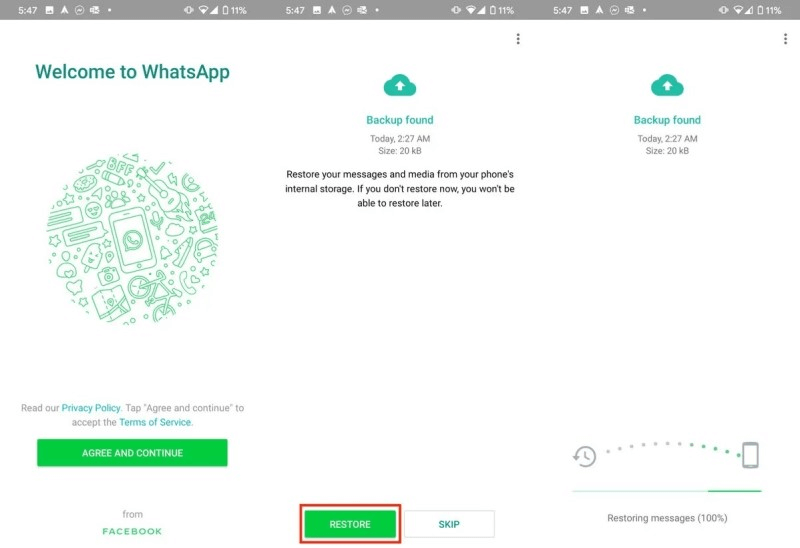 3 - Restore a Less Recent Local Backup
If you have the foresight to make backups on a regular basis to your device, then this method will work well for you so you can see your deleted messages again.
Step 1: Open My Files on your Android and tap on Internal Storage or SD Card.
Step 2: Navigate to Device Storage > WhatsApp > Databases.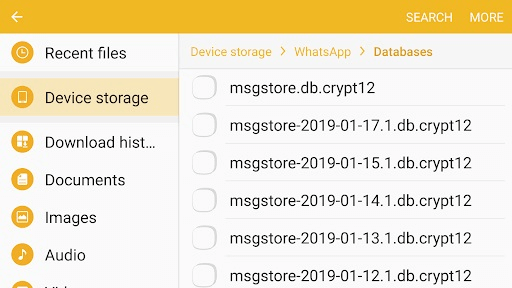 Step 3: Locate the file you want that has a corresponding date to the time you wish to recover to.
Step 4: You will need to remove the date from the name by tapping Format > More > Rename and just removing the extra info.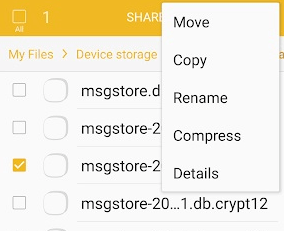 Step 5: Now you can download the WhatsApp app again and reinstall following the 2nd method we outlined. The older file will be used to restore your app.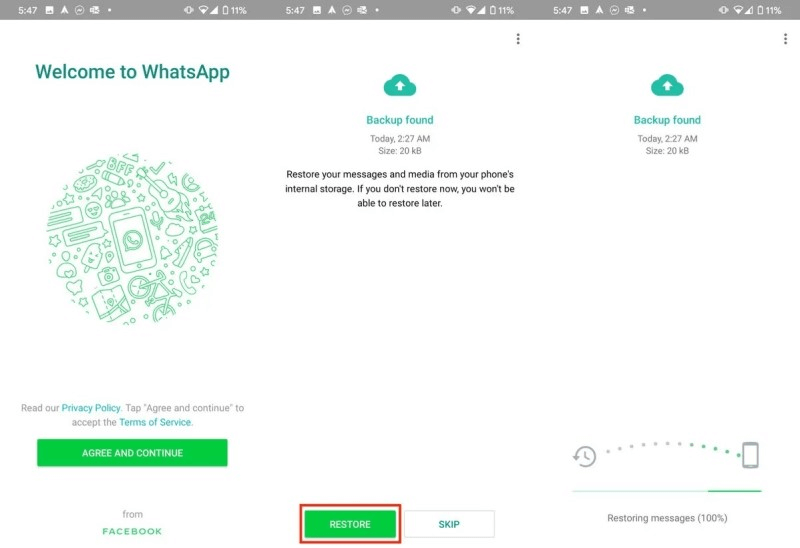 The problem here is that if you accidently misname more on the file you could damage it. You also may not remember the exact date you want to go back to, meaning you may have to do this procedure multiple times to find the info that is missing.
How Do I Stop WhatsApp from Deleting Messages?
The first thing you should do is disable the automatic deletion preferences that sometimes come preselected in WhatsApp. This is surprisingly easy to fix.
Step 1: Open the WhatsApp chat.
Step 2: Tap on the contact's name you wish to enter.
Step 3: Tap on the option Disappearing messages so it is disabled.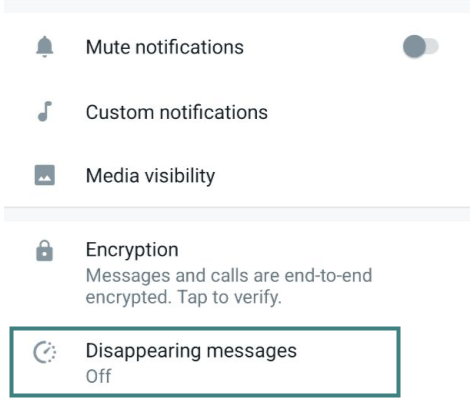 Step 4: You may have to click on Continue to verify this step.
Step 5: Tap on Off to be sure it is off.
That should stop any future messages from being automatically deleted by the WhatsApp system. You can also export the data to be saved or sent to another device for viewing later.
Step 1: Open the WhatsApp conversation you want.
Step 2: Tap on the 3 spots on your upper right corner, and then tap on More.
Step 3: Scroll down and select Export Chat.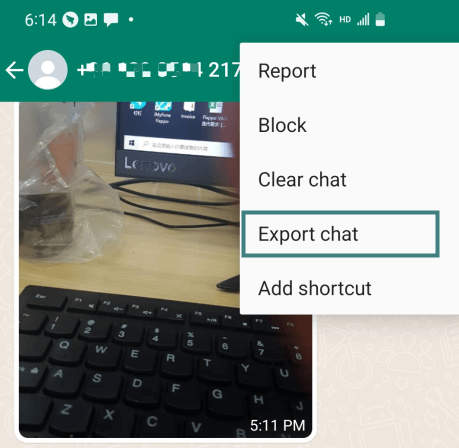 Step 4: Choose whether to include media or not.
WhatsApp will create an archive file of your messages that you can then keep on your phone or send to another device.
Conclusion
It can be really frustrating when your information is suddenly gone from your conversations. We hope this article has helped you understand how to recover deleted WhatsApp messages on Android.
The simplest way to avoid all of the confusing steps is to download and install the easiest solution iSeeker for Android. That way you can restore all of your deleted messages and secure the information you need for work, school, or your social life. Start your free scan and preview right now!