WhatsApp Business allows businesses to effortlessly run their enterprise on WhatsApp, including making sales, confirming orders, chatting with clients, and even posting a catalog of all their items. However, circumstances change, and you might find yourself in a fix where you have lost your WhatsApp Business messages, and you need to perform WhatsApp business delete message recovery. With WhatsApp Business backup restore, you can get back to your clients and avoid losing them.
If you are wondering how to restore WhatsApp business backup, this article focuses on the top ways of WhatsApp business restore backup to get you back in business. Let's dive in!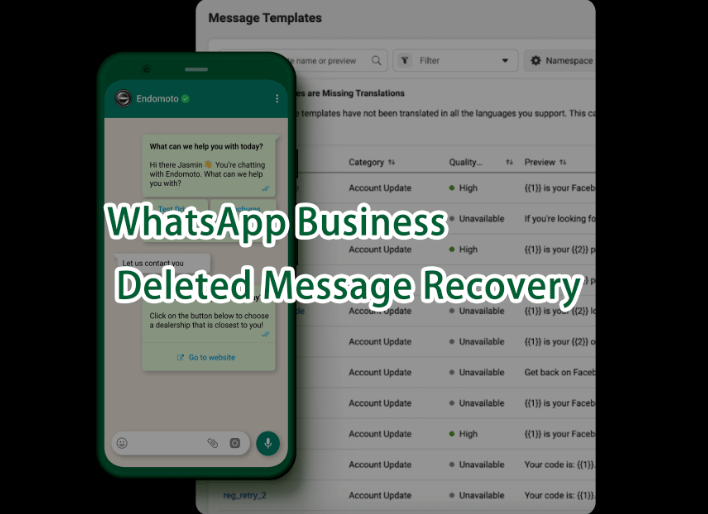 Where Are WhatsApp Business Backups Stored?
WhatsApp allows you to back up your WhatsApp Business chats to either a cloud backup or a local backup. Before restoring any WhatsApp Business Chat backup, you must determine where they are backed up. You can find your WhatsApp business backup in the following locations.
For iOS users
On iOS, you can back up your WhatsApp business chats to iCloud through settings > Chats > Chat Backup on WhatsApp. To find your backup:
Option 1: To check your backup, go to Settings > Apple ID > iCloud > Manage Storage and find the "WhatsApp Messages" folder under Documents & Data. You can then start iCloud synchronize.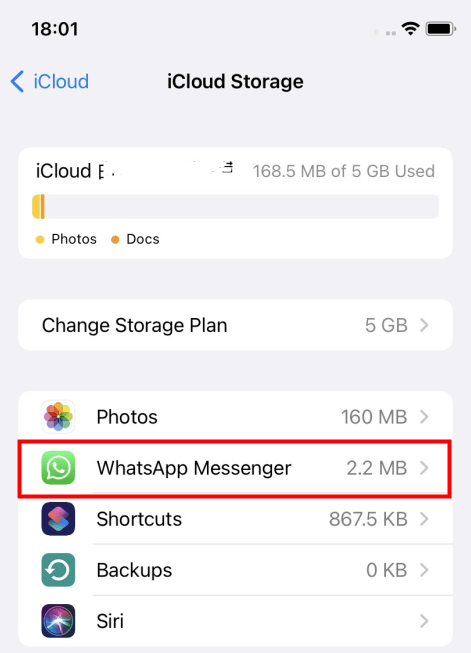 Option 2: When you use iTunes to store your WhatsApp backup, your chats are backed up to your local storage or hard disk. To find the backups, go to Library > Application support > Mobile sync and Backup > WhatsApp backup folder.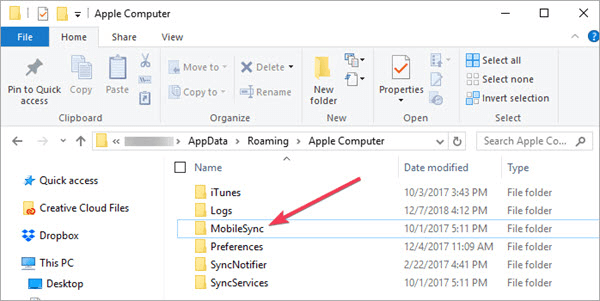 For Android users
Your local WhatsApp Business backup can be found in your phone's internal storage. To find it:
Step 1. Go to your file manager app and find the root folder, then WhatsApp folder
Step 2. Look for the Databases folder
Step 3. The media backups will be under the Media folder.
For SD card backups, go to SD Card > WhatsApp > Databases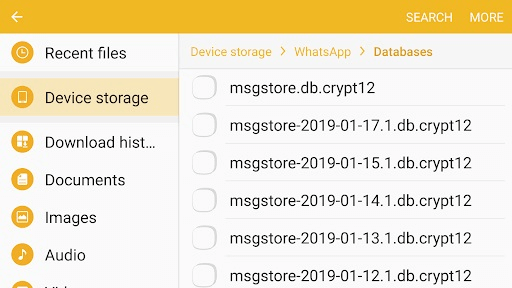 To find your WhatsApp Business Chat Backup on Google Drive;
Step 1. Go to drive.google.com and sign in to the account your backed up to
Step 2. At the bottom left, under the Storage option, click the number
Step 3. Go to the top right and click Backups
Step 4. You should see a folder with your WhatsApp Business backup
Full Guide to WhatsApp Business Deleted Message Recovery
With the methods below, you can retrieve your WhatsApp Busniess messages without hassle. However, the most efficient way is using a reliable third party tool. Read on!
1. How to Restore WhatsApp BusinessBackup Without Uninstalling
The easiest WhatsApp business deleted messages recovery method is using a top-class WhatsApp business data recovery tool like iSeeker for WhatsApp. iSeeker allows users on Android or iOS to retrieve lost WhatsApp Business messages and attachments.
With iSeeker for WhatsApp, you get to choose the chats and files you want to recover without uninstalling. You can preview and read them on your PC without overwriting your existing data. Some of the standout features of iSeeker for WhatsApp include:
Key Features of iSeeker WhatsApp Recovery
75.000.000+
Downloads
Restores WhatsApp chats, audios, photos, videos and files in a few clicks.

Supports iOS and Android, including the latest iOS 16 and Android 12.

Allows users to preview chats & attachments, and selectively recover them.

Guarantees high success rate thanks to its advanced technolgy.

100% secure that only you can access the data.
Steps to Whatsapp Business Delete Message Recovery Using iSeeker for WhatsApp
Step 1. Download, install and launch iSeeker for WhatsApp the choose Recover WhatsApp Data from Device Storage" mode.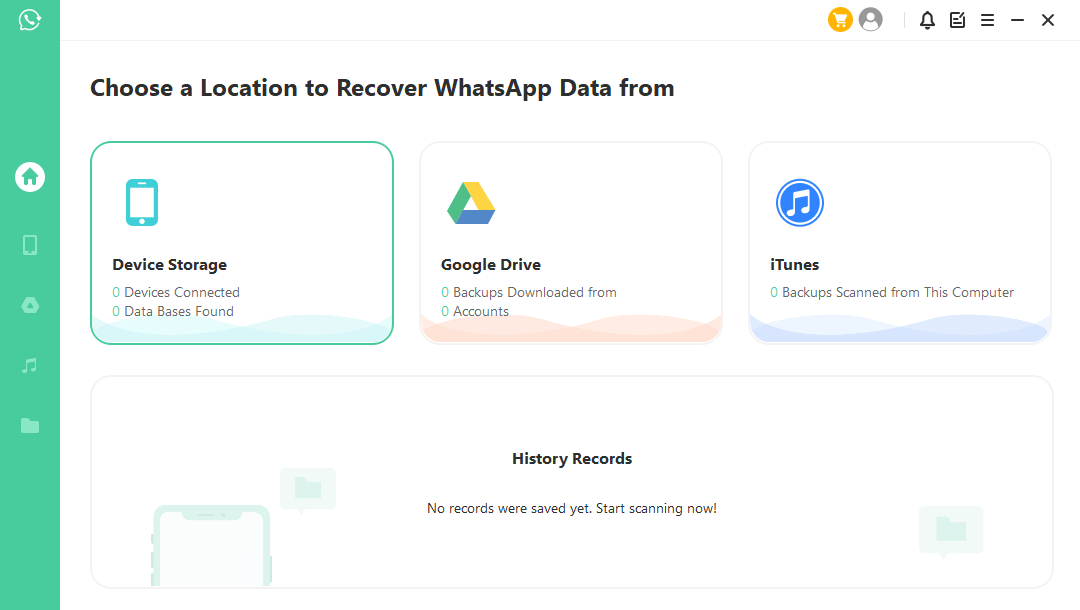 Step 2. Scan device data by following the necessary steps according to Android or iOS devices.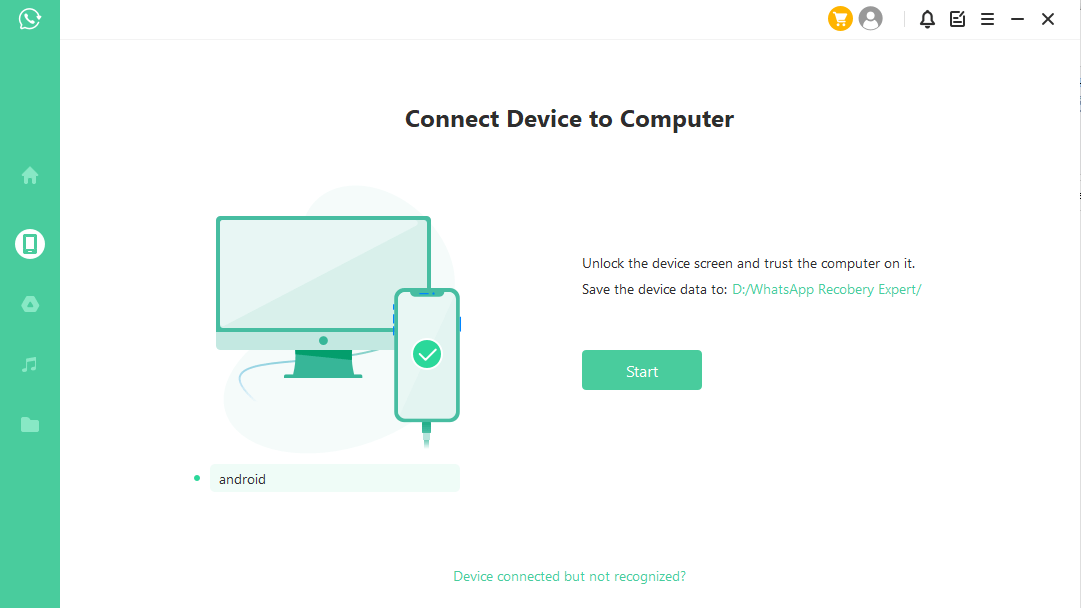 Step 3. Preview and recover the WhatsApp Business data you want. Follow the on-screen prompts and click Recover.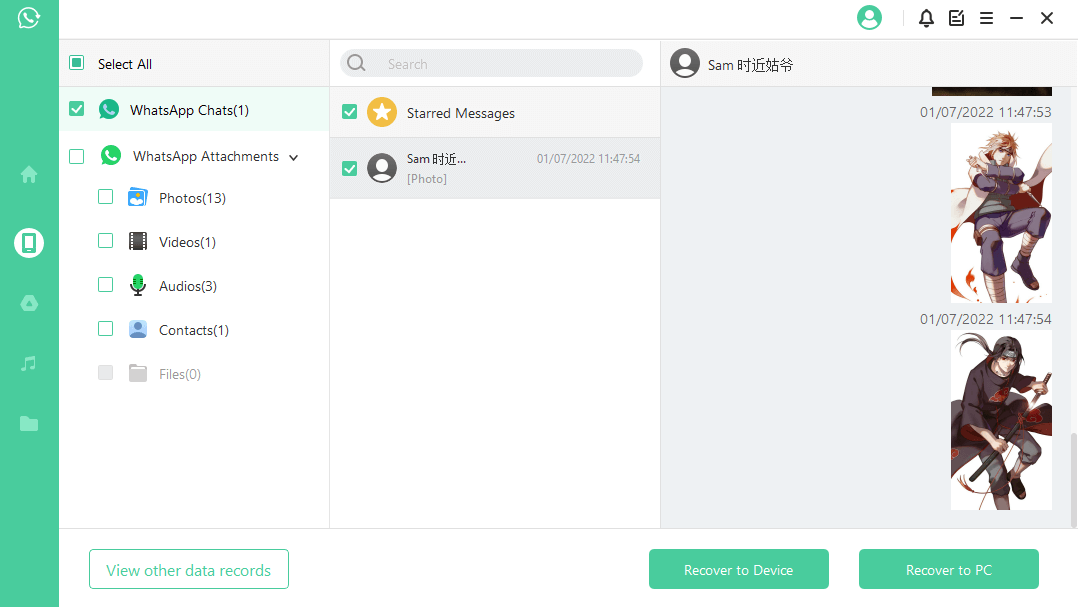 iSeeker for WhatsApp also allows you to recover WhatsApp chats and attachments from a backup located on your device storage, Google Drive and iTunes. Click here to check the detailed guide.
2. How to Restore WhatsApp Business Backup by Uninstalling WA Business
WhatsApp allows you to restore your chat backup from an older backup you made. To WhatsApp Business backup, you will first need to uninstall your WhatsApp Application. Before uninstalling, first, ensure you have backed up your chats.
To restore your backup
Step 1. Sign in to Google Account linked with the backup
Step 2. Reinstall WhatsApp Business, launch it, and verify your phone number
Step 3. When prompted, tap RESTORE to restore your chats and media from Google Drive or a local backup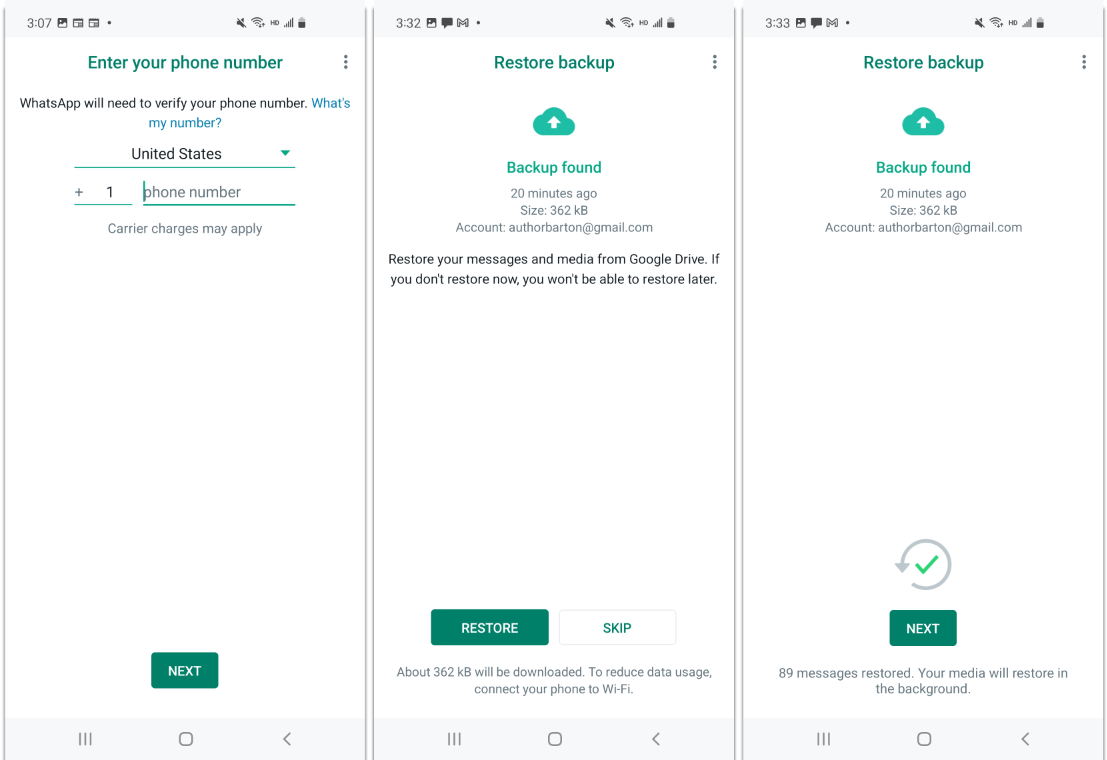 Step 4. Wait for the restore to complete and tap NEXT
Step 5. Your media files will get restored after your chats
To restore WhatsApp Business chats from a specific local backup
Step 1. Open your file manager app, go to local storage or SD Card > WhatsApp > Databases. You can also go to internal storage or main storage folder.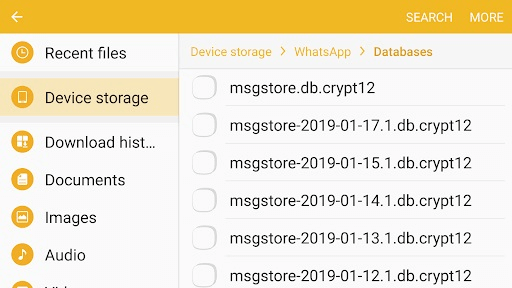 Step 2. Copy the backup file you want to restore to the Databases folder or delete other backups in the folder
Step 3. Reinstall WhatsApp Business, launch and verify your number
Step 4. Tap RESTORE to restore your chats and media from the backup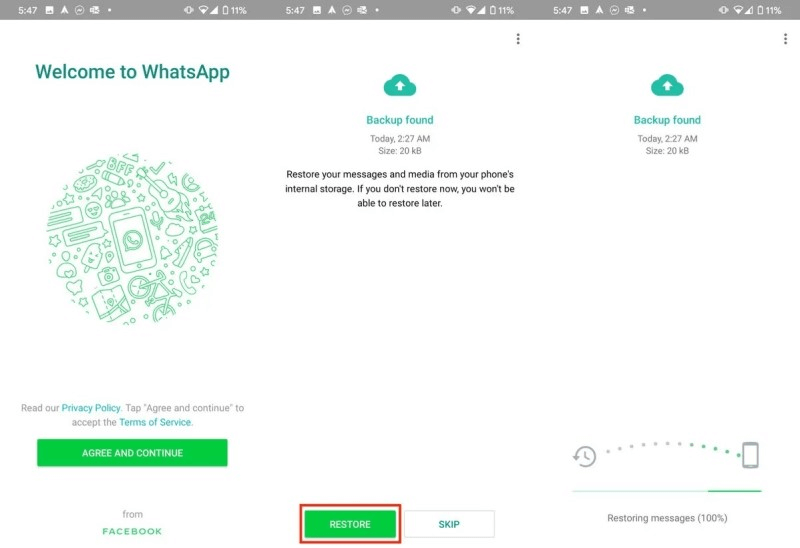 If the backup file is a little older:
Step 1. Open your file manager and go to Local storage or SD Card > WhatsApp > Databases or under internal storage/main storage
Step 2. Rename the backup file you want to restore from msgstore-YYYY-MM-DD.1.db.crypt12 to msgstore.db.crypt12. Do not change the crypt extension if it is from an older crypt9 or crypt10 number.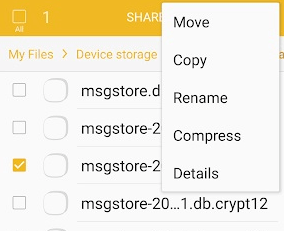 Step 3. Uninstall and reinstall WhatsApp Business
Step 4. Launch WhatsApp Business, verify your number, and tap RESTORE when prompted.
Step 5. Wait for the restore to finish.
How Do I Transfer WhatsApp Business Chats?
iSeeker is a reliable WhatsApp recovery tool that allows you to preview and restore your WhatsApp data effortlessly. You can restore your WhatsApp backups to your PC as HTML/PDF/Excel/CSV files and move them to your Phone for easy recovery.
Switching between Android and iOS means you can't simply transfer data as you normally would using native solutions. Luckily, WhatsMover is a reliable and trusted way to move your WhatsApp Business data between iOS and Android. Give WhatsMover a try now! The dedicated WhatsApp/WA Business Data Manager lets you transfer all your media and chats from one platform to another with only a few steps.
Final Thoughts
This article explores all the easiest ways of how to recover deleted WhatsApp Business messages so you can get your business back on track. We explore all the top methods, including a powerful tool like iSeeker for WhatsApp. With iSeeker for WhatsApp, you can preview and choose the data you want to restore and save it to your PC or phone, even without a backup.
If you have problems with WhatsApp Business data recovery, free download or free scan and preview your lost WA Business data using iSeeker for WhatsApp WhatsApp Recovery.