Question
An iPhone user asked in the Apple Discussions Forum: Does Find My iPhone work if SIM card is removed?
Can you track an iPhone that has no service? How to make Find My iPhone not working if the SIM card is removed? This post will show you the easiest way to turn off Find My iPhone without SIM card or password.
Part 1: Does Find My iPhone Work If SIM Card Is Removed?
Find My iPhone feature was introduced by Apple to help users locate lost or stolen devices. It requires an internet connection via cellular data or Wi-Fi, and works through a combination of online iCloud services and the phone's built-in GPS. For instance, when a user misplaces the Apple device, all they need to do is log into their iCloud account and then they can view the location of their linked Apple devices on the map.
The purpose of the SIM card, in most cases, is to provide cellular data to the phone through 3G, 4G, or 5G network. If someone removes the SIM and the iPhone is not connected to the internet via Wi-Fi, it's impossible to track it through iCloud. But if there are different SIM card in iPhone and connect to the internet, then it will still be visible by the previous owner that linked with their iCloud account.
Besides, there are various options the phone's owner can take when the iPhone comes online again. They can choose to erase all content and settings or lock the iPhone and display a custom message on the lock screen.
Is there a way to remove it? Yes. Keep reading to find out!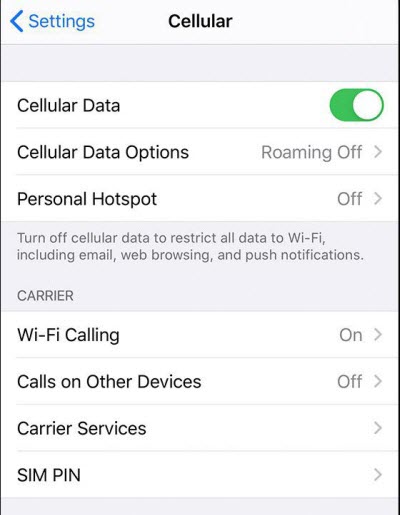 Part 2: Can You Track An iPhone Without SIM Card?
Yes, it is possible to track an iPhone if the SIM card is removed. The device just needs to be connected to the internet. Immediately it's online; it sends its GPS coordinates to Apple servers. The previous owner can therefore see the location on the map once they login into their account. An unauthorized user will not have the ability to turn off FMI.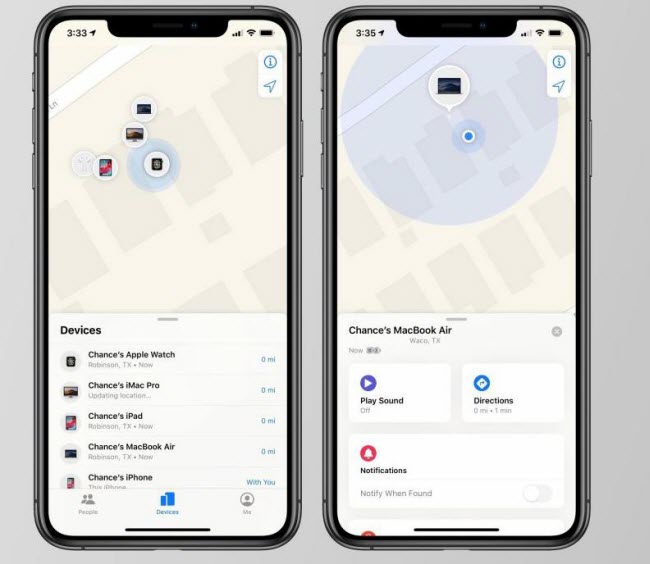 When they attempt to do so, they will be asked to connect to the internet and provide the Apple ID. Once they connect, the device can be tracked until they go offline again. They will not have the ability to reset the device. And even if they are successful in resetting the device without turning off Find My and logging out of iCloud, the device will still be trackable.
During the start-up process, they will also encounter the activation lock screen and be required to provide the Apple ID. The device needs to connect to the internet to receive the activation authorization from Apple Servers.
How To Track The iPhone If SIM Card Is Removed When FMI Is Turned On?
As quickly as possible, you need to login to your iCloud account and enable lost mode. You can enable it on your iPad, iPhone, iPhone Touch, Mac, or Apple watch. Once you do this, Apple Pay will be disabled for the device. In case Location Services was turned off, it will be turned on to help locate the device on a map.
Step 1. Go to iCloud.com and sign in using your Apple ID.
Step 2. Select Find My iPhone.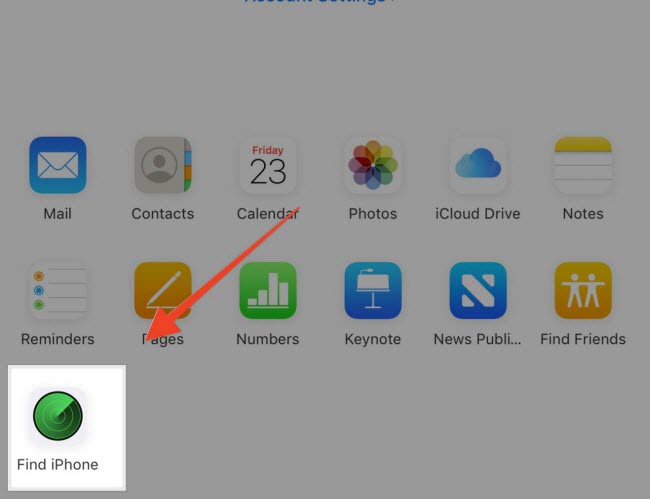 Step 3. Choose All Devices and select the device you want to enable Lost Mode.
Step 4. Select Lost Mode or Lock.

How To Prevent Being Tracked If SIM Card Is Removed When FMI Is Turned On?
There are situations where you may end up with a device that still has Find My iPhone and Activation Lock enabled. In most instances, you'll have bought the device from someone else and can't contact the previous owner to help in turning off FMI.
You can still be tracked even if the SIM card is out, and if you want to avoid this, you need to use a third-party tool such as WooTechy iSalvor. It's an activation lock bypass tool that you can easily turn off Find My iPhone without Apple ID or password. It relies on jailbreaking your device to disable Find My iPhone. Here are the steps to use it.
Step 1. Download and setup iSalvor on your computer. Launch it and select the mode of Turn Off FMI. Then you will need to connect your iDevice with a lightning cable.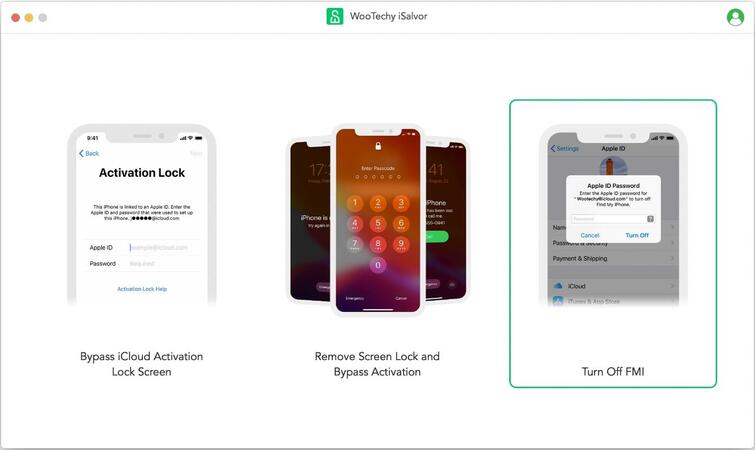 Step 2. Jailbreak the iDevice using the recommended tutorials suggested by the software. Follow the instructions onscreen if your device is iPhone 6-X. Follow the jailbreak tutorial if your device is iPhone XR to iPhone 11 Pro Max.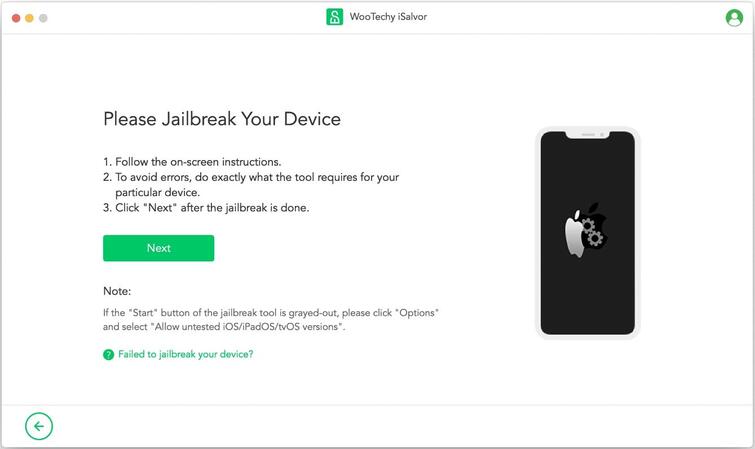 Step 3. iSalvor will start to turn off Find My iPhone after jailbreaking. And vertify the FMI status by the onscreen instructions. Then tap Confirm to proceed.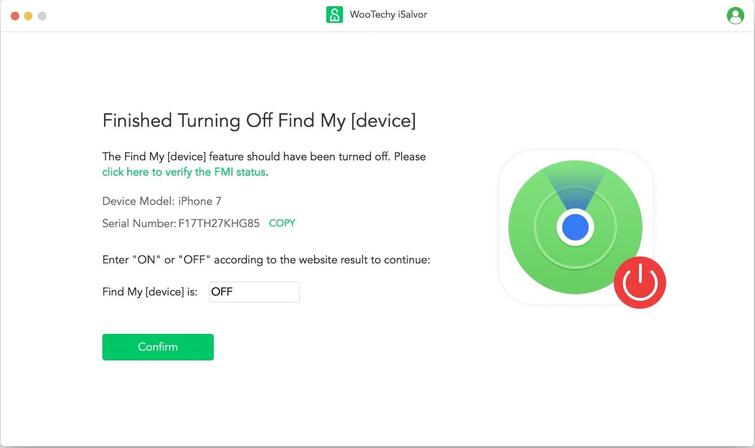 Step 4. Wait a moment, Find My iPhone will be instantly turned off. And the Apple ID will also be removed.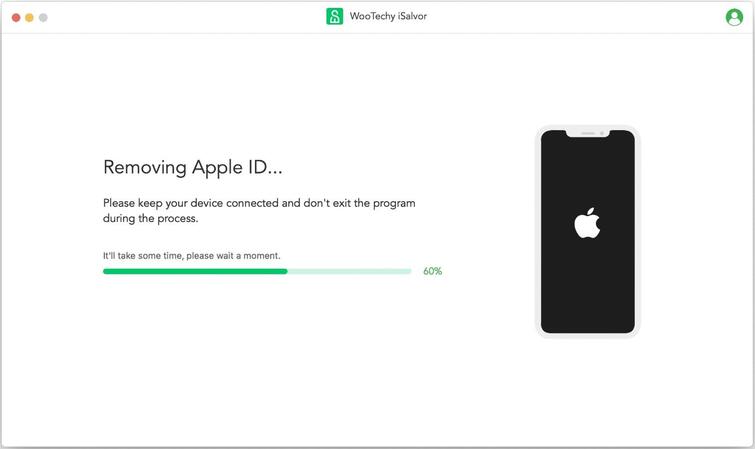 You can reset your device now, and use the device as brand new.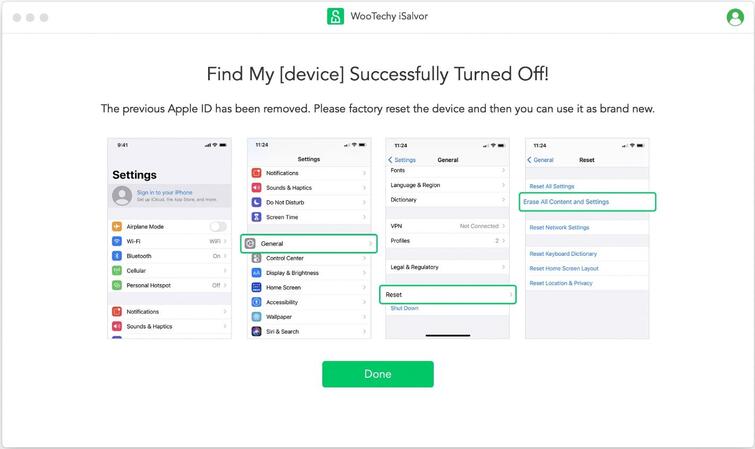 Part 3: FAQs About Find My iPhone & SIM Card
1. Can a lost iPhone be tracked if the SIM card is replaced?
Changing the SIM card does not disable FMI. Therefore, if someone chooses to insert a new SIM and connect to cellular data, the lost mode will be enabled, and the phone will be locked using a passcode. You can also choose to display a custom message such as a phone number someone can use to call in order to return the device.
2. Can you track an iPhone without service?
You can't track the iPhone without service. It needs to be connected to the internet in order to update its location. But there are other third-party tools and solutions available that can help iPhone users find missing or lost devices. For instance, there is a service that relies on crowd GPS functionality.
3. Can thieves disable Find My iPhone?
They cannot disable Find My iPhone if they don't have the required Apple ID and password. The alternative way of disabling Find My iPhone entails using third-party tools and jailbreaking the device.
4. Does taking out the SIM card delete everything?
Not at all. The SIM card is pretty much interchangeable. After removing the SIM card, the information that may be lost will be the contacts and messages directly saved on it. Someone can also insert a new SIM card into the device and turn on cellular data. This will enable you to see the location of a lost device with FMI via iCloud.
Conclusion
Does FMI work if SIM card is removed? Yes, it does work. If you bought the used Apple device from someone else with the assurance that FMI was turned off but only to discover that this was not the case, use WooTechy iSalvor to disable Find My iPhone and restore some lost functionality. It comes with a 30-day money-back guarantee providing assurance to buyers. Just Download and give it a try!