What would you rather be locked out of? Your home or your iPhone? Of course, with your house, there is always a spare key under the mat. But if you are locked out of your iPhone, it's not that easy!
But with the correct guidance and the right tool, you can quickly get your iPhone up and running. This article aims to help you activate your iPhone without a SIM by using WiFi or iTunes as introduced in this article.
If you cannot connect your device to WiFI or iTunes, like when you are trying to revive an old iPhone running an old version of iOS, you can also force a system upgrade by putting your device into DFU mode and upgrade the iOS version before activating it through WiFi or iTunes. We will also show you how.
Additionally, if your iPhone has an activation lock, we will also provide you a solution to remove the activation lock on your iPhone and activate your device, also without a SIM.But now, lets start from the beginning and see whether you need a SIM to activate your iPhone or not.
Part 1: Do You Need A SIM to Activate Your iPhone?
The good news is, Since the rollout of iOS 12, you can activate your device without a SIM card by only using WiFi. But unfortunately, many older versions of iOS require you to have a working SIM card in order to activate the device. If that's your case, don't panic. Read on to find out how you can activate an older iPhone without having to purchase a sim plan.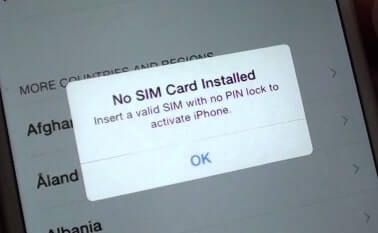 Another situation where you need a SIM to activate your phone is that if your phone is bound to a particular network. If you have purchased your phone as a contract or a payment plan, you are usually tied to that network even after your contract period is over. Conversationally, this process is known as "locked to XX network", and in these instances, you can only use SIM cards from that particular network. So you must use a SIM card of that particular carrier in order to get full access to the device.
But now, let's start with how to activate iPhone without SIM on iOS 12 and newer versions when it's not tied to a specific carrier.
Part 2: Activate iPhone without SIM for New iOS Versions
If your device is running iOS 12 or a newer version, you are in luck! There are a couple of ways you can get your device activated. Let's go through each option step by step to decide what works best for your situation.
Activate iPhone Using WiFi
If you don't have a SIM card inserted in your iPhone, you can skip the SIM card activation process and use WIFI to connect to the internet for activation. It's quite simple actually. Also, the QuickStart function can also help you activate your iPhone quickly if you already have an activated iPhone by your hand. Here is what you need to do to activate iPhone using QuickStart or WIFI.
Step 1: Turn on your device and choose your language and region.
Step 2: If you have another device that's running iOS 11 or later, you can use "Quick Start" to activate your current device without SIM or WiFi. To do that, just tap "Next" when you see the "Quick Start" prompt and follow the step to step guide. Otherwise, tap "Set Up Manually".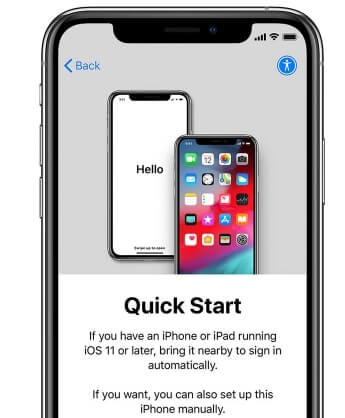 Step 3: Connect to a WiFi network upon prompt, then proceed the activation.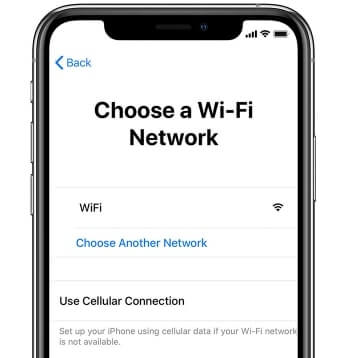 In the process you may receive the
"No SIM card installed"
message, just tap "OK" and then you can proceed. The message doesn't interrupt anything as long as you have a WIFI connection.
Activate iPhone Using iTunes
Besides using the activation guide in iOS, you can also use iTunes to activate your iPhone, and no SIM card is required for this process as well if your iOS is not a very old version. Now let's see how to activate your iPhone without SIM card with iTunes.
Step 1: Connect your device to Windows or Mac computer.
Step 2: iTunes will automatically launch after detecting your phone. If this is your first time connecting the phone to the PC, you will be greeted with a welcome message.
Step 3: Choose "Set up as new iPhone" to start setting up your device.
Step 4: Then you need to enter your Apple ID and password. Just follow the guide and your device will be activated without SIM in no time.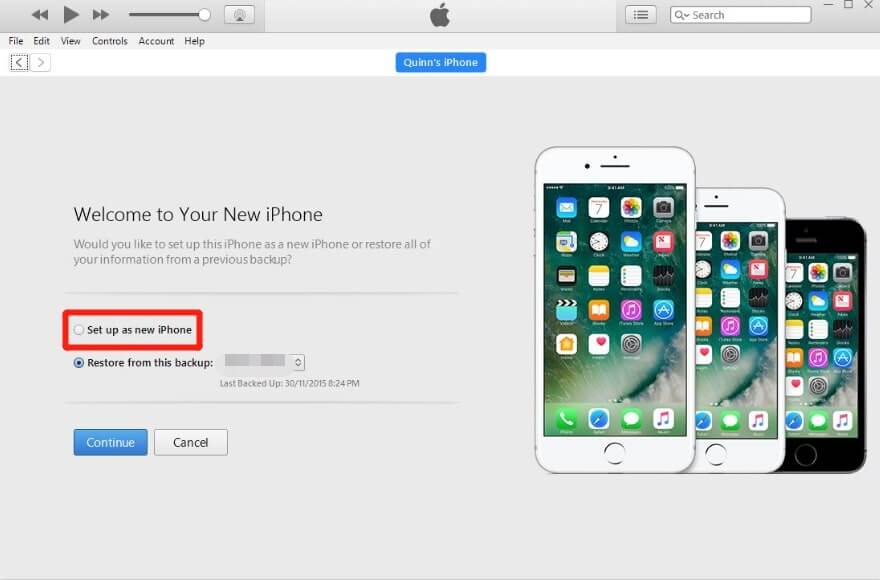 Part 3: How to Activate iPhone without SIM for Older iOS Versions
The above steps work well only if your device is running iOS 12 or later. But if you are trying to revive a device that's been stuck in a drawer for the past few years, you will have to take a different approach.
Generally speaking, what you have to do with your old device is upgrade the system version first and then activate it with WIFI or iTunes. However, without activating your device, you won't be able to directly upgrade the device. And that's why you need to put your iPhone into DFU mode first.
DFU mode is basically quite the same with recovery mode, but it automatically upgrades your device to the latest iOS version available. Here is how to put your device into DFU mode in order to activate it without SIM.
Step 1: Launch iTunes on your PC or Mac.
Step 2: Connect the device to your PC from a USB cable.
Step 3: Then you will need to hold your home button and the power button at the same time for ten seconds. It's essential to hold them both down together. Otherwise, you will only power on the device.
Step 4: After ten seconds, you can let go of the power button but do hold on to the home button for another 3 to 5 seconds. You might have to retry this step a few times if you are doing this for the first time.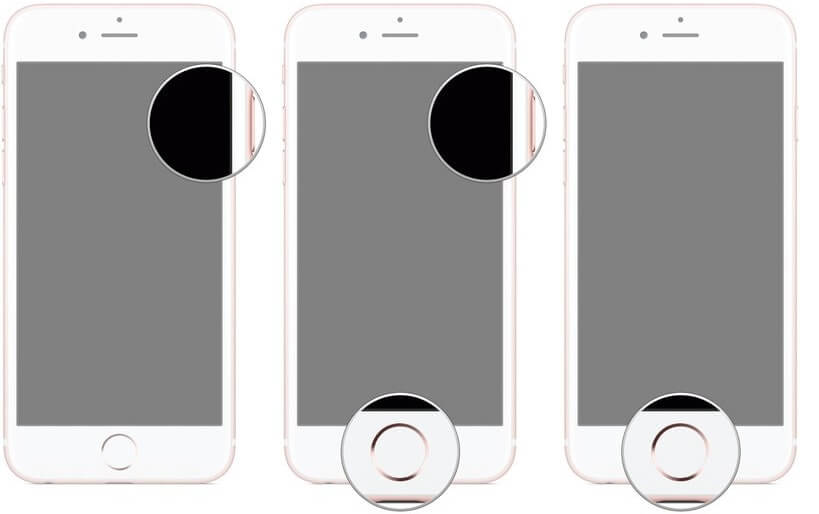 Step 5: If you successfully pressed the correct buttons, your device will be booted into DFU mode. If you are presented with an Apple logo instead of a black screen, you need to retry the steps as you haven't been logged in to DFU.
Step 6: Connect your phone to iTunes. Once your iPhone is recognized by the computer, you will be alerted that you need to restore the device. Click "OK" to upgrade the iOS version of your iPhone to the newest available. You can also use "shift + click" (on PC) or "option + click" (on Mac) on the restore button once to start the process.

Step 7: Finally you will have to select a firmware file to downloaded. Once you have upgraded the iOS version to the latest, you can use the method introduced in the last part to activate your iPhone without SIM.

Some old iPhone models cannot be upgraded to new iOS versions which support activation without SIM. In that case, you cannot activate your iPhone by upgrading the iOS version. However you can use an X-SIM or similar tool to simulate a real SIM card for the activation process.
Part 4: If your Device Has an Activation Lock
Besides the SIM activation, it is also quite possible that your device has an activation lock. This often happens in the cases of second-hand phones or a phone you got from eBay or Facebook market place. If you have identified that your device has an activation lock, have no fear. It is not a monster of a challenge with the right tool — WooTechy iSalvor to the rescue. You can remove the activation lock of a virtually any device. You can get your phone up and running in just three simple steps—no need to get rid of a locked device or try and return it to the vendor. WooTechy iSalvor can remove the activation lock for you in the matter of minutes.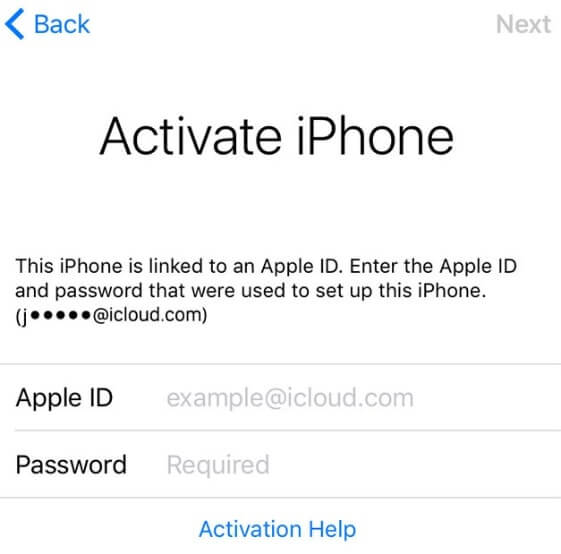 Features of WooTechy iSalvor
Full support for iPhone 5s to the latest iPhone X running from iOS 12.3 to iOS 14.

Bypass activation lock without Apple ID.

Includes one-click jailbreaking function and enable you to freely customize your iPhone

Disconnect the device to previous Apple ID completely

Safe bypass and money back guarantee
Now let's see how to use WooTechy iSalvor to remove activation lock on your iPhone and bypass the activating process.
Step 1: Launch iSalvor and click on the "Start" button.
Step 2: Connect your iPhone to computer using a lightning cable. iSalvor has the jailbreaking module built in so you don't have to find out how to jailbreak your device in advance. The jailbreaking process might be a bit different according to the operating system you are using. Simply follow the on-screen instruction and the jailbreaking process should be finished quickly.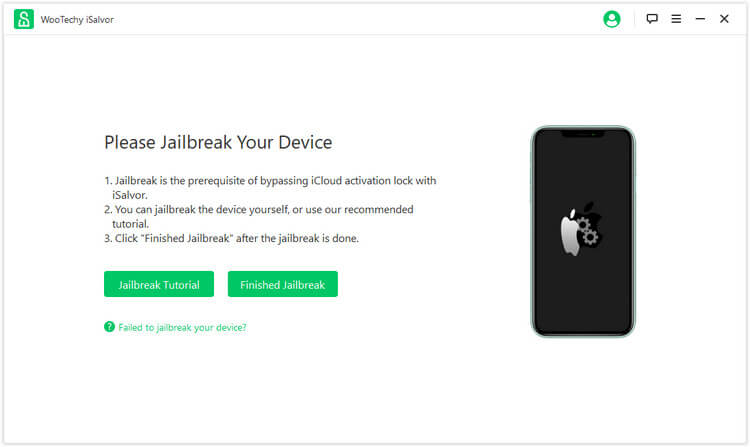 Step 3: Once the jailbreaking package is downloaded, click "Start Jailbreak", and then enter the DFU mode by following on-screen instructions. Once done, click "Next" to proceed.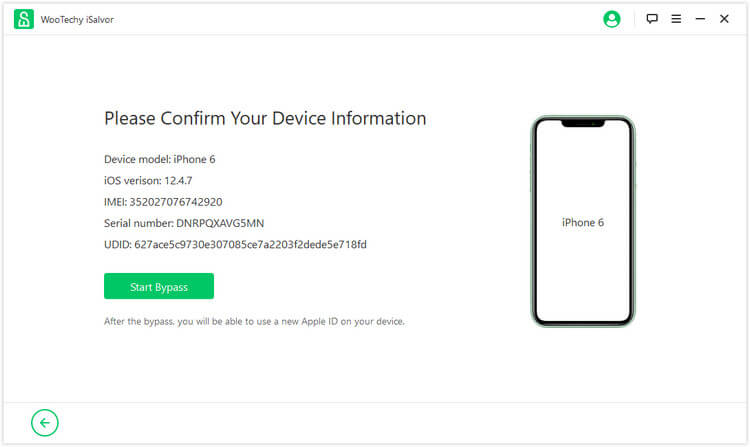 Step 4: Finally, confirm your device information on the screen and click the "Start Bypass" button. Bypassing should be completed in a few seconds, and you can see an prograss bar along the way.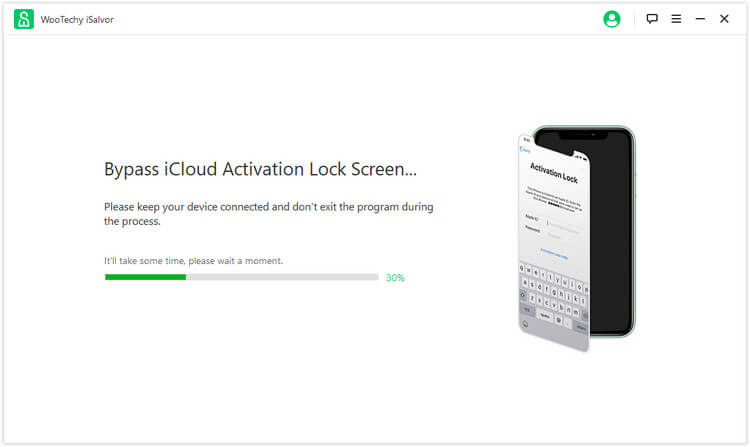 In Conclusion
Ever since iOS 12 got released, activating an iPhone with a SIM card is no longer necessary nowadays. If you are using an old iPhone, just upgrade the system to the latest with DFU mode and you can easily activate your iPhone even if you don't have a SIM. However, if your iPhone is too old to upgrade to iOS 12, or if it's tied to a specific carrier, there is really not much you can do to activate it without a SIM. Finally, you need to identify whether you need to activate your iPhone with a SIM or you need to remove the activation lock. If it's an activation lock rather than a SIM activation, you need to use WooTechy iSalvor to remove the activation lock before you can get into the device. And no, you don't need a SIM for that.