If you purchased an iPhone from a third-party vendor, a second hand seller or you picked it up for a bargain from the Facebook market place, There is a chance that your phone has an activation lock, which means that your phone is still linked to the previous user.
Activation lock takes place to safeguard stolen or lost phones. It is a feature that is available on all Apple devices. In most cases you need to contact the previous owner, or connect the device to WIFI to bypass activation lock. However, there are some ways to bypass activation lock without WIFI and previous owner if you don't have neither of them.
Three solutions will be introduced in this article to help you bypass activation lock without WIFI. In the end, we will also give some tips on how to avoid buying used iPhones with Activation lock. Now let's get into it.
Part 1: Bypass activation lock without WIFI using WooTechy iSalvor
If you have been locked out of your iPhone activation lock, WooTechy iSalvor is a handy tool that can help you out. As a professional activation lock bypass tool, iSalvor can get the activation lock removed within only a several minutes. It has both Windows and Mac version so it doesn't matter what computer you are using; you can remove the activation lock easily.
WooTechy iSalvor is effective in activation lock removal, and is also extremely easy to use. Connect your device to a PC or Mac, jailbreak your device according to the step-to-step guide and the activation lock will be successfully removed. Once it's done, you can simply make a new account for yourself or use an existing login to make the devices yours. No need to throw away your locked device or purchasing a new one. iSalvor can quickly get you access and make it back to business in no time.
Features of Wootechy iSalvor
Supports all iPhone devices from 5S to the latest iPhone X and iOS versions from iOS 12.3 to iOS 14.

Bypass activation lock jailbreak without Apple ID.

Includes one-click jailbreaking function and enable you to freely customize your iPhone

Disconnect the device to previous Apple ID completely
You can buy a license or try it out for absolutely free. Now let's see how to use WooTechy iSalvor to bypass the activation lock on your device within only minutes.
Step 1: Download and launch WooTechy iSalvor on your Mac or Windows computer. On the start page, click "Start" and then connect your iPhone to your computer.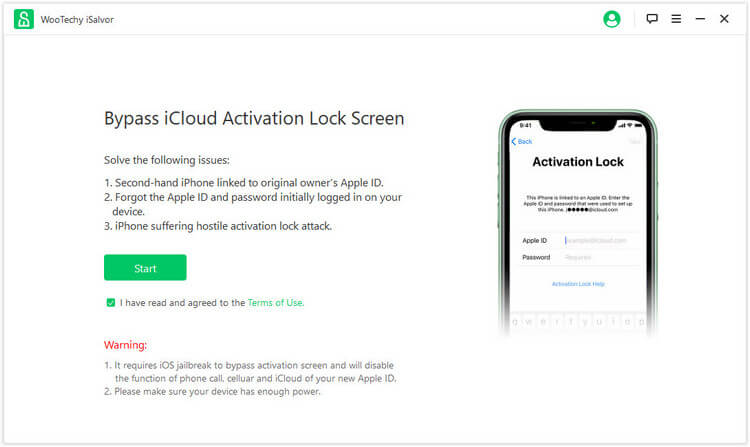 Step 2: Then you need to jailbreak your device. A clear step-to-step guide will help you all the way through the jailbreaking process so no need to worry about the technical stuff.
Step 3:Once your phone is jailbroken, click "Start Bypass", to let the program start bypass the activation lock.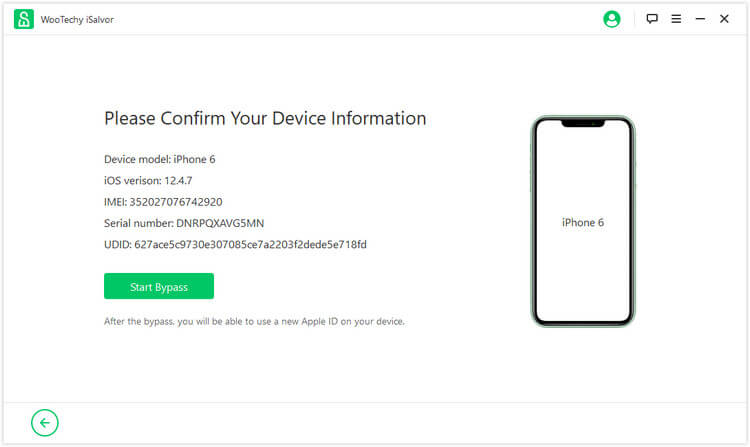 Step 4: The Bypassing process should be completed in a few seconds. After the bypass is finished, you can have access to your device immediately.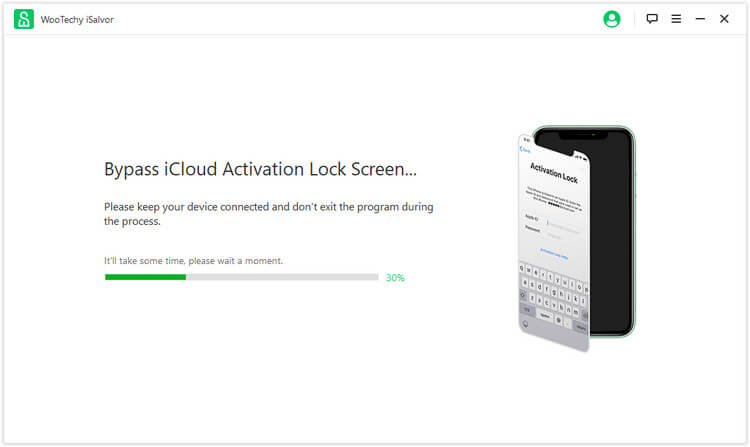 Part 2: Bypass Activation Lock Without WIFI Using Emergency Call
Another trick that you can use to bypass the activation lock on your iPhone us by using emergency call. In some versions of IOS, there is this loophole that you can use to get around the activation lock screen without using an Apple ID and password. But take note that this trick does not work for all iOS versions and iPhone devices. You can give it a shot but the expectation shouldn't be too high. Here is how to do it:
1. When you are asked to activate your iPhone with an Apple ID, touch the home button to display the option to make an emergency call.

2. Dial an emergency number, it could be either 112 or 999. Quickly press the power button to disconnect the call.

3. A popup message will follow, touch the cancel option and end the emergency call. This will remove the lock, and your phone will be back to normal.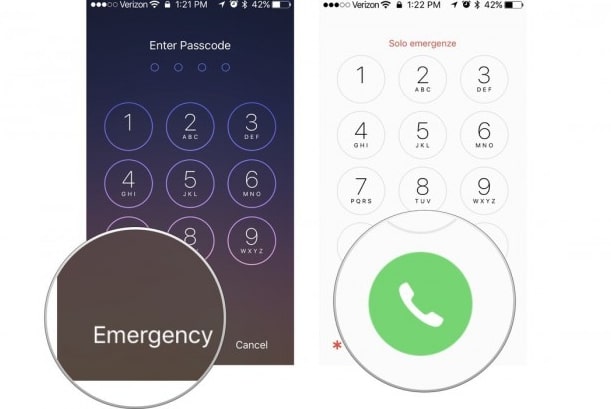 Again, this trick is not guaranteed to work on all iOS version and all Apple device. You can try your luck with this method, but don't hold too much expectation for it.
Part 3: Bypass Activation Lock without WIFI Using Online Service
If you are unable to get your device unlocked by the previous methods or if your device is refusing to let go of the activation lock, there is one more method you can try. If you google the term "iPhone activation unlock" or "Bypass activation lock" You will be bombarded with all sorts of websites claiming to have the ultimate solution.
These online activation lock unlocking services claims to be able to bypass you're the activation lock on your device with only the IMEI number of your device. You don't have to do anything but finish the payment and wait for a couple of days. Yes, upfront payment is required, and that's why these online unlocking services are not quite recommended in my point of view.
If you want to try an online activation lock service, you can go to "AppleiPhoneUnlock" website and give it a try. Here is how to do it:
1. Google "AppleiPhoneUnlock" and click on the result you get. Pick the correct model that corresponds to the device you have. You will need to have your IMEI Code ready in your hand. This may be printed on the back of your device or sometimes would be displayed alongside the locked screen.

2. Select the Unlock Now option.

3. Sign up and enter your payment details on the following screen.

4. Once they confirm your device can be unlocked, you will be notified via email, and you will be instructed to pay for the service.

5. The unlocking process will commence. Once it is done, you can sign up with a new account and enjoy your device.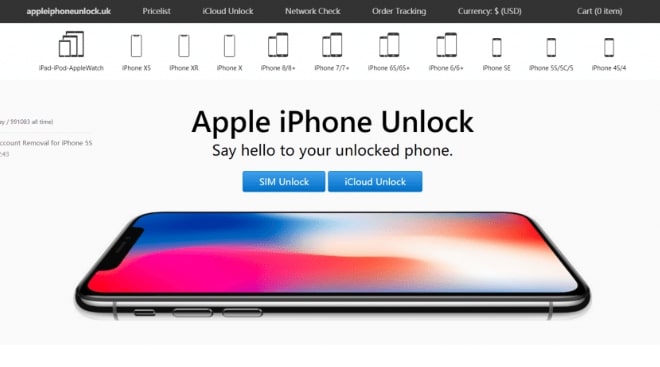 Part 4: Which Solution Should I Choose?
If this is all confusing for you and you are wondering what's the best option you should choose, you are not alone. As we have mentioned earlier in this blog post, there are countless scams built around this particular issue. Most of them offer a counterfeit solution to lure customers in a real need and rip off their money. So it's really hard to trust one solution and make the decision to go for it.
WooTechy iSalvor, as a professional activation lock bypassing tool, is undoubtably the most reliable solution. It's easy to use, it's efficient, and you don't have to worry about the product being a scam because it has a well-built brand with a lot of top-class products under the name.
The emergency call solution, on the other hand, really depends on your luck. Needless to say, if you are not using this trick right, it could also land you in some hot water in legal matters.
While AppleiPhoneUnlock sounds like a solution, it's a cumbersome process. You need to find you IMEI codes and wait around until they do the process for you. And the upfront payment also is a factor that make the service less trustworthy.
In The Future... Avoid Buying Phones with Activation Lock
At the end of the day, one thing is clear. We are not made of money, and we are always on the hunt for a good bargain. This is the main reason why many of us purchase second-hand phones. When you do buy a device in this way, it's essential to have a good connection with the seller. No matter if the sale happens online or in real life, it is always better to ask your seller to remove the activation lock they may have put in place. It is also essential to ask for the IMEI number from the seller and run it through google to make sure the unit in question isn't stolen. There may be better ways to save and still get a working phone like purchasing a refurbished iPhone. That way you won't run into activation lock issue.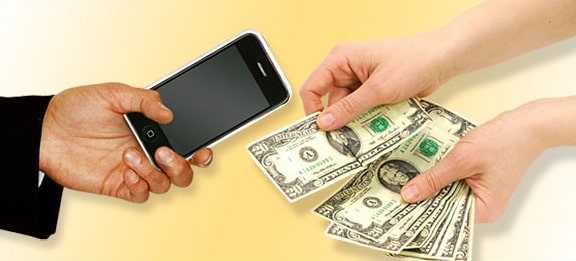 Conclusion
So there you have it. If your phone has an activation lock issue now, you know how to solve it. WooTechy iSalvor is always available at a click of a button with a three-step solution to unlock your device and get you going. Just download and give it a nice try!