User Problem
"I've forgotten my 6-digit passcode for my iPhone ... the phone is disabled now and it's days to connect through iTunes ... I've tried but I'm not sure how. pls can you help me to access my phone? Thank you"
This is a very popular post online. The situation of forgetting iphone passcode happens very frequently than you think. We have done comprehensive research on this topic and have come up with 4 simple yet proven workarounds on how to bypass iphone passcode while sitting at home. Let's read them up.
Bypass iPhone Passcode with iSalvor - Most Recommended
If you're looking for the easiest and most effective way to bypass iphone passcode, then WooTechy iSalvor is your ideal choice. Its intuitive and user-friendly interface makes it an ideal choice even for non-tech savvy users. And the compatibility is not the problem as this tool works well on iPhone 5/6/7/8/X.
You don't need any prior knowledge to use it as it offers a detailed in-built guide for bypassing iphone passcode. Aside from removing passcode, you can also bypass iCloud activation lock and Turn Off Find My iPhone using this multi-featured software.

Free trial to test compatibility, get it now!

Why Choose iSalvor for Unlocking an iPhone?
It removes different types of passcode like the 4-digit passcode and 6-digit passcode.

It removes screen locks without getting stuck in activation lock.

No Apple ID or password required.

After the unlocking, most iOS functions are available such as call&SMS, Siri, TouchID, etc.

You can have it on both Windows and Mac computers.
Follow the below steps to unlock your iPhone without passcode using iSalvor.
Step 1. To start the process, install and launch iSalvor on your computer and click on the "Remove Screen Lock and Bypass Activation" option. Then, hit on "Start" to proceed.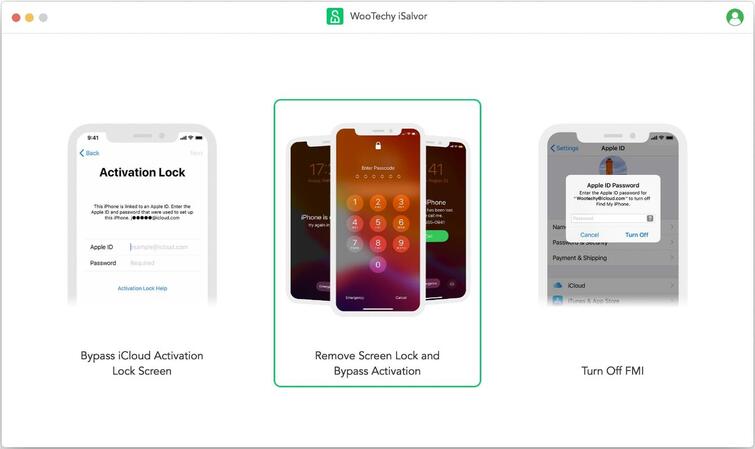 Step 2. Now, you need to connect your locked iPhone to it and when iSalvor detects it, follow the on-screen instructions to put your mobile into the Recovery Mode.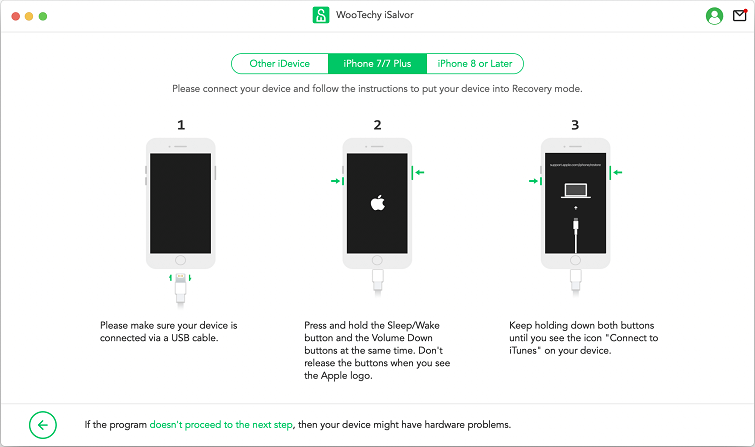 Click on "Next" once you've carefully entered the correct FMI status and verified your iPhone's details.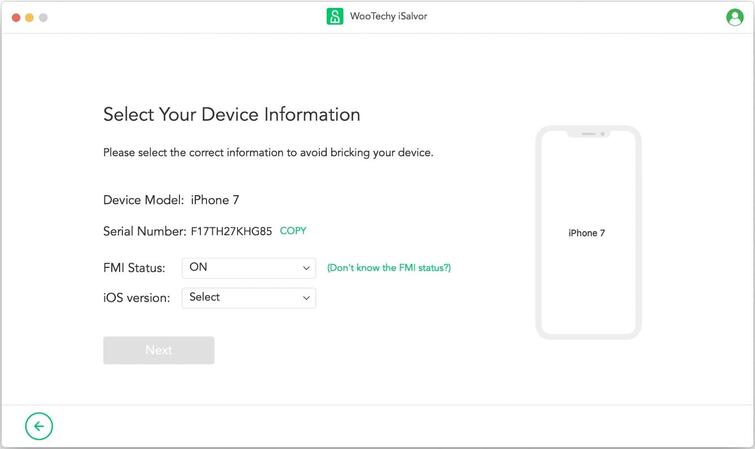 Step 3. iSalvor will now automatically download the right jailbreak package for you. Hit on "Start Jailbreak" and then the program will guide you on how to jailbreak your iPhone.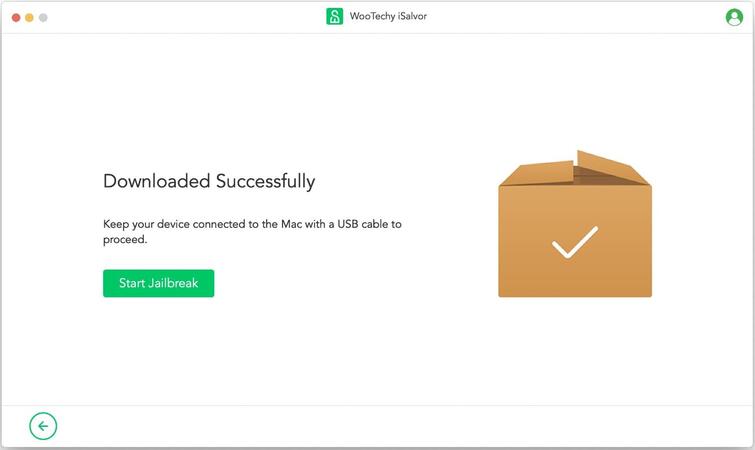 Step 4. In this case, iSalvor will start the Turning Off Find My iPhone feature if your device is running on iOS 13 or above. Then, confirm the FMI status and download the iOS firmware package again.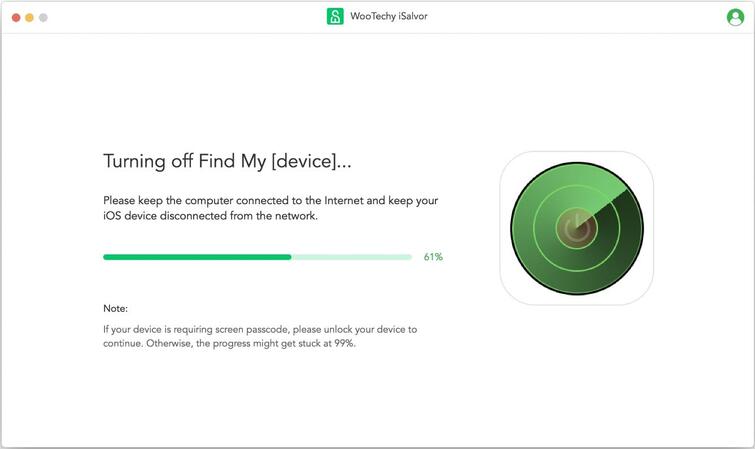 The software will hardly take a few minutes to completely remove the screen lock and you can set your iPhone up as a new device.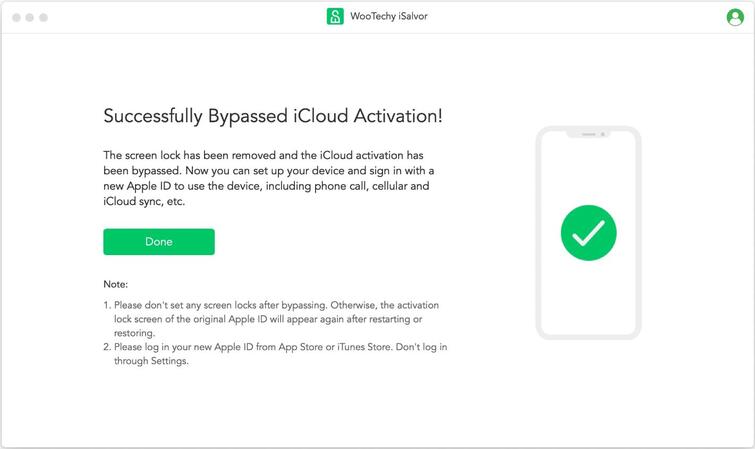 Here is the video tutorial about how to bypass iphone passcode easily.
Supported Devices
Unlike other players in the market, iSalvor supports a wide range of iPhones, iPads, and iPod Touch. Read this link to know about all the devices supported by iSalvor.
Bypass iPhone Passcode with iTunes
Users can rely on iTunes to unlock a password-protected iPhone. This method restores your device to the default and erases all the data including its passcode.
So, if you forgot 6 digit passcode iPhone, follow the below steps to unlock it:
Step 1. Start by installing the latest version of iTunes or upgrading the old version if it's already installed on your computer.
Step 2. Now, you need to put your iPhone into recovery mode.
For iPhone 8 and later models: Press and release the Volume Up button and the Volume Down button. Then press and hold the Side button until the recovery mode screen appears.
For iPhone 7/7 Plus: Long press the Volume Down button and Side button together until you see the recovery mode screen.
For iPhone SE 1, iPhone 6s and ealier: Press and hold the Home button and the Side button simultaneously until the recovery mode screen shows.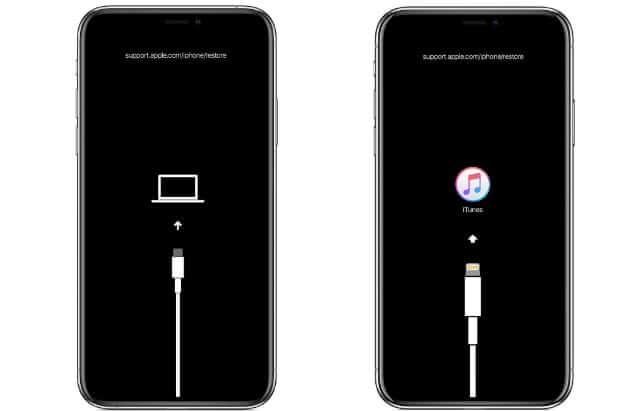 Step 3. When you see the "Recovery Mode" screen as shown in the figure, connect your iPhone to the computer. iTunes will automatically detect that there's an issue in your device that needs to be fixed.
On the pop-up screen, hit on "Restore" and wait until iTunes completely restores your device. Now, set it up and start using it as a new device.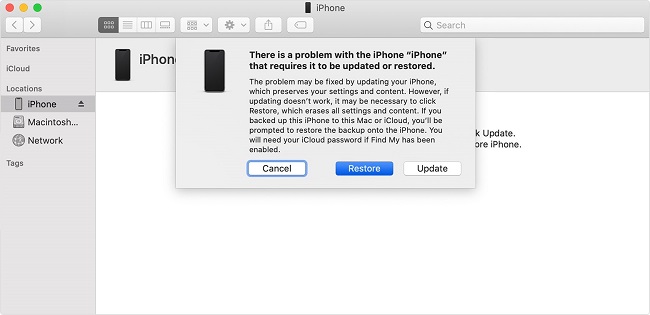 This method is contingent on certain conditions. It is viable only if:
You have recently synced iPhone with iTunes.

Remember Apple ID and password.
You can't use iTunes if any of these conditions are not fulfilled.
Bypass iPhone Passcode via Siri
Siri is another proven way of removing your passcode. While this method isn't guaranteed successfult, it's still worth a try since it is free and takes just a few minutes to complete the process.
To use Siri:
Step 1. Press and hold the "Home" button on your phone to activate Siri and ask the time by saying "What's the time right now?" It will display the local time.
Step 2. Click on the clock and Siri will display the world clock. Now, tap the "+" sign above the world clock icon as shown in the figure.
Step 3. Now, a search bar will appear on the screen. Type in any two characters of your choice and then tap "Select All".
Step 4. Siri will now show you various options. Choose "Share" and then select the "Messages App". Again type any characters in the "To" field and then hit on "Return" on the mobile's keyboard. Wait for a few seconds and hopefully, your device will unlock.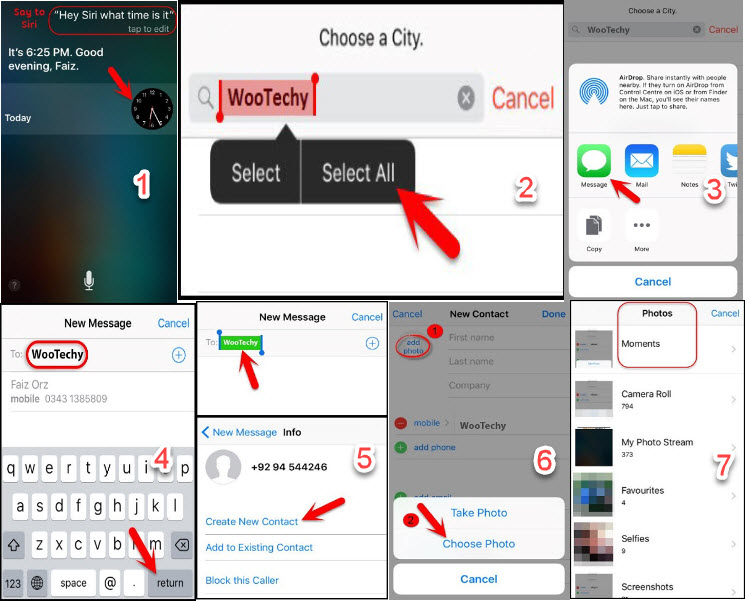 This method works only for limited devices, the ones running iOS 8.0 to iOS 13. Its biggest pitfall is that even with compatible devices, it doesn't always succeed.
Bypass iPhone Passcode with Forensic Software
As the name indicates, this method involves using a high-end software to bypass passcode and get access to some of the data on your device including passcode. Mostly security agencies use this technique for investigation purposes.
A quick Google search will show you a myriad of Forensic tools, all claiming to be the best when it comes to bypassing an iPhone's passcode.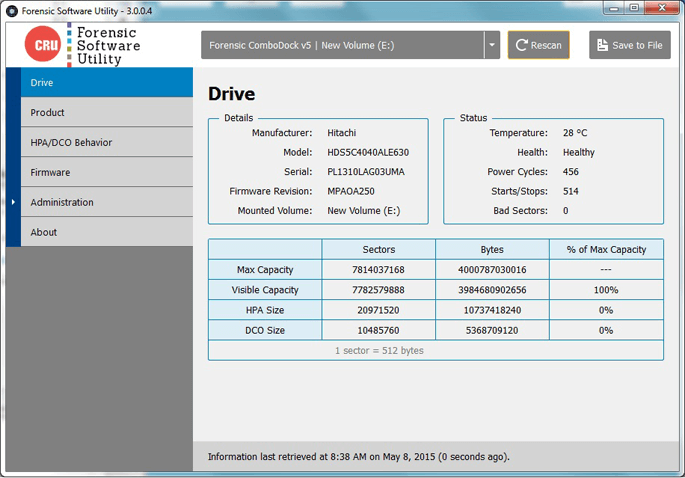 Step : The steps you need to follow to bypass passcode vary from software to software. Most software have an inbuilt step-by-step guide about using their features. Also, the price of these software can vary significantly. For some software, unless you prove your credentials as the owner of the device, you're not authorized to use this forensic software.
All 4 methods outlined in this article post have proven to be effective and reliable in bypassing iphone passcode. We created a comparison table of the four methods to give you an idea about which method is best for you.
| | | | | |
| --- | --- | --- | --- | --- |
| Method | Ease of Use | Success Rate | Time-taken | Compatibility |
| iSalvor | Very easy | Very High | Within a few minutes | All iPhone models |
| iTunes | Very difficult | Low | Hours to days | All – but depends on conditionalities |
| Siri | Difficult | Very Low | Within a few minutes – if works | Lower iOS versions, from iOS 8-iOS13. |
| A Forensic Software | Very difficult | Low | Varies from software to software but takes considerable time. | All |
Bonus - Tips About Bypassing iPhone Passcode
Let us discuss some bonus tips that'll help you avoid facing this situation in the future.
Tip 1. Remember to Backup Before Unlocking
Since all methods discussed here - except Siri that rarely works – erase everything on your iPhone, you'll lose your data if it's not backed up. For this reason, we recommend users backup data before unlocking.
You can do it by:
Connecting your iPhone to iTunes via a lightning cable. Now click on your mobile's icon > Summary and then hit on Back Up Now.

Waiting until the backup process is completed.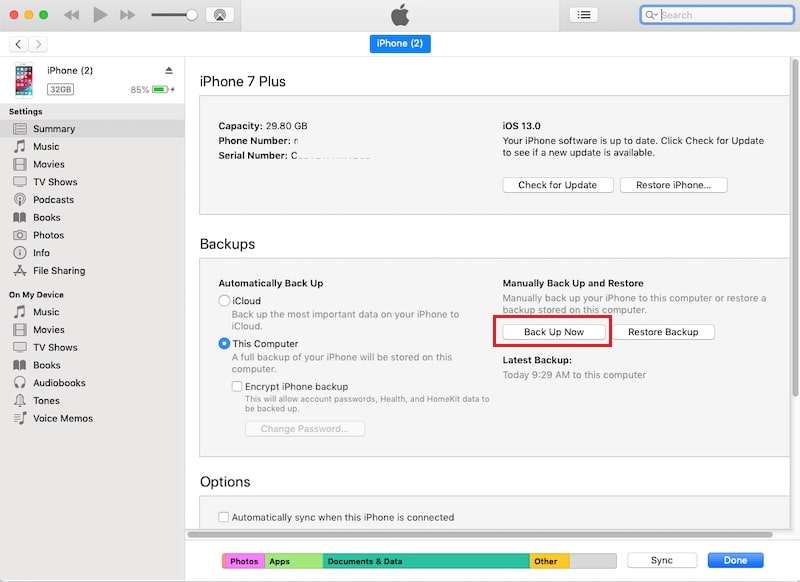 Tip 2. How to Stop Your Passcode from Changing to Six Digits
To stop your passcode from changing to six digits:
Go to Settings > Touch ID & Passcode or Face ID & Passcode.

Hit on Change Passcode and enter your current passcode to proceed.

Now, tap Passcode Options and select 4-Digit Numeric Code on the pop-up screen.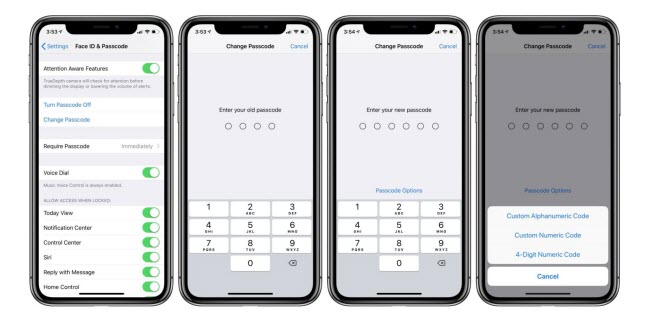 The device will stop your passcode from changing to six digits.
Tip 3. Change Your Passcode or Passcode Settings
Apple allows users to change passcode anytime they want and also tweak its settings as they like. To do that:
Go to Settings > Touch ID & Passcode or Face ID & Passcode.
And you can do the following changes:
Turn it Off: Remove passcode using this option.
Change Passcode: Enter a new four-digit or six-digit passcode.
Erase Data: Decide whether or not the device should erase your data if someone enters the wrong passcode 10 times.
Require Passcode: Decide whether you need an immediate passcode requirement when as soon as you try to unlock it after locking it.
Allow Access: This option helps users decide which features they can access when the device is locked.
Conclusion
To conclude it all, this guide was all about how to bypass iphone passcode. You can fall back on these 4 methods whenever you forget your iPhone password and need to unlock it. I recommend you to use WooTechy iSalvor to remove passcode with 100% safety and reliability. It wouldn't let you down. Just download and give it a try!