Smartphone users prefer Apple devices due to unmatched security protocols. Sometimes, these security measures turn to be a nightmare for the users. In case you forgot Apple ID, the iCloud activation lock will be automatically activated. The recent issue with the iCloud activation lock has also forced many users to give up on their expensive devices.
Here are two major iCloud activation lock removal free online tools that actually work for all iCloud activation lock issues.
1. Free Online iCloud Activation Lock Removal [Full Review]
There are not many tools like iCloud Activation Lock that offer free services. If you don't want to download any tools or go-to repair shop for iCloud activation lock removal, then you can considering online iCloud unlock services. Here I will go deep into one of the online iCloud activation lock removal tool that claim to be free.
How Do Online iCloud Activation Lock Removal Tools Work?
The official iCloud Activation Lock website claims to offer 100% free lock removal services for almost all models. As the service is free, you cannot expect the highest success rate as any premium paid service. There is no warranty included for the damage or losses of data or hardware due to service, as mentioned in their Terms and Service page.
Without downloading any additional tools and programs or without any additional hardware, the service provider will unlock your iPhone with IMEI only. Getting started with iCloud Activation Lock removal free online is pretty simple and straightforward.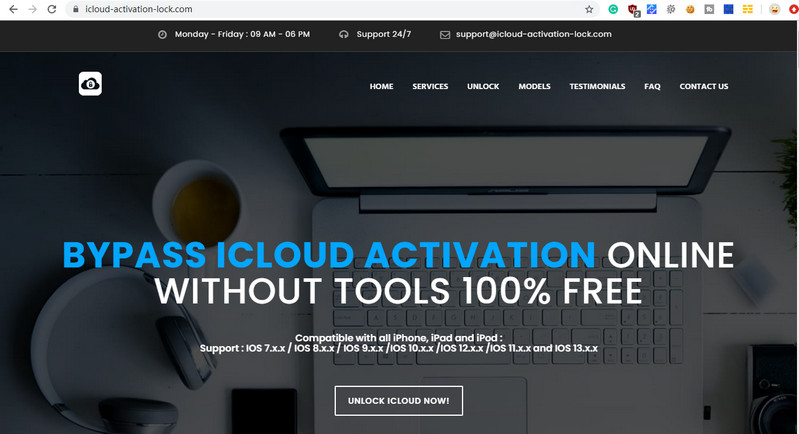 Steps to Unlock iCloud Activation Lock with Online Removals
As the service is purely based on the free services so you should not be asked for any kind of credit card or payment details. If the site does so, it is not 100% free, and their claim of being 100% is vague in that case. Here are three simple steps to unlock any device with the iCloud Activation Lock tool: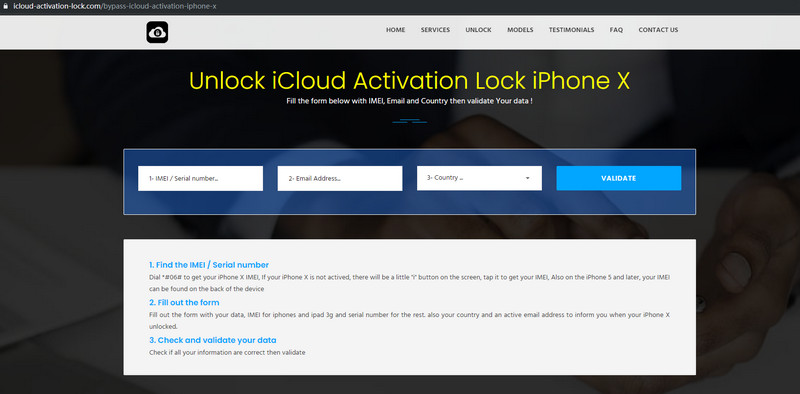 Step 1. Select Model
First of all, you need to enter the model details of the iPhone. The service supports almost all iPhone models like iPhone 5 to iPhone 11 Pro Max. This service also works for other devices like the iPad and Apple Watches.
Step 2. Fill Out the Form
You will be asked to enter contact information and device details like country and IMEI number. The service provider will verify the details then.

Then you'll be required to confirm your order - the information you provided in the previous step.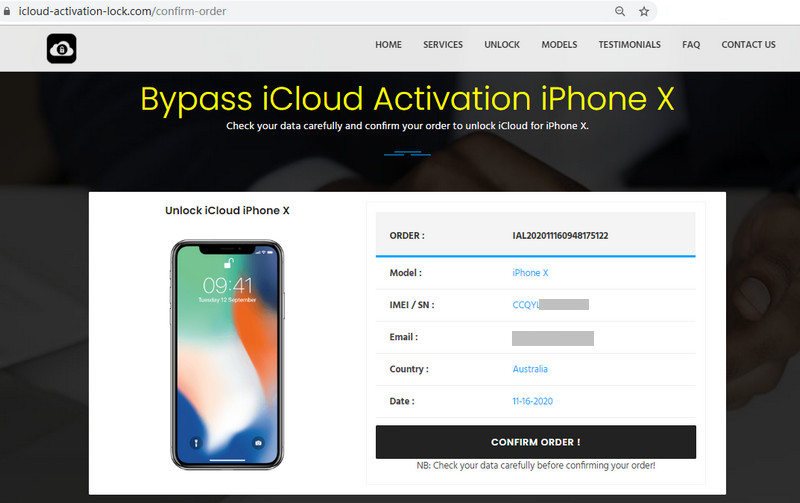 However, after clicking "CONFIRM ORDER", no order or payment secutiry appears but a weird window pops up.
Step 3. Unlock iCloud Activation Lock and Wait
Make payment and wait for your device to be unlocked. You will be asked to enter contact information and device details like country and IMEI number. The service provider will verify the details then.
Features of Online iCloud Activation Lock Removal Tools
The site requires only IMEI number for iCloud activation lock removal free online。

The solution is permanent, and you will be able to set new credentials just like the new device.

Almost all devices are said to be compatible with the service.

Unlock iCloud Activation tool provided free activation services
Supported Devices and Operating Systems
Unlock iCloud Activation supports all iPhone models and devices, including iPhone 5 to iPhone 11 pro max. The service can also be used to unlock all iPad models and Apple Watch models.
Customer Reviews
This section of the guide makes Unlock iCloud Activation a suspicious tool as there are no reviews about the service at any famous platform. The site has a testimonial section where a few reviews can be seen praising the service, but there is no authenticity about its quality.
Price
The free online iCloud activation lock removal tool website claims that all the unlock services are free. Here is the original content from their website:
"We don't charge our custommers any fees, so we offer a permanent and free icloud removal service for all iphone ipad und ipod touch."
2. Best Alternative toOnline iCloud Activation Lock Tools
Relying on free service with no guarantee and securityis a risk. As an iPhone is not a cheap device, I wouldn't want it get damaged just to save a few coins.
Premium services like WooTechy iSalvor might cost a little bit; you can trust its service and also get professional support whenever you have any problem. WooTechy iSalvor offers a 100% safe and secure alternative to free online iCloud activation lock removal tools.
What is WooTechy iSalvor iCloud Activation Lock Removal?
There is a long list of things that WooTechy iSalvor can do for your device. If you want an easy and secure iCloud activation lock removal tool online without any risk and threat to your device, WooTechy iSalvor is the best choice. WooTechy iSalvor is trusted by millions of users around the world.

Christmas Season 50% OFF, get it now!
For Windows: Get WooTechy iSalvor 1-month Plan for Windows
For Mac:
Get WooTechy iSalvor 1-month Plan for Mac
Why Choose iSalvor:
Efficiently bypass iCloud activation lock in a few minutes, the steps are easy.

You may create or use a new Apple ID on the bypassed device.

The device won'tbe tracked or erased using the previous Apple ID.

Support iPhone 5S to iPhone X running iOS 12.3 to iOS 14.
How to Bypass Activation Lock with WooTechy iSalvor?
If you are not aware of how to bypass the iCloud activation lock, here are some simple steps to get started with easy to follow the process. You just need to follow simple steps to begin the iCloud activation lock removal process:
Step 1. Download WooTechy iSalvor on your PC or Mac and, after installation, execute the program and select the "Bypass Activation Lock Screen" Mode from the home screen.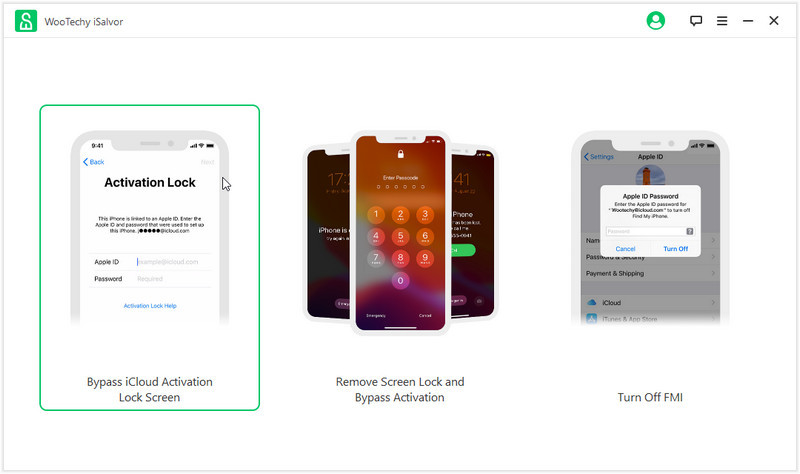 Step 2. Connect your iOS device to your computer and click the "Start" button. We recommend you use the original iPhone lightning cable.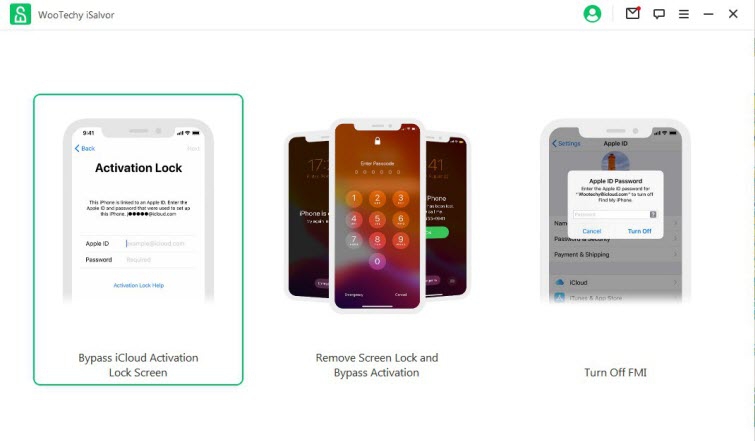 Step 3. The software requires iOS jailbreaking to bypass iCloud activation lock screen. If you are using macOS, the jailbreaking can be done automatically. If you are using Windows, an iOS jailbreak tutorial is given.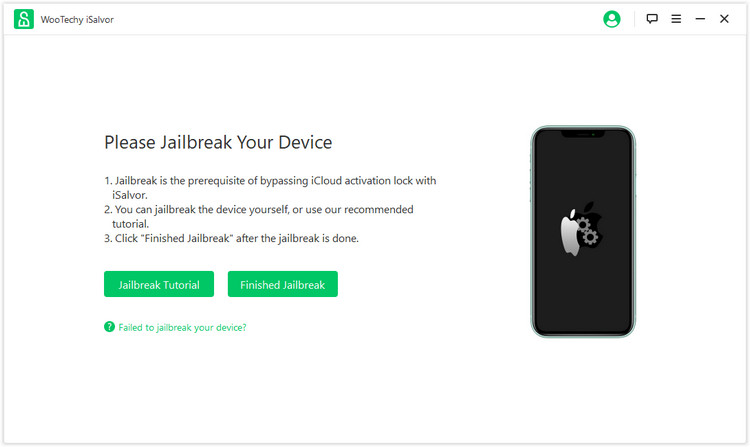 Step 4. Once the device is ready, you will be displayed your device information. Once you have clicked the "Start Bypass" button, it will take only a few seconds to bypass the iCloud activation lock.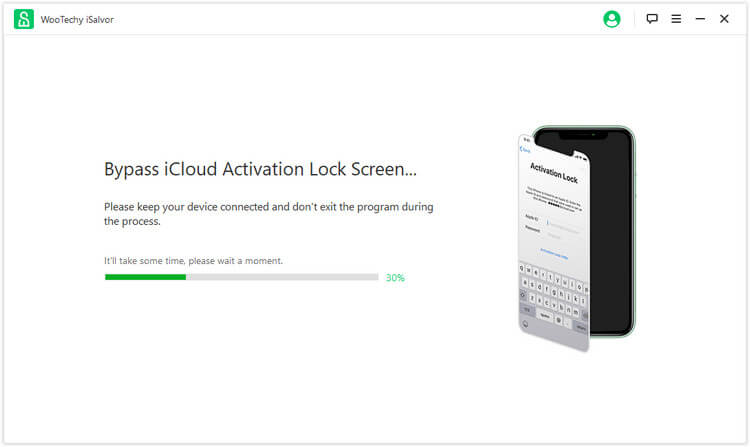 After the process completes, the previous ID and passwords will be gone. You can enter the device and set your new login credentials.
3. Should I Trust Online iCloud Activation Lock Removals?
Free service seems to be very tempting, but nothing comes for free. Even if there is no cost involved, still, your device is vulnerable to many other threats. If your phone got infected after free services, what is the point of availing such services?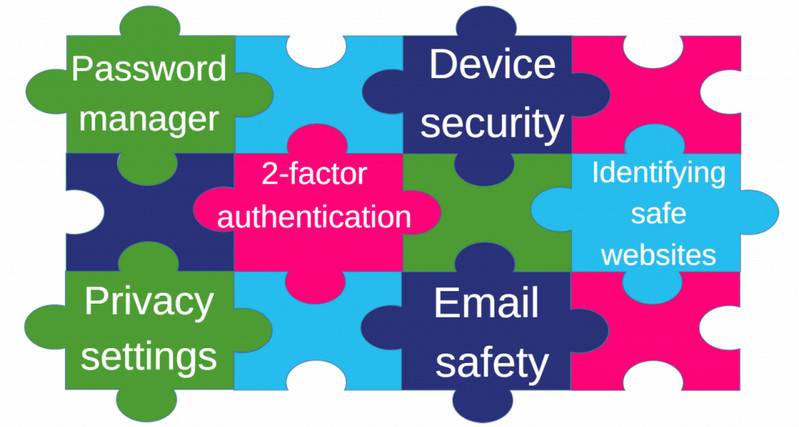 Dangers of Using Free Online Lock Removal Tools
Any free online service like the iCloud Activation Lock Removal tool can pose some serious hardware and data safety threats for the user. Here are some dangers that you must consider before using any online free service for your device:
The free tool may add some 3rd party infectious files or attachments to your device.

Malware and viruses might be attached.

The service might ask for some sort of hidden fees.

Free service might do more harm than good.

No guarantee about the success of the service
4. FAQs about Free Online iCloud Activation Lock Removals
Since there are numerous online tools and websites offering repair and services on iCloud activation lock, I've sorted some frequently asked questions for your reference.
Q1: How can I remove iCloud activation lock without Apple ID and passwords?
Refer to this article to remove activation lock without the previous owner. Bear in mind that the perfect way is to find out the previously used Apple ID and password. Otherwise, use professional activation lock bypass such as iSalvor to help.
Q2: Are the free online activation lock removal tools really free?
No, most websites claiming to offer free services do not ensure a successful result. Besides, some websites need you to deliver them your iOS device so that they can unlock it. What if they take your iPhone to do some illegal business without letting you know? Running a website requires money and human resources which are rewarded with customer payment.
Q3: How do I know if an online unlocking or repairing website is safe?
Check the SSL Certificate Look at the URL of the website. If it begins with "https" instead of "http" it means the site is secured using an SSL certificate (the s stands for secure).

Look at the Domain To avoid these cyber attacks which are usually hided by a mimic existing website, always look at the domain of the site you are on. If you get an email from your bank or other online vendor, don't click the link in the email.

Look for Signs that the Company Is Real This icludes physical address and phone number, return policy, reasonable price and privacy statemen.
Conclusion
Premium services like WooTechy iSalvor activation lock bypass tool are meant to solve the real issues instead of making fake promises. There are millions of Apple users, fed up with the iCloud Activation Lock issue. Whether you want to use WooTechy iSalvor for personal or professional use, it beats all the free services. Instead of risking your data and device with the free iCloud Activation Lock tool, go with a free trial of WooTechy iSalvor to check how this software works. If you like the service and everything goes as planned, nothing can stop you from loving the full premium version.