The iCloud activation lock has been a benefit and a curse to many iOS users. People love how iOS lets them lock and remotely wipe their devices if they fall into prying hands.
However, many people legitimately buy second-hand iPhones and iPads every year, where the owner forgot to disable this lock. Fortunately, iCloud removal tools will let you bypass the activation lock and access your device again! Here are the top six that you need to know before removal.
WooTechy iSalvor - The Most Powerful iCloud Removal Tool
The best iCloud removal tool is WooTechy iSalvor. It has the highest success rate of any of the methods on this list, which means that you'll be able to bypass the activation lock and start using your phone. Plus, it is impressively easy to use. The developers behind this software know how to design high-quality user interfaces.
Top Features of WooTechy iSalvor:
Don't need any Apple ID or password to bypass iCloud activation lock.

Let you bypass activation lock even if it's a broken/second-hand device.

With an intuitive user interface, makes unlocking process a breeze.

Support most devices running on iOS 12.3 and later versions.

Don't get tracked by the Apple ID of previous owner of Apple ID.
WooTechy iSalvor's power comes from its simplicity. It just works. Here are the simple, easy-to-follow steps that will bypass the lock on your device.
Step 1. You'll need WooTechy iSalvor on your computer. Download the program, install it, and then run it. Click on the "Start" button to begin the process.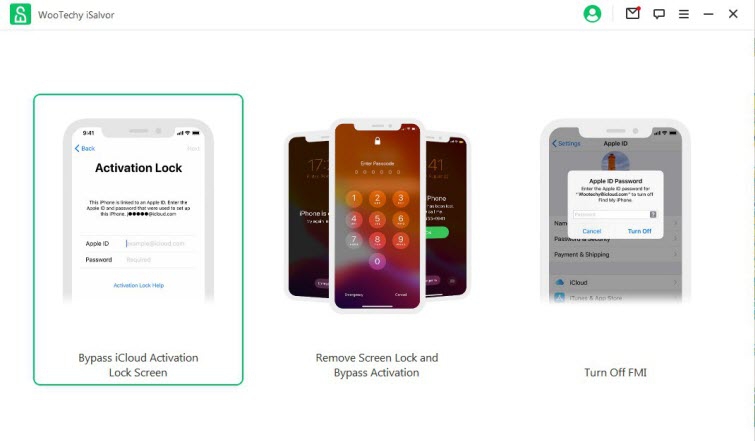 Step 2. Connect your iPhone or iPad via USB.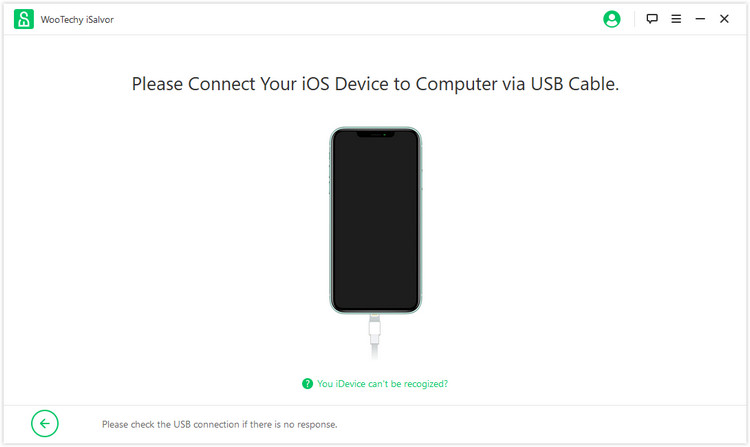 Step 3. You'll see some steps asking you to jailbreak your device by tap "Jailbreak Tutorial". On Mac OS X computers, this is a single step. On PCs, this involves a few more steps. Either way, it's easy to do!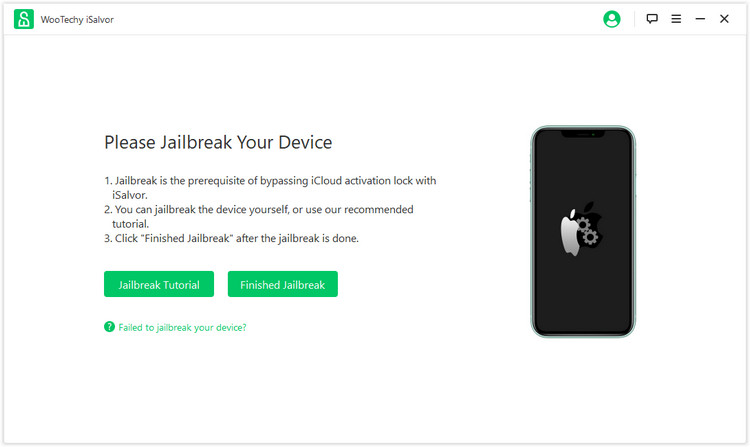 Step 4. Once iSalvor jailbreaks your device, you'll see your device information. Click "Start Bypass".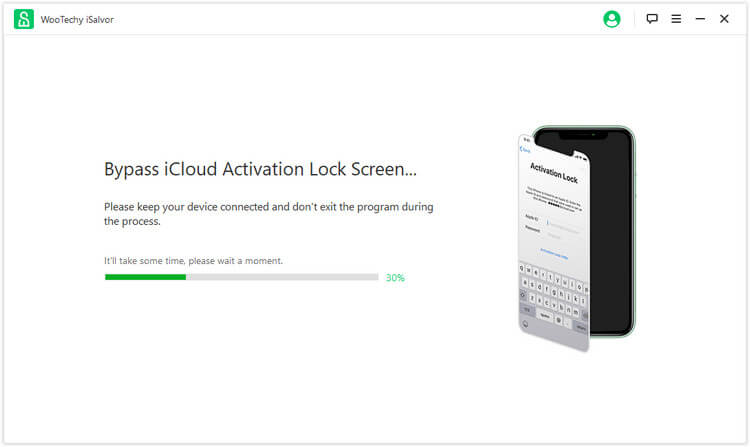 Step 5. iSalvor will commence the bypass process. Once completed, the phone is yours to use!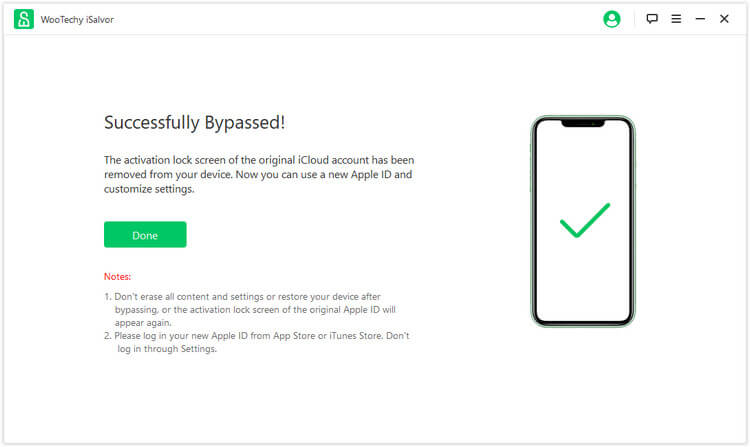 This is the video tutorial about how to use iSalvor iCloud removal tool easily.
WooTechy iSalvor's iCloud removal tool works with iPhone 5S through iPhone X. It works with iOS versions 12.3 or later. However, it cannot unlock iOS 12.4.5 and 12.4.6.
Learn more supported devices >>
With its intuitive interface, quick download, and easy-to-follow process, WooTechy iSalvor has many pros that make it the ideal program for this task. If you want your iPhone unlocked, you'd be hard-pressed to find a better solution than iSalvor.
Doulci - Free Activation Lock Tool
Doulci Activator is an iCloud removal tool free download that purports to be able to unlock many devices. Their site claims that it works on all iOS devices and with all activation modes, so no matter how your device got locked in the first place, Doulci can supposedly unlock it.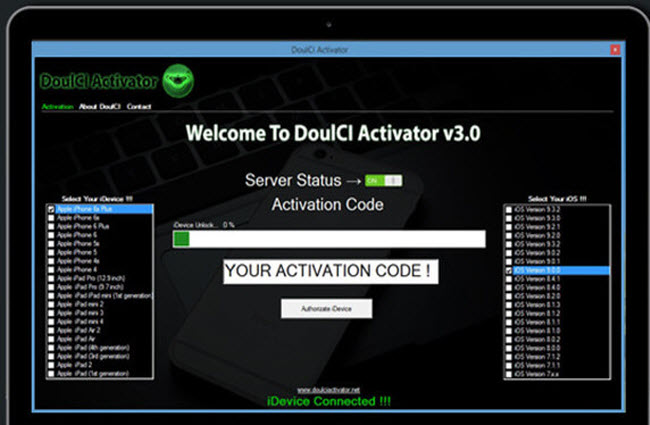 Doulci also claims to support all iOS versions and all iOS devices - even the latest iPhone 11 Pro Max.
On the surface, there would seem to be quite a few pros to this iCloud removal tool. It has a free download, and it works on everything!
However, looking through the site, it becomes evident that this is a scam. There are many red flags, including the fact that they only support payments using Western Union. Costs, you ask? Yep, the site claims it's a free download, and it's technically accurate that you can download the bits for free, but you have to pay to activate it. On top of that, the user interface is very challenging to use.
As they say, if it's too good to be true, it probably is. The developers behind Doulci make many promises, but red flags make it too difficult to recommend.
iCloudin - Popular iCloud Removal Tool
If you search for iCloud unlocking tools, you'll invariably get results for iCloudin. Many sites have something to say about this tool, and with good reason - it's free! If you're like most people, an iCloud unlocking tool free download would be perfect. You want to start using your device, and pulling out your credit card isn't as much fun as getting something for free.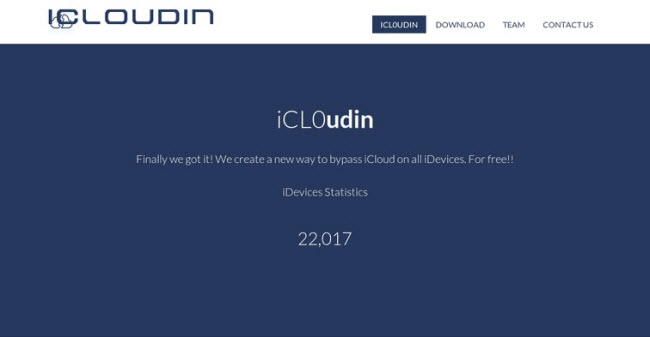 However, in this case, this free tool has quite a few problems. Chief among them is the fact that iCloudin supports iOS versions 9 and earlier. That's right. It only works with iOS versions that are from 2015 and earlier. The probability that your device is on iOS 9 or lower is slim. One developer notes that only 1% of phones and tablets that use his app have iOS 9 on them.
That alone mostly disqualifies iCloudin as an unlocking tool that most people should seriously consider. Factor in that the official build is hard to find, and there are many fakes with viruses, and iCloudin quickly becomes a hard pass for this job.
Open My iCloud - Easy iCloud Removal Tool
At first glance, this tool seems like a simple tool to get the job done. It has a good-looking UI, which is better than Doulci and iCloudin. Additionally, you can trivially find the EXE to download, unlike iCloudin, and there are no tricky red flags like Doulci.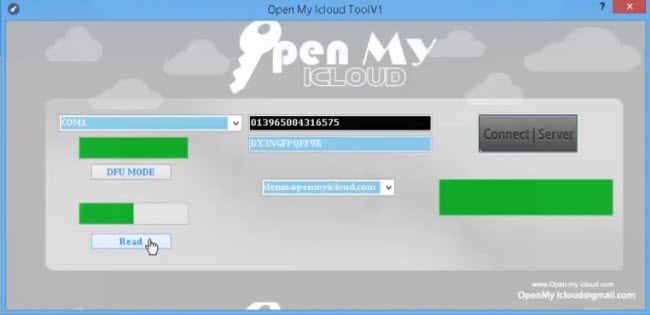 At $25 for a personal license, this software isn't an iCloud removal tool free download, but it isn't incredibly expensive either. It is worth noting that that license only applies to one device, so if you have a few phones to unlock, the cost adds up substantially. The company claims that it works for any iOS device on any version.
Any program that says that it can unlock on any iOS device and version is likely not going to work at all. Apple changes its iOS versions frequently. Due to this reason, there are always one or two builds that people can't bypass. Some reviews say that, even after paying money, they don't receive a download link to Open My iCloud. Others say that it straight-up doesn't work at all. Your mileage may vary, of course, but Open My iCloud does not seem to be a safe and stable iCloud unlocking tool.
Official iPhone Unlock - iCloud Unlocking Service
Official iPhone Unlock promises to unlock devices remotely. They request that you provide them with your device's IMEI number and type (e.g., iPhone 11 Pro Max). They will then take that information and remove the iCloud lock online. There's nothing to download and no manual steps to do on your end.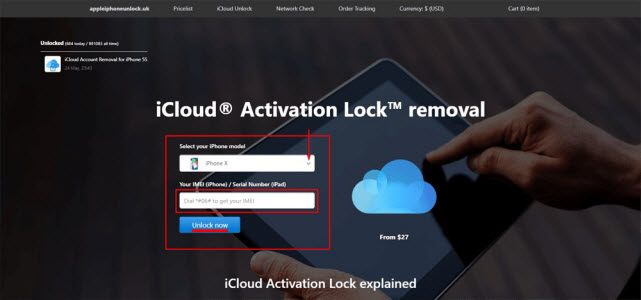 At first glance, this seems to be like the ideal solution. It's quick and easy for anyone to unlock any device and restore it to standard functionality. However, the old saying that "if it's too good to be true, it probably is" applies here.
Most of these sites are scams. What will usually happen is that the site will take the money. They'll wait, say, 24 hours, and then they'll come back to you saying that your device is more challenging to unlock than others and request an additional fee. If you pay the price, they'll take some more time and then say that they were unsuccessful, so they've put a credit on your account towards future unlocks. Of course, none of those future unlocks will wok either.

Therefore, do your research before going with one of these sites. There's a good chance that you will be out of money and still have a locked phone!
Gadget Wide - Useful iCloud Removal Tool
Finally, many sites will also suggest using Gadget Wide. Many sites recommend this iCloud unlocking tool, which effectively creates a fake server on your computer. When your iOS device connects via iTunes, it pretends to be Apple's servers and tells the phone that someone has revoked the lock. When the phone gets this signal, it no longer shows the screen!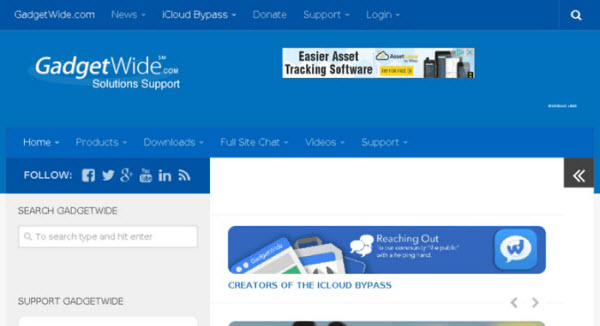 In theory, Gadget Wide should work well. Users, for the most part, do report success. However, it is tough to find online. Most places where you can download it are unofficial, which likely means the software has viruses in it. The official company page is non-existent now, leaving you to download it from less trustworthy places.
Gadget Wide's interface also leaves a lot to be desired. It's not as smooth or intuitive as most people would like. Plus, the software only works on Windows, so if you're on a Mac, you won't be able to unlock your device using Gadget Wide.

All in all, while this software shows promise, its clunkiness and the difficulty in obtaining it make it challenging to recommend.
Conclusion
For the best iCloud removal tool, WooTechy iSalvor is your best bet. It's fast, easy, and can unlock almost any iOS device. Instead of fighting with fake online services or wasting money on software that doesn't work, choose WooTechy iSalvor to start using your iPhone or iPad as quickly as possible!