iPhone says No SIM? Why does my phone say No SIM? What does No SIM mean? You've come to the right place! This latest 2023 Ultimate Guide will show you some super easy ways to quickly get rid of No SIM Available on iPhone! Scroll down to read it!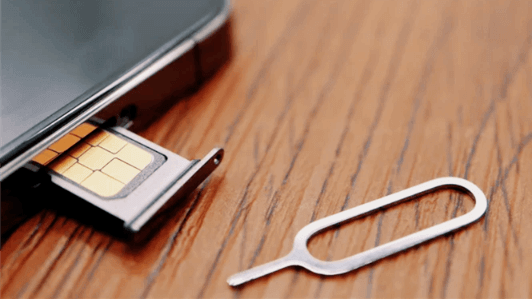 Part 1: What Does No SIM Mean?
SIM stands for Subscriber Identity Module, and it is a small card that you insert into your mobile phone to identify yourself on a particular cellular network. The SIM card contains important information about your phone number, carrier, and other network-related settings.
When your phone displays "No SIM" or "No SIM Available" it typically means that your phone is unable to detect the presence of a valid SIM card. This could be due to several reasons:
SIM Card Improperly Inserted: The most common reason is that the SIM card might not be inserted correctly into the SIM card slot. Many SIM cards distinguish between front and back and need to be inserted correctly.
No SIM Card Inserted: If there is no SIM card inserted into the device, or if a previously inserted SIM card has been removed from the device, the phone may display this message.
SIM Card Damage: If the SIM card is damaged or malfunctioning, the device may not be able to recognize it, leading to the "No SIM available" message.
SIM Card Not Supported: If the SIM card you're trying to use is not supported by the device, you might see this message. For example, inserting a SIM card from a different carrier into a phone that is locked to a specific carrier may not be recognized due to compatibility.
SIM Card Expired or Deactivated: If your SIM card is not active (perhaps due to not being used for an extended period), it might not be recognized.
Network Issues: Sometimes, network issues or outages in your area can lead to the message "No SIM Available" as the device is temporarily unable to connect to any available network.
Hardware Issues: In some cases, there may be hardware issues with the SIM card slot or internal components of the device that prevent the SIM card from being recognized.
Software Glitch: Occasionally, software glitches or bugs might cause the phone to not recognize the SIM card.
Part 2: How to Get Rid of No SIM Available on iPhone?
If you encounter the problem of No SIM Available on iPhone, you can try the following solutions to resolve the issue:
1. Eject and Reinsert SIM Card:
Use a SIM card ejection tool (or a small paperclip) to eject the SIM card tray. Remove the SIM card, wait for a few seconds, and then reinsert it. Make sure the SIM card is properly inserted and securely in place.
2. Remove and Clean the SIM Card:
Carefully remove the SIM card from the iPhone and use a soft, lint-free cloth to clean the SIM card and the SIM card tray. Dust or debris could sometimes prevent proper contact between the card and the tray.
3. Restart Your iPhone:
Sometimes a simple restart can resolve temporary glitches. Press and hold the power button until the "slide to power off" slider appears, then slide to turn off the iPhone. After it's off, press and hold the power button again until the Apple logo appears to turn it back on.
4. Reset Network Settings:
Resetting network settings can often resolve connectivity issues. Go to "Settings" > "General" > "Reset" > "Reset Network Settings." Note that this will also remove saved Wi-Fi passwords and other network-related settings.
5. Update Carrier Settings:
Sometimes updating your iPhone's carrier settings can help resolve connectivity issues. Go to "Settings" > "General" > "About" and if a carrier settings update is available, you'll see a prompt to update.
6. Check for iOS Updates:
Make sure your iPhone's operating system is up to date. Sometimes software updates can fix bugs that might be causing the issue. Go to "Settings" > "General" > "Software Update" to check for updates.
7. Contact Carrier Support:
Reach out to your carrier support to inquire if there are any network issues or carrier-specific issues or if the SIM card needs to be activated. Ensure that your carrier service is not experiencing any outages.
8. Visit Apple Store or Service Center:
If the problem persists and none of the above steps work, you might need to visit an Apple Store or an authorized service center for further diagnosis and assistance.
Part 3: How to Get Rid of SIM Not Valid or SIM Not Supported on iPhone?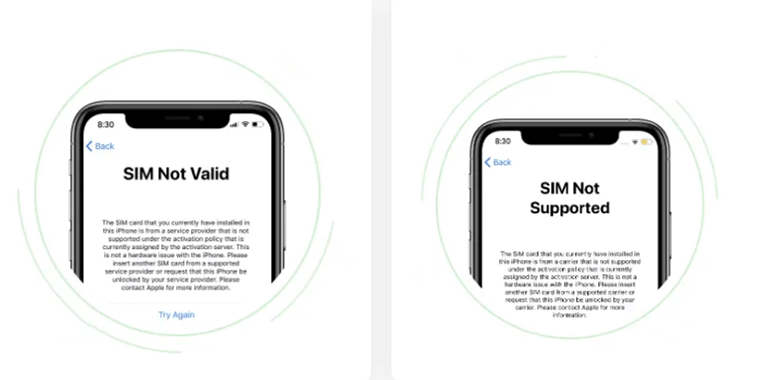 So what can you do if you see SIM Not Valid or SIM Not Supported on your iPhone because you have changed SIM card carrier? Is it possible to unlock the SIM card to solve the iPhone SIM unsupported issue? Yes, there is! The easiest and fastest way to unlock SIM is to use the SIM lock removal tool WooTechy iSalvor.
As a professional and secure iPhone SIM lock bypass software, it can quickly remove the SIM lock from iPhone in minutes, allowing you to use your iPhone without restrictions. After the removal, you can use any SIM card and switch to any carrier you want without limitations.
WooTechy iSalvor - Best Tool to Remove SIM Lock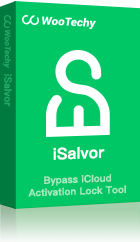 75,000,000+
Downloads
Unlock SIM From Carrier: Easily unlock SIM card and remove SIM lock from any carriers such as AT&T, T-Mobile, Verizon, and Sprint, no matter what carrier your SIM is locked to

Remove iOS Lock: Quickly bypass most Apple device lock, such as iCloud Activation Lock, Screen Lock, SIM Lock on iPhone/iPad even without Apple ID or password

High Success Rate: With advanced iOS device unlocking technology, the success rate is almost the highest among similar products

Good Compatibility: Works with almost all iOS versions. Supports most iPhone, iPad, iPod Touch devices

Easy To Use: Simple steps to unlock, no expertise required, friendly to non-technical users

After-Sales Guarantee: 30-day money back policy with instant refund if unsuccessful
How to Remove iPhone SIM Lock?
Step 1: Download and install WooTechy iSalvor on computer. Choose Remove iPhone SIM Lock and click Start to begin the process. Then connect your device to computer with USB cable.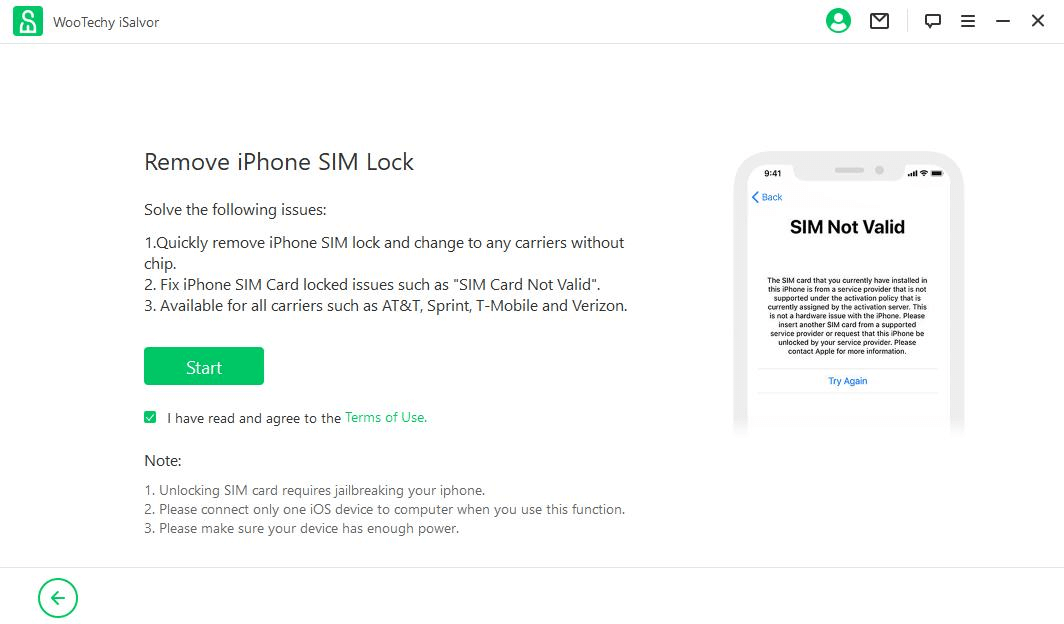 Step 2: If you are using Mac, the software will help jailbreak your device automatically. If you are using Windows, refer to the jailbreak tutorial and follow the instructions. When the jailbreak is done, click Next.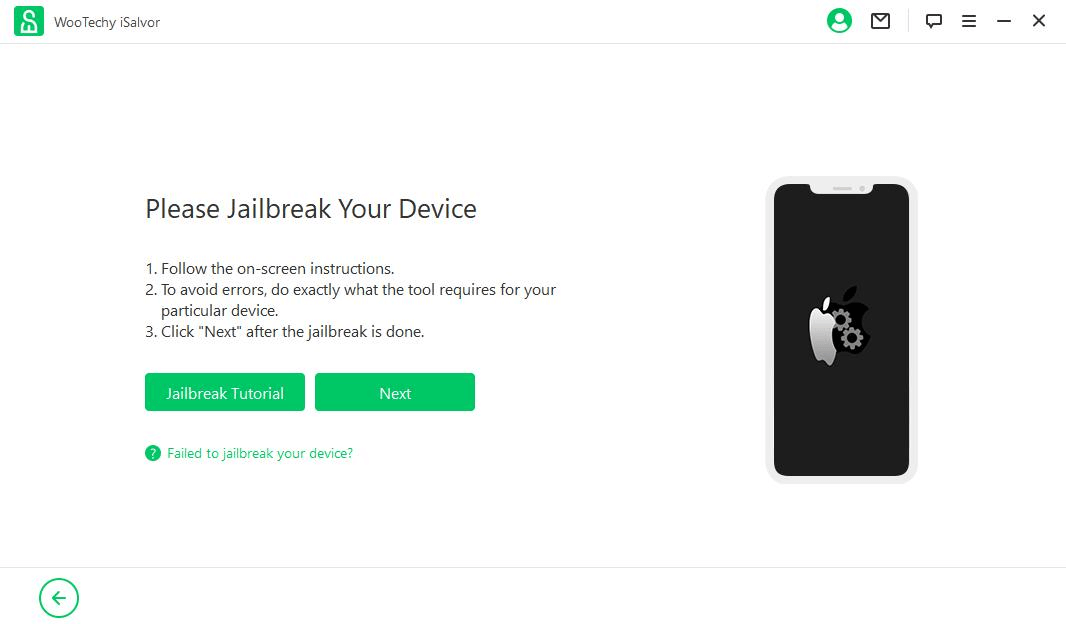 Step 3: Click Start Bypass to bypass and remove iPhone SIM lock from your iPhone.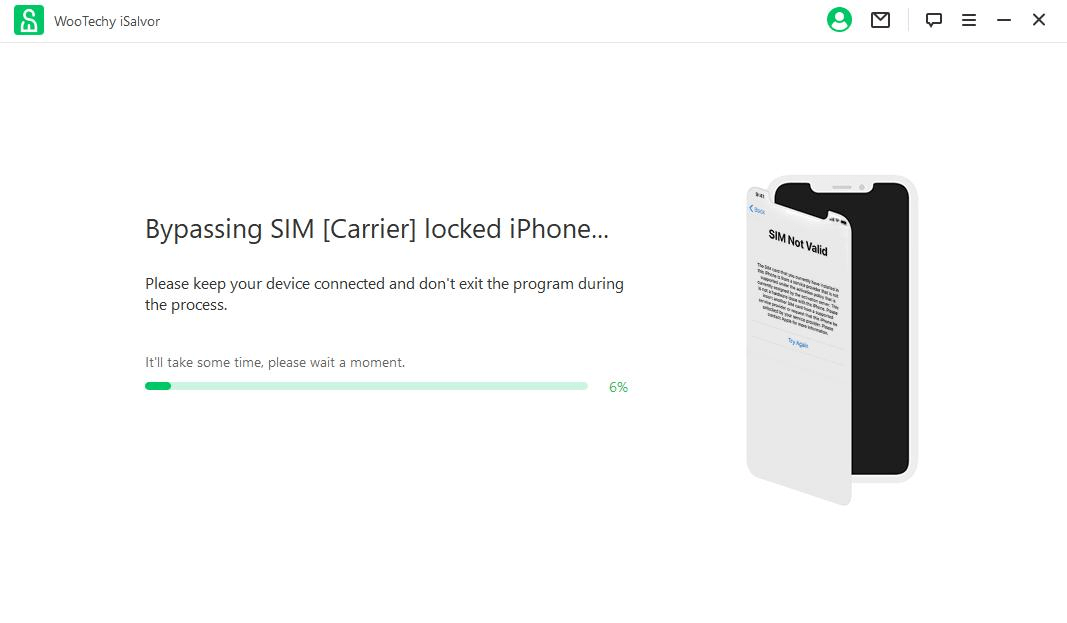 Step 4: Once the process is completed, click Done. Now the SIM lock has been removed successfully and your iPhone can be used with any SIM card!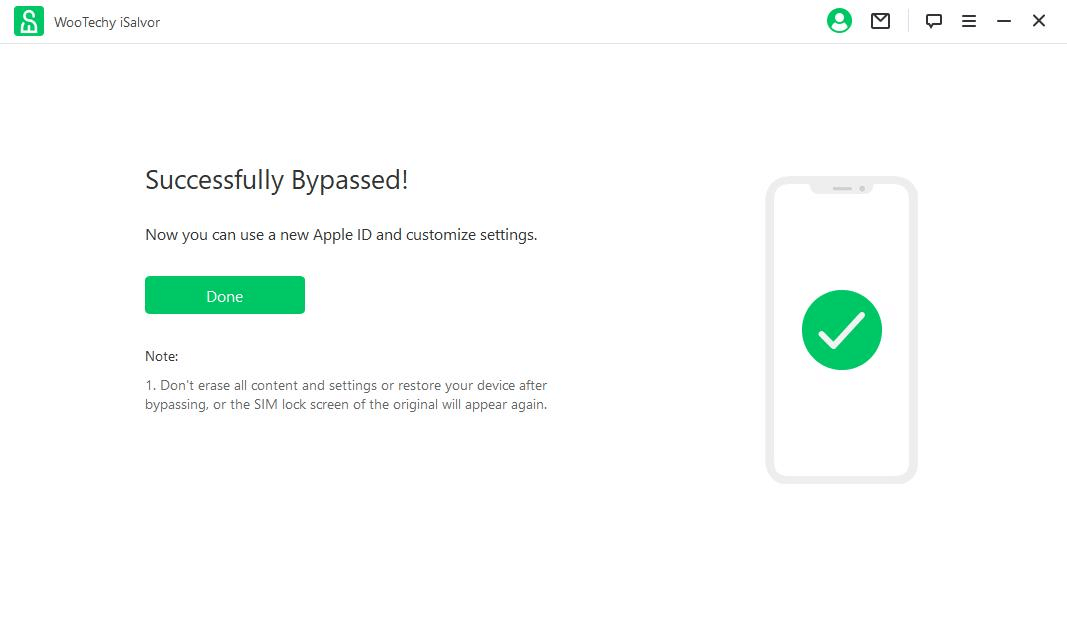 Conclusion
Well, now you have known the reason for No SIM Available on iPhone and got rid of iPhone No SIM Available problem. If you still need to remove SIM lock on iPhone, then you must try WooTechy iSalvor which can quickly remove SIM lock from any carrier. With just a few simple clicks, you can bypass SIM lock on iPhone/iPad and use any carrier's SIM card without restrictions! Try it now!