Can someone unlock my iPhone in lost mode? How to override lost mode on iPhone? Can lost mode be bypassed? Your search ends here! This ultimate guide will show you all the answers as well as the top 3 best ways on iPhone lost mode unlock! Read on!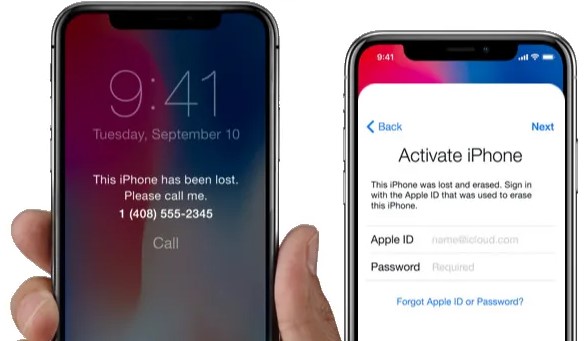 Part 1: What is iPhone Lost Mode?
As the rising threat of users' privacy and data stored on the mobile, Apple introduced iPhone Lost Mode feature that helps prevent others from accessing your personal data in case your iPhone is lost or stolen. It is considered the most advanced and ingenious security feature of the iPhone.
When users sign in to the iCloud dashboard and turn on the "Find My iPhone" feature, they can enable the Lost Mode. iPhone Lost Mode is a state of the complete lockdown of your mobile to ensure no one can using it without the proper passcode or Apple ID. It also helps to track your lost iPhone as you can see its GPS location and remotely display a custom message on the device's screen, that explains you have lost your phone and mentions your contact information in case someone wants to return it.
However, the issue arises when you're stuck in the Lost Mode and cannot get past the screen. That's why we are here to provide readers with all the information they need to unlock iPhone lost mode safely.
Part 2: Can Someone Unlock My iPhone in Lost Mode?
If your iPhone is in Lost Mode, it means you have used the "Find My iPhone" feature to remotely lock your device to prevent unauthorized access to your iCloud account in case it was lost or stolen. If your iPhone is protected by a passcode or biometric authentication (e.g., Touch ID or Face ID), then someone can't unlock it without the correct passcode or registered biometrics. Lost Mode is designed to enhance the security of your device and protect your personal data.
If you believe someone else has found or taken your lost iPhone and you suspect they might try to unlock it, it is crucial to take action immediately. You should report the lost or stolen device to your local law enforcement and contact your mobile carrier to inform them about the situation. Additionally, make sure to change your Apple ID password.
Remember, it's always essential to keep your devices protected with strong passcodes or biometric authentication and enable features like "Find My iPhone" to enhance the chances of recovering your lost device and safeguarding your data.
Part 3: How to Override Lost Mode on iPhone?
Method 1: iPhone Lost Mode Unlock without Passcode
Coming to the most important part, if you don't know or can't remember the Apple ID password using to log-in iCloud, you have no option but to use the third-party software for iPhone lost mode unlock. You'll find a host of software online that claims to remove screen lock, but none is better than WooTechy iSalvor.
This powerful tool has been in the market for a while and has earned the status of No.1 third-party software to bypass iPhone lost mode in just a few minutes. It offers a simple and click-through process and removes the lock with just a few clicks. Its super-fast speed, high reliability, and user-friendly interface make it the best choice even for a novice.
WooTechy iSalvor - Best Tool to Bypass Activation Lock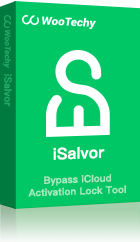 75,000,000+
Downloads
Bypass Apple Lock: Quickly remove iCloud activation lock, screen lock and SIM lock on iPhone/iPad without Apple ID or password

Unrestricted use of iPhone: Sign in new Apple ID after automatically jailbreaking locked iPhone/iPad, won't be erased or tracked by previous owner

iPhone Lost Mode Unlock: Unlock iPhone lost mode and remove device from "Find My iPhone" without passcode

Easy To Use: Simple steps, no expertise required, friendly to non-technical users

High Success Rate: With advanced iDevice unlocking technology, the success rate is the highest among similar products

Good Compatibility: Works with almost all iOS versions. Supports most iPhone, iPad, iPod Touch devices

After-Sales Guarantee: 30-day refund policy with instant refund if unsuccessful
How to Bypass iPhone Lost Mode Without Password?
Step 1: Download, install and launch WooTechy iSalvor. Choose Remove Screen Lock and Bypass Activation option. Then connect your locked iPhone to the computer with USB cable.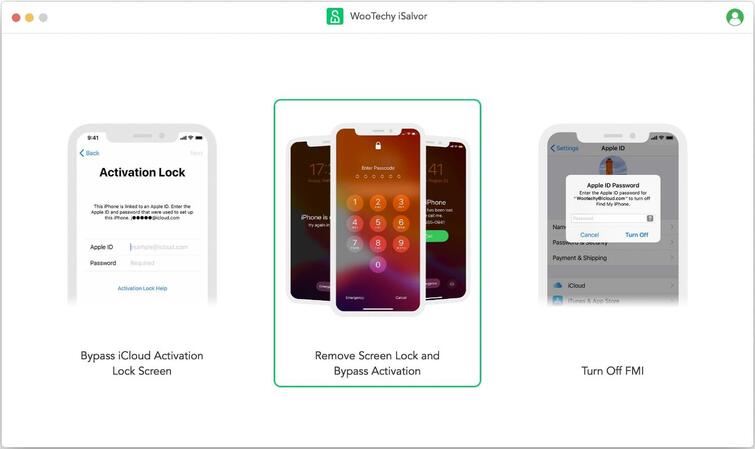 Step 2: Once your device is connected, the software will automatically download the jailbreak package for it. Now click on Start Jailbreak to jailbreak your iPhone.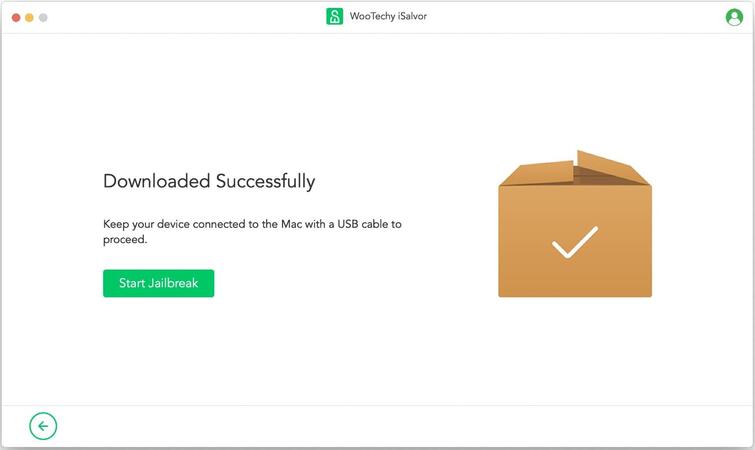 Step 3: Once your iPhone is jailbroken, the screen lock removal process will start.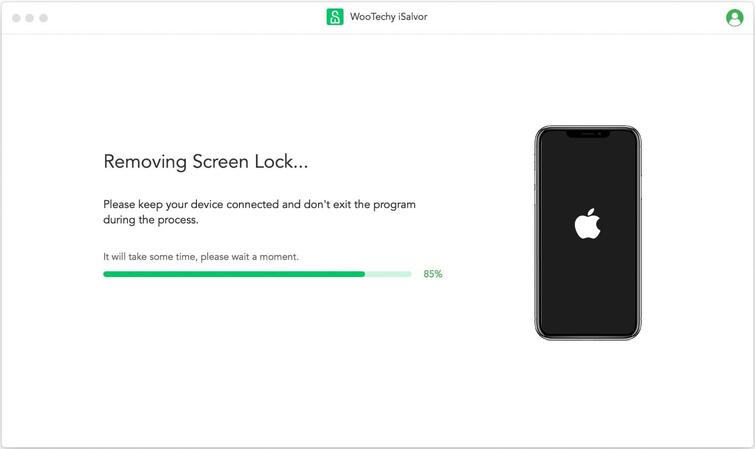 Step 4: When the process is completed, click Done and you now will be able to access your iPhone!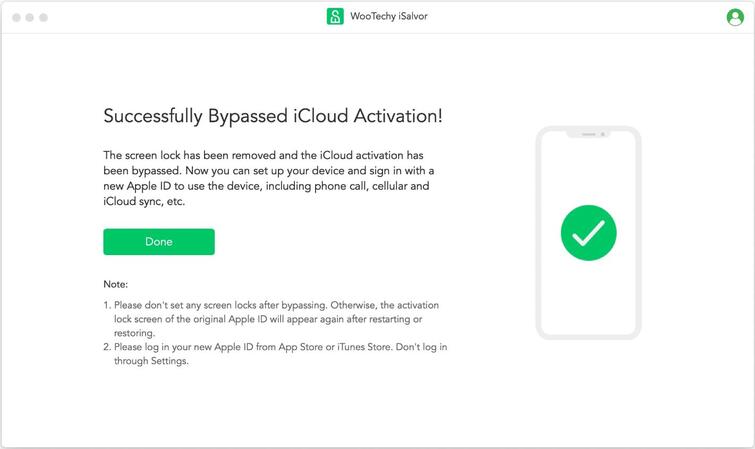 Method 2: Unlock iPhone Lost Mode with Password
If somehow you can remember the password, then you simply have to enter the password to regain access to your iPhone.
How to Unlock iPhone Lost Mode with Password?
Step 1: Enter the same password that you entered into iCloud while putting the device into Lost Mode.
Step 2: Sometimes, you already have set an iCloud passcode before entering the iPhone into Lost Mode; use that password to unlock Lost Mode.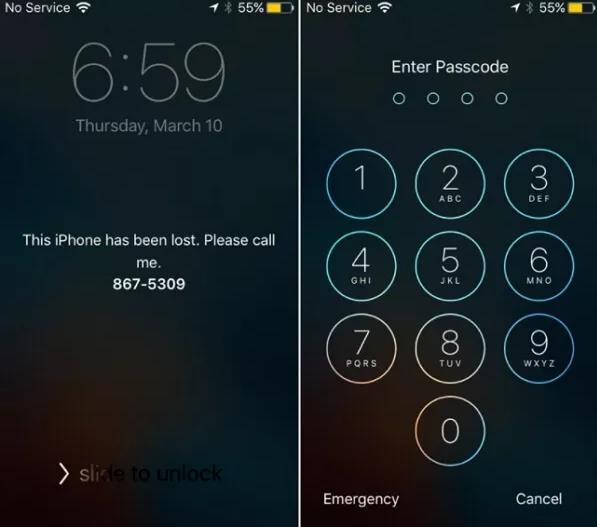 Method 3: Unlock iPhone Lost Mode via iCloud
Another proven way to unlock lost mode on iPhone is using iCloud.
How to Unlock iPhone Lost Mode via iCloud?
Step 1: On your computer, go to iCloud.com and sign with the same iCloud account you use in the locked iPhone.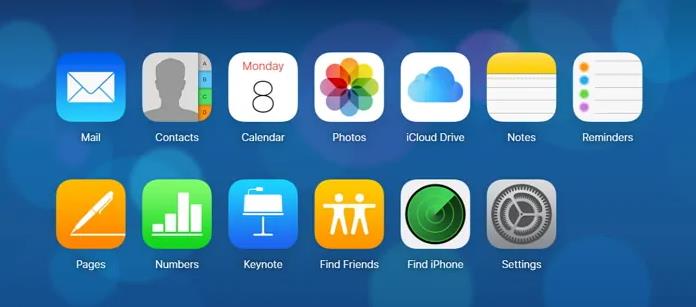 Step 2: Navigate to the Find My iPhone feature on the main interface of the iCloud launchpad and hit on All Devices at the top of the screen. Here, it will display a list of all Apple devices synced with that account; you need to select your locked iPhone.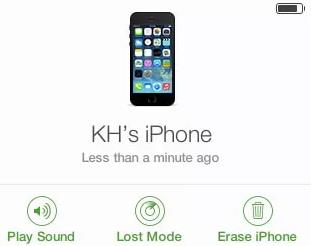 Step 3: Click on the Lost Mode option. A pop-up window will appear. Now click on Stop Lost Mode to turn off the Lost Mode on your iPhone.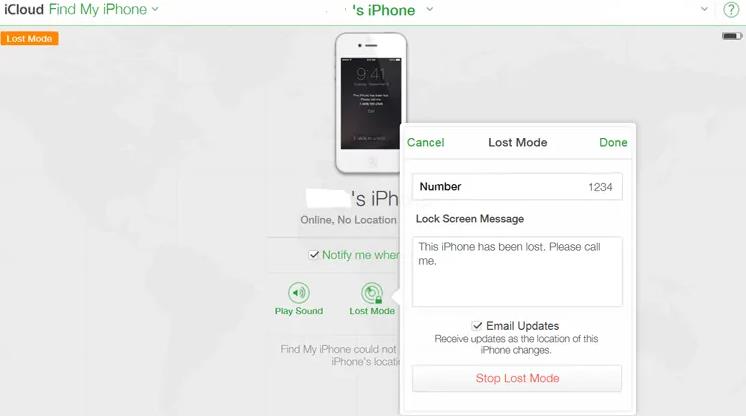 Part 4: FAQs About iPhone Lost Mode
Q1: Why is My Device in Lost Mode?
Below are the three most common scenarios of why your device is stuck on the lost mode screen.
1. The previous owner of your device locked it
That's the most common issue in the case of second-hand mobiles. The original owner of the phone can put it in lost mode remotely if you haven't logged out of his/her iCloud ID already. That's why we advise readers to change iCloud credentials soon after buying it.
2. You accidentally locked the device in iCloud
Well, as hard as it may to believe, but we have cases where users inadvertently lock their phone in iCloud.
3. Your iCloud account was hacked
If some other party knows the login credentials of your Apple ID, they can hack your mobile and put it in lost mode.
Q2: Will I Lose Data on My Device?
Yes, you'll lose all the data after bypassing lost mode without password.
But if you can't remember Apple ID password, you don't have any other choice than using a third-party software to regain access to your iPhone stuck on the lost mode screen. That's why we always recommend you to regularly back up your iPhone.
Q3: Will the Device be Jailbroken?
Yes, jailbreaking is a necessary step to unlock iPhone stuck on a lost mode screen using any third-party tool.
Fortunately, WooTechy iSalvor will automatically download the required jailbreak package and provide you a step-by-step guide to help you easily jailbreak iPhone.
Conclusion
Well, by now you have got all the information about what is iPhone lost mode and how to unlock iPhone lost mode. However, the last 2 methods only work under specific conditions i.e., either you know the password or you can contact the previous owner from whom you bought the iPhone stuck at lost mode. That's why we recommend you to use WooTechy iSalvor, a highly reliable and secure iPhone unlocker tool that can bypass iPhone lost mode with just a few simple clicks. It is now also the most popular iPad/iPhone unlocker tool on the market, which has a large number of Apple users. Try it now!