Discovering that you have a iCloud locked iPhone or iPad is one of the toughest situations because you need to unlock the iDevice to use its functions. Having a locked iPhone has been described as carrying around a useless paperweight. So you will have to learn how to unlock iCloud account.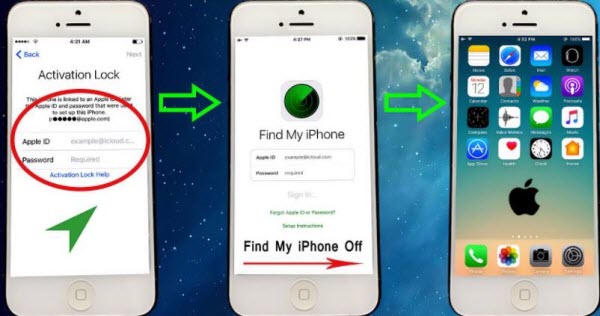 How Can I Know Whether My iPhone/iPad Is iCloud Locked or Not
You can easily tell if your iPad or iPhone is iCloud locked. Just power on the device, and if you see the activation lock screen that asks you to sign in using an Apple ID and password, the device is iCloud locked.
You may also encounter a lock screen message that tells you that this device was reported stolen or lost along with additional contact information on how to return the device to its owner.
What Does It Mean If An iPhone/iPad Is iCloud Locked?
It means that the Find My iPhone feature was enabled by the original user as an added security measure that will help them locate their device if they misplaced it.
Similarly, they still retain the ability to remotely erase their device to prevent their personal information from being accessed by unauthorized parties.
When Will Your iPhone Be iCloud-locked?
There are several situations where an iPhone is iCloud-locked. It doesn't really mean that the device was stolen or lost by the original owner.
Many people unexpectedly find themselves with a locked iDevice when they purchase the iPhone or iPad from someone else. The original owner may have forgotten to turn off the Find My iPhone feature before erasing their device. Or sometimes you may forget the password when you restore your iPhone/iPad.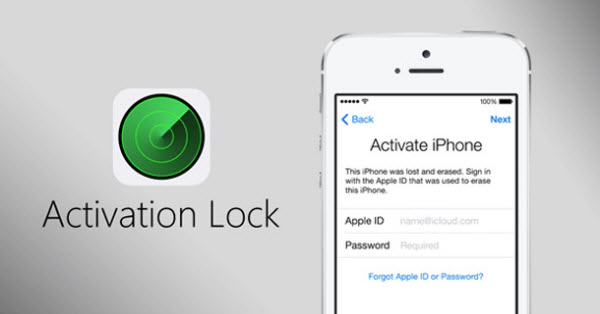 How to Unlock iCloud Account by WooTechy iSalvor
Are you stuck with a device that constantly asks for the Apple ID and password each time you turn it on? Don't worry as there is a super-effective way to unlock iCloud account using WooTechy iSalvor.
WooTechy iSalvor is an expertly engineered software that allows users to bypass the activation lock screen and sign in using another iCloud account.
It's a hassle-free way to remove the activation lock on an iPhone, iPad, or iPod Touch. You can download and set up the software on your Mac or PC. It allows you to test if a device is supported without making a payment first.
Top Features of WooTechy iSalvor
Bypass iCloud account without Apple ID or password.

Unlock iCloud account on the iOS12 and later.

Prevent the device from being tracked using the old iCloud credentials.

High success rate with testing allowed before purchasing.

Access the device using a new Apple ID.
Steps to Unlock iCloud Account from Activation Lock
Step 1. Download, install, and run the WooTechy iSalvor app on Mac or PC. And click "Start".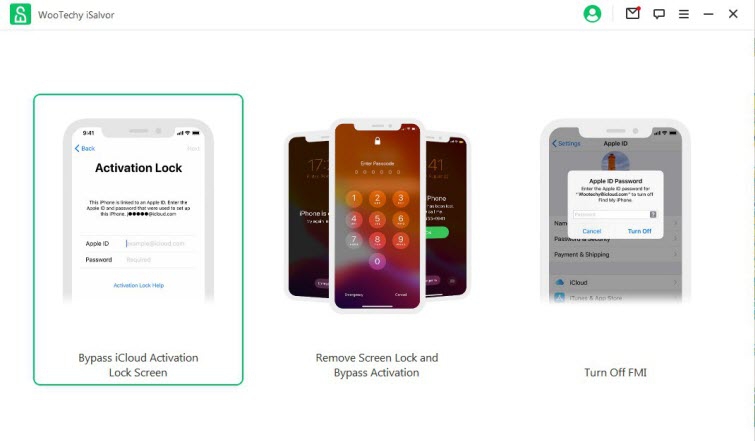 Step 2. Connect the iDevice using a high-quality lightning cable for it to be easily recognized.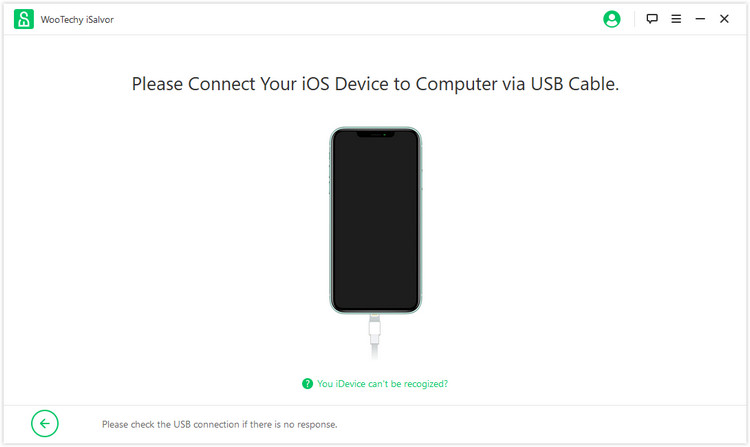 Step 3. Perform a successful jailbreak by following the instructions provided by the app by tapping "Jailbreak Tutorial". (it's much easier to perform a successful jailbreak on a Mac computer)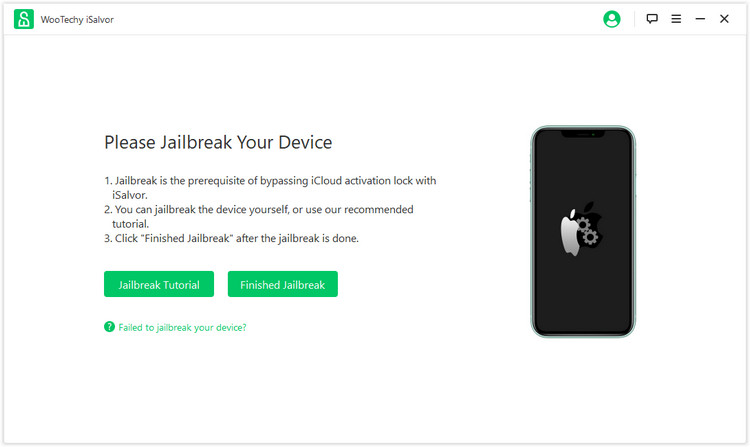 Step 4. Confirm that the device is ready for the final step. It entails performing the bypass to unlock iCloud locked iPad or iPhone. You should see the device model iOS version, IMEI, serial number, and UDID displayed on the desktop app. And click "Start Bypass".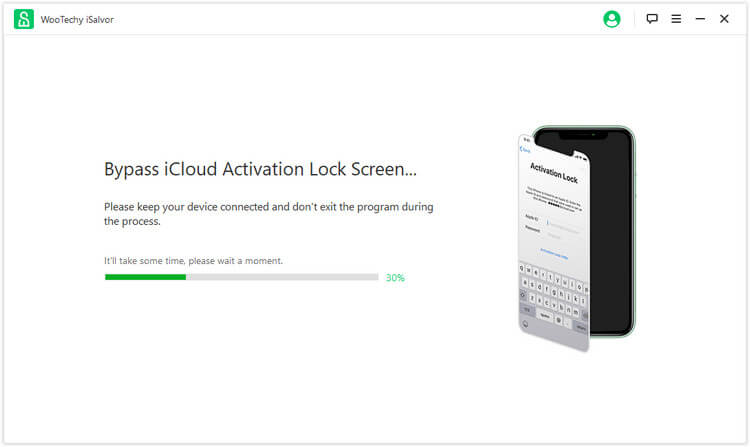 After clicking the bypass button, you should see a successful message confirming that iCloud activation lock screen has been removed.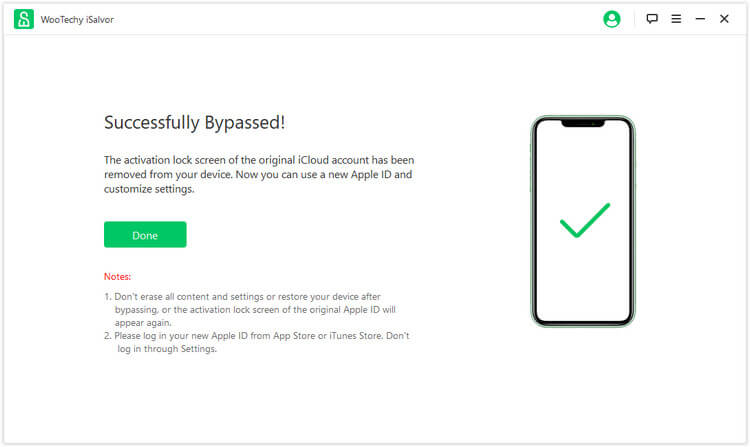 Look at the video tutorial to learn how to unlock iCloud account with iSalvor.
Pros:

You can use a new Apple ID without any interference from the owner of the previous Apple ID.

The tool is very popular since it supports multiple devices and iOS versions.

You can use it in any country or region.

It's simple to use and beginner-friendly.
Cons:

After jailbreaking the device, certain functions such as using cellular data, making phone calls, or accessing iCloud will be restricted. But you can use apps such as WhatsApp and Wi-Fi.
How to Unlock iCloud Locked iPhone/iPad by GadgetWide
Do you need a free alternative to unlock iCloud account on iPad or iPhone?
GadgetWide is a bypass tool that appeared in 2014. The only issue is that it has not received constant updates and may not work with newer iOS versions released after iOS 9.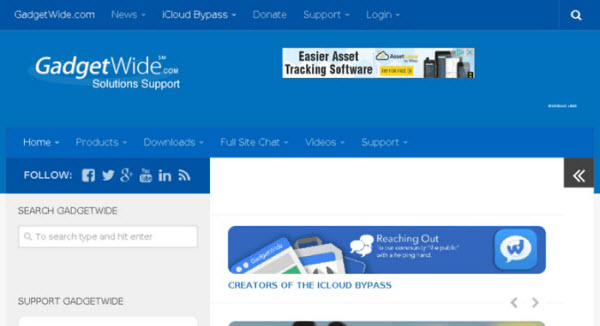 Steps to use GadgetWide to unlock iCloud.
Step 1. Download and install GadgetWide on your Windows computer.
Step 2. Launch the program and go over the terms of service.
Step 3. Register your copy of the program. You receive final instructions on how to start the activation process.
Step 4. The software will automatically launch iTunes, and you'll be prompted to connect your iPhone.
Pros:

Easy to use.

Free of charge.
Cons:

Support for limited iOS versions.

Only work on Windows computers.

Need iTunes installed to work.

Your data may be exposed since it uses third-party servers for activation.

Low success rate.
How to Unlock iCloud iPhone/iPad Account by IMEIUnlockSIM
There are activation tools that only ask for your IMEI number, a unique identifier assigned to every mobile device. Let's go over the details of one popular program (Though it's popular, many users have reported that they never got the results as promised):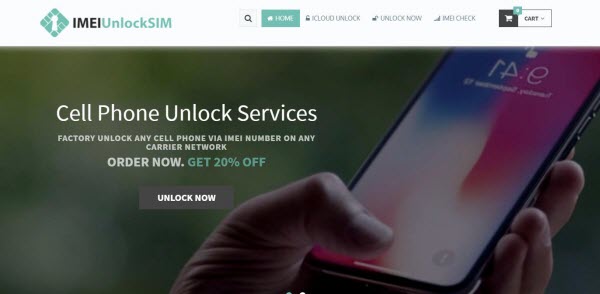 The first requirement to use this service is that the device's IMEI has to be listed as iCloud locked on the Apple Database. It may be problematic if the device has been blacklisted.
You need to visit their website and find the iCloud activation lock page from the main menu. Next, select your device model and enter the IMEI. You can find it by going to Settings > About, dialing *#06#, or clicking the more information icon (i) for inactivated devices.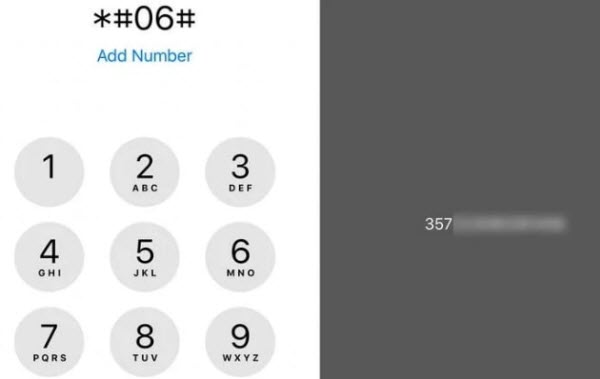 You are then required to make a payment so that the team at IMEIUnlockSIM can begin the bypass process.
Pros:

Do not require any software to be installed.

Do not require any prior technical skills.
Cons:

Many users have complained about getting no results.

You're required to make an advanced payment without any assurances.
Use
WooTechy iSalvor
to get a free trial to know whether your device can be supported or not.
Reviews of IMEIUnlockSIM
You should be wary of services that promise a complete factory iCloud removal. Only authorized Apple representatives can completely remove the iCloud lock in case someone loses their Apple ID and password. Sufficient proof of purchase must be provided, such as the original receipt.
Many users have complained about the service citing that they got scammed. The company has come under fire for refusing to offer refunds. You can find more reviews here.
How to Turn Off Activation Lock If You Don't Like iCloud-Locked
You can avoid the hassle of nailing down the best solution to unlock iCloud account. But you need access to the original credentials.
1

How to Turn Off Activation Lock with The Previous Owner

Asking the previous owner for assistance maybe your best option. If they live close by, just bring the device with you and ask them to enter the Apple ID and password on the activation lock screen.

They will need to remove the device from their iCloud account. First, they must unpair an Apple watch that was paired with the iPhone. Afterward, they need to sign out of iTunes, App Store, and iCloud (under Settings > iCloud > Sign Out).

Apple recommends erasing all content and settings to remove the device passcode. You can find the reset function under General > Reset> Erase All Content and Settings.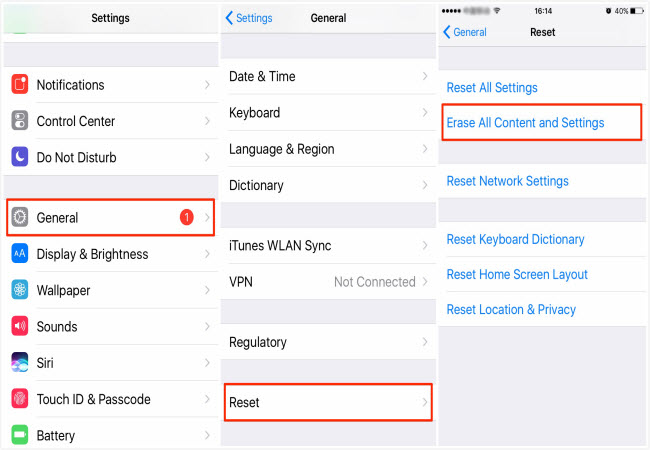 2

Use iCloud to Erase The iCloud Account

Apple also provides a way for previous owners who no longer have access to the iPhone, iPad, or iPod Touch to erase their iCloud account or even reset the device remotely. They need to:
Log in using their Apple ID on iCloud.com.

Find the linked device from Find My iPhone > All Devices.

Select Erase Device followed by Remove from Account.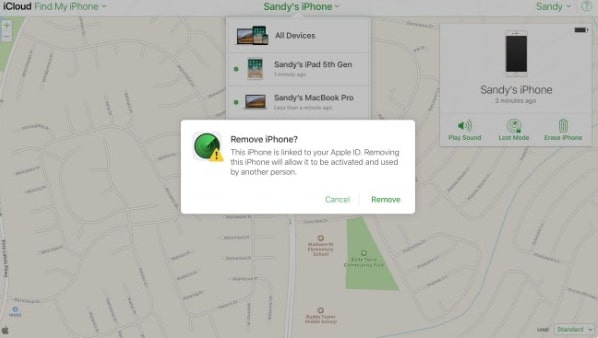 Conclusion
If you need a reliable program that you can count on to unlock iCloud account, we highly recommend WooTechy iSalvor because of its high and proven success rate. You're not required to pay anything until you test to see if the program supports your device. It's also suitable for non-tech users. Just download and give it a try!