While it's convenient to carry your favorite music collection or precious voice recordings around with you on your smartphone, it's also possible for files to be lost if your device has a technical issue or if you accidentally delete them.
Regardless of how files are deleted or lost, the pain of losing those precious audio files is the same for everyone. That's why we've created this guide to help you get out of this unfortunate situation and get back your audio files. In this article, we'll show you how to recover deleted audio files from Android phone using a couple of different methods with easy-to-follow instructions.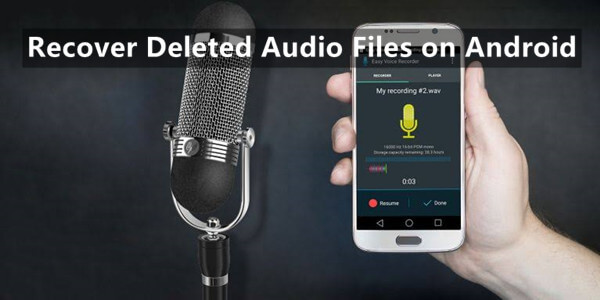 Part 1. Can Deleted Audio Files Be Recovered
Well, yes! You can! First, you may have backed up your audio files on Google Drive, so they can be easily restored. Second, when you delete a file from your Android phone, it's not immediately removed from the device. Instead, the file is just marked as "invisible" and the space it occupies is now available to be overwritten by new data.
This means that if you act quickly, there's a very good chance that you can recover the deleted audio files before they're overwritten and lost forever.
Part 2. How to Recover Deleted Audio Files from Android Phone
So, now you know that it's possible to recover deleted audio files from Android phone. But how do you do it? In this section, we'll show you 2 different methods that can be used to get back your lost or deleted audio files with step-by-step instructions.
1. Restore Deleted Audio Files on Android from Google Drive
Just like iCloud for iPhone users, Android phones also have a built-in backup feature that can be used to backup or sync all of your precious data in the Google Drive.
So, if you had previously enabled the backup feature on your phone or synced all of your files with Google Drive, then there is a good chance that your deleted audio files are still present in the backup and can be easily restored.
However, it is worth noting that if you have deleted a file prior to backing up your Drive, it will not be restored. Furthermore, you cannot choose a specific file to restore; everything will be restored.
Here's how to recover deleted audio files on an Android phone if you have a Google Drive backup.
If you don't have the Google Drive app on your phone yet, open the Play Store, search for Google Drive, and install it. Then open it and sign in to your Google Drive account.
Tap the Menu icon in the top-left corner and choose Backups from the list.
Then you will see the backup you have made, tap Download to restore it.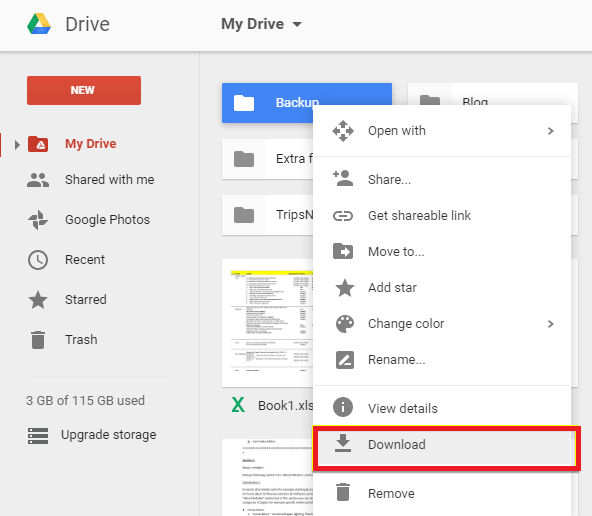 2. Restore Deleted Audio Files Directly from Android
As you can see from the above method, if you have a Google Drive backup of your audio files, then it's quite easy to get them back. However, what if you don't have a backup or you want to restore a specific audio file instead of full restoration?
Well, this is where WooTechy iSeeker Android data recovery tool comes in handy. This powerful software can be used to directly scan your Android phone and recover deleted audio files without the need for any backup.
It's also convenient because it won't overwrite your current Android data or perform a factory reset to retrieve your deleted audio files. Moreover, it can be used to recover a wide range of other data types such as contacts, text messages, WhatsApp messages, photos, etc. from Android devices.
Some other highlight points of WooTechy iSeeker for Android
100.000+
Downloads
Supports recovery for more than 11 types of data on Android devices.

Allows you to recover lost data without backup and with Google Drive backups.

Enables you to preview your data before recovering and allows you to selectively restore specific items.

Supports 6,000+ Android devices and various Android OS.

Doesn't require rooting your phone.
Follow these simple steps to recover deleted audio files using iSeeker Android:
Step 1. Launch iSeeker(Android) on your computer and choose Recover Phone Data from the main screen.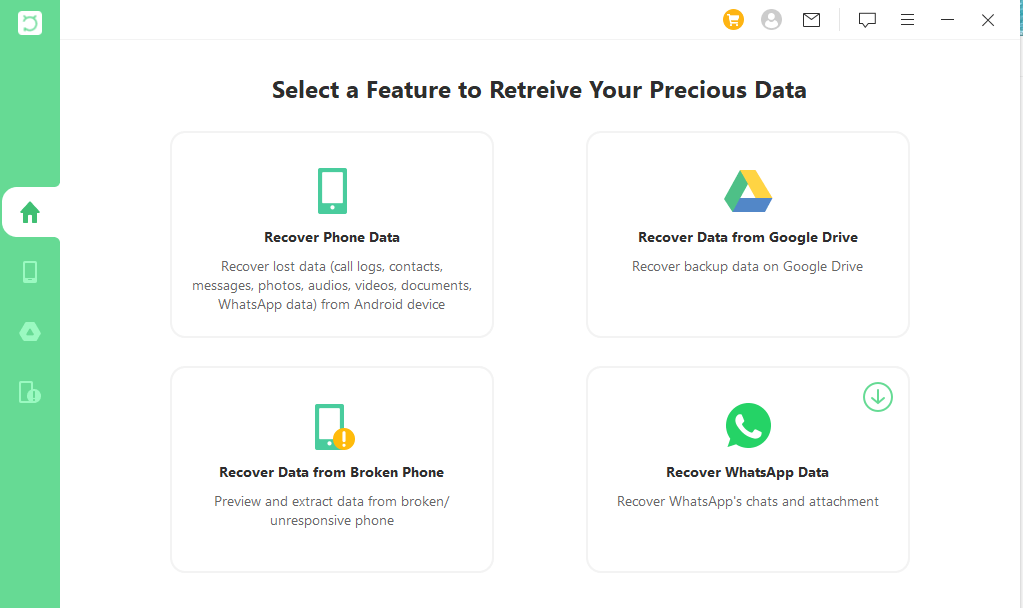 Step 2. Select Quick Scan or Full Scan according to your need.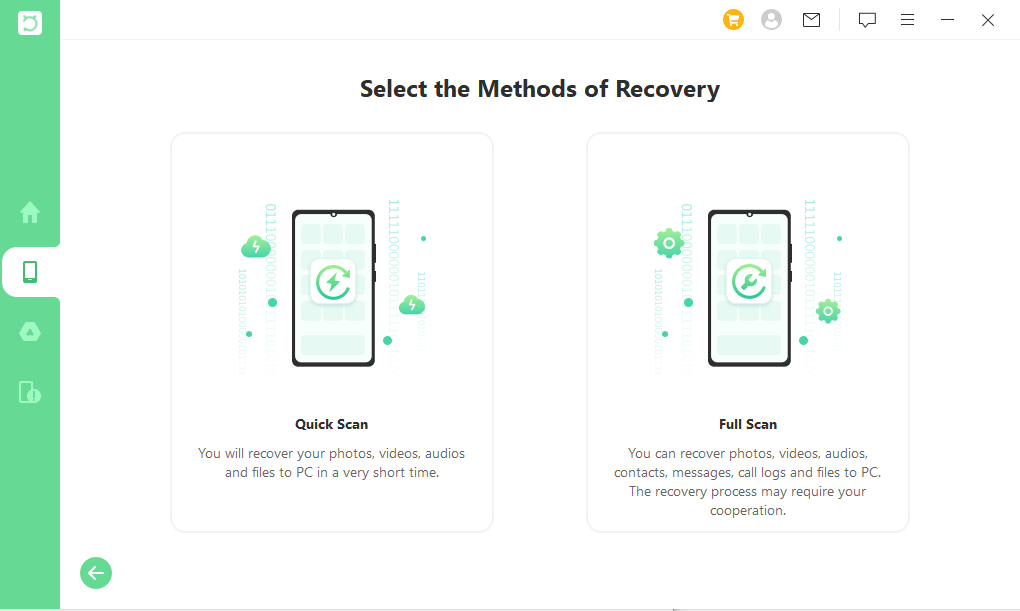 Step 3. After the scanning, preview all the audio files and choose the ones you need, then click Recover.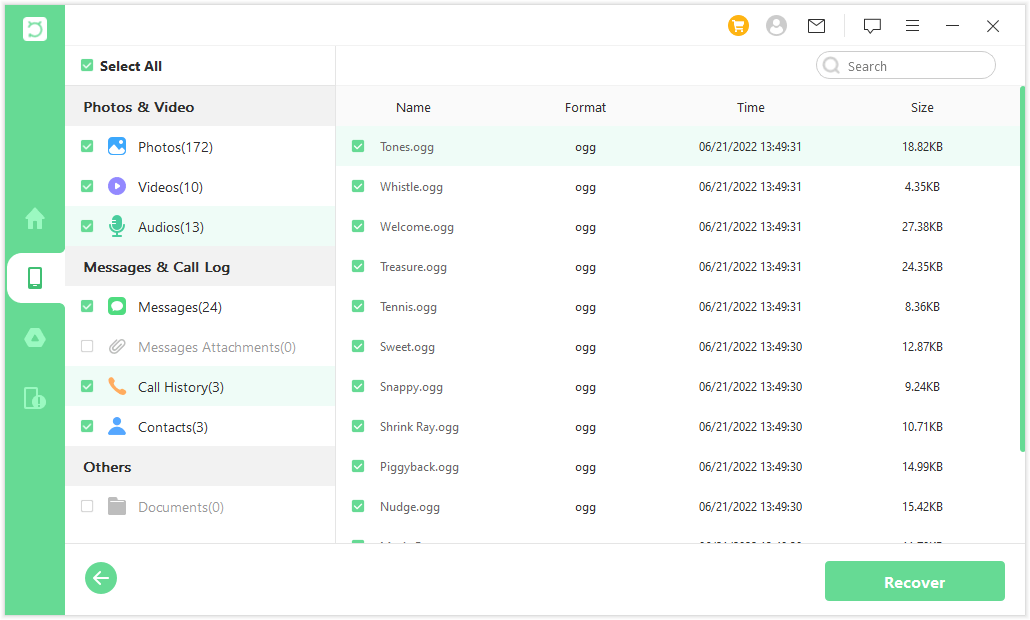 Part 3. How to Avoid Losing Audio Files
Now that you know how to recover deleted audio files from Android phone, it's time to learn how to avoid losing them again.
Back up your Android phone regularly so even in case you do accidentally delete them or have a system glitch, you can get them back easily.
Here are a few simple steps to back up your Android phone's data to Google Drive:
On your Android phone, open Google Drive app.
Tap More icon in the top-left corner and choose Settings from the menu.
Tap Backup and reset, then tap Back up now. Your phone data will be backed up to Google Drive then.
Conclusion
We understand how upsetting it can be to lose important data, especially if you don't know how to get it back. But as you can see from this article, there are a few different ways that you can use to recover deleted audio files from your Android phone.
However, if you don't have a backup of your data at hand, this can make you anxious. That's why we introduced WooTechy iSeeker Android Data Recovery tool - to help you recover all lost or deleted data even when you have no backup. So, be sure to give it a try right now!