Have you mistakenly deleted one of your important emails and want to recover it? Do you know the proper methods for how to recover permanently deleted emails from Gmail? If these questions relate to your situation, don't worry; we are here to help you.
This article is a complete guide and solution for your issues. We are going to discuss some important and effective methods of email restoration from Gmail. Moreover, we will also share software that will excellently recover data from your Android devices totally free of cost. So, without wasting our time. Let's jump straight into it.
Part 1: Can You Recover Permanently Deleted Emails in Gmail?
Yes, it is possible to recover permanently deleted emails in Gmail, but there are two different scenarios for this purpose. You will be required to use different methods of email recovery within and after 30 days of deletion. You can easily recover deleted emails just by using your Gmail account within 30 days of deletion. Within 30 days, deleted data is used to be saved in the trash or recycle bin folders of the account that can easily be restored through some simple clicks. Otherwise, other Google helping platforms will be used to recover data after 30 days of deletion. All these methods are going to be discussed in the below portions of this article.
Part 2: How to Recover Deleted Emails in Gmail after Deletion within 30 Days
As discussed above, there are two criteria for email restoration. In this portion, we will see how to recover deleted emails from Gmail within 30 days of deletion. Let's have a look at different procedures separately.
2.1: Retrieve a Deleted Email in Gmail from Trash Folder
Like Windows, Gmail also has a trash folder that stores all the deleted emails for a limited time. This trash box allows users to get deleted emails back in a straightforward and simple way.
Step 1. Open your Gmail account on your computer and click on the filter arrow in the search box.
Step 2. This will show you a drop-down menu. Select the Mail & Spam & Trash option.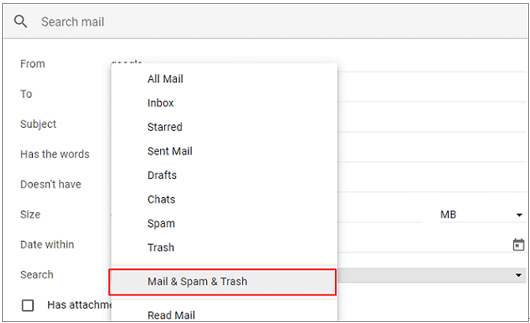 Step 3. If you remember the lost email, then also use the sender name or subject. This can make the scanning process more easy and fast, but this is not compulsory.
Step 4. At the end, click on the Search button. All the recoverable deleted messages from the trash box will appear on the screen from where you can easily restore them.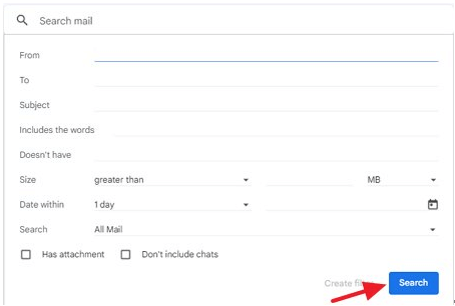 2.2: Recover Deleted Emails by Editing/Deleting Filter
Sometimes, certain filters cause problems like unwanted deletion or disappearance of emails on their own. This way, it can cause serious damage to important information or email of users.
In this portion, we will tell you how to delete or edit those filters to avoid unwanted email deletion. This will reduce the risk of email deletion.
Step 1. First of all, log in to your Gmail account and click on the "Gear" icon at the top right corner of the computer screen. Now, click on the See All Settings option.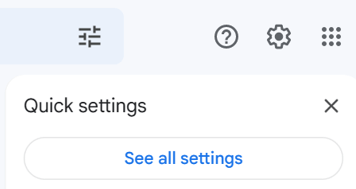 Step 2.There will be different options at the top of the screen. Go to the Filters and Blocked Addresses. Now a new window will appear on the screen with a list of different filters.
Step 3.Identify the filter which you want to delete or edit. In case of editing, click on the edit option in front of the targeted filter. Click Continue and uncheck the options of Skip the Inbox ( Archive it) and Delete it. Then hit the Update filter button, and it will be edited.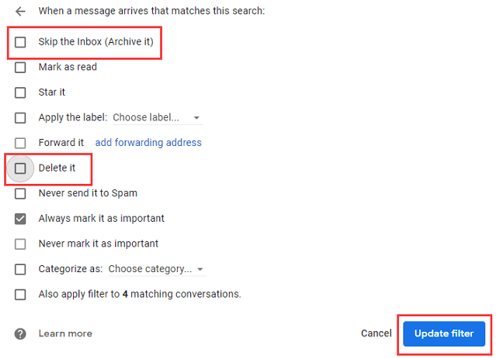 Step 4. If you want to delete the filter then click on the delete option in front of the targeted filter and hit the OK button. The filter will be deleted.
Part 3: How to Recover Permanently Deleted Emails from Gmail after 30 Days
Recovery of emails within 30 days of deletion is offered by Gmail and it is a very simple way of restoration of deleted data, but what will you do to recover permanently deleted emails from Gmail?
After 30 days, the deleted emails become permanently deleted from the Gmail account. Luckily, there are some methods through which you can recover permanently deleted emails from Gmail.
3.1: Recover Permanently Deleted Emails in Gmail from Admin Console
Google Admin Console is a platform that provides the service to manage or overlook different Google or Gmail accounts. This Google Admin Console can also restore deleted or lost data from your account. Now, let's jump into the procedure of this method.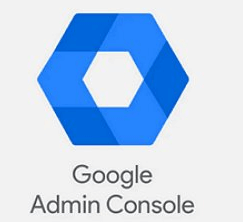 Step 1. Go to the Google Admin Console. Now, log into your account as an administrator.
Step 2. Click on the Menu bar from the top left corner of the screen. Click on Directory > Users. A list of users will appear on the screen. Select the user's account.
Step 3. You can also use the Find a User Account option to search for the account quickly. After finding the account, click on Users > More Options > Restore Data.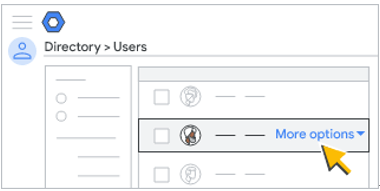 Step 4. You can also select the time duration/range from where you want to recover emails. Click the Restore button, and the selected data/emails will be recovered on your account.
3.2: Retrieve Deleted Emails from Google Vault
Vault is a platform that assists users in managing, searching, and exporting their Google workspace effectively. Those Google accounts that are set by administrators can use this platform only. To proceed with this method, follow the below-mentioned easy steps.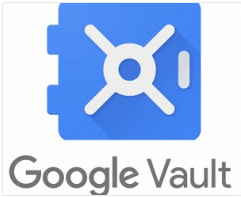 Step 1. Follow this link and log in to your Google workspace. Now create matter by clicking on Matters > Create.
Step 2. Now, you have to search the data. For this purpose, you can use different parameters like specific phrases and usernames. The search query you make here can also be saved for later searches.
Step 3. Find your data, select the files, and click on the Export button from the Search tab. Now, shift the files to your Google Drive and Hit the Download button to get your recovered data on your device.
Bonus Tip: How to Recover Permanently Deleted Files without backup from Android
iSeeker is a data recovery software for Android devices. This software is very efficiently designed by WooTechy with multiple high-performance features that can recover different kinds of data from different sources.
iSeeker is able to recover data from almost 6000+ Android platforms, including Android 13. It allows the recovery of images, videos, WhatsApp chats, and many other types of data even without backup. The most interesting thing about iSeeker is that it provides a safe, accurate, and quick data recovery service totally free of cost through the free trial version.
Features:
100.000+
Downloads
It can recover data from 6000+ Android devices

It can restore images, videos, WhatsApp chat, and 11+ different data types

It has a very simple and modern design

Android 13 supported

Allows to preview files before restoration

Recover files with a single click

Offers a free version for users
Step 1. Download and install the iSeeker software on your device by clicking on this link. After installation, open the software and click on the Recover Phone Data option.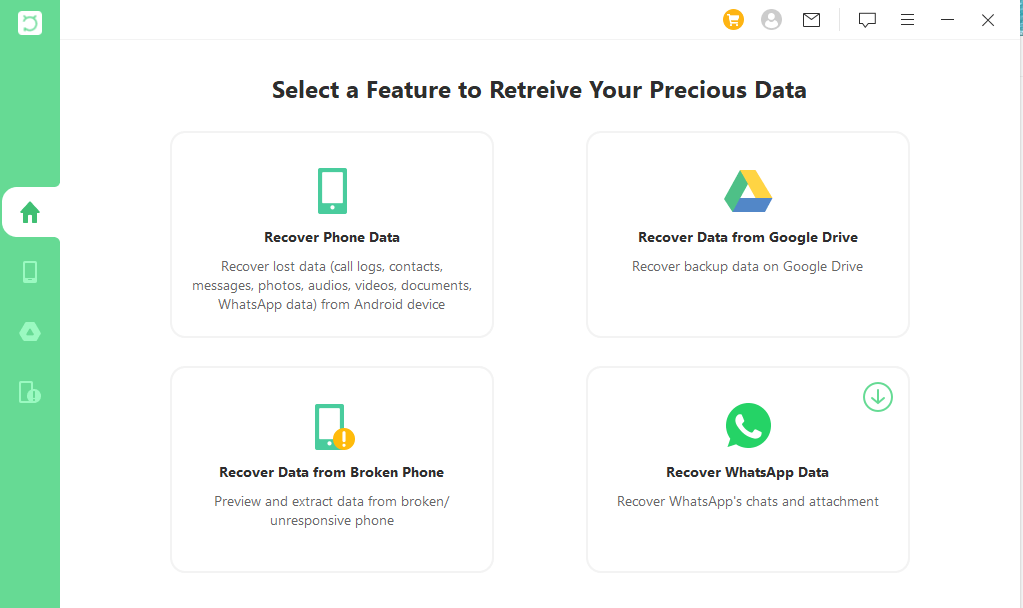 Step 2. Now, attach your Android mobile/device to your computer and click on the Start button. On the next screen, iSeeker will give you scanning options, you can choose one according to your desire, but Full Scan is recommended.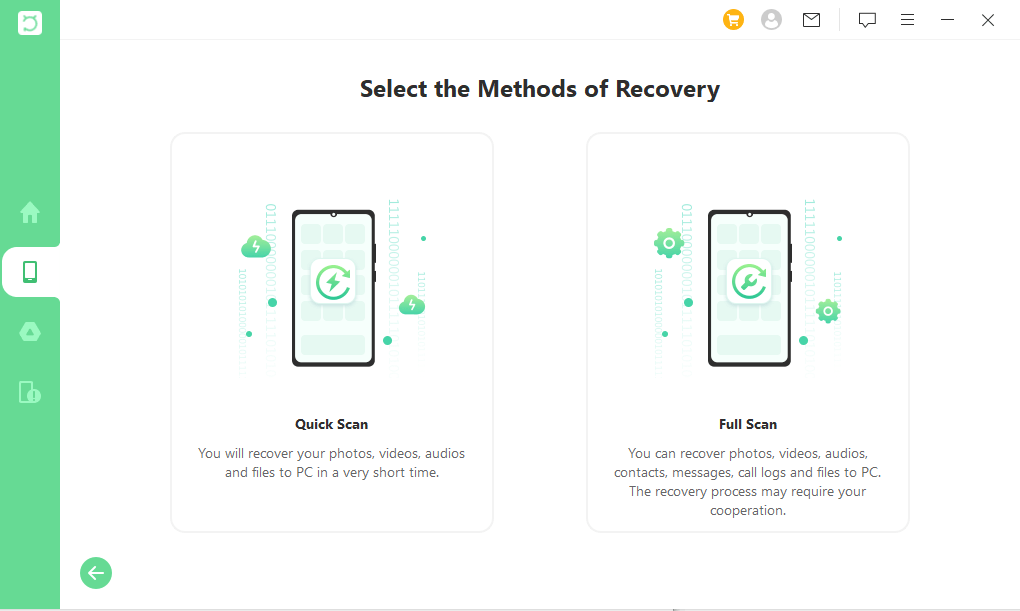 Step 3. Here, the software will start scanning and ultimately display your mobile's recoverable deleted data. Select the data which you want to recover and click on the Recover button.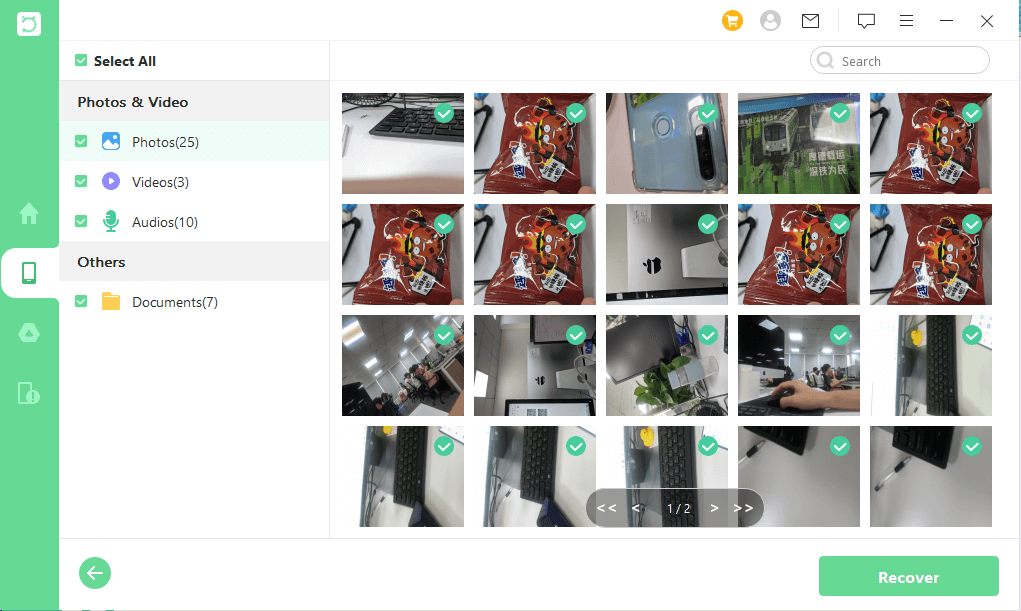 Step 4. At the end, provide the location where you want to restore data on your computer and again click on the Recover button. The data will be saved at the desired location on the computer or laptop.
Conclusion:
Unusual and sudden deletion of emails from Gmail accounts can cause inconvenient moments for users. Due to this, they may lose their data or important emails. There are certain reasons for this problem, but different solutions are also present to tackle them. You can use Google's own assisting platforms as well as some data recovery software for this purpose. We have made this article a complete guide on how to overcome this issue and how to recover permanently deleted emails from Gmail using various methods. All of them have been discussed in the above parts of this article. We hope this article will help you to get out of the stressful condition of email deletion from Gmail.