Rich Communication Services (RCS) messaging is changing the way we communicate on Android devices. If you're tired of plain old text messages and want to elevate your messaging game, RCS is the answer.
However, there is still quite a number of people don't know whats RCS is or wonder how to trun it on. In this article, we'll dive deep into RCS message Android, letting you have a better idea of what RCS is and how it works.
Part 1: What is RCS Messaging?
RCS, short for Rich Communication Services, is a messaging protocol that aims to enhance the traditional SMS (Short Message Service) experience. It's like giving your plain text messages a makeover, turning them into rich, interactive conversations.
So how does RCS messaging work? RCS works through your mobile carrier's data network, allowing for richer content to be transmitted. It's not reliant on a separate messaging app; instead, it's integrated into your Android device's default messaging app.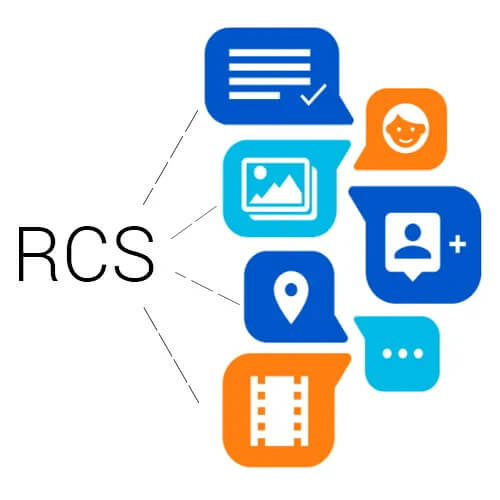 With RCS Messaging:
You can send high-quality photos and videos.

Read receipts inform you when your message has been delivered and read.

Typing indicators let you know when someone is composing a response.

Group chats are more versatile and manageable.

You can send multimedia content, such as audio messages.

It offers a more interactive and engaging messaging experience compared to SMS.
RCS is designed to replace SMS and MMS messaging, offering Android users a more feature-rich and modern way to communicate.
Part 2: RCS VS SMS - What is the Difference?
How does RCS compare to traditional SMS messaging? I'll say the the key difference between RCS and SMS lies in the capabilities and user experience:
RCS: RCS provides a richer customer experience with features like high-quality multimedia sharing, read receipts, and typing indicators. It allows for enhanced communication, making it closer to instant messaging apps in terms of functionality. Trusted senders and more interactive content are hallmarks of RCS.
SMS: SMS, on the other hand, is a basic text messaging service that lacks the advanced features of RCS. It primarily supports plain text messages with a character limit and doesn't provide read receipts, typing indicators, or the ability to send multimedia content.
Here is a chart that can help tell the difference between RCS and SMS clearly:
| Feature | SMS | RCS |
| --- | --- | --- |
| Message Length | Limited (160 characters) | Longer, multimedia support |
| Multimedia Support | Basic (text-based) | Rich media (images, videos, files) |
| Read Receipts | No | Yes |
| Typing Indicators | No | Yes |
| Group Messaging | Basic | Enhanced features |
| Security | Basic encryption | Enhanced security options |
| Internet Connectivity | Cellular network | Requires data connection |
| Cost | May incur charges | Often cost-effective |
| Compatibility | Universal | Varies by device/carrier |
| Future Enhancements | Limited | Regular updates, more features |
Part 3: How to Turn on RCS Messaging on Android?
If you want to use RCS messaging on Android phone, you need to first make sure that your phone supports this feature. To check if your Android phone supports RCS Messaging, follow these steps:
Ensure your phone is connected to the internet. RCS relies on data connectivity.

Download and install the latest version of Google's Messages app or your preferred SMS app if it supports RCS.

 If your phone has multiple SIM cards, set the one used for data as the default for calls.

Check your Android version; RCS Chat features work on Android 5 and later.

Set the Messages app as your default messaging app.

If you use Google Fi, open Hangouts, access Settings, tap your Google account, and turn off Google Fi calls and SMS. Also, disable Fi message sync in Messages settings under Advanced > Google Fi Settings.

Remember, RCS availability varies by device and carrier, and sometimes it's simply a waiting game if it's not available yet.
Assuming you've met the prerequisites, here's how to turn on RCS on Google's Messages app:
If you don't already have it, download Google's Messages app from the Play Store.

Launch the Messages app.

Tap the three-dot menu in the top-right corner, then select Settings.

Choose "General" and tap "Chat features."

If Chat features are available for your location and device, you'll see a slider. Turn it on.

Enter your phone number and tap "Verify now." The app will verify your number, and once it's done, Status will show as "Connected," indicating RCS is active.

You can enable read receipts and typing indicators according to your preferences.
With RCS activated, you can enjoy a richer messaging experience. However, keep in mind that if you message someone without RCS enabled, your messages will default to SMS.
Part 4: How to Turn on RCS Messaging on Samsung?
If you are a Samsung user and don't have Google's Messages App, suppose you want to enable RCS Messaging within Samsung Messages App, how do you do that? Unlike Google Messages, Samsung Messages requires a slightly different approach to enable RCS.
Samsung's approach relies on your carrier enabling the "Advanced Messaging" services for the stock Samsung app. As a result, the availability of RCS features may vary depending on your carrier and device model, whether it's the latest Galaxy S21 or any other Samsung device. Follow these steps to enroll your number in RCS:
Locate and open the Messages app on your Samsung phone.

In the Messages app, tap the three vertical dots located at the top of your conversations. This action will open a drop-down menu.

From the drop-down menu, select "Settings."

Within the Settings panel, tap on "Chat Settings." This is the gateway to RCS activation.

Once you've accessed the Chat Settings, you'll find various toggles and options that allow you to customize your RCS experience.
Part 5: How to Recover Lost RCS Message on Android without Backup?
Imagine this: you're engaged in a spirited conversation with a friend or loved one through RCS. But then, in the blink of an eye, those cherished messages disappear. Panic sets in. Is there any way to recover those lost RCS messages when you didn't have the foresight to back them up?
Don't worry. WooTechy iSeeker for Android is here to help. It is a powerful Android data reccovery tool that recovers all the lost or deleted data for you including messages, photos, call history, App data, WhatsApp etc. It can perform the recovery task very well with or without the backup.
Key Features of iSeeker Android
100.000+
Downloads
It possesses the capability to retrieve lost data from an Android phone, even in the absence of a backup or the need for rooting.

A free trial is available for users to perform scans and preview their lost data.

With compatibility for more than 6000 Android phones and tablets, it seamlessly operates on the latest Android 13 system.

Offering the convenience of previewing lost data prior to recovery, it also offers the option of selective recovery.

Its data recovery abilities encompass device storage, Google Drive, and even damaged or broken phones.
How to Recovery Lost RCS Messages on Android without Backup?
Step 1. Download, install and open iSeeker for Android on your computer. Choose Recover Phone Data if you want to recover RCS messages in built-in Messages App (or choose Recover Data from Google Backup if you want to recover RCS messages in Google Messages App.)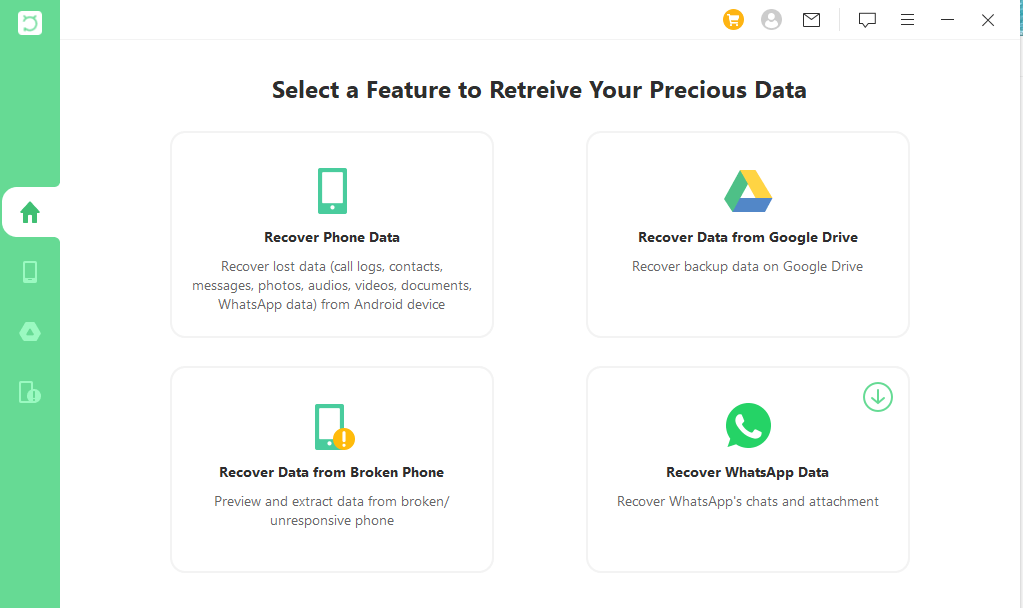 Step 2. Choose Full Scan on the interface.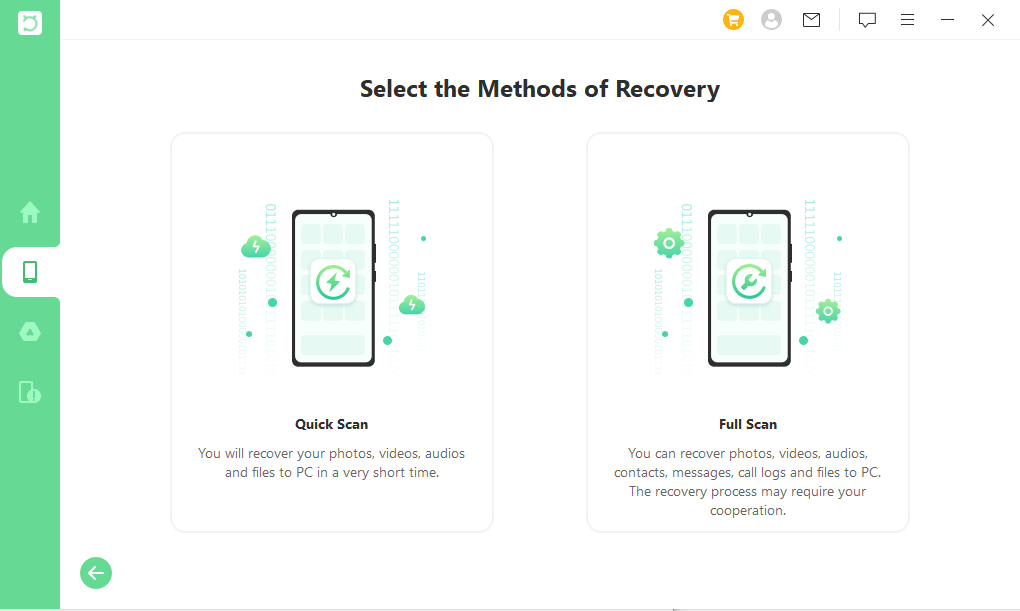 Step 3. Once the scan is completed, you can preview all the data and select Messages, then hit the Recover button to get the messages you want.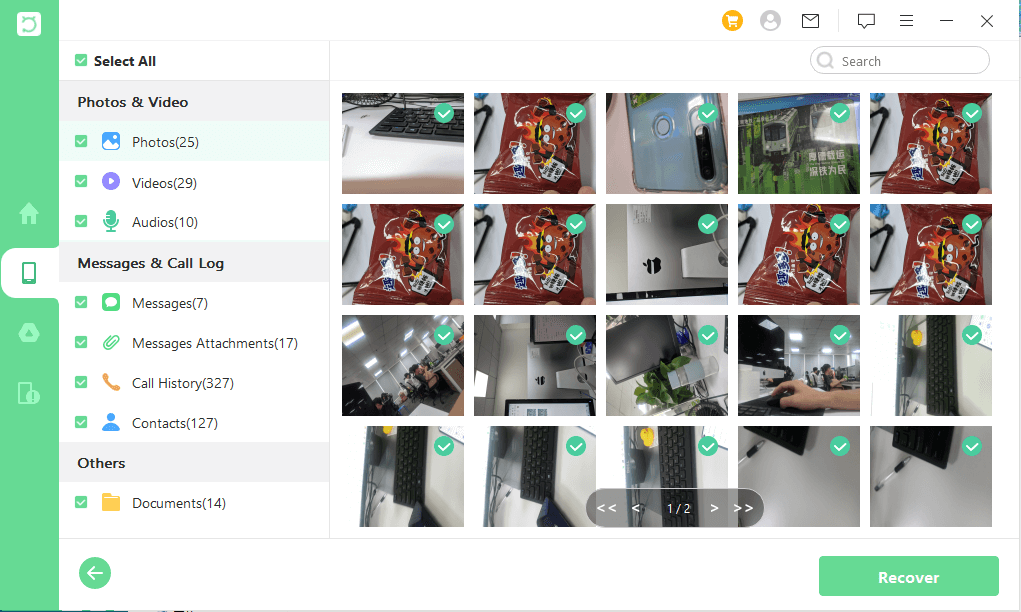 FAQs about RCS Messaging Android
Q1. Is RCS messaging available on all Android devices?
RCS availability depends on your carrier and device. Not all carriers and devices support it, so check with your carrier and look for the "Chat features" or "RCS" option in your messaging settings.
Q2. Do I need a separate app for RCS messaging?
No, RCS is integrated into your Android device's default messaging app, so there's no need to download a separate app.
Q3. Can I use RCS to message iPhone users?
RCS is primarily designed for Android-to-Android communication. While some cross-platform support exists, full compatibility with iPhones may vary.
Q4. Can I use RCS Messaging internationally?
RCS Messaging can work internationally if both parties have RCS-enabled devices and data connectivity, but compatibility may vary across regions.
Q5. Can I use RCS over Wi-Fi?
Yes, RCS chat allows you to send messages over both Wi-Fi and mobile data, enhancing your messaging experience.
Conclusion
RCS messaging is revolutionizing the way we communicate on Android devices. It may bridge the gap between RCS and other messaging platforms like iMessage and WhatsApp, enabling seamless communication between Android and iOS users. With its rich features and ease of use, it's no wonder it's becoming increasingly popular.
While using this feature, it is normal that you delete some important messages by accident, at this point, you can always use iSeeker for Android to get them back for you quickly.