PDF (Portable Document Format) files allow you to transfer documents and read them from any device without issues with the document format. When you download PDF files to your mobile, you expect them to be saved and ready for reading, editing, or sharing. However, sometimes you may accidentally delete the PDF file, or they disappear from your mobile. The article below explores the top methods of how to recover deleted PDF files on Android.
While there are many ways of how to recover deleted PDF files on Android, this article explains easier methods, including using a powerful tool designed for data recovery.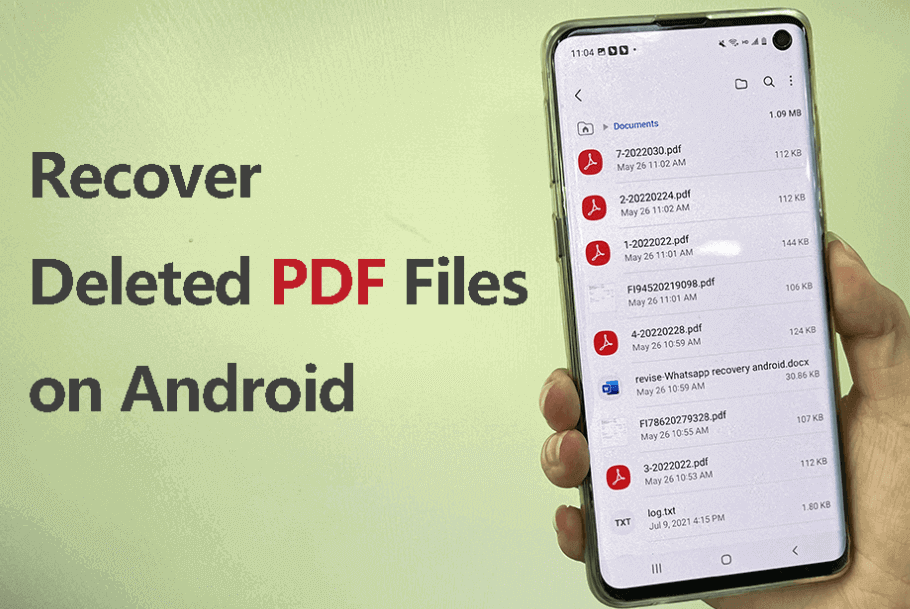 Where Do My PDF Files Go on Android?
Android devices allow you to download, read and edit PDF files on your device. You can download it from the internet or social media apps when sent to you. However, sometimes it can be hard to find exactly where your PDF file is located on your phone. Some of the spots you can find your PDFs are:
File Manager app or My Files, Go File Manager app
Google Drive or One Drive
PDF reader mobile apps like Adobe Acrobat, WPS office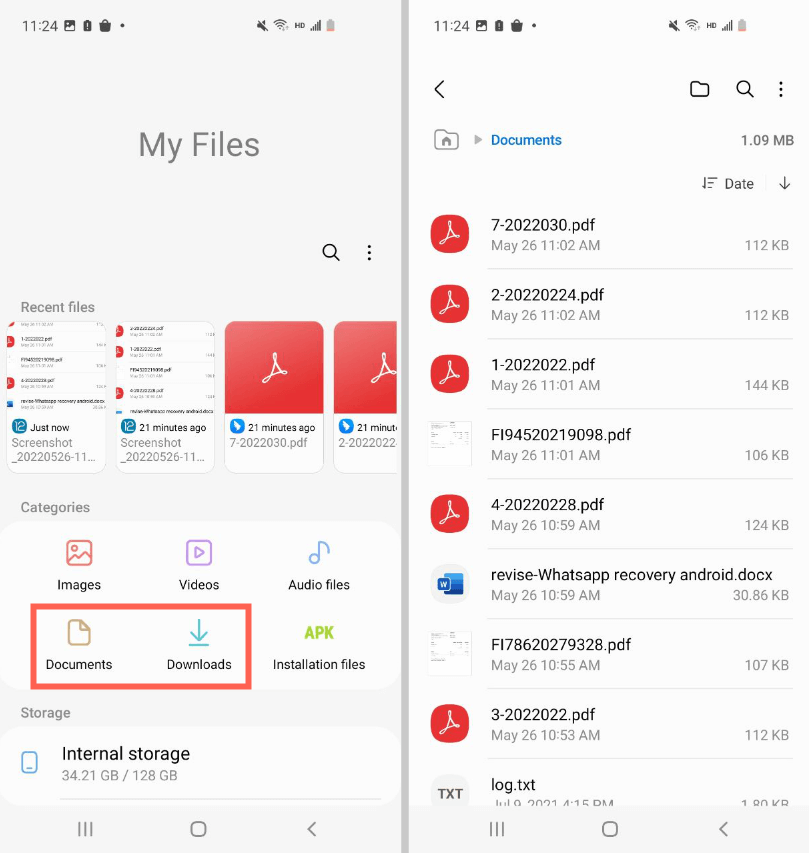 Why Are My PDF Files Lost on Android?
You may browse your file manager and internal storage when you want to access PDF files but fail to find them. There are some reasons why your PDF files are lost on your Android device. Some of the common scenarios that cause PDF files to get lost on Android include:
Your antivirus software deleted the PDF file after mistaking it for a virus
You accidentally deleted the PDF file when reading or transferring it or clearing storage for more space
Your phone was infected by malware that targets PDF files
You factory reset your phone and lost all the PDF files you had
You renamed your PDF file, and it became unreadable
Your PDF reader cannot read the PDF file
How to Recover Deleted PDF Files on Android
There are several methods on how to get back deleted PDF files in Android. Below are the top methods to easily restore PDF files on Android that you accidentally deleted or are missing. If you have deleted PDF files and want to recover them, the methods below explain how to recover deleted PDF files using Google Drive, OneDrive, or how to recover PDF files on Android mobile using iSeeker for Android tool.
1. Recover Deleted PDF Files Without Backup by iSeeker Android
When you want an easy solution on how to restore deleted PDF files on Android device, you can use a trusted, third-party tool like iSeeker for Android.
iSeeker for Android is a powerful toolbox designed to help android users retrieve deleted PDF files that disappeared from their android devices. iSeeker is designed to recover different data types without risking any loss to your current data. With iSeeker, Android phone users can easily recover PDF files deleted from their internal storage and recover PDF files from their Google Drive backup. Some of the standout features of iSeeker for Android are:
Key Features of iSeeker Android
75.000.000+
Downloads
Retrieve deleted/lost data from an Android, even if it is broken, will not turn on, or is hard to access.

Highest recovery success rate in the industry.

Only require few clicks thanks to the straightforward interface.

Compatible with a full range of Android versions (including the latest. android 11)

Deep scan and preview are free for every user.
How to Restore PDF Files in Android Using iSeeker:
Download and launch iSeeker (Android) on your PC and select Recover Phone Data.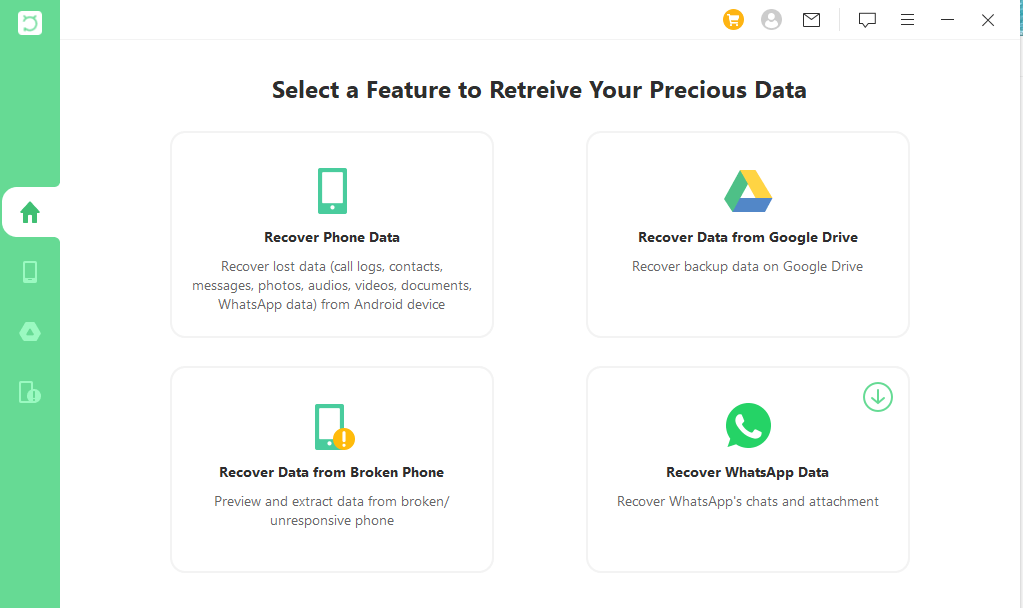 Select the method between Quick Scan or Full Scan based on your own situation.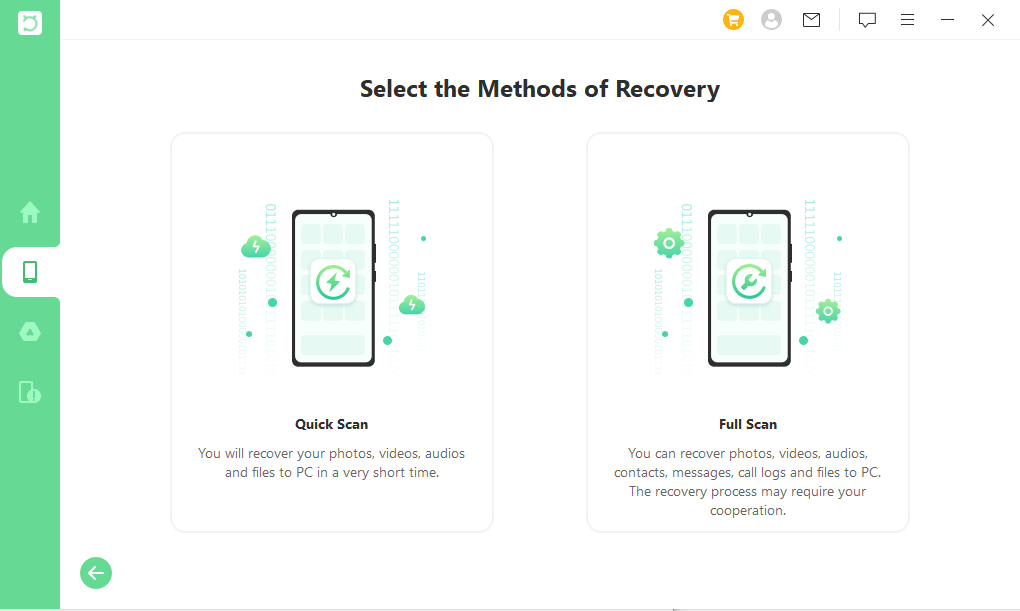 Wait for iSeeker to obtain device information. After the scan, you can Preview all your lost data on screen. Simply select the files you wish to Recover from the results.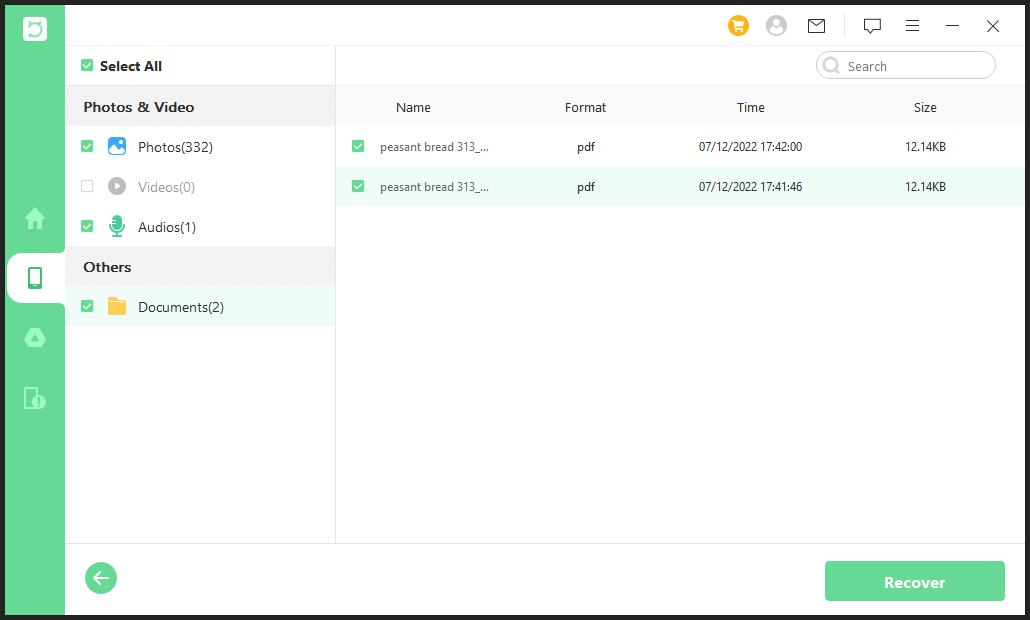 All your files will be copied to your computer, and you can transfer them later.
2. Recover Deleted PDF Files Using Google Drive
The method below uses your Google Drive backup to recover any deleted PDF files. If you regularly backup your PDF files to Google Drive, you can recover the deleted files by restoring them from Google Drive. Google Drive uses a cloud file storage system that keeps your files safe even after deleting them from your internal storage. To use this method, you need to have a Google Drive account synced to your device.
How to Restore Deleted PDF Files on Mobile Using Google Drive
Step 1: Open Google Drive on your device. Log in to your Google account and ensure you are using Google Drive on that account.
Step 2: Preview all the backed-up files on Google Drive folders and files. Recover the PDF file you want by clicking the three dots on it and clicking Download.
Step 3: You can now view the PDF file on your internal storage.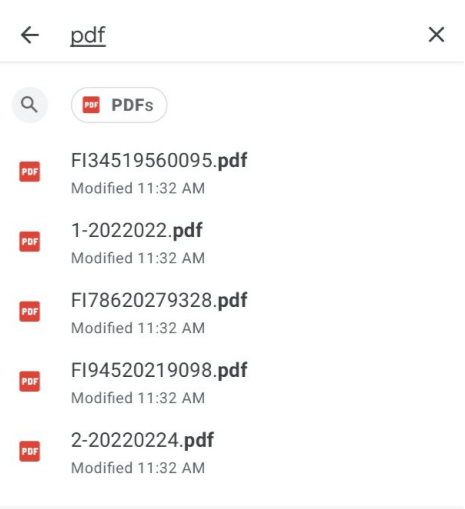 How to Recover a PDF file if You Deleted it From Google Drive
If you deleted the file from Google Drive within the last 30 days, you could recover it from Google Drive's Trash/ Bin folder. The steps are:
Step 1: Launch the Google Drive app. Ensure you are signed in with the right account by clicking the profile icon in the top right corner.
Step 2: Click on the three lines in the top left corner next to "Search in Drive." Select Bin/Trash from the Menu.
Step 3: 5.Locate the PDF file you want to restore from the Bin and click the three dots next to it. You can select multiple files or restore all the files in the bin.
Step 4: Choose restore to recover the file or "Restore all" to recover every file in the bin.
Step 5: You can now download the file from Google Drive and view it from internal storage by following the steps on How to recover a PDF file from Google Drive above.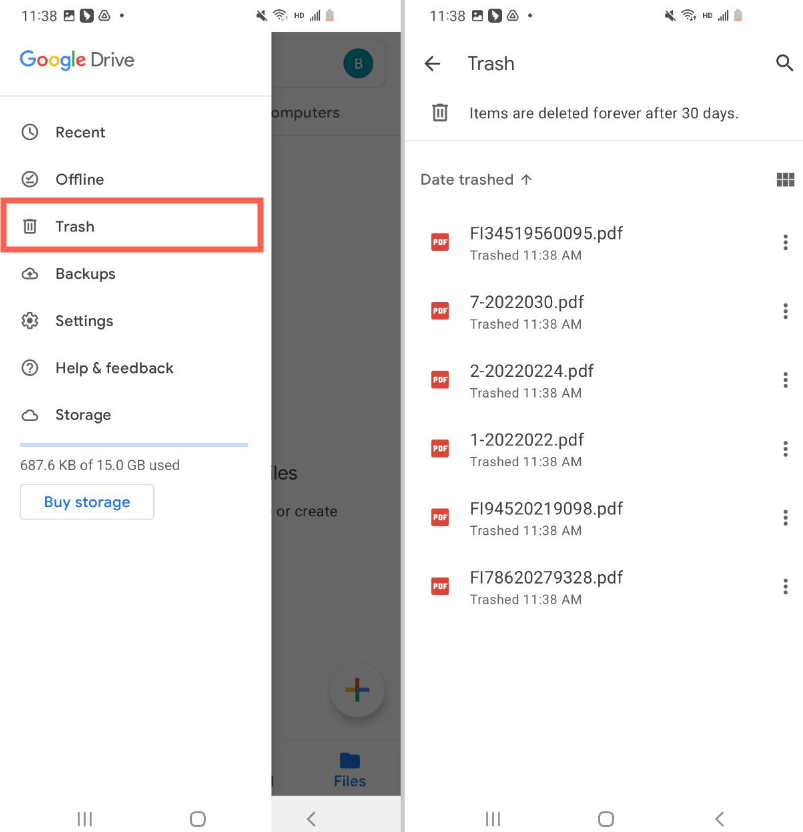 Note: This method only works if you have previously backed up your PDF file to Google Drive. Google Drive only stores deleted files for 30 days, after which they are deleted forever. If the file was deleted long ago, you might not find it in the Bin.
3. Recover deleted pdf files Using OneDrive
OneDrive is a cloud storage app that allows you to back up files to the cloud and access them from any device signed in and synced with your account. When you delete a PDF file, you can find a backup in your OneDrive account if you had made a backup to OneDrive before deleting it.
Step 1: Go to OneDrive. Sign in with your Microsoft account or Work or School account
Step 2: Click the three lines on the upper left menu. Choose the PDF file from My files
Step 3: Long press on the file and click the three dots in the middle after the 'Share' icon.
Step 4: Select download, and your file will be saved to internal storage.
When you delete files from OneDrive, they are kept in the OneDrive recycle bin for 30 days. All your deleted PDF files will be in your OneDrive recycle bin folder. To recover the PDF files deleted from OneDrive:
Step 1: Sign in to OneDrive using your Microsoft account or Work or School account
Step 2: Click on the Recycle bin option on the left side navigation pane
Step 3: To restore the specific PDF file, select it from the other items. To restore everything, click Restore all items
Note: This method works if you have a OneDrive account on your devices, including Android phones and PC. OneDrive will also keep deleted files in the recycle bin for up to 93 days, depending on the account type.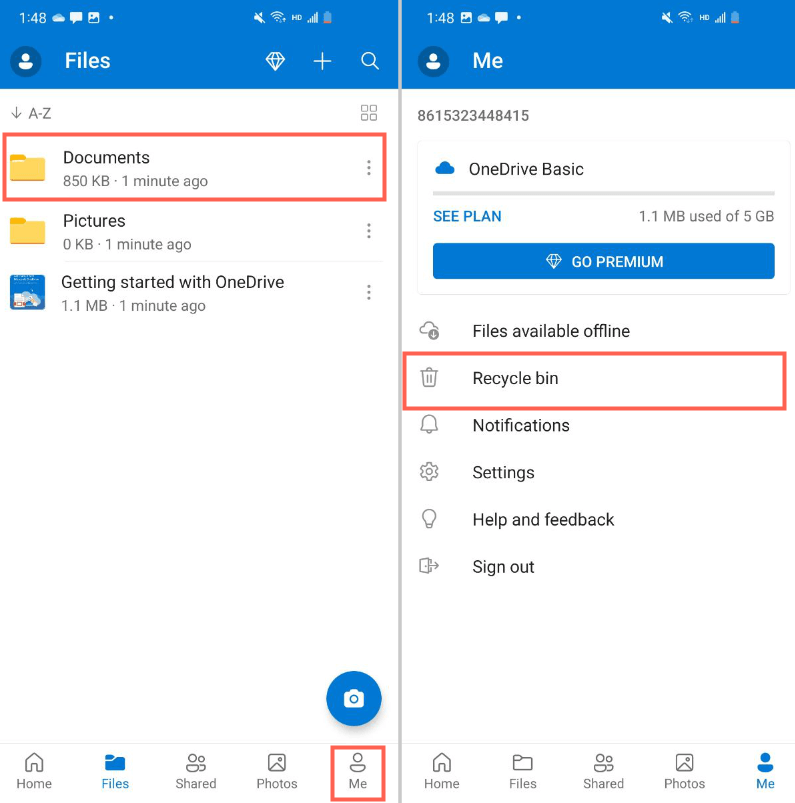 FAQs About PDF Files on Android
Where Are My PDF files on Android?
Your PDF files are located in your internal storage folder or Google Drive. Go to your File manager application and check under downloads. You can also go to Docs or documents file and choose PDF folder to view PDF files.
Can I Recover a Deleted PDF File?
Yes. You can use a tool like iSeeker for Android to recover deleted PDF files. If you have a backup on Google Drive or OneDrive, you can use it to recover the deleted PDF file.
Can I Recover the Unsaved PDF file?
Some PDF readers and editing applications like Adobe Acrobat Reader allow you to recover unsaved PDF files. This may not always work. If your PDF reader can't help, try the professional data recovery software iSeeker for Android instead.
Can I Rename a PDF file on Android?
This is a risky process and can cause the PDF file to be unreadable. Transfer and rename the file from your PC.
Conclusion
When your PDF files disappear or you accidentally delete them, there are several methods of how to recover deleted PDF files on Android. This article discusses how to recover a deleted PDF file, including using Google Drive and OneDrive. A simple method is using a powerful tool like iSeeker for Android.
iSeeker allows you to recover any deleted PDF file on your internal storage or from google drive without needing a device backup. iSeeker can recover your PDF file on Android without any issue with a few steps.
Retrieve your lost PDF file right now!