Now that mobile phones have become an indispensable part of our everyday lives, they contain all sorts of files that we cherish. For instance, your OnePlus has your videos and photos with your family and friends, and the apps you are using every single day. Therefore, losing some of these files might cause you frustration.
When you accidentally delete photos from your phone, they are no longer available in the gallery. Luckily there are ways with which you can learn how to recover deleted photos on OnePlus. In this piece, we are going to show you the four most effective ways that you can immediately try.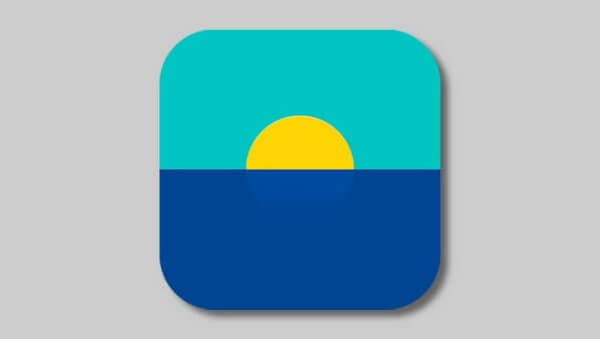 Part 1. Recover Photos from Recently Deleted Folder on OnePlus
One of the things that you need to keep in mind is that nowadays most gallery apps have a recently deleted folder. This means that they contain all of the photos that you have tapped the "Delete" button and they will retain them for 30 days. After this period, the files will be permanently removed from the phone and it will be more challenging to retrieve them.
Therefore, the first thing that you can try is to take a look at your Oneplus recently deleted photos. However, it is important to note that this feature is only available to the OnePlus Gallery app version 2.5.17 or above.
Here are the steps to get back deleted photos from the OnePlus recently deleted photos folder:
Tap on the Gallery app icon to launch it.
Find the tab Collections at the bottom of your screen and tap on it.
Among the available folders, you can find one named Recently deleted. Tap on it to view the files it contains.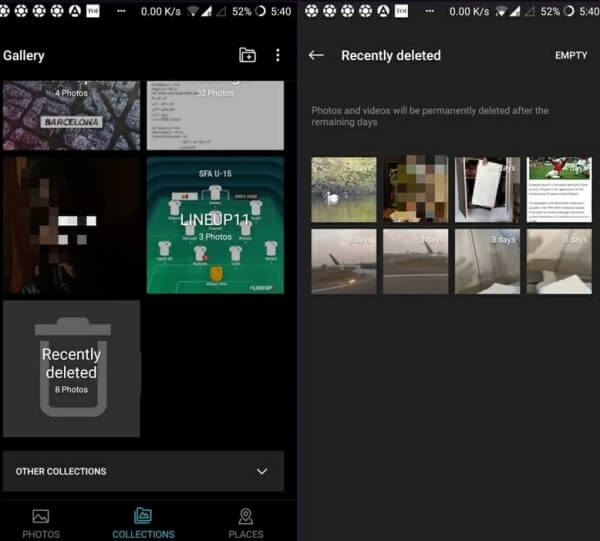 Browse the files in the folder and select the ones you want to retrieve.
Tap the Restore button to let the files return to your phone's gallery.
Part 2. Recover Deleted Photos with OnePlus Switch
With the above method, you have learned how to recover deleted photos in OnePlus Nord within 30 days from their deletion. If you want to get back files that you have deleted a long time ago, you won't be able to find them in the recently deleted folder. Instead, you will need to try another method.
On most mobile devices, you have the option to keep a backup of your data at any given moment. OnePlus also offer you this feature with the OnePlus Switch. Therefore, if you have kept a backup, you can easily retrieve files that you might have deleted. Of course, you will need to keep a backup of your most recent data so that you don't lose them when restoring the previous backup.
Here is how to recover permanently deleted photos from OnePlus using OnePlus Switch:
On your mobile device, go to Settings > Advanced > OnePlus Switch.
At the bottom of your screen, you will find the option Backup and Restore. Tap on it and then select the Restore backup option.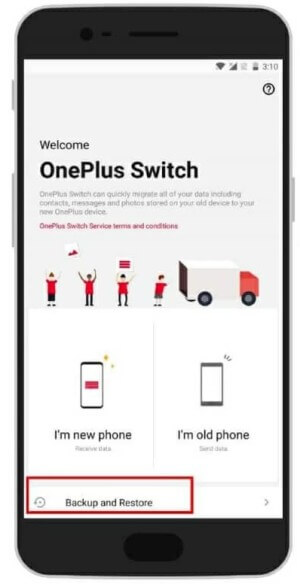 From all the available options, select Photos and tap Restore to get your files back.
Part 3. Recover Deleted Photos in OnePlus with Google Photos
Another way to retrieve your lost photos on your mobile phone is to use your Google Photos backup. If you have kept one, then you can easily learn how to recover deleted photos in OnePlus Nord in no time.
These are the steps you need to follow to recover your deleted photos from the Google Photos app:
Tap on the Google Photos icon to launch the app.
Tap on the Library and then find and tap on the Trash folder.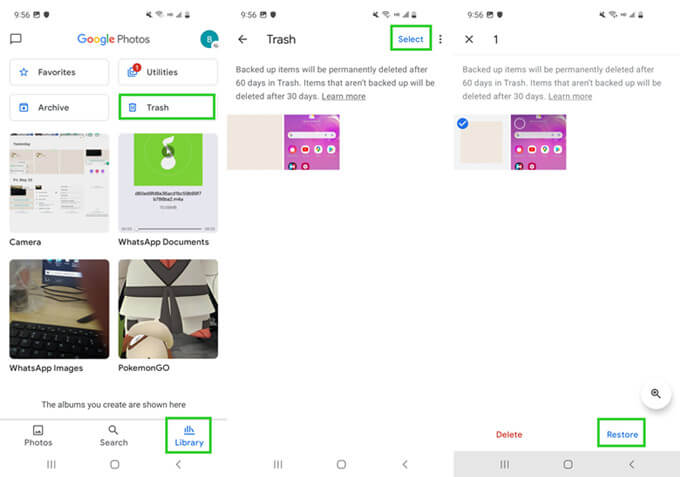 Browse the files to see if you can find the ones you are looking for. Files are retained for 60 days in the Trash folder. Select the ones you wish to restore.
Tap the Restore button to get back your photos.
Part 4. Recover Permanently Deleted Photos from OnePlus Without Backup
All of the above methods teach you how to recover photos in OnePlus when you have a backup of your data. However, things are a bit more challenging if there isn't a backup. In this case, you will need the help of a specialized tool, such as WooTechy iSeeker for Android.
This app has been developed to help you recover all of your lost files, even the permanently deleted ones. In fact, it can retrieve more than 11 different file types, so that it covers all of your needs. What makes WooTechy iSeeker for Android such a great tool for everyone is that it is not complicated to use it. This means that you can complete the process even when you don't know much about technology. iSeeker has an extremely user-friendly interface that gives you detailed instructions. Furthermore, you can also do various other things on this app, such as retrieve files from Google Drive or a broken phone, export them directly to your computer and enjoy selective downloading.
What Makes iSeeker Stand Out
100.000+
Downloads
It provides a high data recovery rate and can bring back over 11 types of data you want to restore.

It recovers data directly from internal storage without backup and without rooting your phone.

It supports over 6000 Android devices and Android 13 system.

It provides a free trial to users to scan and preview the lost data for free.
Here is how to recover permanently deleted photos from OnePlus using WooTechy iSeeker for Android:
Step 1. Download and launch iSeeker Android on your computer and also connect your phone to the computer. Afterward, select Recover Phone Data.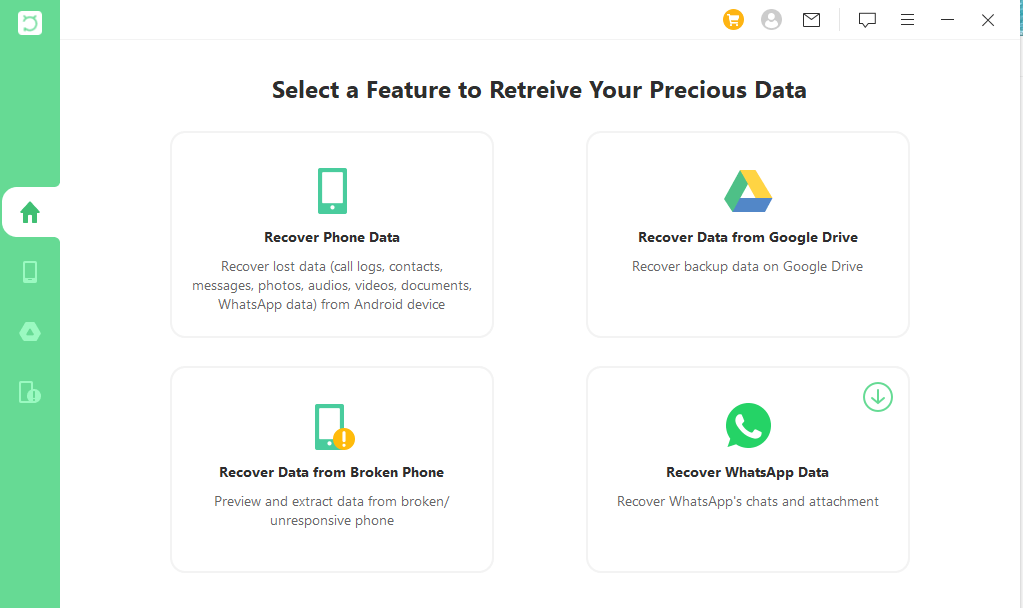 Step 2. Choose Quick Scan or Full Scan according to your need.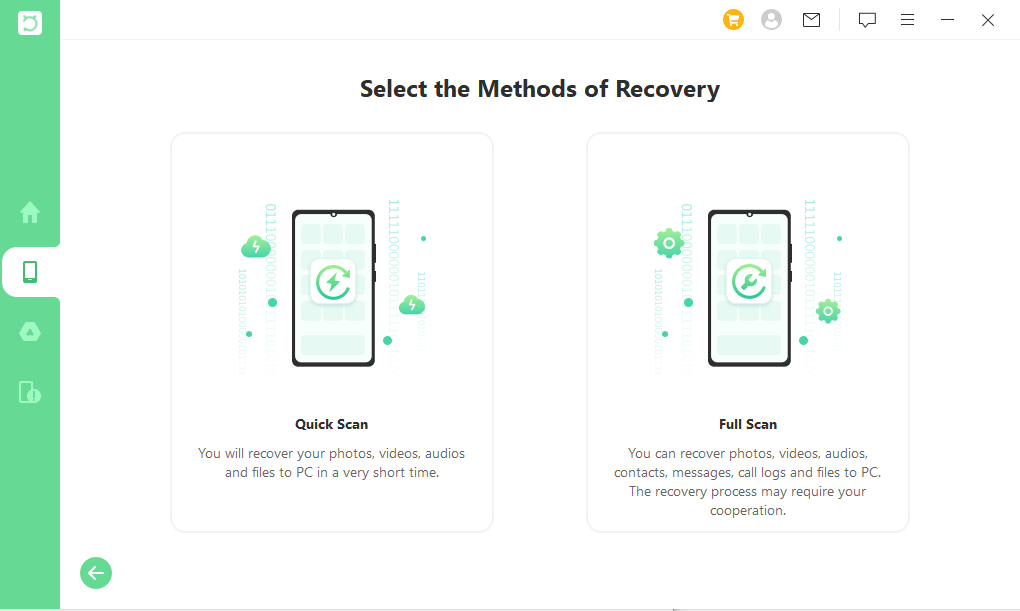 Step 3. Once the scan is completed, preview and select the data you want to recover and click Recover.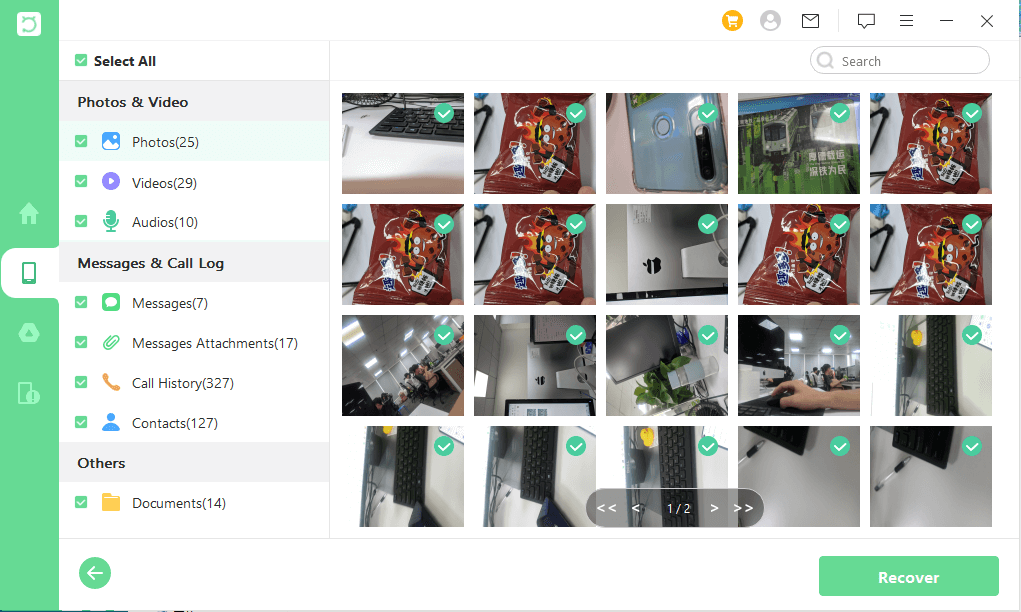 Conclusion
Right now, you have the chance to recover deleted photos on OnePlus. If you have kept a backup, then OnePlus Switch and Google Photos are both great options to retrieve your lost files. However, without a backup, your best option is WooTechy iSeeker for Android. It can perform a deep scan and find the deleted photos from your phone memory. Download and scan for free right now!