Losing your files on your Android device is never a fun experience. It can be frustrating to delete an essential attachment from work or lose out on photos you wanted to show your family from a recent European vacation. This is even a greater problem when you are away from your computer and cannot get a hold of backups. That is why learning how to recover deleted files Android internal storage without PC is so crucial and the reason behind our solutions below. Let's dig in!
How to Recover Deleted Photos on Android Without Computer
The process to actually recover deleted photos Android internal storage without computer is not as hard as it may seem. As long as you take your time and follow the steps of the different methods, you should be more than capable of restoring different photos, messages, videos, and other critical personal files from your Android device.
1 - Check Recently Deleted Folder Carefully
Always start by digging into those recently deleted files in your recycle bin or other locations first. This way, you ensure your images are not just hanging out in an easy-to-access area where you can undelete them and get back to sharing them with friends, family, or online. Most Android devices come with some form of recycle bin to use.
Go to your photo albums and check the recycle bin.
Click on the Menu in the upper right-hand corner.
Click on Recycle Bin in the options.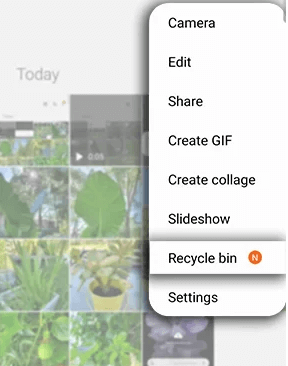 Explore your recently Deleted Photos to uncover any that you are missing.
2 - Use Android Data Recovery APK
Data Recovery - Retrieve Files is a free tool from WolfApps, Inc. that allows you to recover important files from your Android. It is available on the Google Play store as an application, so you will not need a PC to initiate lost or deleted file recovery. It works by scanning your internal storage folders, previewing what files are available for recovery, and then allowing you to save the data you think is the most valuable. To use this method:
Download the app from the Google Play store.
Open the app and select the music, movies, or videos you wish to restore.
Once the app has scanned your Android, select the files you want to save.
Tap on the Start button to restore them.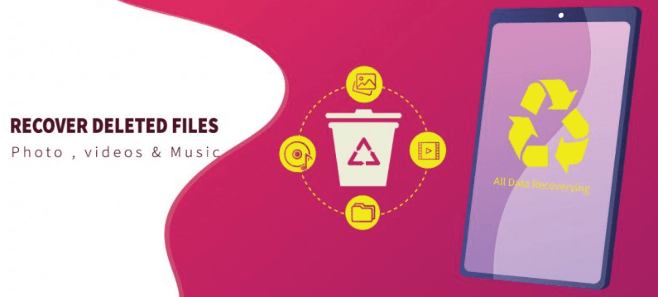 The problem is that APK solutions are not as reliable as you would like. The success rate tends to be lower than other solutions, and there is no deep scanning of your device. These are better solutions for extremely recent deletions that occurred without an update or restarting of your Android before scanning. This is a good quick solution when you cannot get back to your PC for something more powerful.
3 - Use Your Cloud Backup
You could have easily stored your files using an automatic backup system on your Android. Before you try to dig too deep into your system files, check and see if your Google photos or music are stored in your cloud. They will usually last for 30 days before being moved to another location.
Go to Google Photos.
Click on the Menu and select Trash.
Select the photos or files you wish to restore.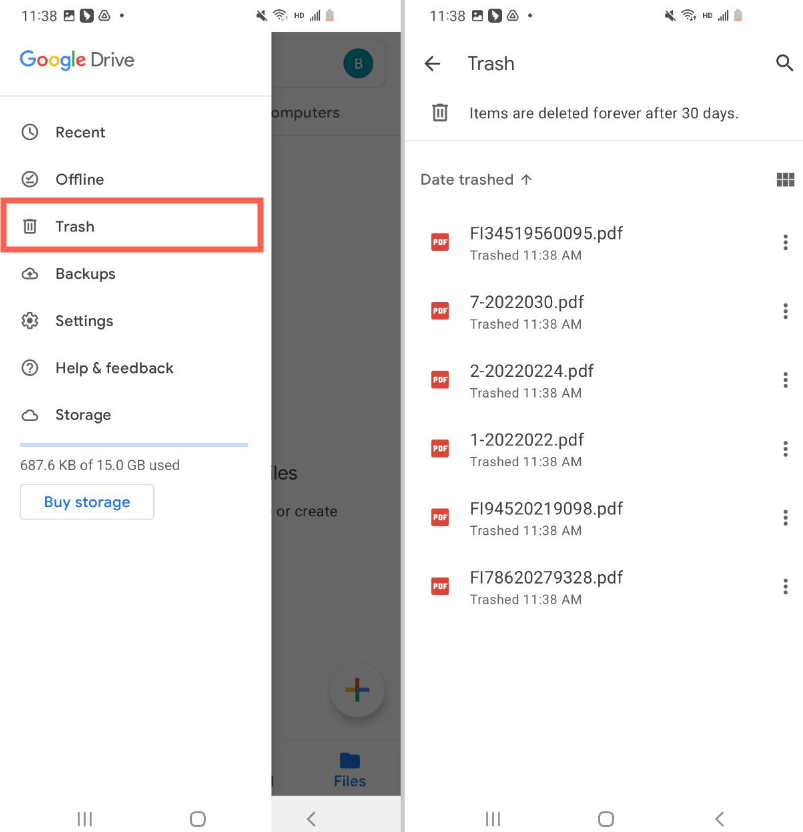 Recover Deleted Files Android Internal Storage with PC [most effective way]
The best solution we have found is the powerful software from WooTechy called iSeeker for Android. This robust piece of software can deeply analyze your Android device and uncover any lost, damaged, misplaced, or deleted files. You'll be able to easily follow a prompted on-screen instruction wizard to restore the files you want in only a little time. This is a modern, sleek UI that doesn't require advanced technical training of any kind.
Key Features of iSeeker Android
75.000.000+
Downloads
Restore deleted files/data from your device and Google Drive without needing to factory reset your Android.

Highest recovery success rate in the industry.

Easy to use recovery system that does not require advanced training.. 

Supports 6,000+ different models of Android phones and tablets.

Safe and secure recovery method that does not risk the integrity of your Android device. 
Guide to using iSeeker Android:
Step 1: Open iSeeker Android and click on Recover Photo Data. Connect your Samsung device to your computer, then click on Start.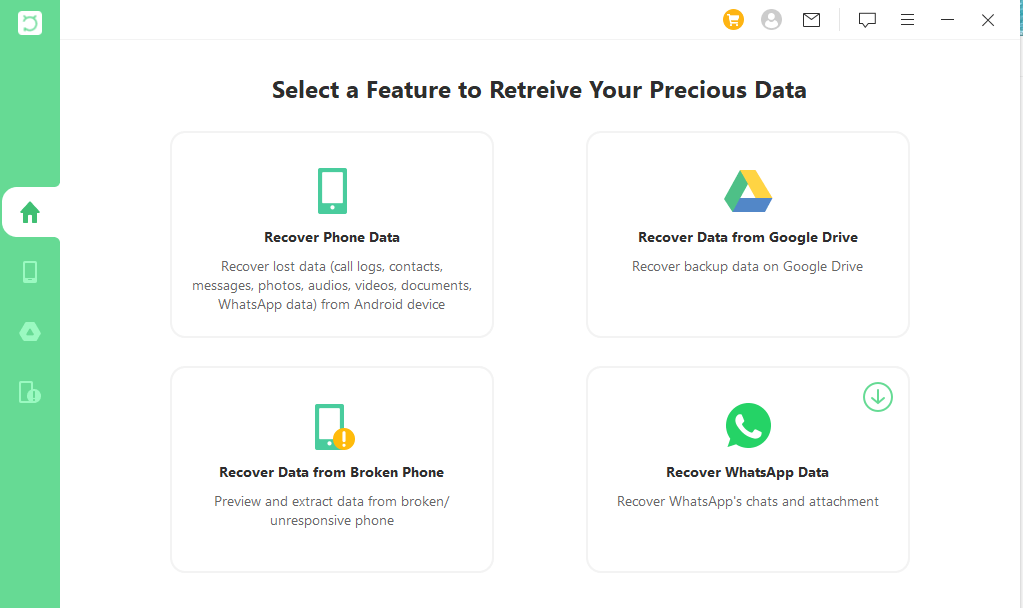 Step 2: Click either a Quick Scan or a Full Scan. The full scan is better for deleted file recovery, but does take a little more time.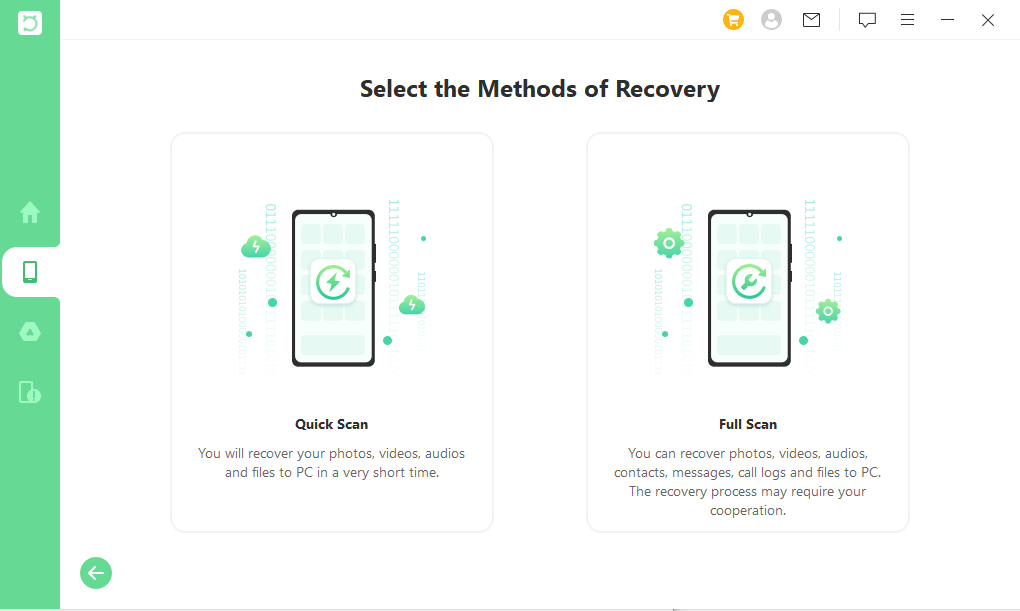 Step 3: Preview and select the different files you wish to save, and then click on Recover. Choose a destination for your recovered files as well as the format you wish to view them in.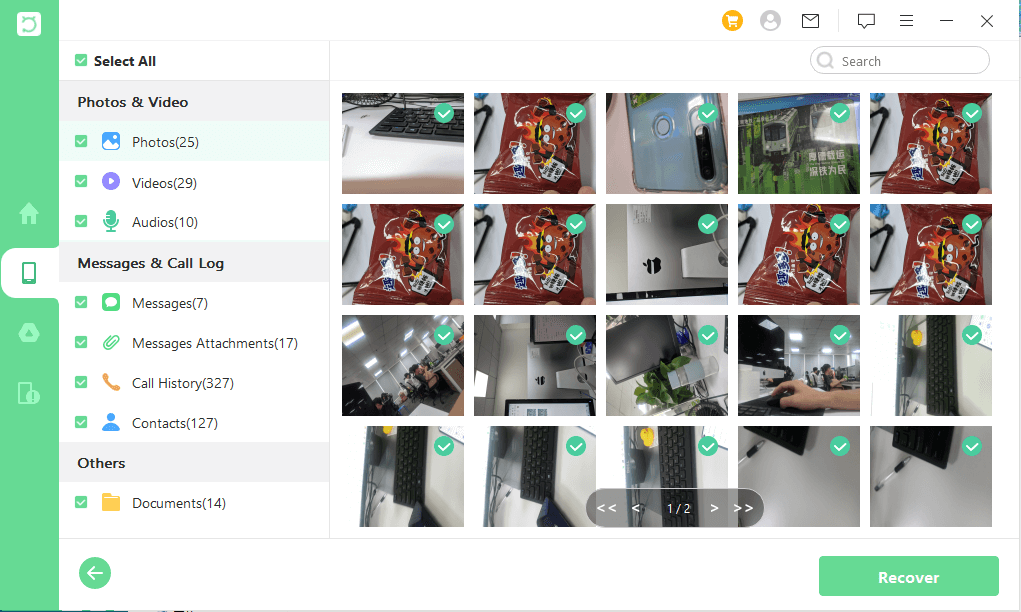 FAQs on Android Permanently Deleted Files
Can I just "undo" anything I delete on my Android?
It depends on where the files you deleted were stored. Some apps - like Google Photos - have a space where there is a recycle bin or trash folder that stores your deleted files. Otherwise, you will need another solution.
Will I have to root my device?
There are some APK solutions that require root access to your Android, but iSeeker is not one of them. Therefore, you do not have to root your phone with that software.
Do I have to have my computer to recover data? 
Not in all cases. It will depend on what you lost and if there is a supportive app. However, a PC will make it a lot more likely you'll recover the info you want.
Conclusion
Getting your files back after learning how to recover deleted files Android internal storage without PC can be a bit tricky, depending on the method you choose. An APK is convenient but can lead to significant problems down the road. The best bet is to try in-app recycle bins, trash folders, or cloud storage. Once you have exhausted those methods, get back to your PC and download the free trial of iSeeker for Android from WooTechy.
You'll immediately experience a higher level of data recovery from one of the highest-rated software applications in the industry.