Text messages are becoming a less popular way of communicating with each other ever since the growing use of internet-based communication apps, like WhatsApp, Messenger, etc. However, still many use text messages to communicate important information to each other. So, it will be terrifying to know that suddenly your important text messages are no longer showing up in the Message app. If that's the case, then either you have deleted them unintentionally or some system glitch resulted in the deletion.
But you can still recover deleted texts easily if you use the right recovery approach. Therefore, keep reading this guide to learn how to recover deleted text messages on Android with or without computer.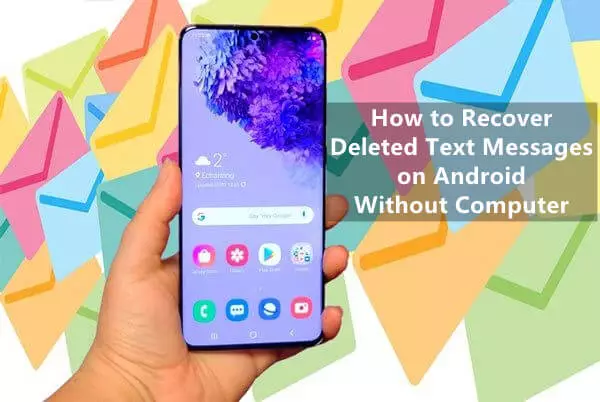 Part 1. Can Deleted Text Messages Be Restored
When text messages were deleted from your phone, the data remain intact. All that happens is the phone starts pointing those data files in a different direction (i.e., the deleted items folder), making it seem that messages are deleted from the Message app.
In fact, even when you permanently delete messages, the phone just makes sure that those files are no longer pointed to the deleted folder. What happens is that the phone makes those storage points inactive and available for new data to overwrite. So, until new messages take over that place, you can recover deleted text messages. The ideal approach is that you put the phone in airplane mode and start looking for how to retrieve deleted texts on Android without computer.
Part 2. How to Recover Deleted Text Messages on Android Without Computer
1. Retrieve from Google Drive
If you have made any backup on Google Drive, then you can restore the backup to get back your deleted text messages. However, you have to factory reset your Android phone first in order to restore backup from Google Drive.
So, if you are willing to proceed, then follow the below steps to learn how to recover deleted messages on Android without computer from Google Drive backup:
Go to the Settings app on your phone and tap System > Reset > Erase all data.
Once your phone reboots, follow the instructions to initiate the reset process. When it asks to restore Android backup, tap Restore. Sign in to your same Google account, pick the backup you want to restore, and initiate the recovery process.
After the phone is set up completely, open the Messages app and see the deleted messages that are restored now.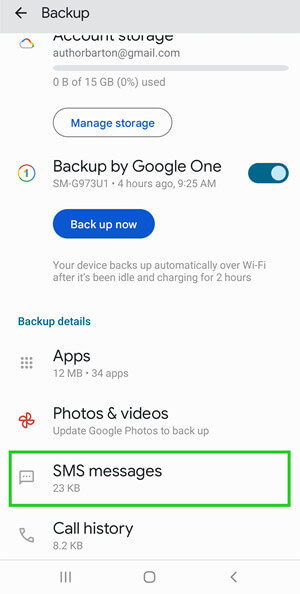 This way, you can retrieve deleted messages from Google Drive. However, another major disadvantage of this method is that it recovers all the backed-up data not just the messages specifically.
2. Use GT Recovery App
GT Recovery app is a mobile app for recovering messages. You have to root your phone to use this app and enable it to access internal storage and recover deleted messages. Follow the below steps to use this app:
Install and launch the GT Recovery app on your Android phone and tap Recover SMS from the home screen.
Tap Start new scan to begin scanning your phone.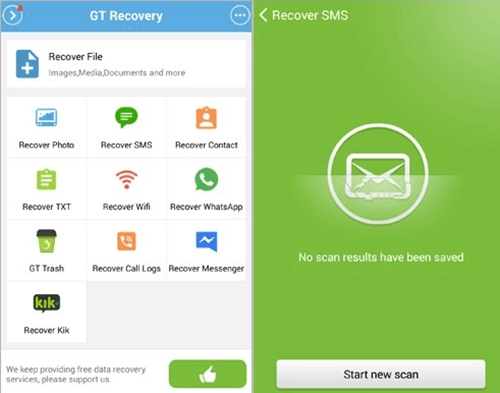 Once the scanning is completed, the app will show all the recoverable messages. Lastly, tap Recover Selected SMS to restore the messages to your phone.
There are many other similar mobile apps to recover deleted messages, but most of them require rooting your phone. However, there are many disadvantages of rooting an Android phone, such as the phone becoming more vulnerable to security risks, the phone warranty getting canceled, the phone might become dead due to OS corruption, etc. So, it is not recommended to root your Android phone in any situation.
Part 3. How to Recover Deleted Text Messages on Android Without Backup and Rooting
Above we have discussed multiple methods on how to recover deleted messages on Android without computer. But what if you haven't made the backup of text messages on Google Drive or you don't want to root your phone? In that case, the ideal solution for you is to use WooTechy iSeeker for Android.
It is an Android data recovery tool designed to recover deleted text messages and other data types, such as images, videos, music, files, other apps data, etc. Its intelligent scanning capabilities look for messages deeply in the phone memory and then present them all for real-time preview and selective recovery. It can also recover selective data from Google Drive backup. To sum up, this tool is a comprehensive Android data recovery tool capable to retrieve data no matter the data loss scenario.
Some other highlight points of WooTechy iSeeker for Android
100.000+
Downloads
It offers a click-based interface with simple steps to instantly recover messages.

It allows a preview of messages before restoring them and selective recovery of only important messages.

It ensures 100% data security with no data duplication during the whole process.

It offers the highest recovery rate with no data loss possibility.
Follow the below steps to use iSeeker(Android) to recover deleted text messages on Android:
Step 1. Download and launch iSeeker Android on your computer and also connect your phone to the computer. Afterward, select Recover Phone Data.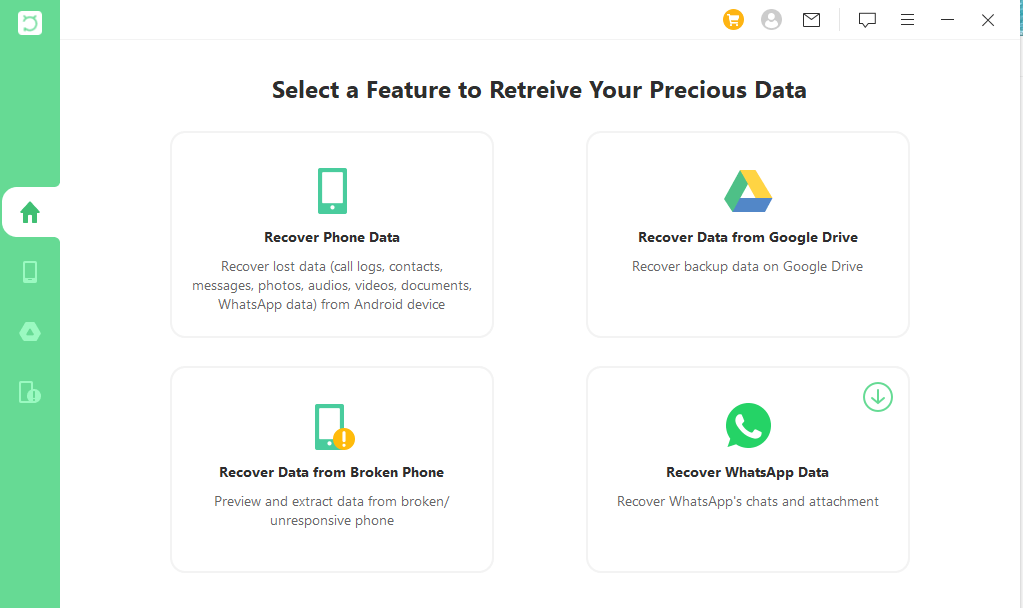 Step 2. Choose Quick Scan or Full Scan according to your need.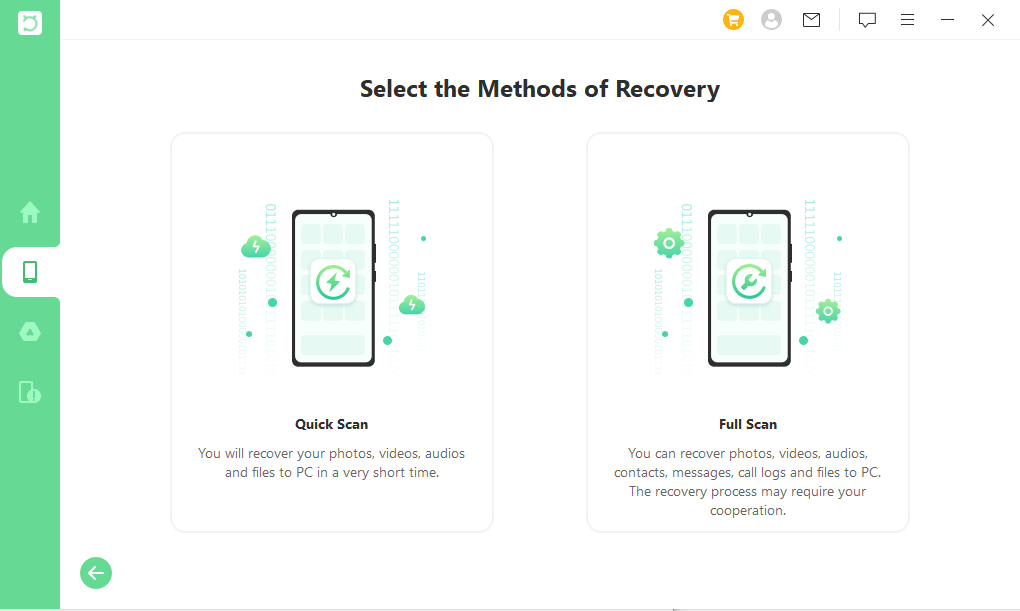 Step 3. Once the scan is completed, preview and select the texts you want to restore and click Recover.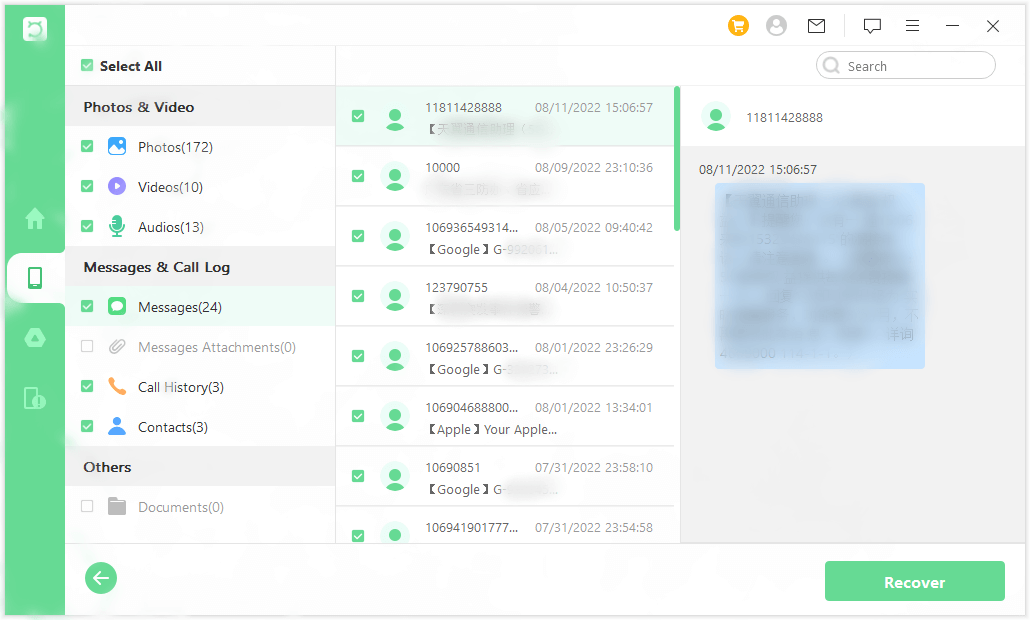 Conclusion
Text messages sometimes contain important information that we don't want to lose in any case. However, it is not uncommon to see Android users searching for how to recover deleted text messages on Android without computer. Above we have discussed two methods of recovering messages without computer, but both methods have their disadvantages.
Therefore, the most recommended approach is to opt for the WooTechy iSeeker for Android data recovery tool because it offers an instant, user-friendly, and highest recovery rate. So, try out iSeeker Android right away and retrieve your deleted texts in no time.