Hiding sensitive or private data is a smart choice to protect it from the eyes of other people. But the problem is, it can get lost, and many people have no idea where it has gone after you hide it. Android devices also usually don't show where they are keeping the hidden files. So, recovering such files can be tricky and complicated.
But not anymore. Your question- how to recover hidden files in android mobile has been answered here in such a way that even a person with no tech knowledge can now recover the files. Let's started!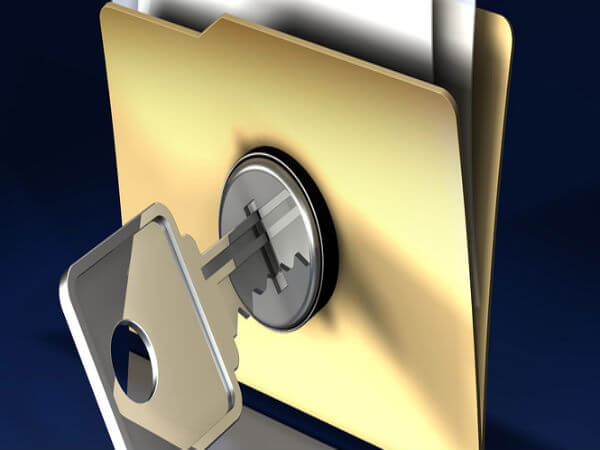 Part 1. Where Do Hidden Files Go
The hidden files usually go straight into the hidden folder in your phone's internal storage or SD card. And for photos, the hidden photos will be stored in the hidden album in Gallery. Moreover, if there is a secure folder on your phone, you can also hide the files in this folder and no one else can access this folder without your password. No matter what the case is, there is a solution for you to recover hidden files on your Android phone.
Part 2. How to Recover Hidden Files On Android
As hidden files usually have sensitive or private data, you can't afford to lose them forever. Here are the easy ways to get back your hidden files:
1. Recover Hidden Files from File Manager
As all the files are stored in the File Manager, you will be able to hide the files here. So, in most cases, the hidden files can be found in the File Manager. Here are the simple steps you can find and recover hidden files from File Manager:
Open File Manager on your android phone and then go to the Menu option.
Then, tap on Settings. There, you will see Advanced Setting option at the bottom.
Next, change the setting of Show Hidden File. Now, you will be able to see all the hidden files.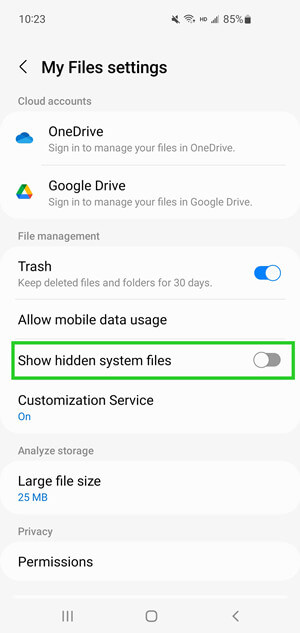 2. Recover Hidden Files from ES File Explorer
If the first method does not recover hidden files for you, then go for ES File Explorer. This is the most common-used third-party file managing app on Android. It can help you organize all the files on your phone and can also help you find the hidden files.
These are the steps to restore hidden files using ES File Explorer:
Open ES File Explorer and tap on the three lines you see in the upper left corner.
Scroll down, and you will see the Hidden Files option.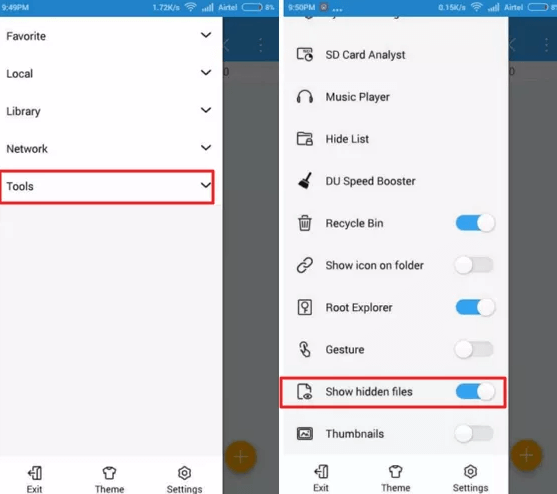 Turn it on, and then you will be able to see hidden files.
3. Recover Hidden Photos from Gallery
Just as I have mentioned at the very beginning, if you have hidden your photos, then you can find them in the hidden album in the Gallery. You can recover hidden photos by following these steps:
Open the gallery and go to the Album.
On the top right, you will see three dots. Tap on them.
Then, you will see many options, and one of them will be regarding hide/unhide. Tap on it, and you will see the hidden photos there.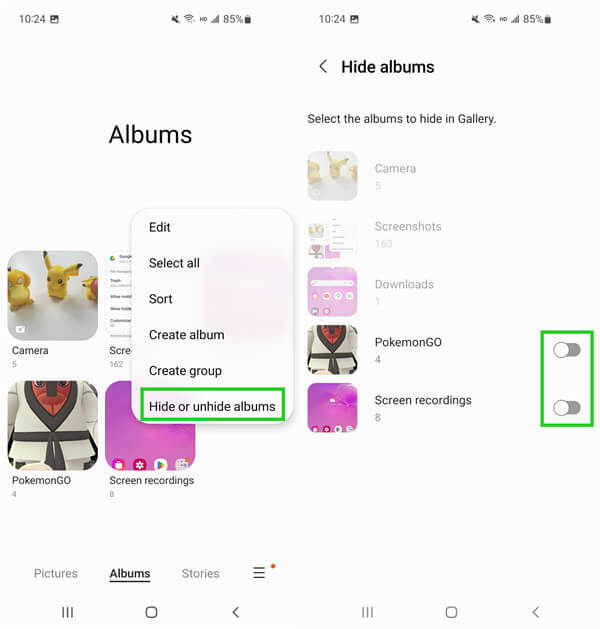 You can just press and hold the tab options, and you will be directed towards the private folders with hidden photos automatically. In most cases, you will have to input your mobile password again.
4. Recover Hidden Files from SD Card
If you use a SD card to store some files, then you might also have hidden your files on SD card. To access and view the hidden files in SD card, you need to use a SD card reader and insert it to a computer. Follow the steps below to recover hidden files from SD card:
Put your card in a card reader and plug it into the PC. You can also just connect the mobile with an SD Card to a computer using a USB cable.
Then, open the card folder. On the top bar, click on the View option and you will see the Hidden files option then.
Tick the Show hidden files and save the setting.
5. Recover Hidden Files from The Secure Folder
Samsung introduced the secure folder option in which you can keep any file hidden there. Now, many other devices have this option, and people love to add important files to this folder. Here are the steps to recover hidden files from the secure folder:
Open the Secure Folder app on your phone and enter your password.
Tap My Files or any other folder and then find the files you are looking for,
Tap and press the file you need and then tap More from the bottom-right corner.
Then tap Move out of Secure Folder. Your file will be moved to its original place.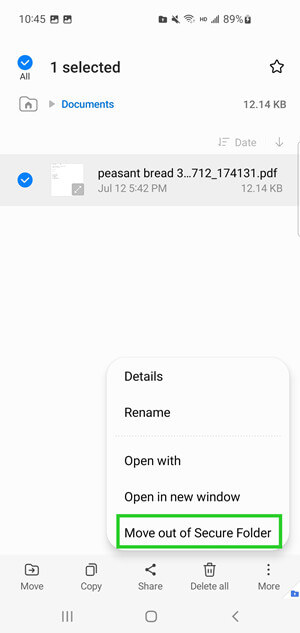 Part 3. Best Way to Recover Hidden/Lost Files On Android
If you want to easily recover files without facing any frustrating problems, then go for WooTechy iSeeker for Android. This software has made Android users' life stress-free because of the top-notch recovery services.
This professional tool has the highest data recovery rate among all the data recovery tools. Just a few taps and you have your hidden data in front of your eyes. In addition, it can also recover deleted WhatsApp chats, data from Google Drive, and many other files. Furthermore, it can also extract files from a broken phone or a phone that you are replacing. 
Key features of iSeeker Android
100.000+
Downloads
It provides a high data recovery rate and can recover 11+ different types of data you want to restore.

It recovers lost data without backup and without rooting your phone.

It supports 6000+ Android phones and tablets and all Android OS versions, including Android 12.

It allows you to preview and select recoverable data before you restore them. And scan and preview are included in the free trial.
Follow the below steps to use iSeeker(Android) to recover hidden/deleted files on Android:
Step 1. Download and launch iSeeker Android on your computer and also connect your phone to the computer. Afterward, select Recover Phone Data.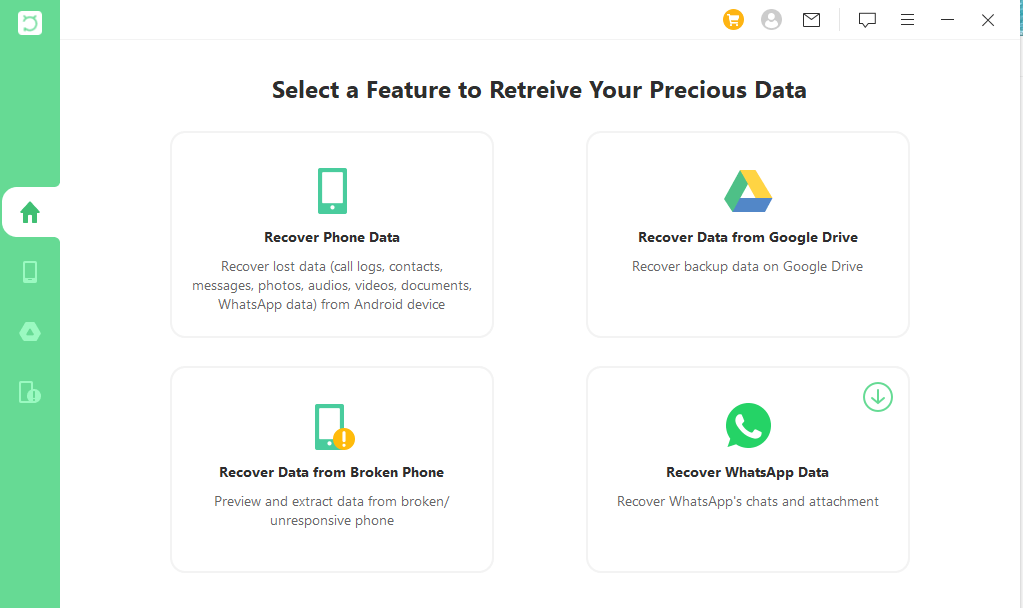 Step 2. Choose Quick Scan or Full Scan according to your need.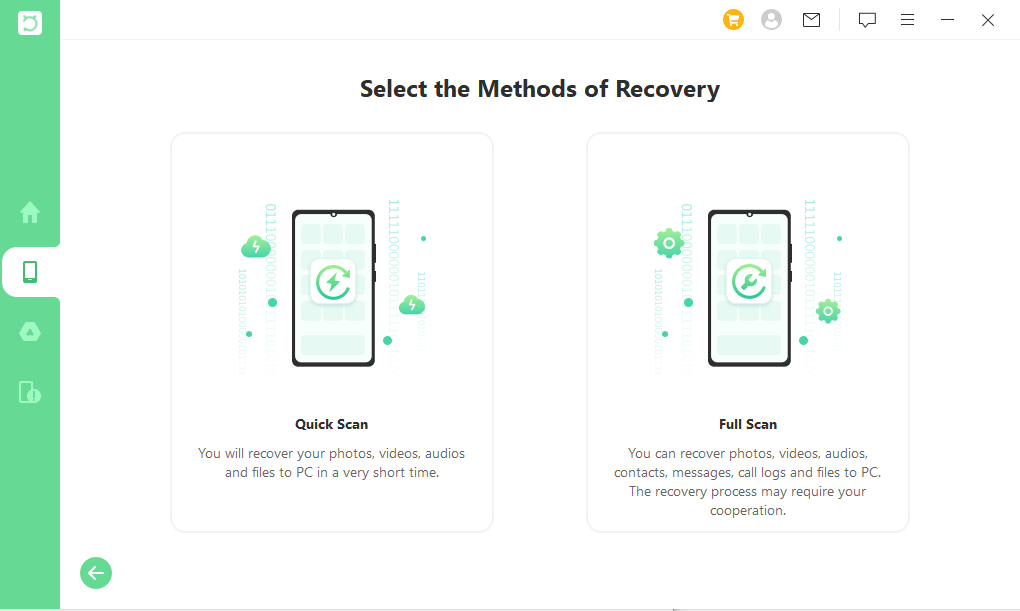 Step 3. Once the scan is completed, preview and select the data you want to recover and click Recover.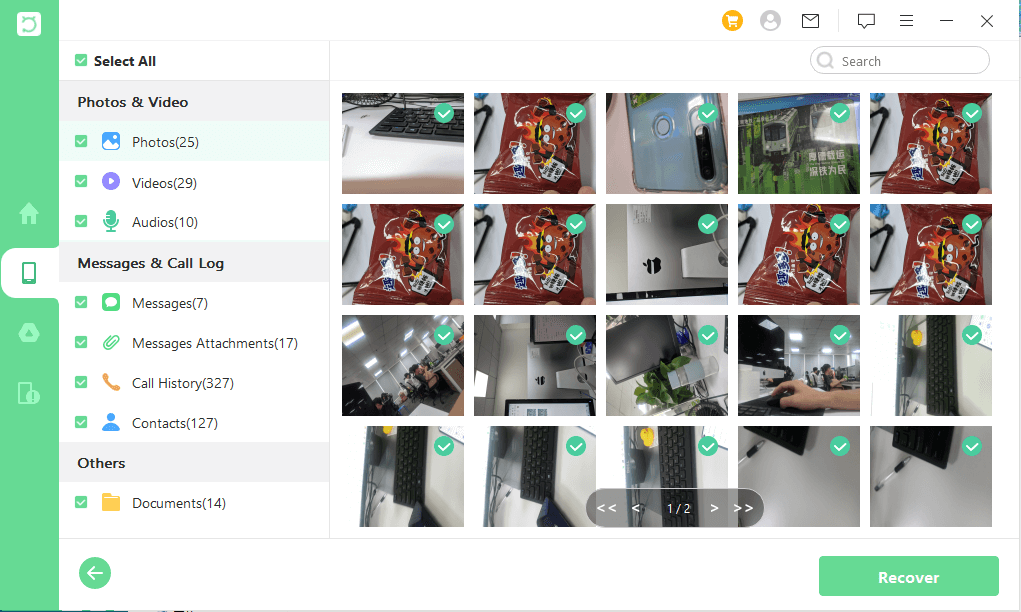 Conclusion
There are several ways you can go to recover the hidden files on your mobile. Each of them has many steps, which can make things complicated for those who don't know much about tech.
Hence, to avoid any frustration, using WooTechy iSeeker Android is the best solution. It is super easy to recover files using this software, and it will only take a few minutes. Plus, you can enjoy additional features like recovering deleted chats and files from Google drive. Download and enjoy the free trial right now!