The first thing we do after we find something missing from our gallery is checked the recycle bin. If you are not finding your images either in the gallery or the recycle bin, you must go for some data recovery software to easily get your important photos back.
Part 1. Can You Recover Permanently Deleted Photos on Android?
Yes, photos work like any other file type on Android smartphones. It stays in its original place in the storage whenever something is deleted. However, it is flagged as deleted, which shows some free space and makes it invisible to the user.
The files stored at the backend will stay there as long as that storage is not taken by anything else, meaning that the image files do not get overwritten. So, as long as the files stay at the back, you can recover them, but the tricky part about all this is that there is no way you may tell if the image files are still there. So, you must for restoring your files as soon as possible.
Part 2. How to Recover Permanently Deleted Photos on Android from Gallery Without Backup
If you never create any cloud backups for the photos on your android smartphone, then the only way to get them back is by using iSeeker Android. This tool from WooTechy provides a complete Android data backup experience and comes with the highest success rate for every device.
Not only does it come with 4 different modes for backup, but you can also select individual apps or data types before recovering data. iSeeker also works on broken phones, those devices whose OS starts failing, SD card issues, and accidental deletion of data.
iSeeker brings an extensive list of features, including:
100.000+
Downloads
Deep scan and quick scan options

The choice to recover from the cloud or smartphone

Support for the latest Android OS versions

Works on 6000+ device models from almost all manufacturers

Restore recovered files to a smartphone or export them to PC for creating a backup

Restore more than 15 data types from different applications
iSeeker provides a one-click data recovery experience as it has a few steps, and you can recover your images with a few clicks when following these steps:
Step 1. Open iSeeker on your PC and select data recovery mode from your phone.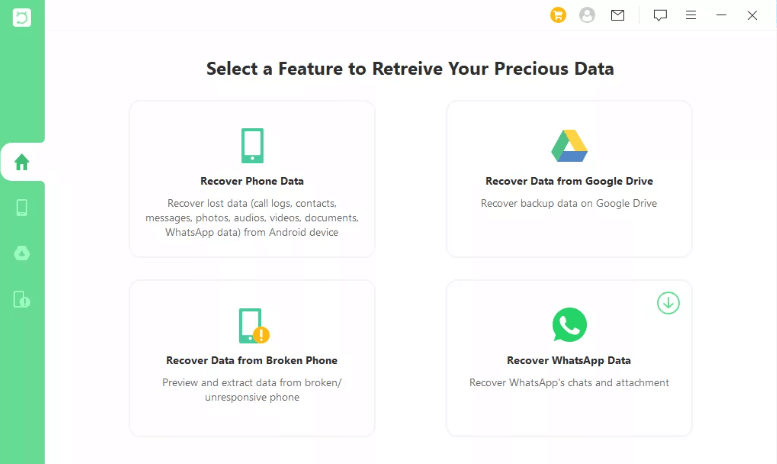 Step 2. Connect your smartphone to your PC and specify its model details. Don't disconnect the internet during the process, as the tool may download some files for your smartphone.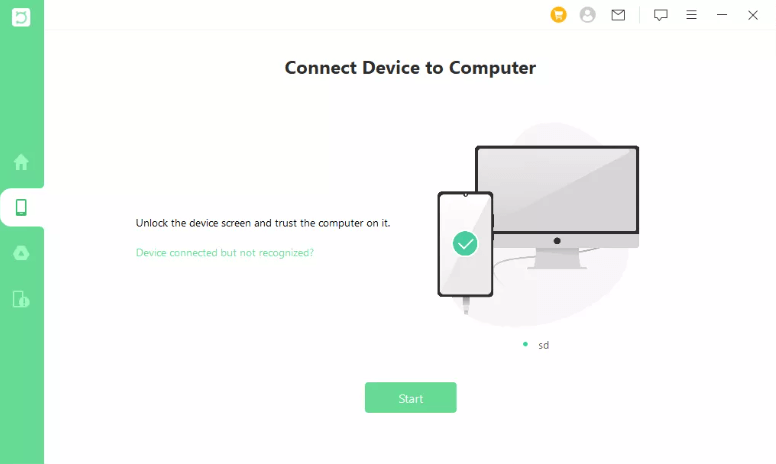 Step 3. If your photos are critical, go for a deep scan; otherwise, select a quick scan.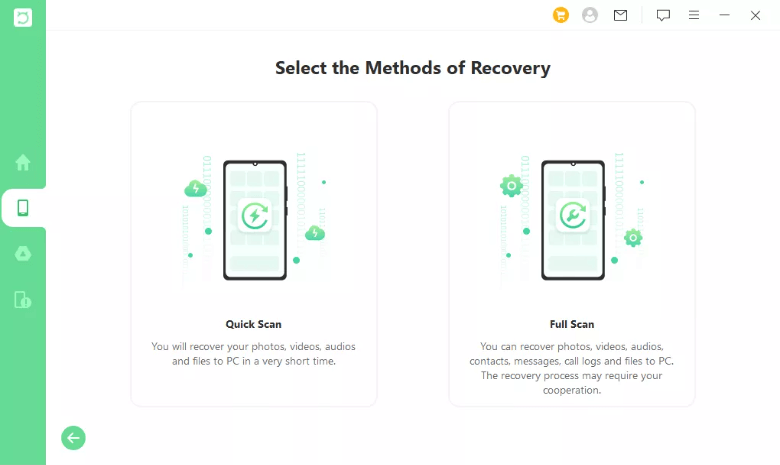 Step 4. As you start a scan, the tool will start analyzing your phone's available restorable data. Keep your PC and phone connected during this step.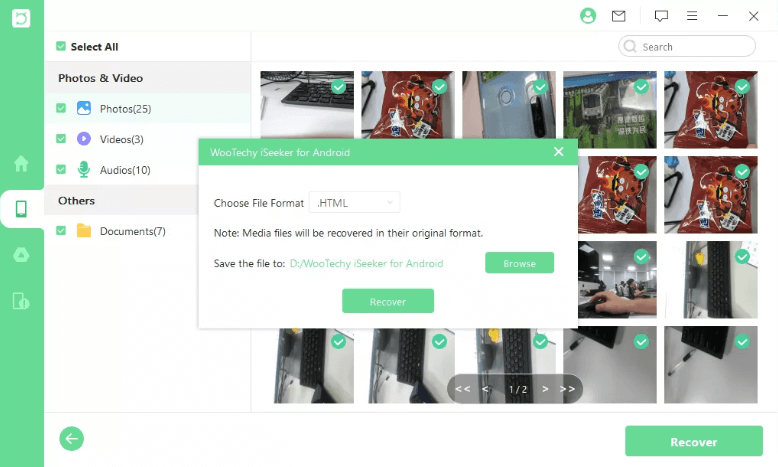 Step 5. When it shows you the recoverable files, you can preview each one, select them, and restore them with one click.
Part 3. How to Recover Permanently Deleted Photos on Android with Google Photos App
It is a common practice among android users to use the Google Photos application as the photo gallery on their devices. When they have turned on this app's backup and sync feature, all their images are saved in the cloud storage of Google Photos application.
It not only creates a backup for you without any effort but when you delete the images, they go into Google Photos trash and stay there for 60 days. So, if you were using this application and have your backup turned on, you can follow these steps to get your images back:
Open Google Photos application and go to its menu.
In the Trash folder, you will see all the recoverable images.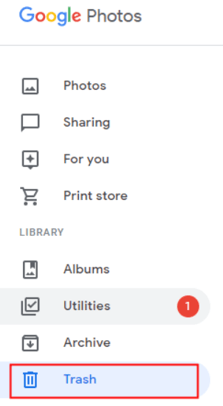 Tap on any image you want to restore and hold it until you see further options.
Now tap on restore, and the image will be on your device.
Part 4. How to Restore Permanently Deleted Photos on Android from Google Drive Backup
Even when you do not use the Google Photos application, you can still get your images backed up with Google Drive, and if you delete any image, it will go into the Google Drive trash folder, which will stay for 30 days. One downside of this Photos app is one less month for recovery time. However, on the better side, you still have a month to use these steps and get your images back:
Open the Google Drive application on the android smartphone and ensure that you are signed in with the same Google account.
Go to the menu by tapping three bars on the left top. Alternatively, you may swipe from the left.
Here you may also find other files than photos that you can recover using the same process.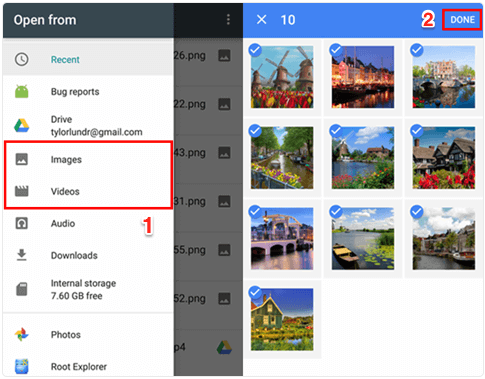 Keep selecting the images that you want to restore, and when you are done, go for the Restore option.
In this way, you can get those images back on your device. However, Google Drive backup being enabled is one of the most important requirements for this method to work.
Part 5. How to Restore Permanently Deleted Photos on Android via OneDrive Backup
OneDrive is yet another popular cloud backup platform many users use. Even though it is not as popular as Google Drive or Google Photos for creating image backups, the recovery experience is very easy. For this method to work, you need to have enabled image sync with OneDrive on your smartphone. To get your images back, you may:
Open the OneDrive application, and from the bottom menu, tap on Photos.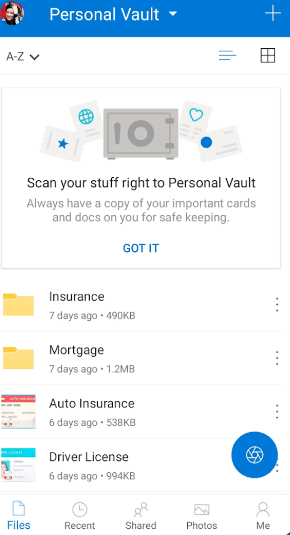 See and select any images that you want to recover on your smartphone.
Click on the 3-dots icon in the top right corner and then click Save.
Now those images will start downloading from OneDrive cloud backup to your gallery.
Within no time, you will have those in your offline storage.
Conclusion
If you do not create a cloud backup of images on your smartphone, then deleting something important will be critical. The right way to combat this issue is by enabling cloud photos backup and restoring images using the most effective and quickest method. Remember that the more things go through your phone's storage, the chances of restoring images will decrease.