Although it is the age of social media and messaging apps, text messages are still one of the most widely-used communication methods. We still use messaging apps for many important texts like OTP codes, texts from Banks, and GOVT institutions. However, sometimes you may receive unwanted messages, and at that point, you use the block option to get rid of the annoyance.
Sometimes you block someone accidentally and sometimes delete the entire conversation. There comes a time when you want to see the blocked text messages. Even if you unblock the number, you may still not find the messages from blocked contacts.
In this guide, we will answer your question and tell you how to retrieve blocked text messages on Android phone.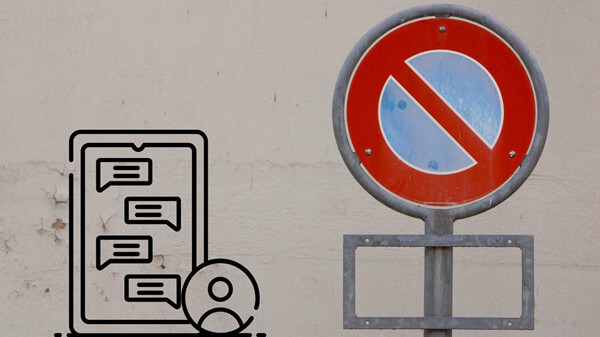 Part 1. What Happens to Blocked Text Messages on Android
When you block someone, you will never receive their messages and calls until you unblock them. Text messages are sent to the Block SMS folder, while calls are directed to the voicemail box. Unless you open the Blocked SMS folder, you will never know that you are receiving messages from those numbers which you have blocked.
On the other hand, the blocked numbers can still receive your calls and messages without any issues. The notification alerts from messages from the numbers you have blocked will not be active as unblocked messages. Block is not permanent; you can unblock any number whenever you want. And you will receive the calls and messages from them again, but the previous blocked messages will not be restored automatically.
Part 2. Where Can I See Blocked Messages on Android
Messages from a block number are sent to the Block SMS folder instead of the inbox. To get access to this folder, follow the steps given below.
Open the Message app.
Tap the three dots on your device's top right corner.
Tap the Block numbers and messages option. There you will find the text from blocked users.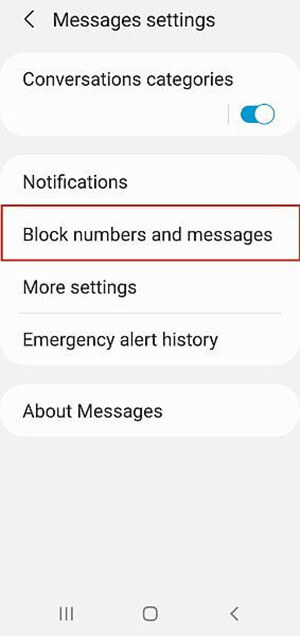 Part 3. How to Retrieve Blocked Messages on Android
The Block feature gives you the freedom to block some messages and calls you don't want to receive. And you can also manually get back the blocked text messages and calls at any time. Here we will take Samsung as an example and guide you to restore the blocked text messages. Follow the steps below to retrieve blocked messages on Samsung:
Open your Messages App. Tap three dots on the top right corner.
Go to Settings. Choose the option Blocked.
Tap Blocked messages. From the list, look for the messages you need to restore.
Tap on the Edit button. Choose the messages you want to get back.
Then tap the Restore button. All the messages you select will be back to the inbox.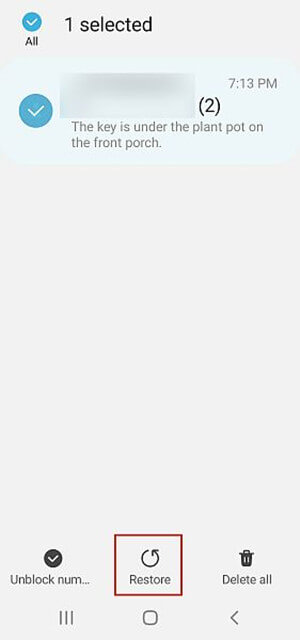 Part 4. Best Tool to Retrieve Blocked/Deleted Messages on Android
If you can't seem to find the procedure described in the earlier paragraph, or if you perform, but still nothing appears in the list, don't panic; there's another way to locate them.
It is highly suggested to use WooTechy iSeeker for Android data recovery tool. This is the finest method to regain blocked text messages. It is the most effective and reliable data recovery software. iSeeker is mainly designed for retrieving inaccessible and lost data, and you can quickly get access to blocked messages using iSeeker.
With iSeeker, you can also recover other files (photos, music, videos, audio, contacts, etc.) you accidentally deleted. This data recovery software allows you to recover data directly from your phone internal storage, Google Drive, and broken phones.
What Makes iSeeker Stand Out
100.000+
Downloads
It can recover 11+ lost data types except for messages, such as photos, videos, call logs and so on.

It can recover lost data directly from internal storage, Google Drive and extract data from broken device.

It is compatible with 6000+ Android devices and all Android system versions, including Android 13.

It allows you to preview and select recoverable messages before you restore them.

It works well on both rooted and unrooted Android devices.
Follow the below steps and retrieve your blocked messages using iSeeker for Android:
Step 1. Download and launch iSeeker Android on your computer and also connect your phone to the computer. Afterward, select Recover Phone Data.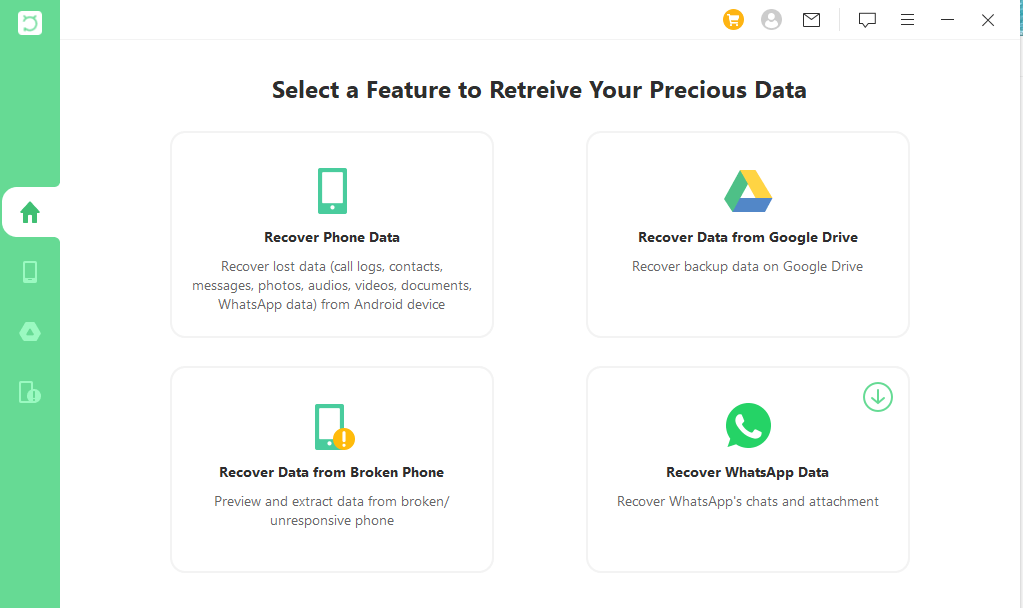 Step 2. Choose Quick Scan or Full Scan according to your need.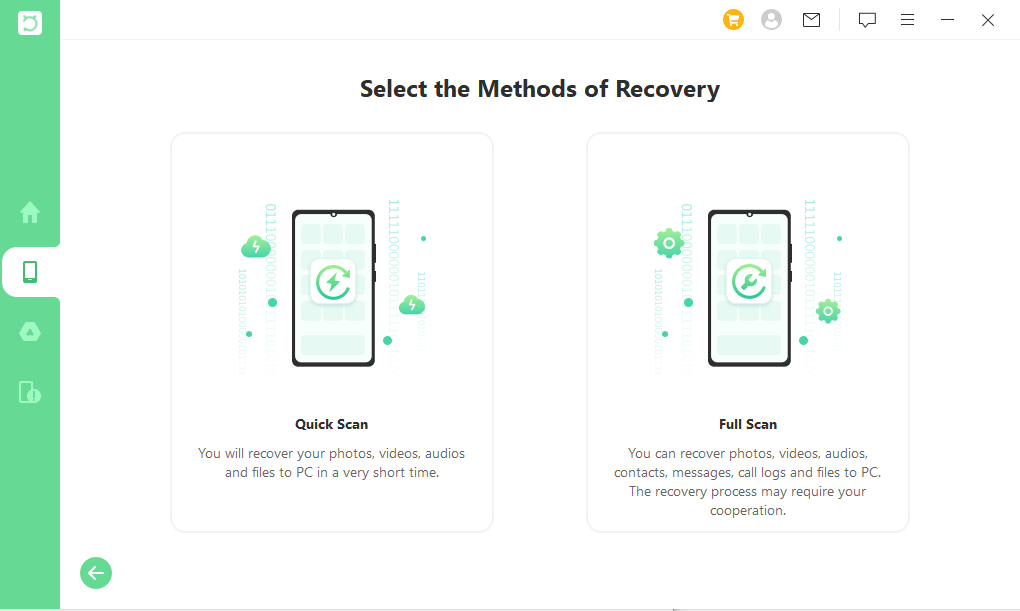 Step 3. Once the scan is completed, preview and select the data you want to recover and click Recover.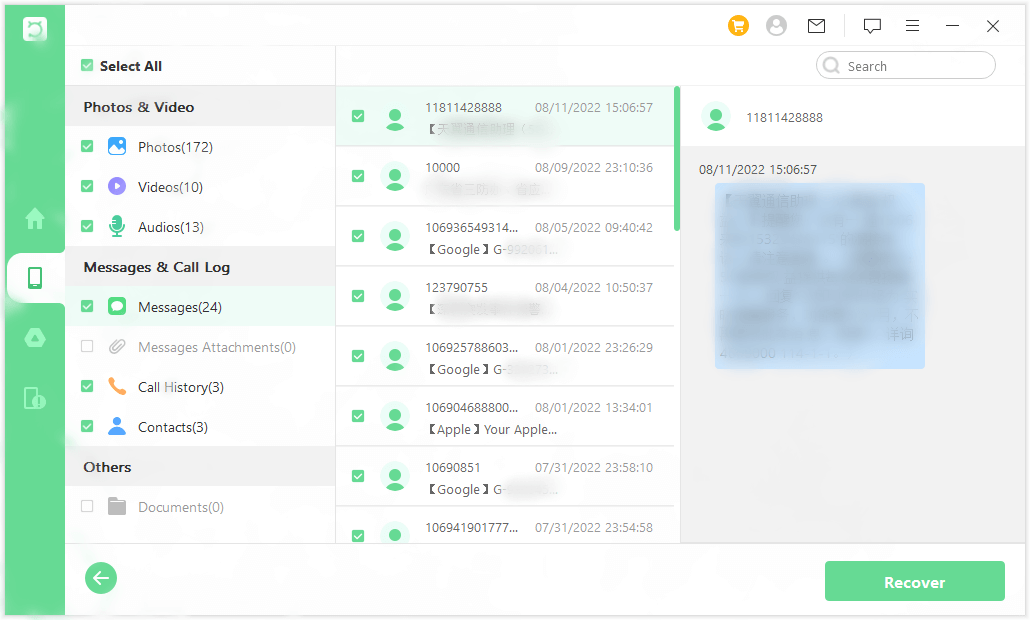 Conclusion
When you want to regain the blocked text messages, don't panic. There are a lot of methods that can get back the blocked text messages to your Android phone. The procedures we have mentioned above are easy for you to execute. To retrieve the blocked messages on any android device, first, you should use the Block SMS folder to unblock the number and recover the messages.
If you fail to do so, the best way to retrieve blocked text messages is to use WooTechy iSeeker for Android. It can get back blocked text messages, calls and any other lost data to your Android phone. Click the link and have a free trial right now!