The call history shows the missed, outgoing, and incoming calls, making it easy for users to instantly access call logs, redial those numbers, and save new numbers to the contacts. The call history on Android stores only the last 500 missed, outgoing, and incoming calls, depending on your phone model. Once the limit is reached, the old call logs are deleted and new ones take over their place. Moreover, if the call history is not full, the phone can store the old call logs for 6 months or 1 year.
In case you have realized that your call history is deleted somehow either due to exceeding the storage limit or some other data loss calamity, then this article is for you. Here we will discuss multiple methods to retrieve deleted phone calls on Android.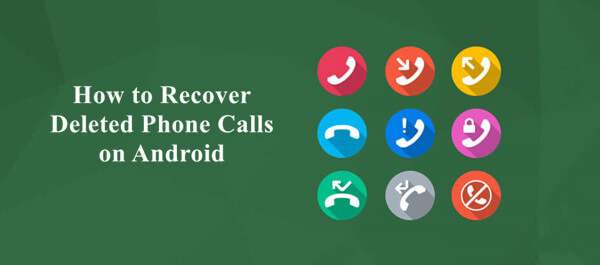 Part 1. Recover Deleted Call History from Backup
If you have made a backup of your phone or specifically call logs, then it is quite easy to get back the deleted call history. All you have to do is just restore the backup. Below you will learn how to recover call logs on Android from Google backup and cloud backup.
1. Restore Old/Deleted Call History from Google Backup
Google Drive is the most widely-used backup tool for Android users. If you have backed up your call history with Google Drive, then you can restore the backup to access the call history right away.
However, before we discuss steps to restore call history from Google Drive, it is important that you know the major drawback of this recovery method. Google backup is only restorable if you first factory reset your phone. Moreover, it will recover all the backed-up data, not just the call history. So, it is recommended that you make a phone backup again and then follow the below steps to learn how to get old call history on Android from Google Drive backup:
Open the Settings app on your phone and tap Backup and reset > Factory data reset > Reset device. Your phone will reset to its factory state and reboot.
Follow the on-screen instructions to start the phone's initial setup process. Once you see the option to restore a backup, tap Restore from Google Backup.
Sign in to your Google account, pick the backup that you think contains the old/deleted call history, and tap Restore.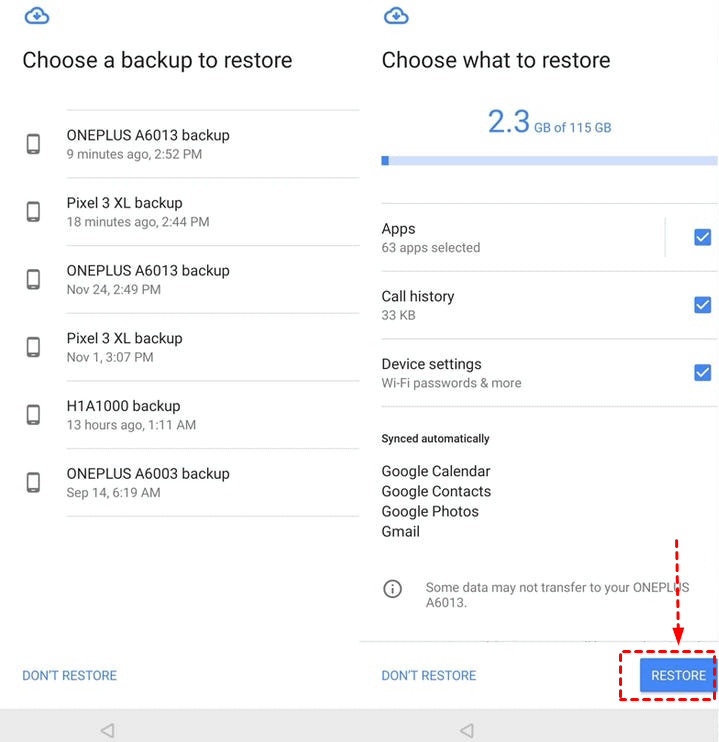 Afterward, all the data including call history from Google backup will be back to your phone.
2. Restore Old/Deleted Call History from Cloud Backup
Many Android phone brands have their own cloud services for users to manage phone data. For example, Samsung has the Samsung Cloud, Xiaomi has the Xiaomi Cloud, and so on. So, you can also use the cloud service to back up and restore deleted phone calls. If you were lucky enough to make a backup of old/deleted call history on your Android brand's cloud service, then it's time to restore that backup. Let's take Samsung Cloud as an example and discuss the steps on how to find deleted calls on Android:
Open the Settings app from your Samsung device and tap on your name from the top.
Tap Samsung Cloud and then tap Restore data.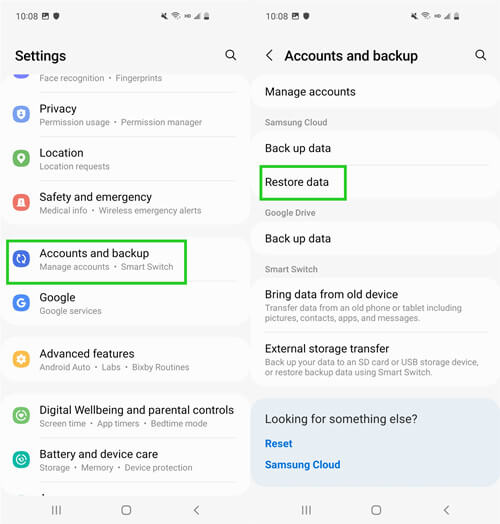 Pick the backup file that contains the call history, select Call Logs as the data type to restore, and then tap Restore.
Part 2. Recover Deleted Call History with Third-Party Tool (No Root/No Backup)
The methods discussed in part 1 are useful for those Android users who have created a backup. However, if you haven't created a backup of call history before its deletion, then you need to extract the record from deep inside your phone's storage. This is exactly what WooTechy iSeeker for Android is here to offer.
This software is a powerful and intelligent Android data recovery tool. It is designed to conduct thorough scans of the phone storage to extract all the targeted data and restore it to the PC. Moreover, it is a user-friendly tool that is useable by anyone.
iSeeker for Android can also be used to restore the backup from Google Drive. In addition, it also supports the recovery of deleted WhatsApp messages on Android. In short, it is a comprehensive one-stop solution to recover deleted call history or other data from Android phones.
Key Features of WooTechy iSeeker for Android
100.000+
Downloads
It provides a high data recovery rate and can bring back over 11 types of data you want to restore.

It can recover data from 6000+ Android devices and supports the latest Android 12.

It lets you preview recoverable data after the scan and allows selective recovery of data.

It provides free trial to all users.
Follow the below steps to use iSeeker(Android) to recover deleted phone calls on Android:
Step 1. Download and install iSeeker Android on your computer. Then also connect your phone to the computer. Afterward, select Recover Phone Data from the main screen.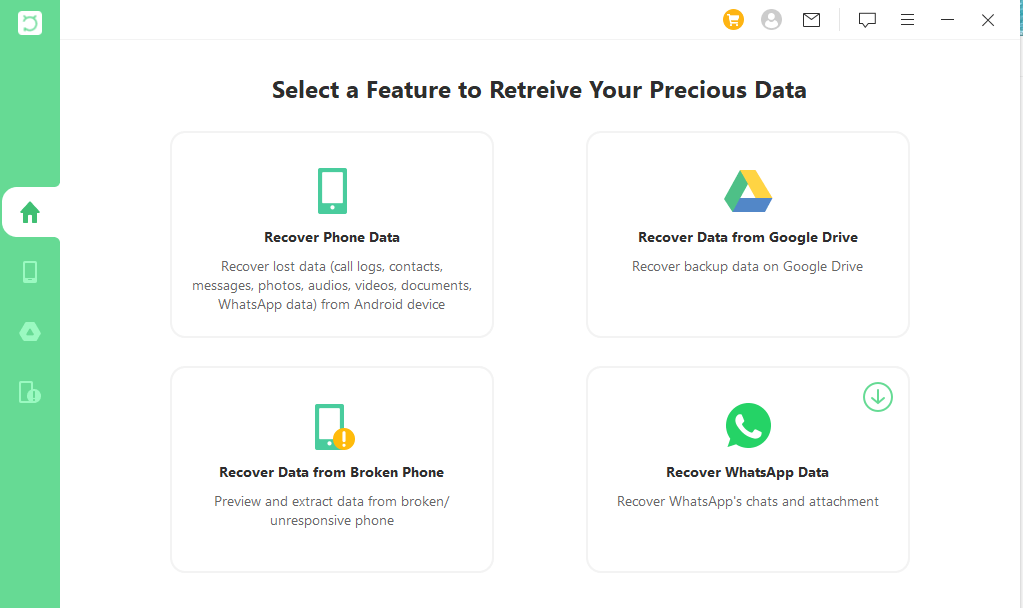 Step 2. Choose Quick Scan or Full Scan according to your need.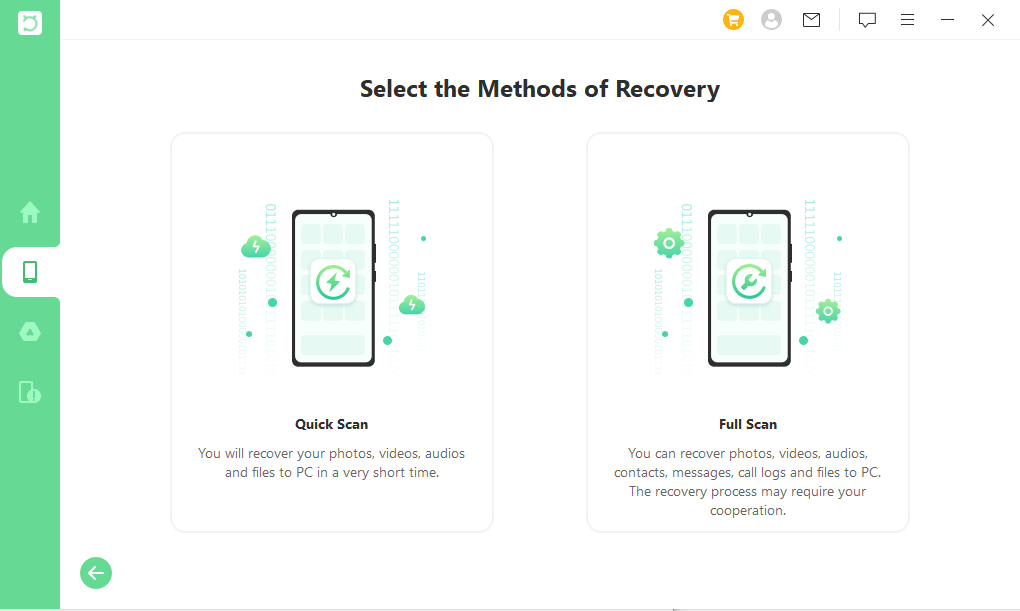 Step 3. Once the scan is completed, preview and select the data you want to restore and click Recover.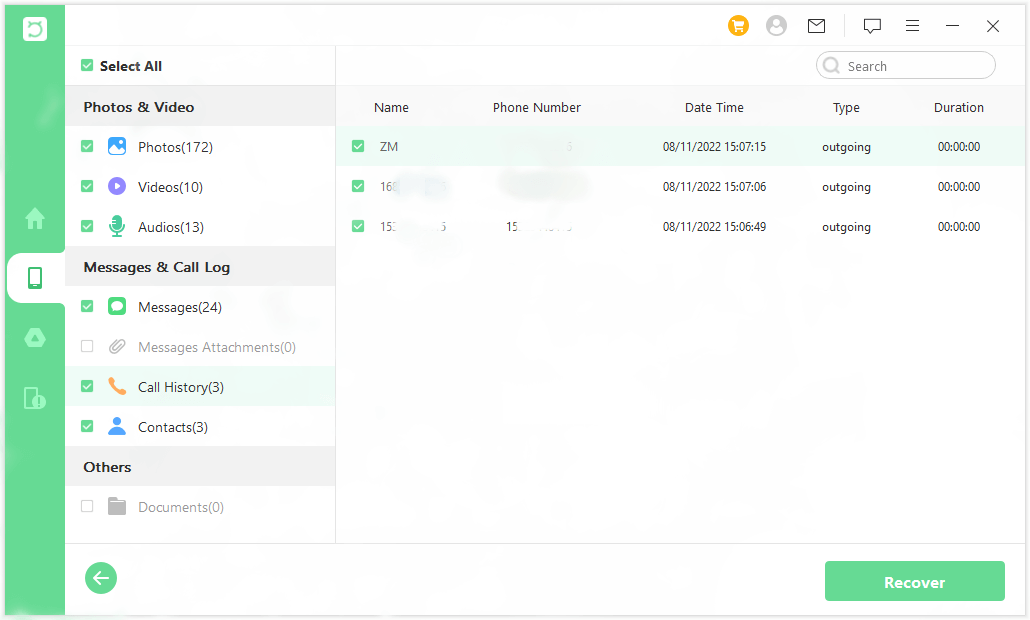 Part 3. Get Old Call History from Phone Carrier
Some phone carriers allow users to get their call history from their website, such as AT&T. So it's also a good way to get your old call history online from your phone carrier's website. We will take AT&T as an example and discuss the detailed steps. Follow the below steps to get call history from the AT&T website:
Go to the Phone Features webpage from your computer, tablet, or smartphone. Log in to your AT&T account if you aren't logged in before.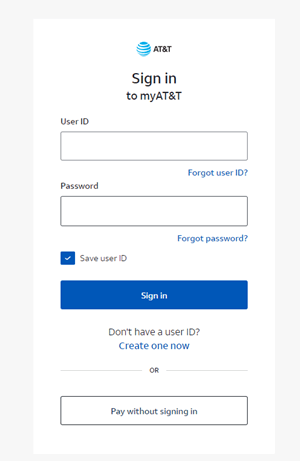 Click the Call History tab. It will show you the list of all the call history stored by AT&T.
You can sort the call history by caller name or number, ascending or descending order, etc. From there, you can download the call history in PDF, CSV, or XLS file formats.
If you fail to find call history online, you can contact your phone carrier to help you assist in this matter.
Conclusion
Call history gives us a convenient way to quickly redial, save numbers, and get info on all the calls made to a specific person. Losing such records cause trouble for many users. Therefore, it is recommended to make a regular backup of call logs. This article has tried to address how to retrieve deleted phone calls on Android through multiple methods.
However, if you want a fast, reliable, and complete recovery solution, then iSeeker for Android is meant for you. Its simple steps, intelligent scanning, and preview support make it an ideal data recovery tool.