There are plenty of reasons why your Android phone might break, whether it's a physical accident, water damage, or simply because it's gotten too old. But regardless of the reason, a broken phone can be extremely frustrating. Not being able to access your text messages can be especially inconvenient, as you may have important communication stored on your device.
This guide is right for you. In this article, we will introduce 4 tips to help you retrieve text messages from a broken Android phone easily.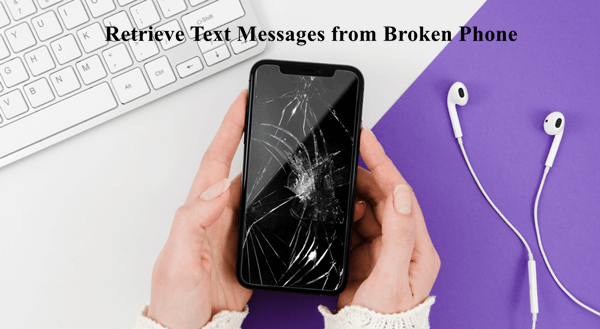 Method 1. Retrieve Text Messages from Google Drive
If you are accustomed to backing up your phone data with Google Drive, then when your phone is broken, you will still have chance to restore the text messages on the broken phone by restoring the backup from Google Drive. You should know that using this method, you need to have another phone to restore the messages.
Here are the steps to retrieve text messages from a broken phone through Google Drive:
First, reset the phone by going to Settings > Backup and reset > Factory reset. The factory reset steps may vary from model to model.
Wait for your phone to restart, then follow the on-screen instructions to set up your phone. Then sign in with your Google account.
When you see Choose a backup to restore, select a backup from the list and tap Restore.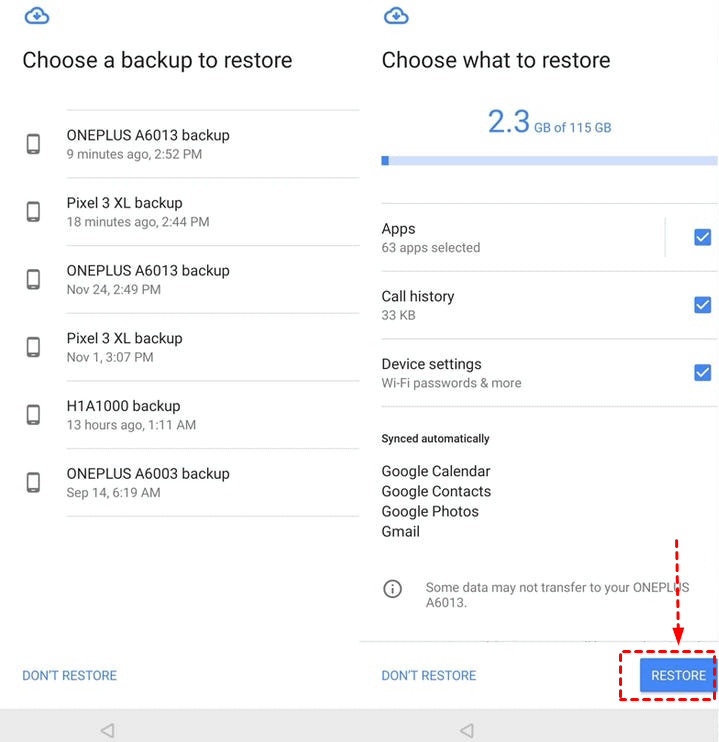 Method 2. Retrieve Text Messages from Cloud Backup
Nowadays, more and more phone brands will provide their own cloud services to users for managing data. For example, Samsung has the Samsung Cloud for users to backup and restore data. If you have backed up the data on your phone before getting it broken, then you can also get back the text messages through cloud backup. It's worth noting that with this method, you also need another phone with you to restore the cloud backup Here we will take Samsung Cloud as an example to discuss the detailed steps to restore a cloud backup.
Steps to retrieve text messages on broken Android phone from cloud backup:
On your Samsung phone, open Setting app, sign into your Samsung account. Scroll down and tap Accounts and backup.
From the Samsung Cloud tab, choose Restore data.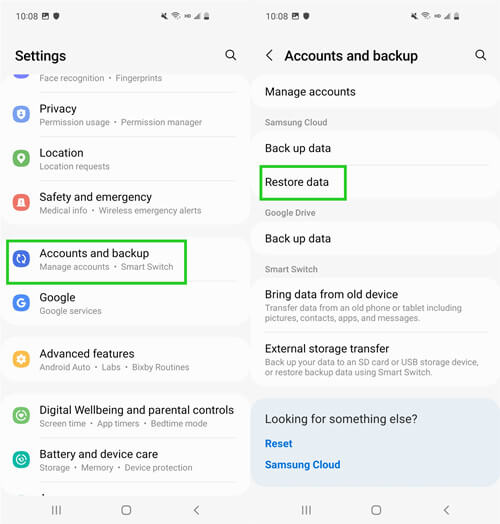 Choose text messages from the list and then tap Restore.
Method 3. Retrieve Text Messages from Phone Carrier
Depending on your phone carrier, there might also be a chance to ask your phone carrier for the lost text messages. If you have some special purposes like legal purposes, you can have a try then.
Simply try asking your phone carrier company. You can call them or contact them online from their official website. Some service providers list your text messages just as they list your incoming and outgoing calls. However, most phone companies won't give you easy access to your text messages.
Method 4. Retrieve Text Messages Without Backup
If you failed to restore your text messages on the broken phone with all the above methods and you don't have any backup, then we'd like to recommend using reliable third-party software. WooTechy iSeeker for Android is an ultimate data recovery solution for Android users.
It can help you recover lost or deleted data from your Android phone, including text messages, contacts, photos, videos, etc. With this powerful tool, you can also easily recover data from a broken Android phone screen display. It is also easy to use and provides a variety of options for recovery. Overall, the WooTechy iSeeker for Android is a great choice for anyone who needs to recover lost data from their Android device.
Key features of WooTechy iSeeker Android
100.000+
Downloads
It supports photos, videos, messages, WhatsApp, and 11+ data types.

It works for 6000+ Android phones/tablets (including Android 12).

It allows you to preview and select recoverable data before you restore them.

It provides a free trial for every user to test its utility and compatibility.
Follow the below steps to use iSeeker(Android) to recover text messages from broken Android:
Step 1. Launch iSeeker Android on your computer and also connect your phone to the computer. Afterward, select Recover Phone Data.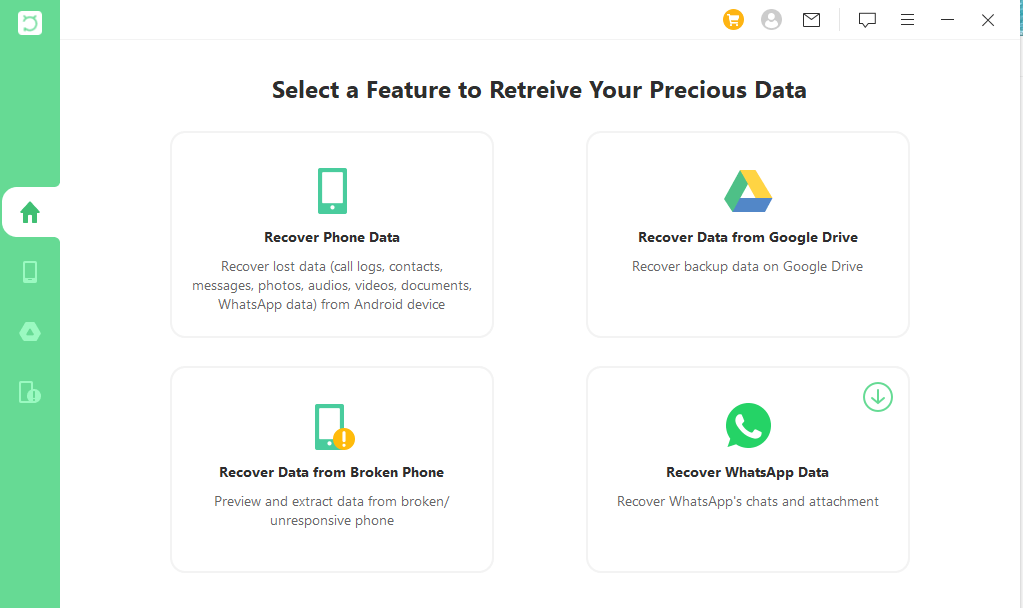 Step 2. Choose Quick Scan or Full Scan according to your need.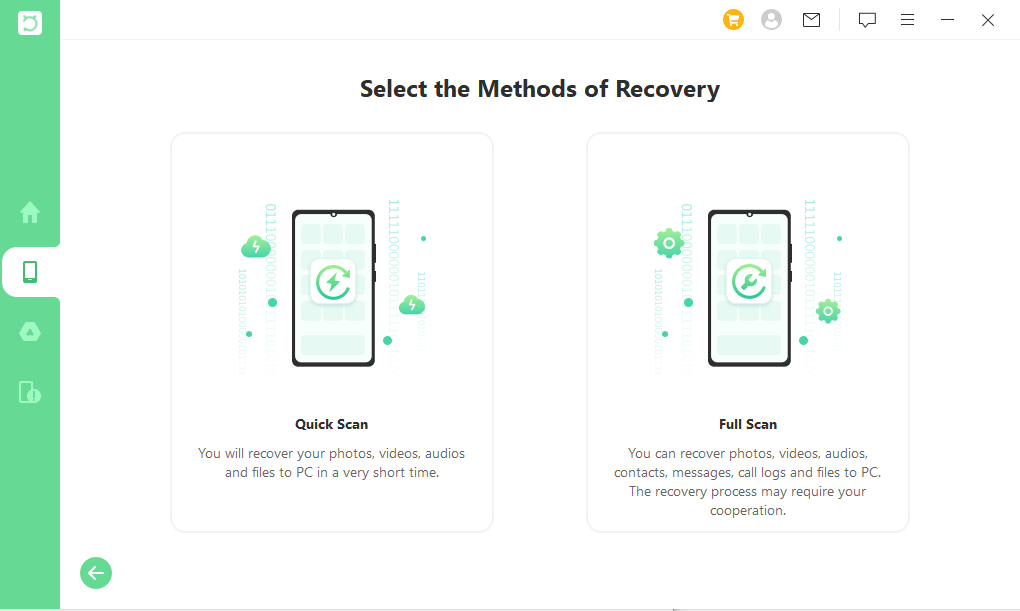 Step 3. Once the scan is completed, preview and select the messages you want to recover and click Recover.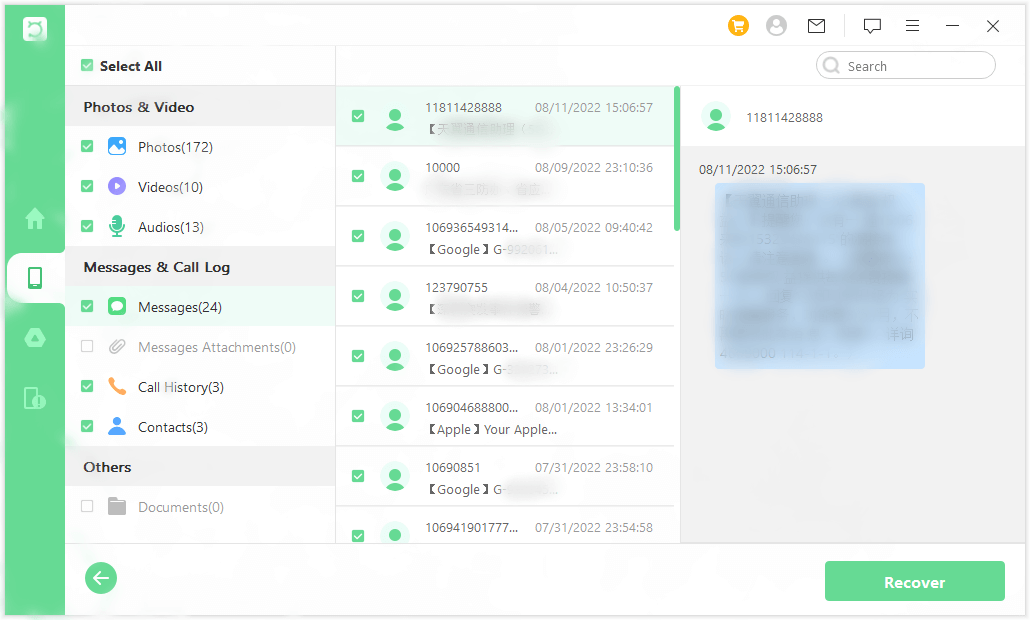 Conclusion
Getting your phone broken can be quite frustrating. We hope this article can give you help in retrieving text messages from the broken phone. With a little effort and some patience, you'll be able to get your hands on those all-important conversations in no time.
Among the four methods mentioned in the passage, using iSeeker(Android) is the simplest and most effective one. Do give it a try today!