You just accidentally deleted some important files from your Huawei phone and now you desperately want them back. If that is the case, then you might be feeling frustrated and helpless right now. You may have asked your friends for help or searched the Internet for answers but nothing seems to work.
Well, don't worry! This guide is your last stop on the road to data recovery from your Huawei phone. In the next few minutes, you will learn five methods on how to recover data from a Huawei phone with ease even if you have not created a backup. So, let's get right to it.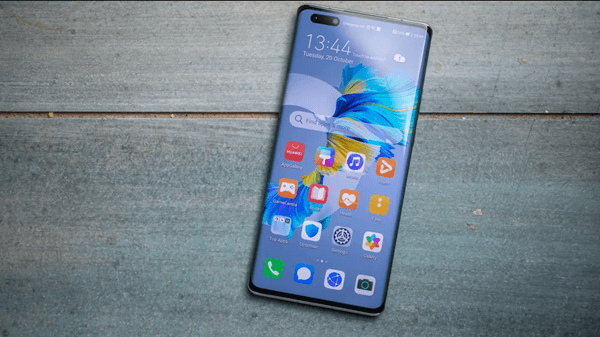 Option 1. Huawei Data Recovery from Recently Deleted Folder
The "Recently Deleted" folder works just like the Recycle Bin for Windows and stores all the files that you have recently deleted. It keeps them for 30 days in case you change your mind and want to restore them easily.
However, this option is available only with a few apps on your Huawei phone. For example, the Gallery and Notes app has this convenient feature. So, if you've accidentally deleted some important images or videos from Gallery, follow these three easy steps to retrieve them from the Recently Deleted folder.
Open the Gallery app on your Huawei phone and tap on the Albums tab.
Now, select the Recently Deleted album.
All of the photos/videos that you recently deleted from the Gallery are displayed here. Choose the ones you need, then tap the Restore.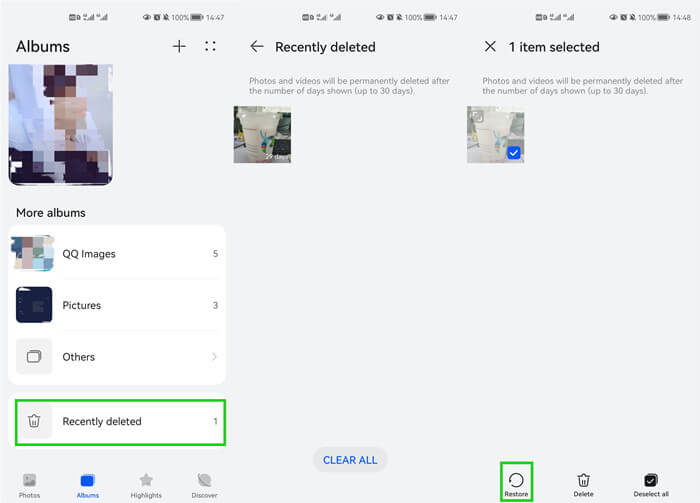 Option 2. Huawei Data Recovery Without Backup
If you haven't previously backed up your data, then the process of Huawei data recovery can be even more challenging and complicated. But don't worry; we've found an excellent solution for this problem as well. The WooTechy iSeeker Android data recovery tool can help you retrieve deleted data from your Huawei phone without the need for a backup.
This tool is designed to help you recover any kind of data from your phone, including photos, videos, contacts, text messages, call logs, WhatsApp messages and more. Additionally, it allows you to recover deleted files from both your phone's internal memory and SD card without causing any existing data loss. And it can also recover data from broken Huawei phone.
Some other key features of iSeeker Android
100.000+
Downloads
It provides a high data recovery rate and can recover over 11 types of data you want to restore.

It recovers data directly from the Android devices without the need for a backup file.

It offers an intuitive user interface with a simple click-based recovery process.

It allows you to preview and select recoverable data before you restore them.

It is compatible with 6000+ Android devices and Android 13 system.
Follow the below steps to use iSeeker(Android) to recover lost data on Huawei without backup:
Step 1. Download and launch iSeeker Android on your computer and also connect your phone to the computer. Afterward, select Recover Phone Data.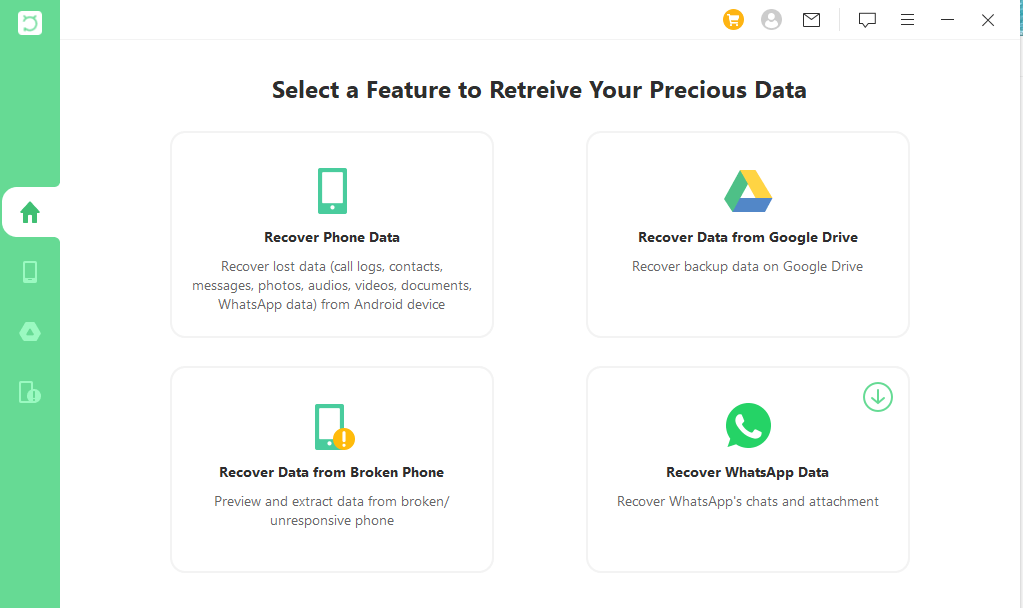 Step 2. Choose Quick Scan or Full Scan according to your need.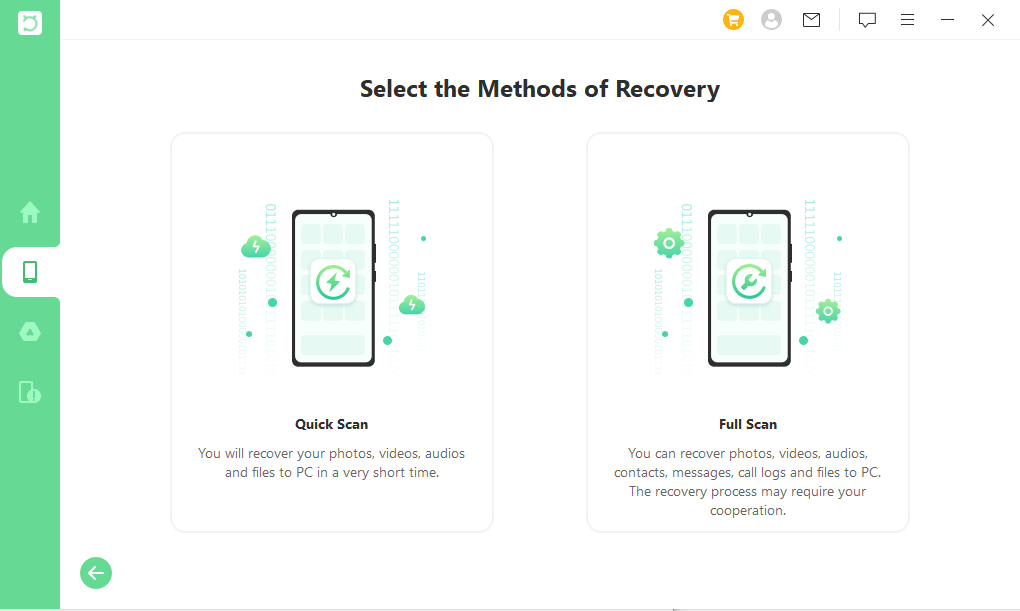 Step 3. Once the scan is completed, preview and select the data you want to recover and click Recover.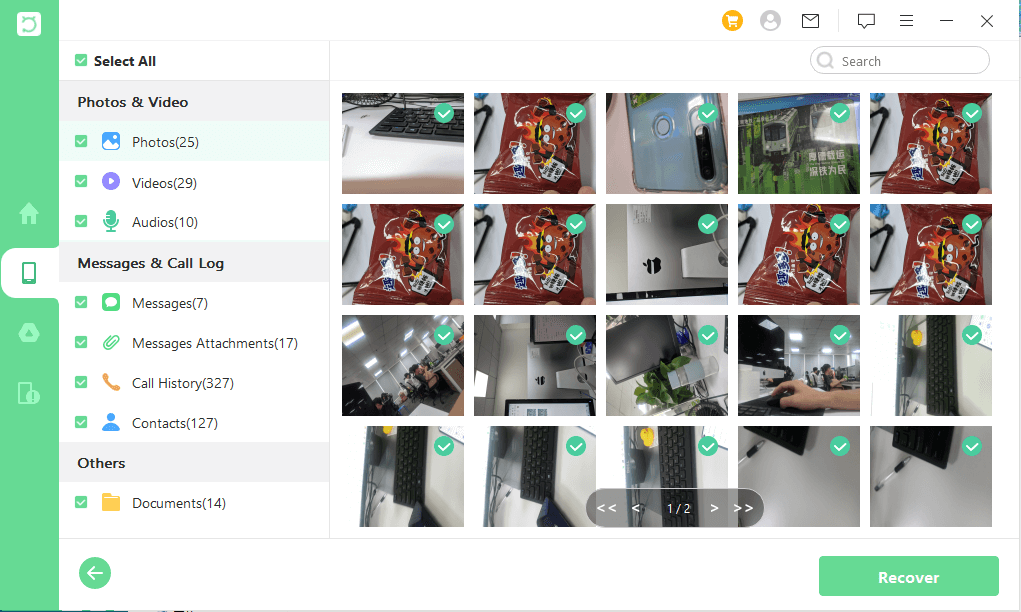 Option 3. Huawei Data Recovery via SD Card
If you are the kind of person who is always running out of space, then you might have previously used the Huawei built-in SD Card backup & restore feature. In addition to backing up your data from your phone's internal storage to the SD card, this feature also allows you to encrypt the backup.
That said, if you lost some important data from your Huawei phone but it was saved on an SD card, then you can easily use that backup to retrieve your lost data.
Here's how you can achieve data recovery on Huawei via SD card:
On your Huawei phone's home screen, go to the Tools menu and choose Backup.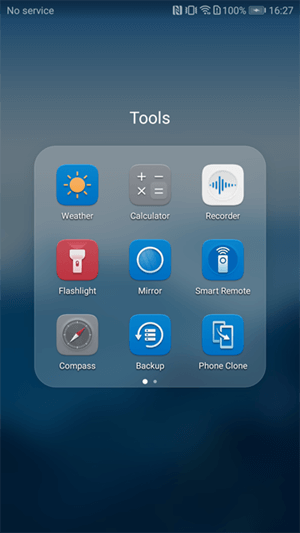 You now have two options: Restore and Backup. Tap Restore and then choose From SD card.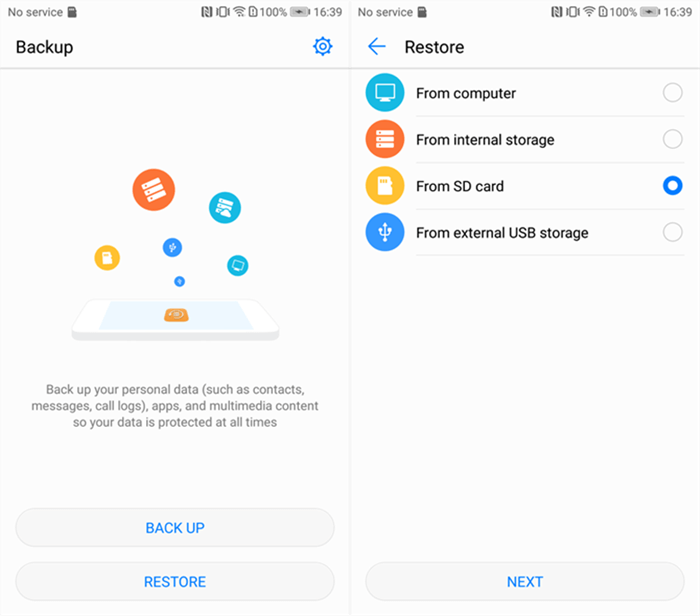 Finally, select the backup you previously made, then pick the items you want to restore, and then tap Restore.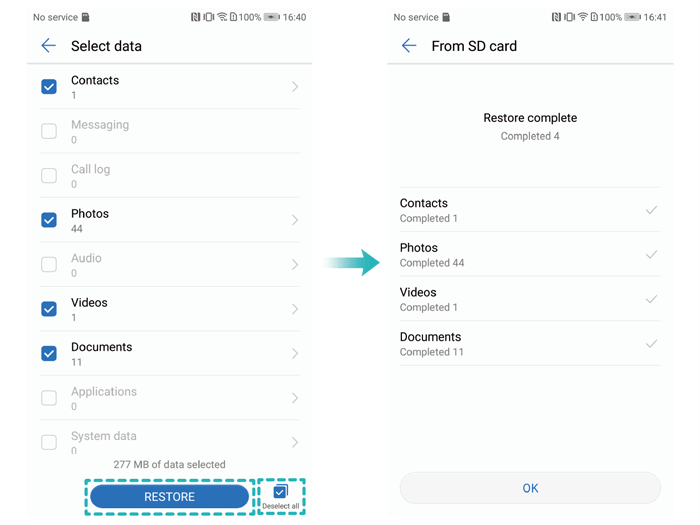 Option 4. Huawei Data Recovery via Huawei Cloud
Huawei Cloud is a cloud storage and synchronization service that comes pre-installed on all Huawei devices. Because it is already integrated, many users choose to use it to store their important data in a secure cloud where they can retrieve it anytime.
If you're one of those users and you just lost some data, follow these steps to get it back via Huawei Cloud:
On your Huawei phone, go to Settings > Huawei ID.
Next, choose Cloud from the menu, and then tap Cloud Backup.
From here, tap Restore Data. Select a backup file to restore and then tap the Restore button.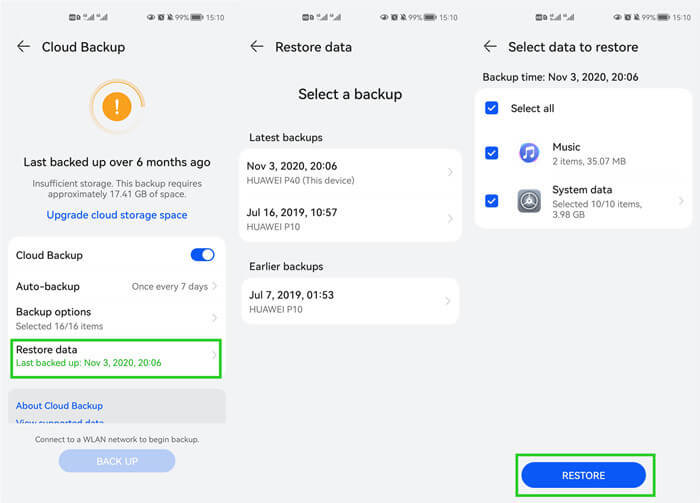 Option 5. Huawei Data Recovery via HiSuite
Many Huawei users also use the HiSuite program to manage their data. This program is specifically designed for Huawei devices and lets you backup and restore your data on a computer.
Therefore, if you have a HiSuite-created backup on your computer, you can use it to retrieve your lost data. Here's how to recover lost data on Huawei with HiSuite:
Open the HiSuite application on your computer, then use a USB cable to connect your phone to it. When prompted, accept the permissions on your phone's screen.
Choose the Restore option from the main interface and pick the data you want to restore.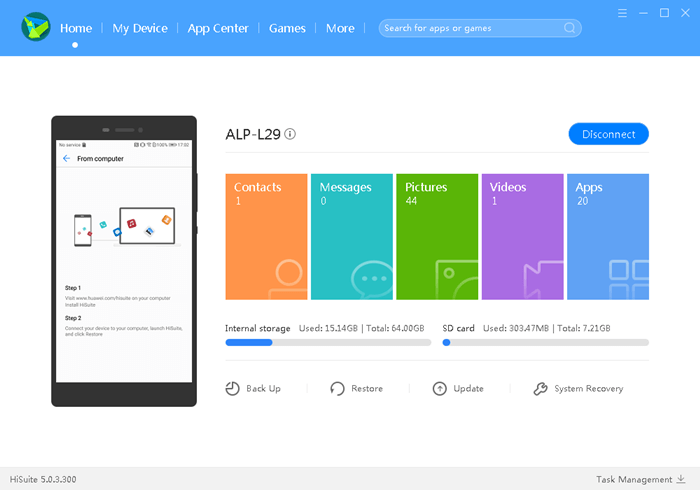 Finally, press the Restore button to start the recovery procedure. Once the data has been restored, click Done.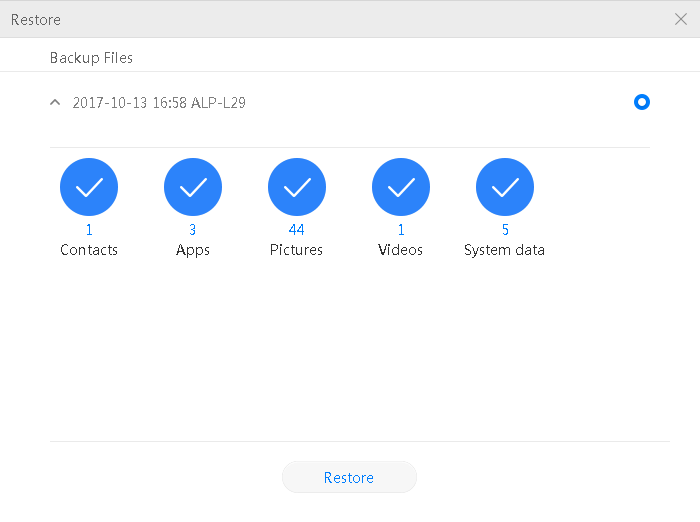 Bonus: How to Back Up Data on Huawei
Preventing data loss is always better than trying to recover it, so it makes sense to take some preventive measures in order to avoid it in the first place.
The two methods outlined below will show you how you can back up your Huawei phone.
1. Using SD Card
Tap Backup under the Tools menu on the home screen of your Huawei phone.
Select the Backup option and then a choose Back up to SD card.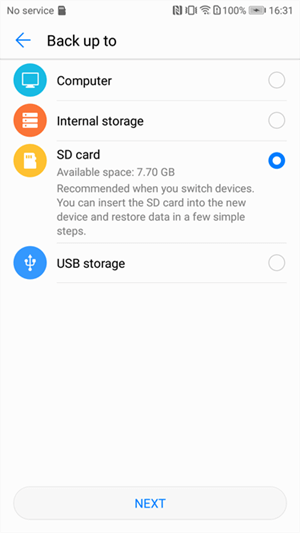 Select the data items you want to backup and tap NEXT.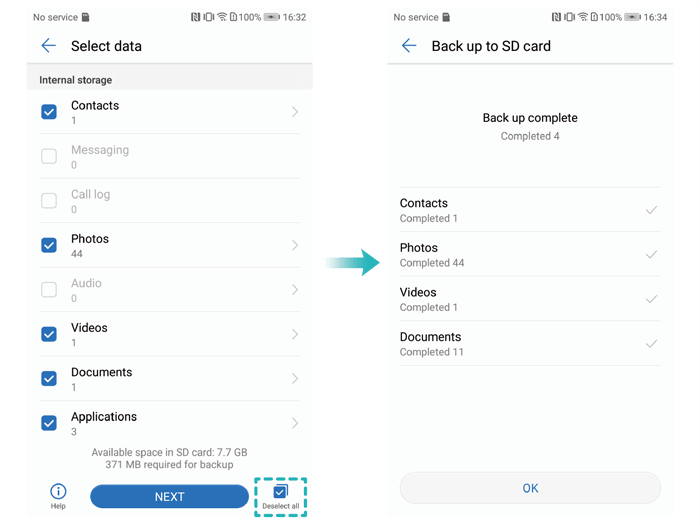 2. Using HiSuite
Open the HiSuite application and click on Backup.
Select data items you want to backup and then click Backup again.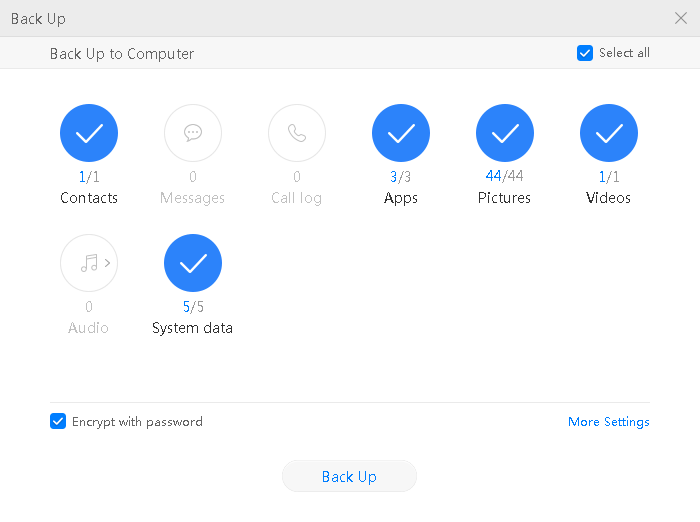 Wait for the backup to finish, then click Done.
Conclusion
All of the methods discussed above have been proven to be effective for many Huawei users and we hope that they will work for you as well.
However, if you want a hassle-free solution that doesn't require any backup, then we recommend you to go with WooTechy iSeeker Android. It is trusted by thousands of users and will help you get your lost data back in a few simple steps.