There have been many cases reported in which someone says that my younger cousin took the mobile without asking and now all the pictures and videos are gone when I look. Some say we tried to delete something else but accidentally deleted the necessary data. And now they look to recover deleted data from LG phones.
It is frequent that we experience data loss on Android devices. We know that losing important data can be very painful for anyone, which is why we have crafted this guide. In this article, we will talk about LG data recovery, and we discuss 4 easy ways to answer how to retrieve lost data from the LG phone although you perform a factory reset.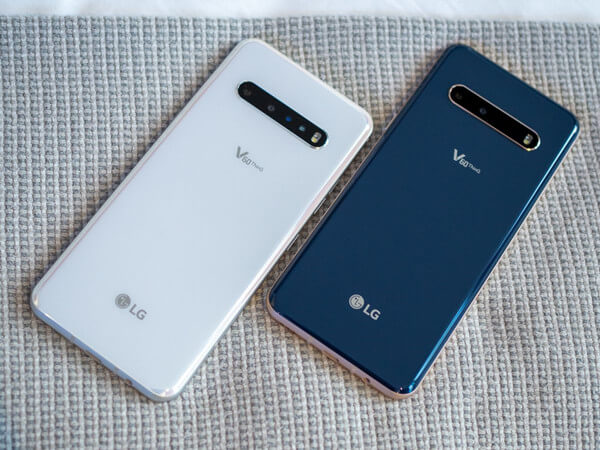 Part 1. Easiest Way for LG Data Recovery (No Backup/Root)
Most LG users thought they couldn't get it back after losing their photos, videos, or any other vital data. But that's not the fact. The data is not deleted completely but become invisible, and storage is available for new data. Your old data will be gone entirely if you save new data over it. With the help of a professional data recovery tool, you can retrieve deleted or lost data easily from LG phones.
If you have lost your data and don't have a backup, no problem, iSeeker for Android is built mainly for you. Whether you have lost important SMS, photos, videos, call logs, or anything else, you can recover them using iSeeker. This data recovery software can directly recover lost from your phone's internal storage. So it will surely help you achieve LG data recovery.
What Makes iSeeker Stand Out
100.000+
Downloads
It can recover more than 11 types of lost data on Android phones, including photos, videos, contacts, SMS and so on.

It allows you to preview the files before getting them back into your device.

It is compatible with 6000+ Android devices and the newest Android 13 system.

It can work well on both rooted and unrooted devices.

It is easy to use and doesn't require any technical skills for data recovery.
Follow the given steps in order to achieve LG data recovery with iSeeker for Android:
Step 1. Download and launch iSeeker Android on your computer and also connect your phone to the computer. Afterward, select Recover Phone Data.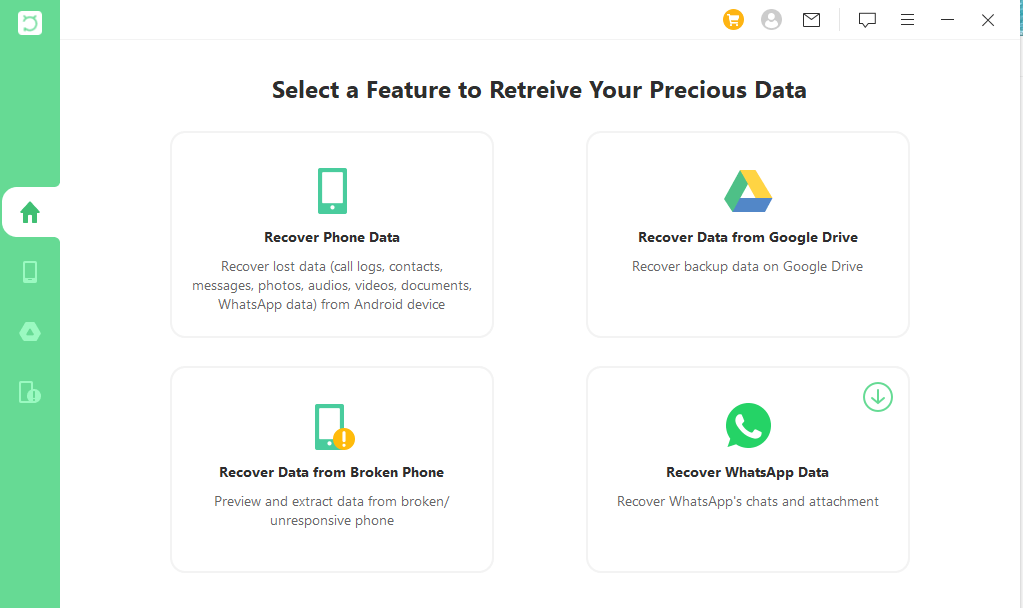 Step 2. Choose Quick Scan or Full Scan according to your need.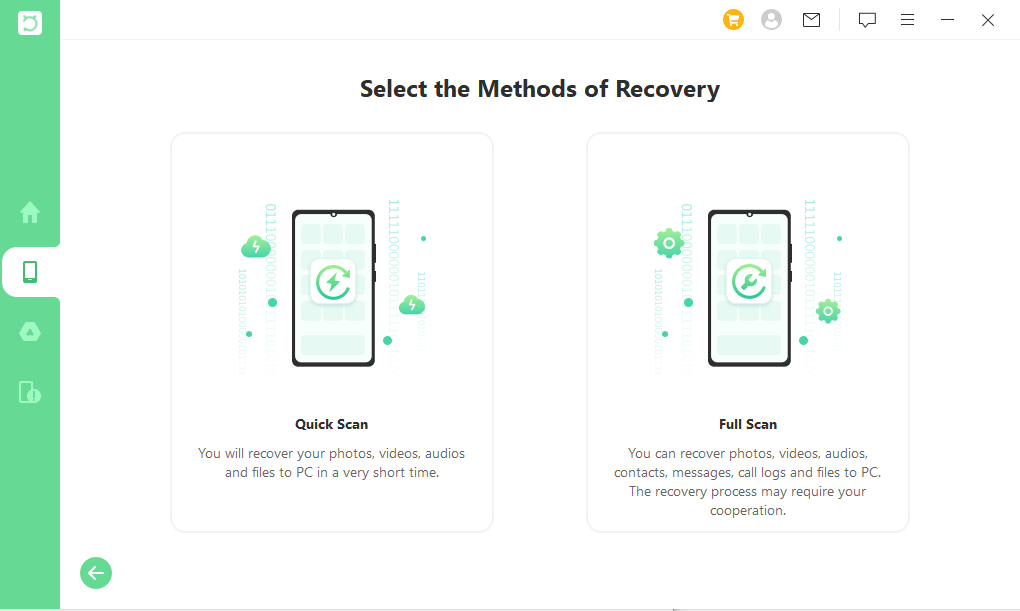 Step 3. Once the scan is completed, preview and select the data you want to recover and click Recover.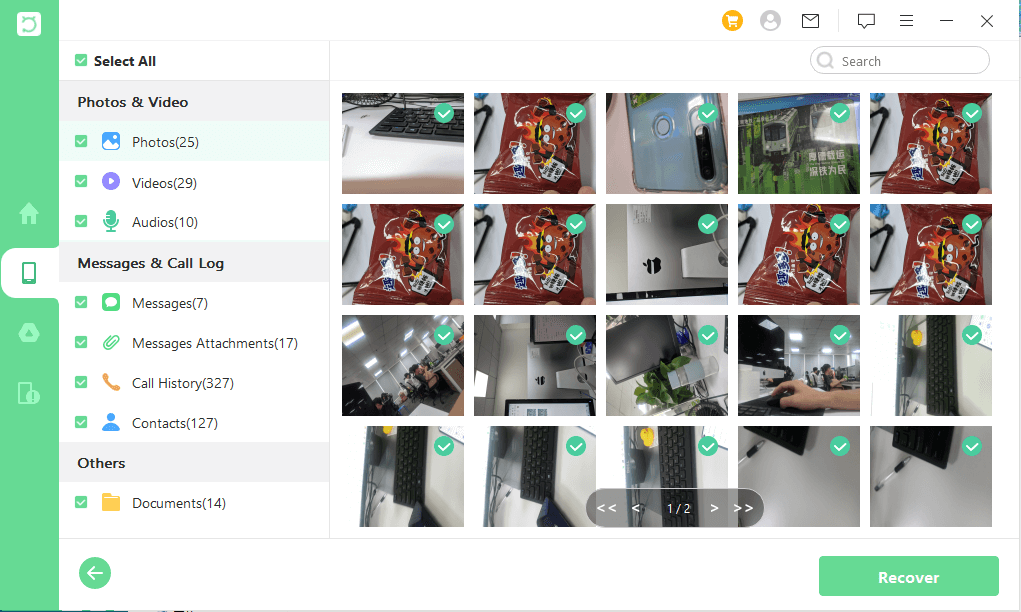 Part 2. LG Data Recovery from LG Backup
Many Android phone developers provide backup approaches to prevent data loss. Using these services, you can back up and restore deleted videos, photos, call history, text messages, contacts, etc. easily.  Similarly, LG provides a backup facility to its users. With this service, you can store your photos, videos, messages, contacts, etc. to LG backup, and recover the data when needed. Follow the steps to recover your lost data from LG backup:
Open your LG device Settings app.
Then go to General > Backup & reset > LG Backup > Backup & restore.
Choose the restore option. Then choose Restore from backup.
Choose a backup from the list and tap Restore.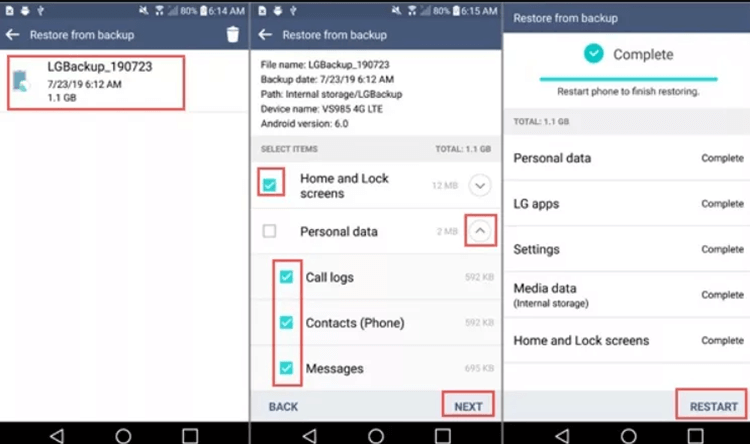 Part 3. Recover Deleted Photos from LG Phone with Google Photos
If you have synced or uploaded your photos to Google Photos on your LG phone, then the easiest way to get back deleted photos is to re-download the photos from Google Photos. Follow the steps below to get back deleted photos on LG phone from Google Photos:
Launch the Google Photos App from your LG device.
From the Photos, look for the photos you need.
Choose the photo you want to restore and tap on the three-dot on the top-right corner.
From the pop-up menu, tap Download. The photo will then be restored to your device.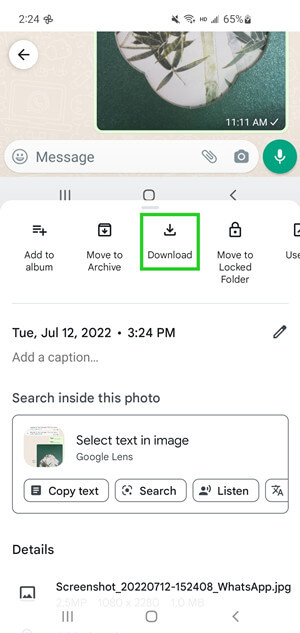 If you couldn't find the photos in the Library, then you might have deleted them from Google Photos. Now you can go to the Trash folder in Google Photos. The deleted photos will stay in the Trash folder for 60 days. Restore the deleted photos to the original album and then download them to your device.
Tap Library > Trash.
Then tap Select and choose all the photos you want to restore.
Lastly, tap Restore. The photos will go back to their original album. Find them and follow the last 4 steps to download the photos to your device,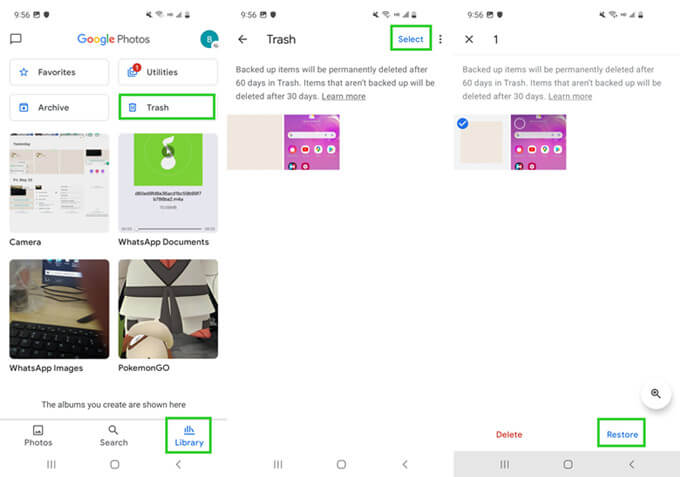 Part 4. LG Data Recovery from Google Drive
Google Drive is another most commonly-used backup method by LG users. If you have set up Google Drive on your LG phone and backed up your phone data to Google Drive, then you can achieve LG data recovery by restoring a backup from Google Drive. Follow the steps below to recover lost data on LG phone with the help of Google Drive:
Reset your LG phone.
Restart your phone and set up your phone.
When you are asked to restore data, choose Restore from Google Backup.
Verify your Google account and then select a backup from the list and tap Restore.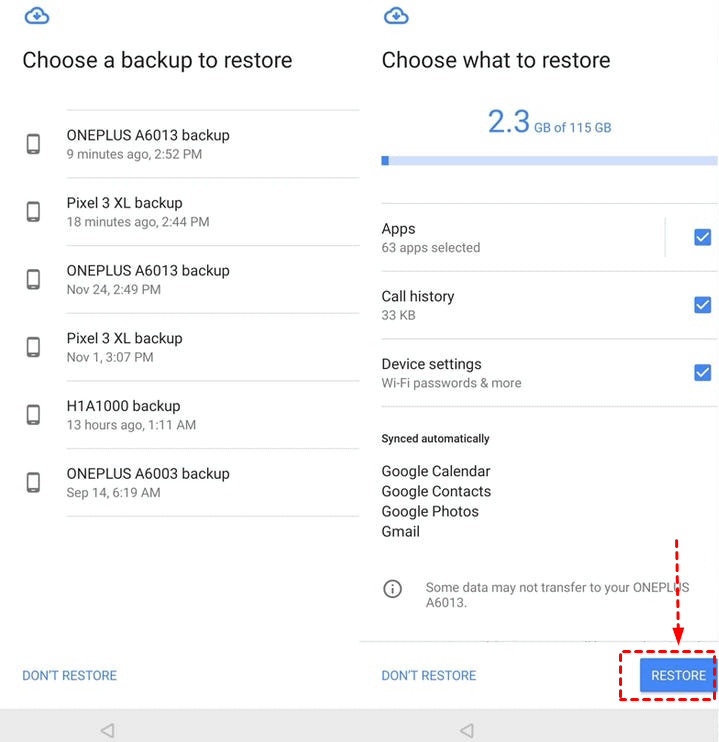 Wait for the restoration to be complete and finish the setup procedure according to the on-screen instruction. Your data will be back then.
Conclusion
It can be excruciating if you accidentally delete valuable data like photos, videos, SMS or anything else on your phone. But fortunately, you can perform LG data recovery using any of the methods mentioned above to recover lost data from LG phones.
And among all the recovery methods, the quickest and most effective way is to use WooTechy iSeeker for Android. It can help you get back all types of data even if you don't have a backup. Download and enjoy the free trial right now!