Every OPPO user should know how to recover the lost files. You never know when you will accidentally delete the files or if any other issue arises that erases all of the data on your mobile. If you are here, then it means the accident has already occurred, and now you are looking for ways to retrieve the data.
Don't worry! I have got you covered! OPPO data recovery is not a complicated thing to do if you have help from the right software. There is a lot of software available that can recover the data. But in this Article, I am discussing the top one. You can use it easily and get back all of your data in no time.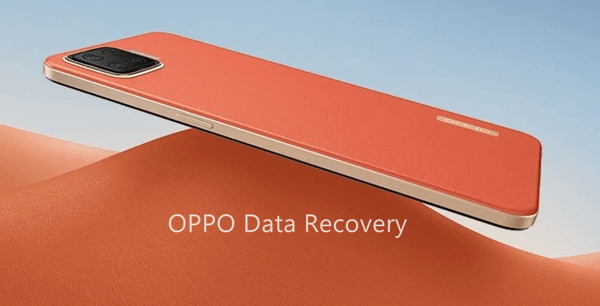 Part 1. What Causes Data Loss on OPPO
Firstly, let's begin with what causes data loss.  Knowing about the reasons is crucial because it can help you decide to use which method to achieve OPPO data recovery and also makes you careful in the future. Usually, the data is lost due to:
Phone damage (external or internal)
Software problems
The storage system has faults
Files are incompatible
When anyone accidentally taps on the delete button
No matter what the reason is for your lost data, you can recover the files if you use the tool I am now going to discuss.
Part 2. Best Tool for OPPO Data Recovery
There are many tools you can find that claim to be the best in recovering lost/ deleted data, but the truth is, they make your device slower. Furthermore, with the increase in cybercrimes, people are now wary of giving access to Apps to mobile storage more than ever.
But not anymore! I am here with the perfect tool you can use to get back all of your deleted files. What is it? It's WooTechy iSeeker for Android. This software is a big relief for Android users who can use it to recover lost data by following easy steps.  Most of the recovery tools only work if you have a backup of the data. But the problem is that most people don't have any backup. Fortunately, it can recover files in every data loss circumstance.
What Makes iSeeker Android Stand Out
100.000+
Downloads
It provides a high data recovery rate and can bring back over 11 types of data you want to restore.

It recovers lost data without backup and without rooting your phone.

It offers an intuitive user interface with a simple click-based recovery process.

It provides a free trial for users to scan and preview the lost data.
Follow the below steps to achieve OPPO data recovery with iSeeker Android:
Step 1. Download and launch iSeeker Android on your computer and also connect your phone to the computer. Afterward, select Recover Phone Data.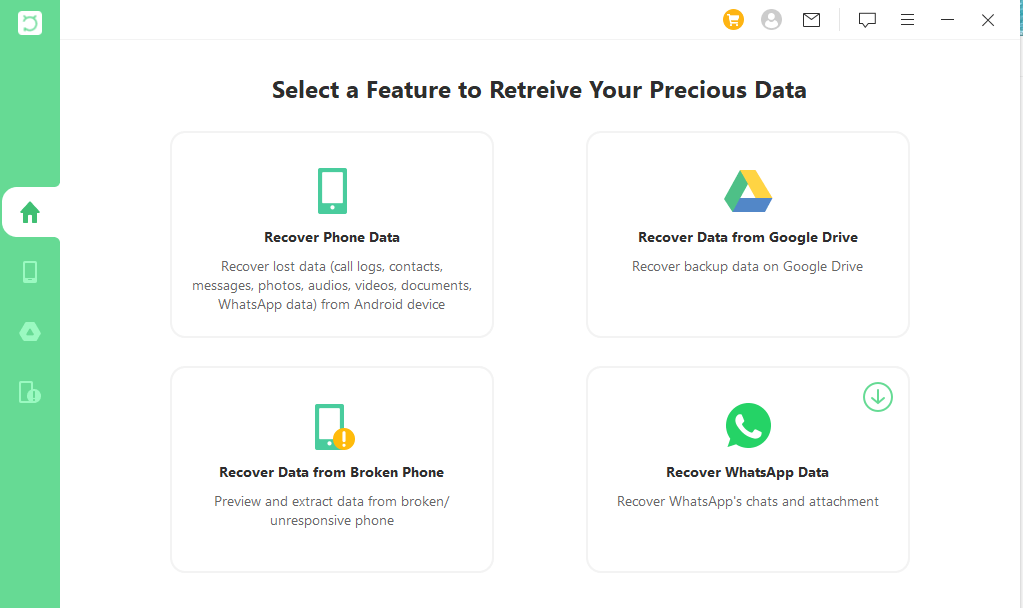 Step 2. Choose Quick Scan or Full Scan according to your need.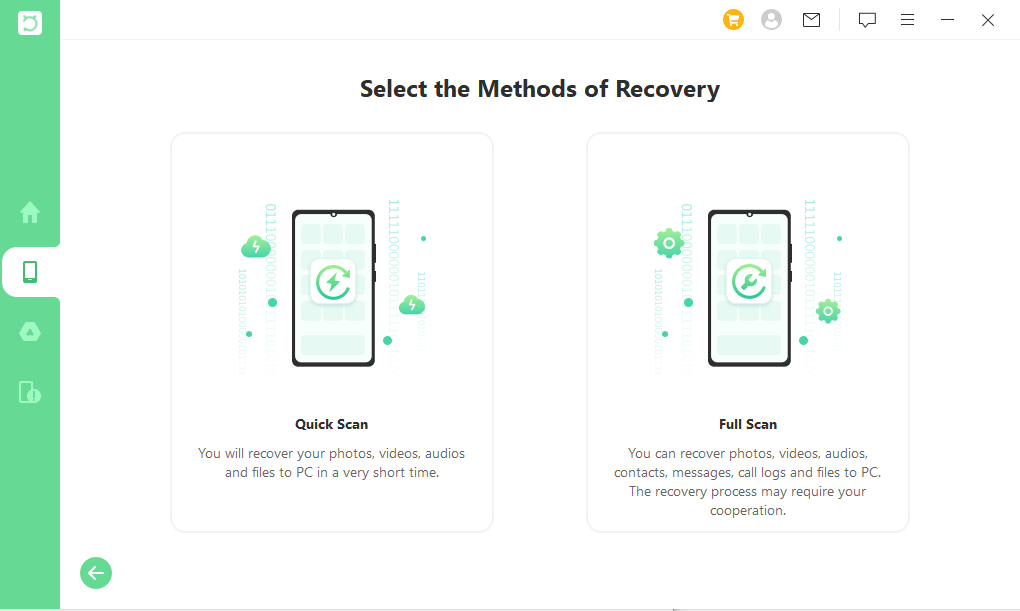 Step 3. Once the scan is completed, preview and select the data you want to recover and click Recover.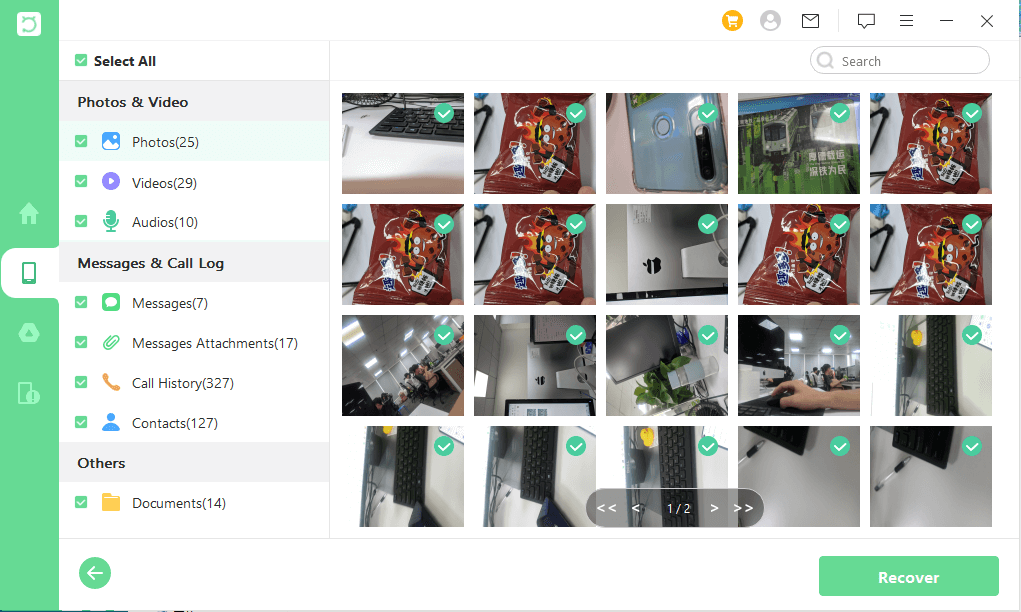 Part 3. Other Methods for OPPO Data Recovery
Other than using the third-party tool, there are certainly other alternative methods for OPPO data recovery that also works. But all of these methods will request a backup. If you have made a backup before losing data, you can have a try! Let's have a look at them.
1. Recover Lost Data from OPPO Cloud
Nowadays, almost all phone brands provide a cloud service to their users to manage data. And on OPPO, there is also OPPO cloud. It is used to back up and restore important files.  Therefore, if you enabled OPPO cloud backup before you accidentally deleted the important data, you can easily get them back from the OPPO cloud.
Here are the steps to recover lost data from the OPPO cloud:
On your OPPO mobile, go to Settings and sign in with your OPPO account.
You will be given an option to restore the backed-up data.
You can also sign into your account in the OPPO Cloud app and download the backup file to your phone.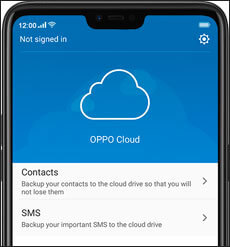 2. Recover Lost Data from Local Backup
You can also recover the lost files from the local backup on your OPPO mobile. If you backed up the data on your OPPO mobile before it was deleted, then you can also recover it easily. Here's how to recover lost data from local backup on OPPO:
Open the Settings App. Scroll down and tap on the Additional Settings option.
Then, tap on the Backup and Reset option.
Out of many options, go to the Local Backup option. There, you will see the backed-up data you saved before it was deleted.
Choose which files you want to retrieve and tap on the Restore option. Wait a few minutes, and the data you selected will then be restored successfully.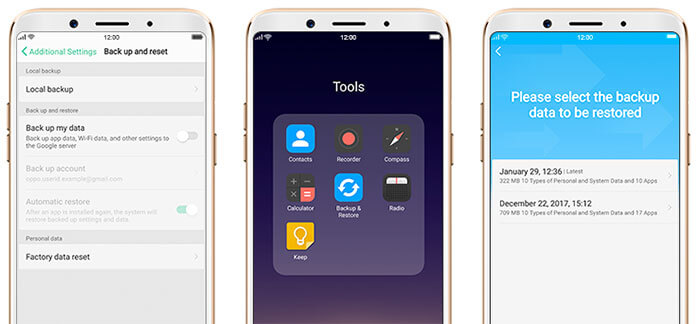 3. Recover Lost Data from Google Drive
If any important file has been deleted from Google Drive, then don't panic. The deleted files will not be permanently removed immediately. Instead, they will stay in the Trash folder for a period. You still have a chance to restore it. Here are the steps to restore deleted data from Google Drive:
Open Google Drive on your phone and then tap the More icon on the top-right corner.
From the menu, select Trash.
You will see all the deleted files here. Choose the files and tap Restore.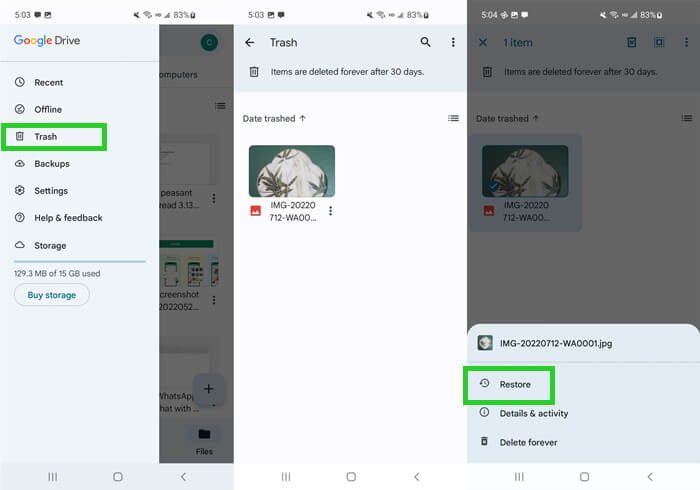 Bonus: How to Back Up Data On OPPO
Restoring files becomes easy when you back up the data on your OPPO device. It is easy too. Here's how to do it:
Go to the Settings. Scroll down and tap on Additional settings.
Then, go to Backup and reset. After that, tap on Backup and Restore.
Next, go to New Backup. Then just select which files you want to back up and then tap on Start.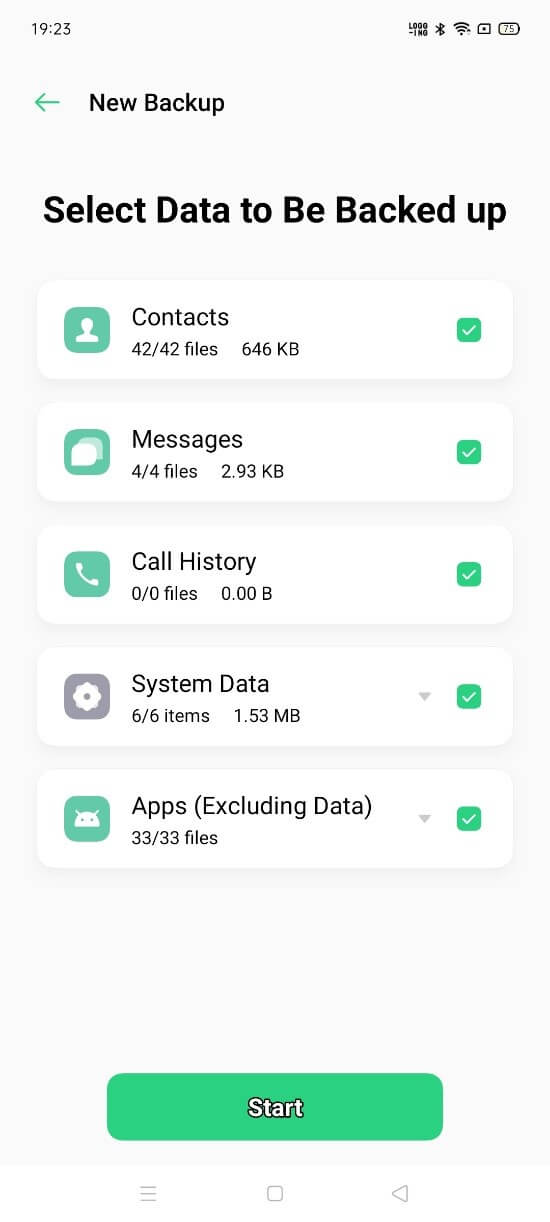 The device will then back up the data, and you will have to tap on Done.
Conclusion
All-inclusive, every OPPO user should know how to perform OPPO data recovery. Files can get deleted by accidents and many other reasons, so it is important for everyone to know how to get them back.
There are several ways to do this, but the easiest one involves using WooTechy iSeeker Android. It can get back any lost data in no time. This software program has made data recovery super easy. Just download it and enjoy the free trial right now!