Everyone should know how to recover deleted files from phone memory on Samsung because it is very common to accidentally delete a file. The good news is that there are multiple methods that you can try. All of these will recover deleted files on Samsung mobile phones very quickly. Some of them require a backup of your data, while others work even without one.
In this article, we will provide you with detailed instructions on how to retrieve any lost file from your Samsung device.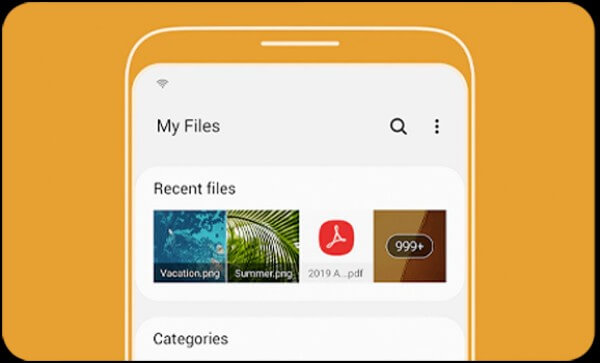 Part 1. Best Way to Recover Deleted Files from Phone Memory Samsung
The first way with which you can recover deleted files on Samsung is to use an application specifically developed to complete this task. This method is perfect for any occasion as it can restore your data even without a backup. The most efficient tool that you can download for this purpose is WooTechy iSeeker for Android which can retrieve a wide variety of different file types.
It is very effective, while it is never overcomplicated. This means that everyone can learn how to recover deleted files from phone memory Samsung using this tool. From a sleek user interface to detailed instructions, the tool proves to be extremely user-friendly. In addition to this, iSeeker has implemented the feature to retrieve data from a broken phone or Google Drive.
What Makes iSeeker Android Stand Out
100.000+
Downloads
It can recover 11+ types of lost data, including photos, videos, messages and so on.

It can recover lost data without backup and root, as well as recover data from Google account and broken phone.

It supports 6000+ Android devices and the newest Android 13 system.

It offers a free trial to all users to scan and preview the lost data for free.
Below are the steps to recover your files from your Samsung device with WooTechy iSeeker for Android:
Step 1. Download and launch iSeeker Android on your computer and also connect your phone to the computer. Afterward, select Recover Phone Data.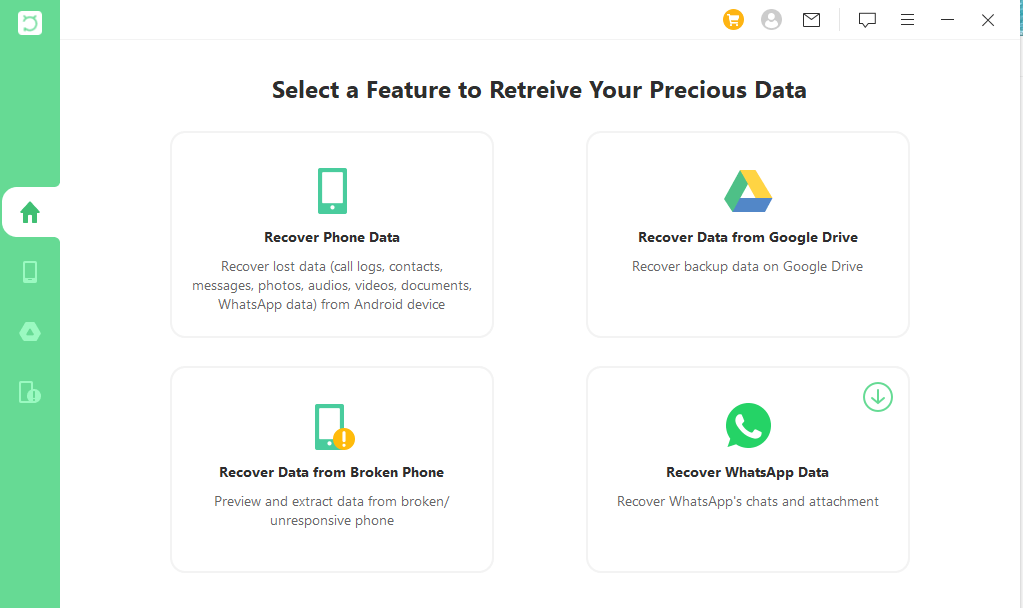 Step 2. Choose Quick Scan or Full Scan according to your need.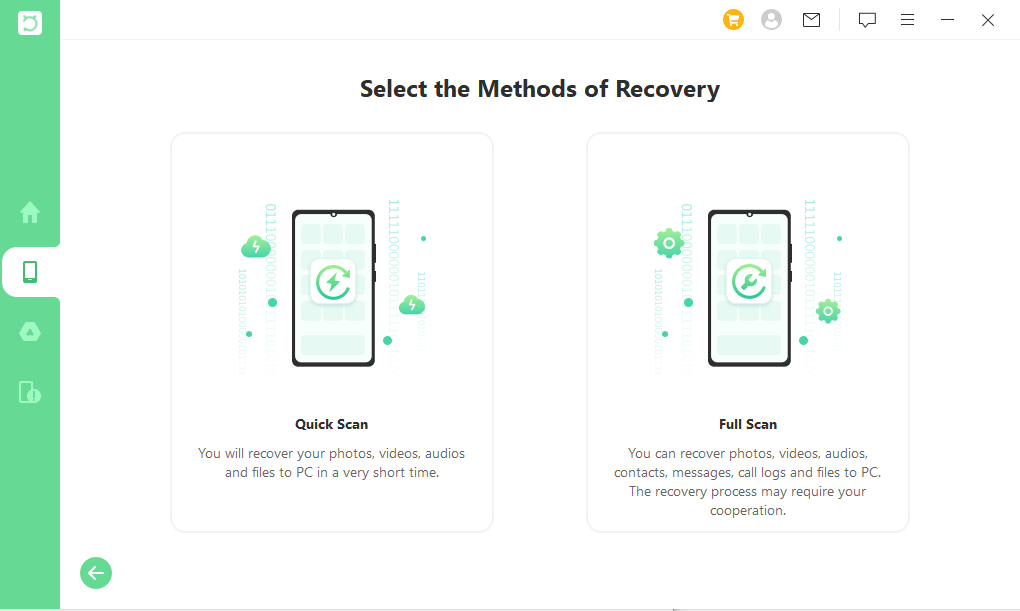 Step 3. Once the scan is completed, preview and select the data you want to recover and click Recover.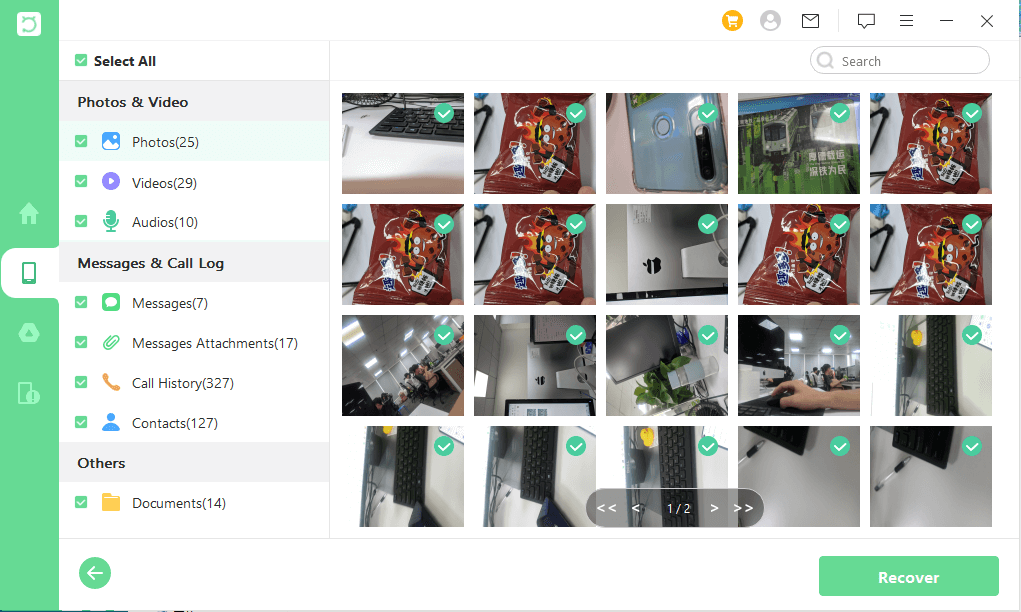 Part 2. Retrieve Deleted Photos and Files from Samsung Recycle Bin
In addition to the above method, you can also retrieve photos and files from Samsung recycle bin. In recent years, more and more gallery and image viewing apps have implemented a folder for the recently deleted files. The Samsung gallery app already has this feature and you can take advantage of it to restore the photos that you have accidentally deleted. What's more, there is also a Trash folder in My Files app. Deleted files will first go there. You can easily get back the deleted files from the trash folder.
However, you must note that the photos and files remain in the Trash folder for only 30 days. After this period, they get permanently deleted from the device.
Here is how to restore deleted photos from recycle bin on Samsung:
Find the Gallery app on your device and tap on it.
Tap the Menu tab at the bottom of your screen and tap the Recycle bin.
Browse the files that are in this folder. Find the ones you want to restore.
Tap Restore to move these photos back to your phone's Gallery app.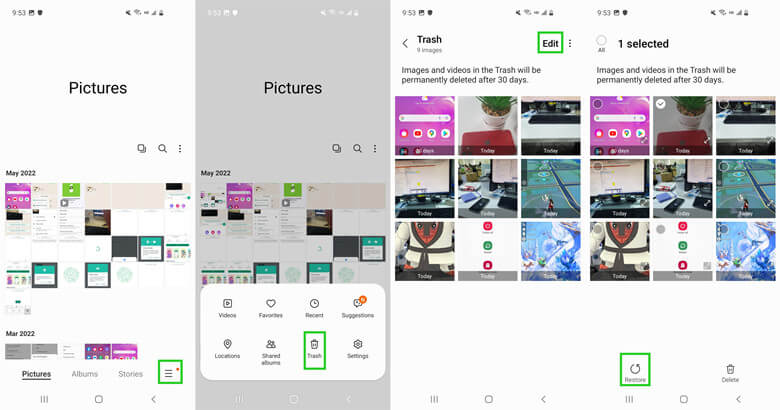 Here are the steps to recover deleted files from Samsung recycle bin:
Go to My Files app on your Samsung phone.
Scroll down and find the Trash folder.
Choose the files you need and then tap Restore.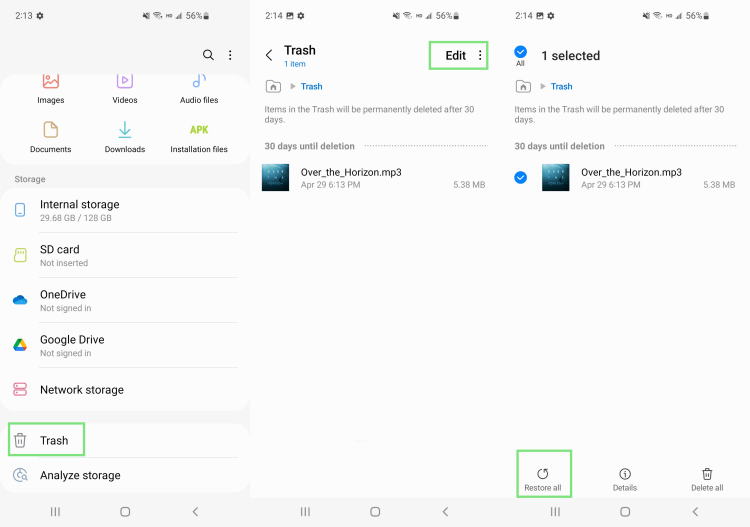 Part 3. Recover Deleted Files on Samsung from Samsung Cloud
The previous method shows you how to retrieve photos and files from Samsung recycle bin. However, it will not be effective if you have deleted the files more than 30 days ago. In that case, you can recover these deleted files from a backup. This brand has introduced Samsung Cloud, which allows you to create a backup of all the data stored on your device. Then you can restore the files at any time you need.
There are the steps to use Samsung Cloud to restore deleted files on your Samsung phone:
Go to your device's Settings and tap your name at the top of the screen.
On the new screen, tap Samsung Cloud and then the Restore data option.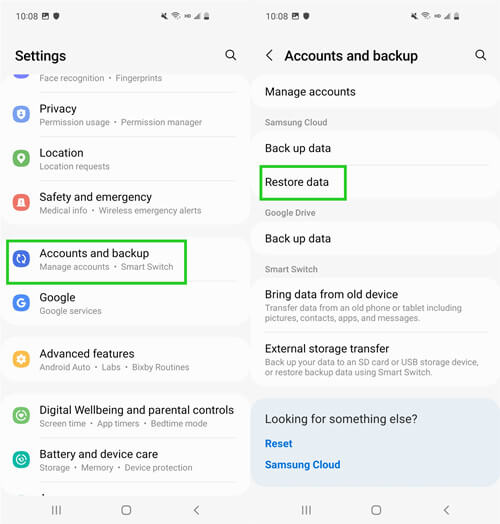 Choose the appropriate backup from a date when you still hadn't deleted the photos you are trying to retrieve.
When you have confirmed your option, tap the Restore and the Install button.
Wait until the files have been downloaded and tap Done to complete the process.
Part 4. Recover Deleted Files on Samsung from Google Drive
The last method can also recover files on Samsung when you have created a backup of your data. In this case, you will be using your Google Drive account. If you had previously uploaded your files to your Google Drive folder, then you will be able to find and download them again. This process will not take any time as you will only need to log in to your Google Drive account.
Below, you will find the step for retrieving your files from your Google Drive:
Launch the Google Drive app on your phone.
Browse the folders you have created to find the photos and other types of files that you have backed up.
When you spot the images, long-tap each one to select all of them and tap the three-dots icon at the top of the screen. Tap the Download button and wait until the download is complete.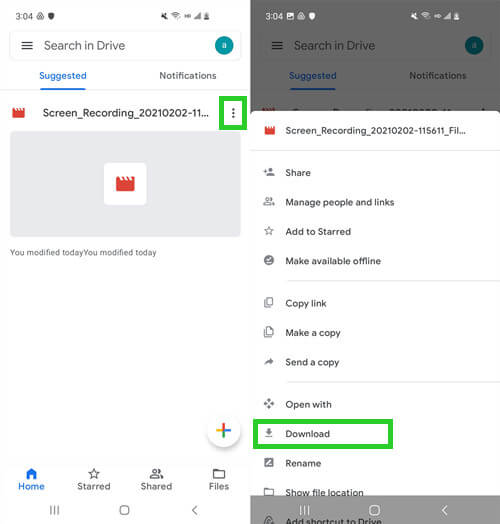 Wrapping Up
There are many ways to retrieve files and photos on a Samsung device. From how to restore files from recycle bin to how to recover deleted files from phone memory Samsung, there is an effective method to do it. Nevertheless, WooTechy iSeeker for Android offers you the most effective services, allowing you to restore your data even without a backup. Download the tool to discover its amazing features.