Voicemails are a convenient way to receive messages from callers sent when we were unreachable. If you accidentally deleted or lost your voicemails without listening, the next step is figuring out how to recover deleted voicemail on Android. Regardless of how you got yourself into this mess, there are several ways of how to retrieve deleted voice messages on Android. This article explores the different methods to recover or undelete voicemail android.
If you're struggling to recover deleted voicemail Verizon android or wondering how to retrieve deleted voicemails on Samsung, or if there's a way of how to recover deleted voicemail on Android, read on to find out about how you can effortlessly recover deleted voicemail Android.
Can You Retrieve Deleted Voicemails on Samsung/Android 2022?
Yes. Once you delete a voicemail, it doesn't immediately disappear from your device. The deleted message remains stored on your device for a while and gives you the chance to recover deleted voicemail on Android before it is permanently deleted. However, to retrieve deleted voicemail Android, it takes a fair bit of steps. Below are all the top methods of how to recover deleted voicemail Android.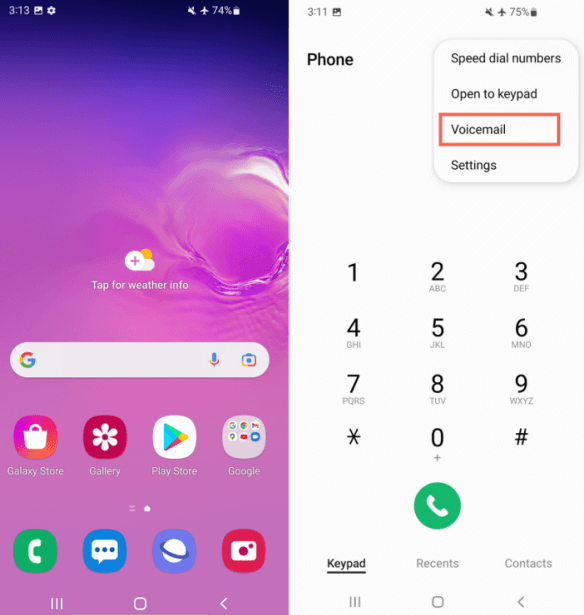 How to Retrieve Deleted Voicemail on Android
Samsung devices and several Android devices feature a native Voicemail app that allows you to view, listen to and manage voicemail messages and even recover deleted voicemail Android before they are permanently removed from your phone. Before trying out how to retrieve deleted voice messages on Android, please check the recently deleted files in the Voicemail app/phone app carefully.
If you can not get the entire list of deleted voicemail android, you need a powerful tool to help you recover deleted voicemail Samsung.
1. Use the Most Effective Recovery Tool - iSeeker for Android
iSeeker for Android is a powerful android data recovery that allows users to effectively recover and retrieve deleted voicemails on their android devices. iSeeker makes it easy to recover any data types, including contacts, Voicemails, text messages, WhatsApp attachments, call history, and documents.
iSeeker allows users to recover lost or deleted files from internal storage, Google Drive, and broken phones. It is compatible with all Samsung phones and major android versions. iSeeker supports 6000+ devices with guaranteed security of user data. Some of the features of iSeeker are:
Key Features of iSeeker Android
75.000.000+
Downloads
Preview & restore 11+ types of Android data, including voicemail.

Highest recovery success rate in the industry.

Only require few clicks thanks to the straightforward interface.

Compatible with a full range of Android versions (including the latest. android 11)

Deep scan and preview are free for every user.
To use iSeeker to recover deleted voicemail Samsung, follow these steps
1. Download, install and launch iSeeker on your computer. Select the Recover Phone Data option from the main menu. Connect your device to the computer via USB cable. (Follow the steps on iSeeker if your device is not recognized)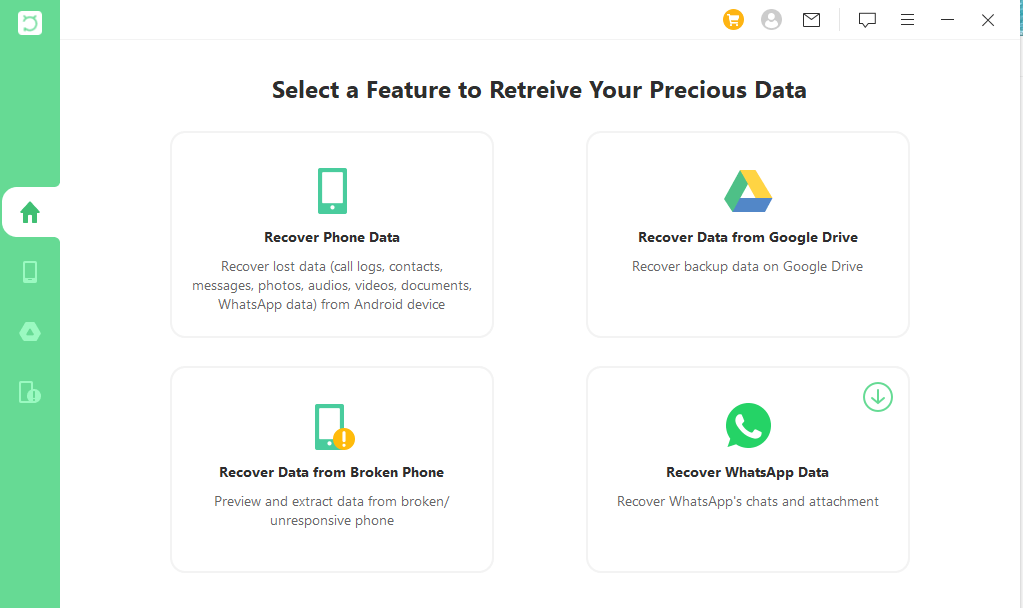 2. Select the recovery method, either Quick Scan or Full Scan. Wait for iSeeker to obtain device information.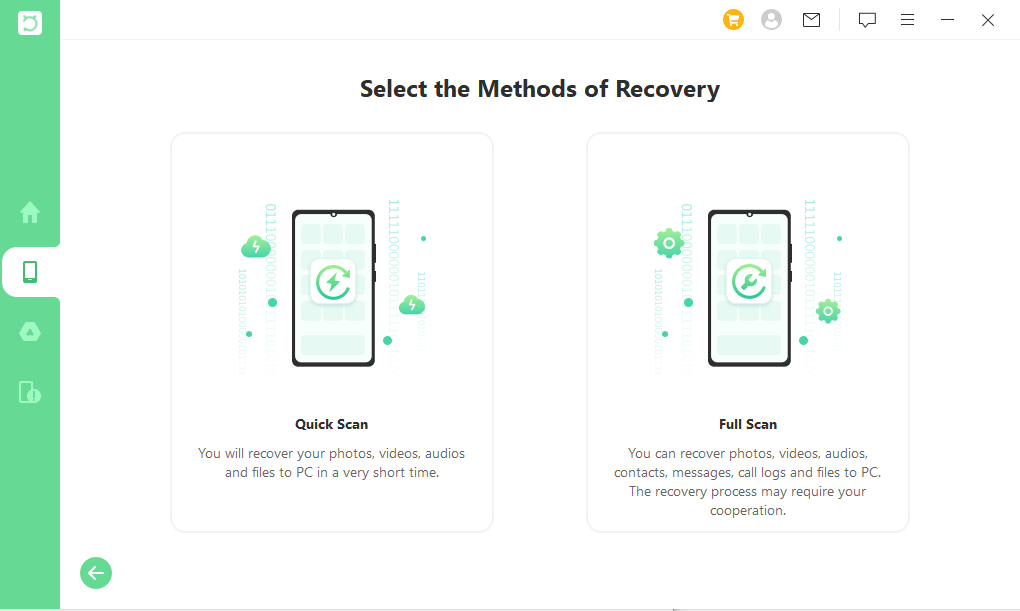 3. Preview the files and voicemails that can be recovered and select the voicemails you want. Click Recover to begin restoring.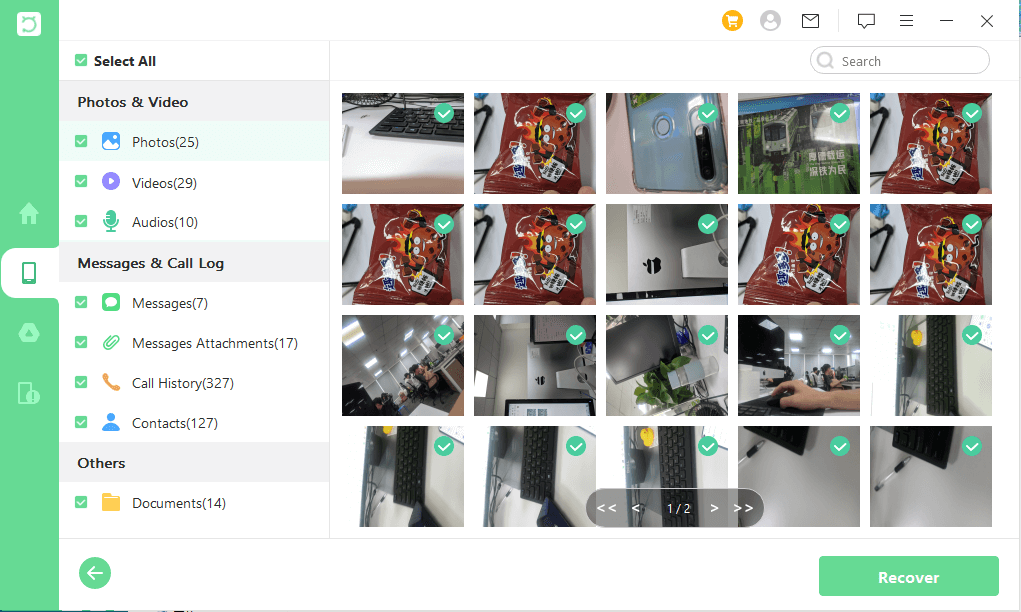 Choose the file format to save the recovered voicemails as. You can use the default folder or use a different folder.
2. Contact Carrier to Recover Deleted Voicemail Verizon
If you still cannot recover deleted voicemails after all the DIY methods, you will need to contact your Verizon carrier support and raise a ticket to get your voicemails retrieved. Provided your voicemails are not past their deletion window on Verizon, customer service will resend the messages to you. Usually, there are several ways to contact Verizon support. You will first need to be a Verizon subscriber with a Verizon account. You can only recover recently deleted voice messages. You can contact Verizon support using your account and talk to their support.
Note: The voicemails will be on Verizon servers pending deletion for a limited time, usually 24hrs. It may not always be a quick and straightforward process to recover deleted voicemails from Verizon.
FAQs on Voicemail Recovery on Android
1. How Do I Activate My Voicemail?
To set up your Voicemail on Verizon:
1. Dial *86
2. Press # to interrupt the default greeting
3. Follow instructions to choose voicemail language and confirm with # key
4. Create a password and confirm with # key
5. Record your signature and confirm with # key.
You can also set up voicemail from your voicemail app or online through your account.
2. Where Are Voicemails Stored on Android?
Voicemail messages are downloaded to your phone and saved along with other media. You can find your voicemail messages on Voicemail app or phone app.
By calling your voice mailbox to listen to old voicemails, long-press 1 from the Dial pad on the Phone app
Bottom Line
While most people assume that deleting a voicemail means that it's gone forever, you have several ways of recovering deleted voicemails. Some of the things you can try include restoring from the voicemail app or contacting carrier support. Alternatively, you can use a powerful third-party tool like iSeeker to recover deleted voicemails and other file types and media on your devices. iSeeker for Android is easy to use, compatible with all Samsung phones and supports major android versions.
Perform a deep scan on your device to see if you can retrieve your data by iSeeker for free!