Help! I woke up this morning and found that half of my text messages had disappeared from my Android phone. I could not find them anywhere, and neither could I figure out why. Can anybody help me get my lost text messages back?
In this article, we'll explore some of the most common reasons why text messages might disappear from your Android phone, as well as some tried-and-true methods for getting them back and fix the problem for good.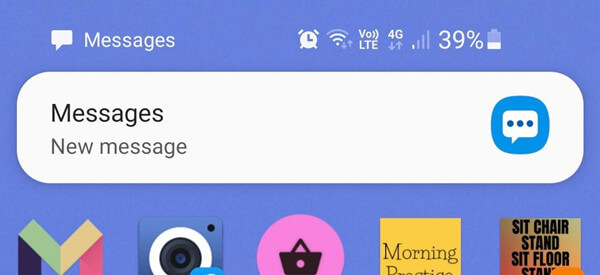 Part 1. Why Are My Texts Disappearing on Android
There is no single answer to this question, as there are many factors that could contribute to disappearing text messages Android. However, here are some of the most common reasons reported by Android users who have experienced the same problem:
Messages app bug or update issues
Incorrect time and date settings
Accidentally deleting or losing all texts
The outdated Android operating system
The old message deletion option enabled
Part 2. How to Fix Text Messages Disappeared from Android Issue
Whether your text messages disappeared due to a bug, an update problem, incorrect settings, or for any other reason, you still have a chance to recover them. The following are some effective solutions that have worked for other Android users to fix the issue recover their lost text messages:
1. Check Messages Settings
The Android Messages app comes with a feature that automatically deletes old text messages and keeps your inbox tidy. If you turn on this option, your text messages will be erased after a certain period of time, which might cause text messages to disappear from your phone.
Follow these steps to check this setting and turn it off:
Open the Messages app on your Android device, then tap the three vertical dots in the top right corner.
Tap Settings from the menu and scroll down to find the More Settings option.
Find the Delete old messages option from here and turn it off. Remove any limits as well, if there are any.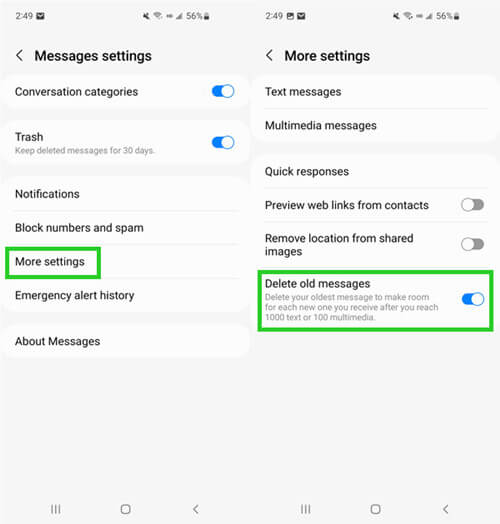 2. Force Restart Messages App
If your text messages are still not showing up after checking the settings, try force restarting the app. This will kill any processes that may be causing the messages to disappear and make the app work properly again.
Here's how to do it:
Go to your Android phone's Settings and tap on Apps.
Select the Messages app from the list and tap Force Stop.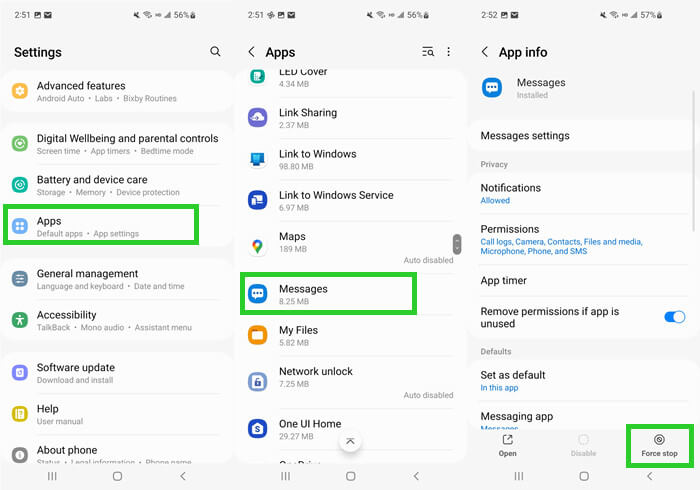 Now open the Messages app again and see if your text messages have reappeared.
3. Force Restart Your Android Device
Force restarting your Android device is another effective solution to fix many software issues, especially if the device is frozen and unresponsive.
A hard reset basically turns your phone OFF and then back ON again, which can refresh the system and fix any glitches that might be causing the problem.
To force restart the device, simply press and hold the power button on the phone for a few seconds, or the volume down key and power key simultaneously on some models.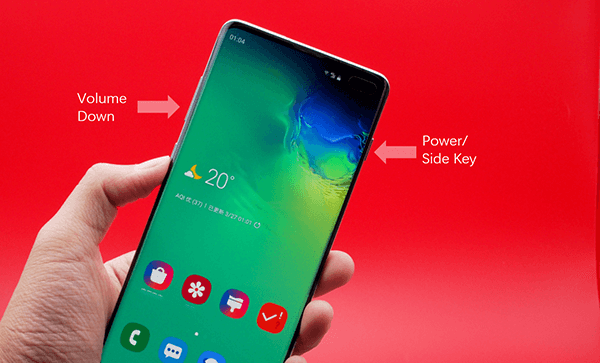 4. Clear Cache of the Messages App
Clearing the cache of the Messages app can help keep it from getting sluggish over time and may fix many issues that you are experiencing with it, such as text messages missing.
Here's how to make it:
Go to Settings on your Android device and tap on Apps.
Select the Messages app from the list.
Tap on the Storage and choose the Clear cache option.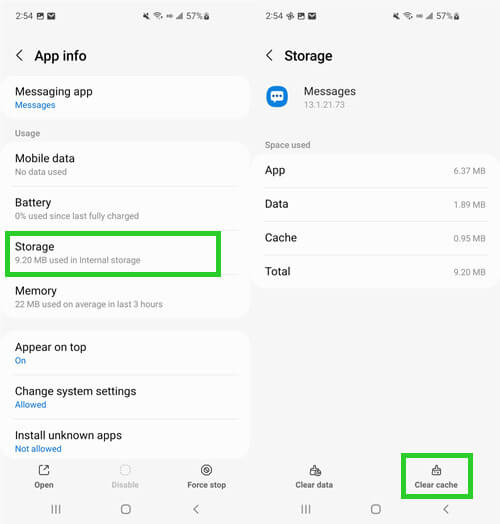 5. Update Messages App
Not many people know this, but keeping your apps up-to-date is one of the best ways to prevent complications and make sure they run smoothly.
Follow the steps below to update your Messages app:
Open the Google Play Store on your Android device and tap the profile icon in the top right.
Tap on Manage apps & device from the menu and select the See details.
Search for the Messages app and tap on Update.
6. Uninstall and Reinstall Messages App
Although this option can seem a little drastic, it is actually a very good one to try. When an app is uninstalled and reinstalled, it eliminates any bug causing text messages on Android to disappear and fixes many other issues as well.
Follow the steps below to uninstall and reinstall the Messages app:
Go to Play Store and search for the Messages app
Tap on the Uninstall button and confirm the action
Now reinstall the Messages app again from Play Store.
Part 3. How to Get Back Disappeared Text Messages to Android
If you failed to get back disappeared text messages with the fixes mentioned above, you might need WooTechy iSeeker for Android. This is a powerful data recovery tool that can help you recover lost or deleted text messages from your Android smartphone.
It supports a wide range of file types and allows you to get them back in just a few simple steps. The great thing about using WooTechy iSeeker is that it allows you to recover data from both rooted and unrooted Android devices even if you don't have a backup. Plus, it is very easy to use and allows you to preview text messages and select specific messages before retrieval.
What Makes iSeeker Stand Out
100.000+
Downloads
It provides a high data recovery rate and can bring back over 11 types of data you want to restore.

It recovers data directly from the phone memory without the need for a backup file and without rootng your phone.

It offers an intuitive user interface with a simple click-based recovery process.

It provides free trial to all users, with which you can scan and preview your lost data
Follow the below steps to use iSeeker(Android) to recover disappeared text messages on Android without backup:
Step 1. Download and launch iSeeker Android on your computer and also connect your phone to the computer. Afterward, select Recover Phone Data.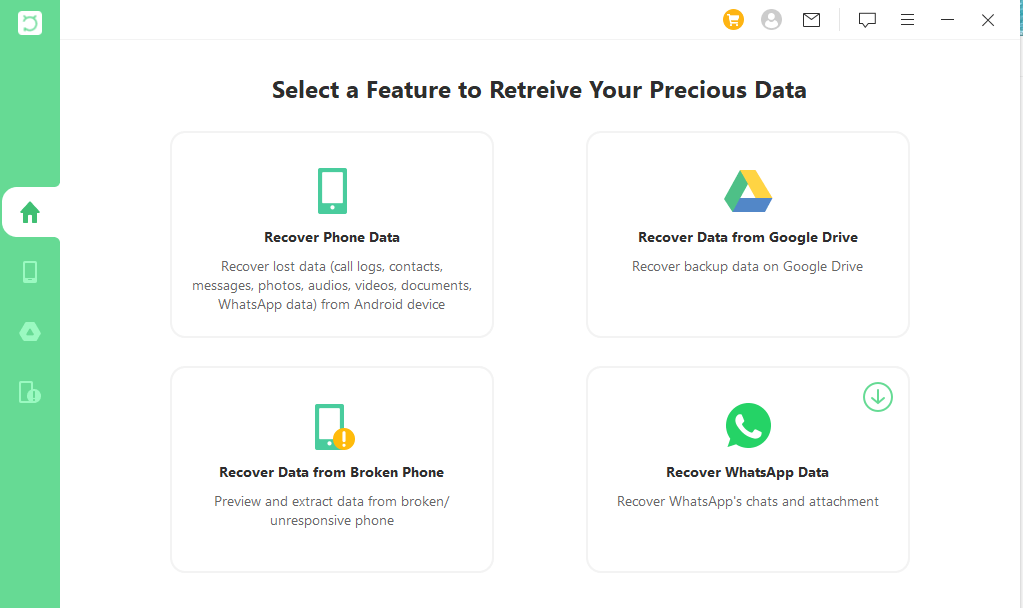 Step 2. Choose Quick Scan or Full Scan according to your need.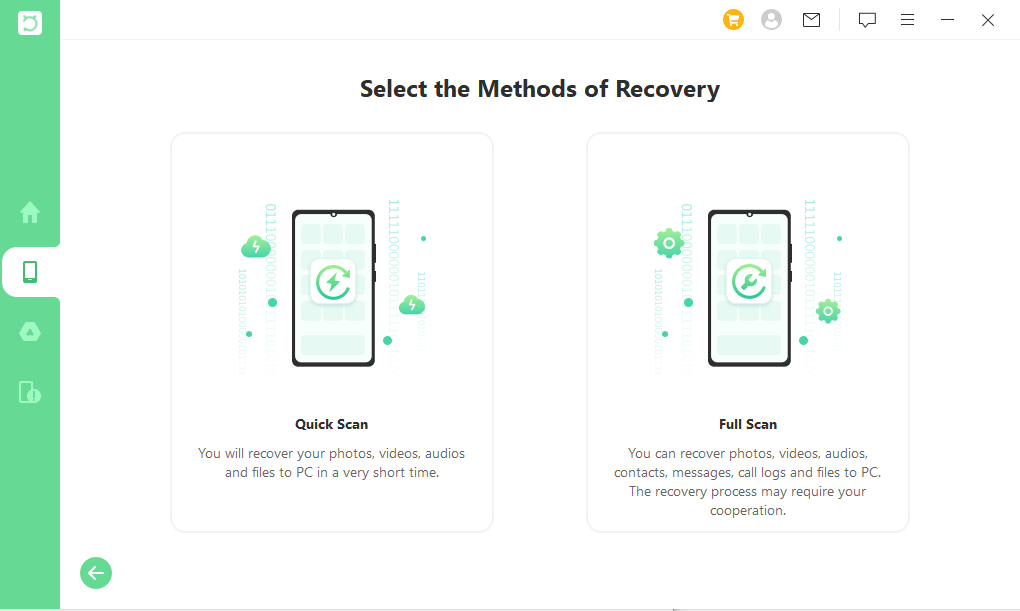 Step 3. Once the scan is completed, preview and select the data you want to recover and click Recover.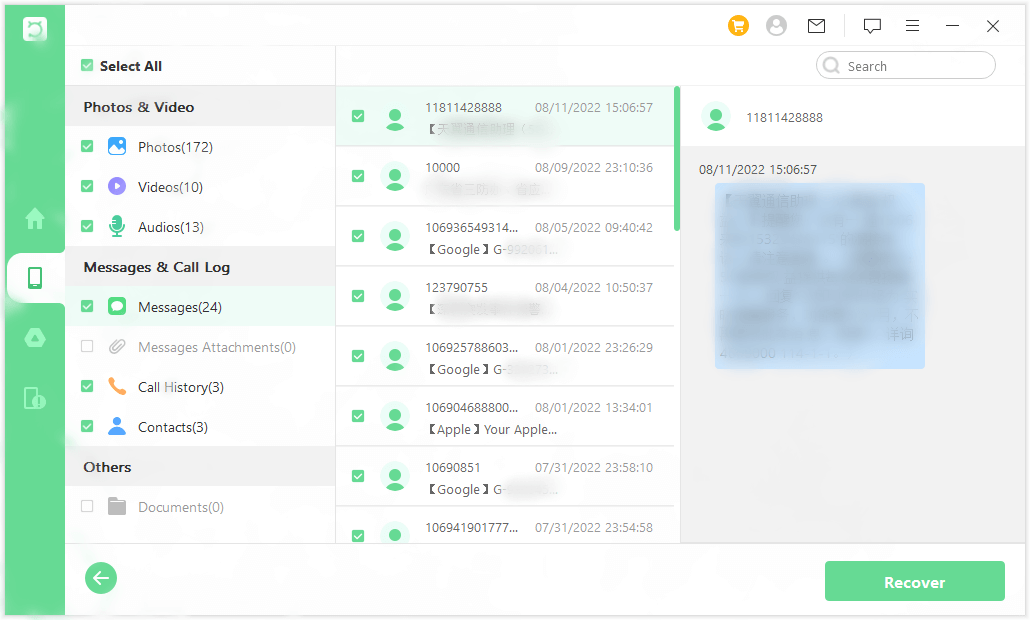 Conclusion
There is nothing more frustrating than text messages suddenly disappearing from your Android phone - especially if they contain important information. Luckily, as we've seen in this article, there are a number of things you can do to try and fix the issue. Simply follow the instructions outlined above and your missing text messages will be back soon.
However, if you're looking for a straightforward way to recover permanently deleted or lost text messages from your Android device, WooTechy iSeeker Android is the best bet. With its advanced data recovery algorithm and high success rate, it's sure to get you all your disappeared texts back! Download the free trial today!