Undoubtedly, the GPS location feature is no less than a blessing for smartphone users. Many mobile applications ask for access to your location.
However, you might not always be interested in sharing your exact location. So, what should you do then?
Simply spoof your location using GPS spoofing apps. Yes! You heard it right, as multiple applications can falsify your location.
But is all this possible? The answer is yes.
So let's discuss how these apps work.
Part 1. Do GPS Spoofing Apps Work?
Yes, GPS spoofing applications work that will falsify your location. Multiple such apps will show that you are at a specific location while you will be at an entirely different place. Then, you can fool other apps and save your location and personal data from being tracked.
So, if you want to send other applications to falsify your location information, you first need to download a GPS spoofing app. Here, many questions will be burgeoning in your mind like which is the best application for creating a false location and how to use it.
So, let's get answers of these questions in the following discussion.
Part 2. What Is the Best GPS Spoofing App?
The availability of many apps for sending fake GPS locations makes it difficult to select the best one. Therefore, in the following paragraphs, we will discuss the three most useful apps for falsifying your locations. So, you can choose the best one out of them.
A GPS Spoofing app that protects your personal information and online data from tracking. WooTechy iMoveGo allows you to change your location and hide your exact location. It's 100% secure, and millions of people are using it.
iMoveGo – Best GPS Spoofing App for iOS/Android
75.000.000+
Downloads
Works for all location-based applications like Pokémon GO, Snapchat, Find My, etc.

Equally effective for gaming and dating apps, it spoofs your location to anywhere in the world.

Changes GPS location safely through properly customized routes and speed.

Offer to control the GPS movement with a joystick.

Compatible with all iOS and Android devices. Free trial is also available.
Below is a detailed guide to using this application for fake GPS locations on an iOS/Android device.  
Step 1 Install and launch the GPS spoofing app -- iMoveGo on your computer. Connect your phone to the computer with the help of a USB cable or WiFi.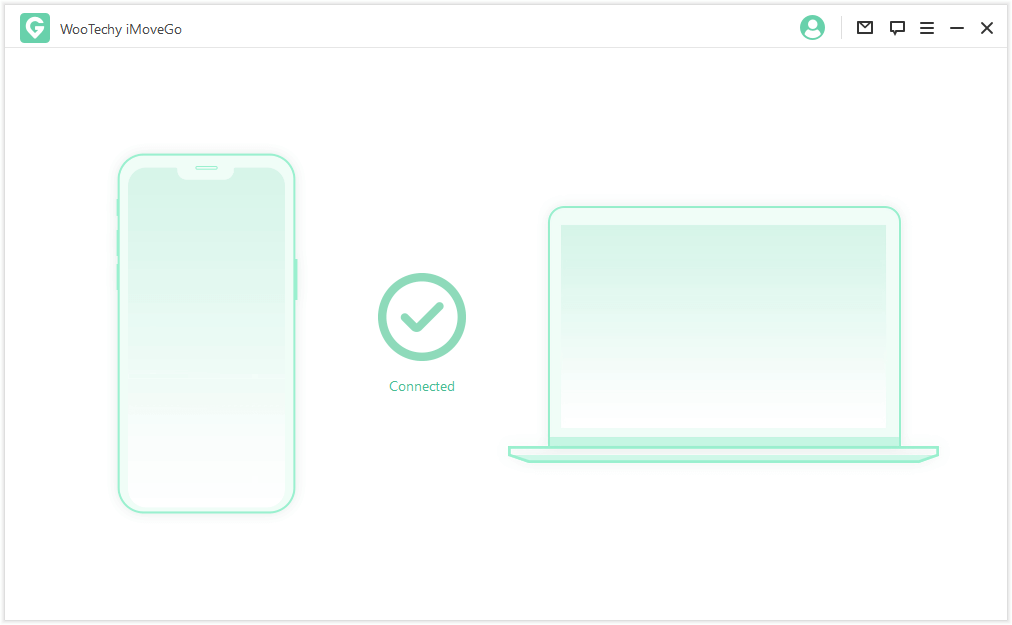 Note
For Android devices, Select the media transfer protocol as USB for the mobile phone and enable USB debugging. Then choose the Gaming Mode or Social Mode.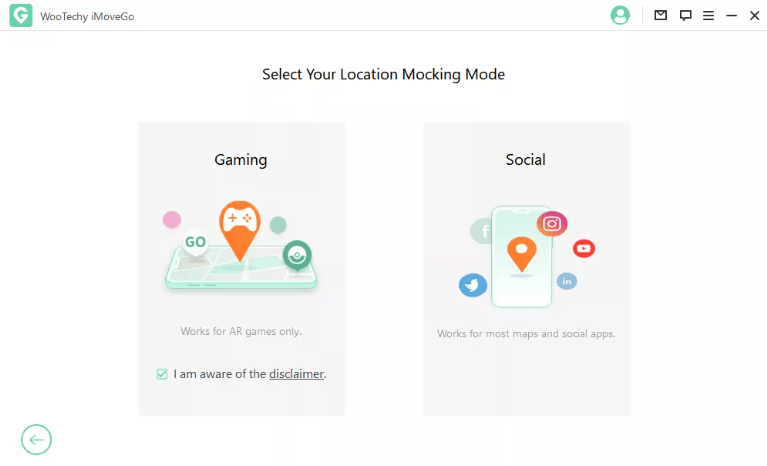 Step 2 Now enter any address or GPS coordinates. Tap on Move to spoof your GPS location.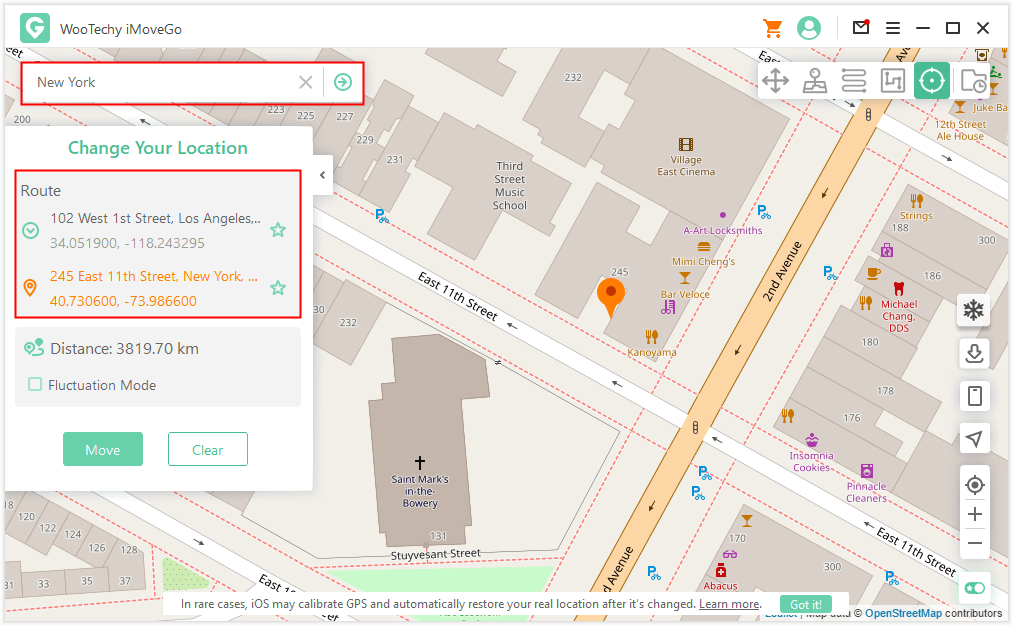 Step 3 Check your new location on your phone and you can use the new location on all platforms.
2

iSpoofer

It was one of the GPS spoofing apps with many high-end features. It is used to change the GPS location with one click. Besides, it was easy to operate at a customized speed. It is also used to operate without jailbreaking your device. However, it has officially shut down now.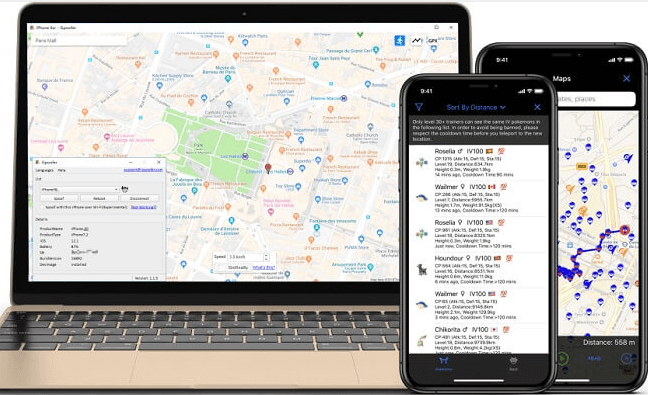 Features
Allow a joystick to control the movement direction.
Work with all location-based apps such as Fitness app, Facebook, Instagram, Pokemon Go, etc.
Option for Pausing the movement at any time.
Stimulatetwo-point or multi-point route movement.
Compatibility with many iOS versions.
3

iTools

it is also one of the great GPS spoofing apps that creates perfectly fake locations on iPhones and iPads. Well! Recovering your real location is so easy. Just restart your phone!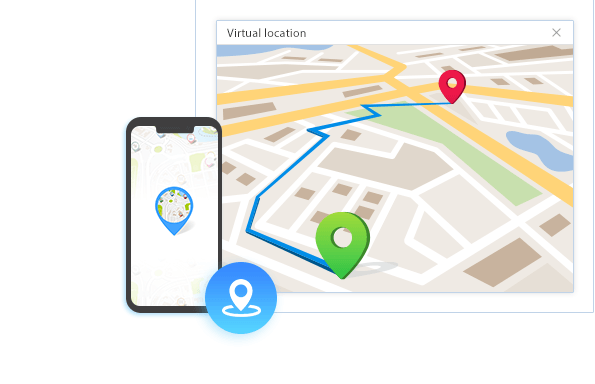 Features
Completely compatible with the latest iOS devices.
Supports Windows 11/10, Windows 8 1/8, Windowss 7, Vista, and XP.
Perfectly fake GPS location on iPhone and iPad.
Compatible with location-based applications, e.g., Dating, Tracking, and Gaming apps.
Completely secure and easy to use.
Part 3. GPS Spoofing Apps on Android Only
GPS Joystick is one of the unique GPS spoofing apps that allows you to fake your location on your android phone. Isn't it amazing to change your location to anywhere in the world using simply an app?

Features
Allows changing GPS location anywhere in the world.
Creates fake routes on the map for faking locations.
Allows testing of location-based apps via joystick control.
Allows size, type, and opacity settings for the joystick
Using it is simple and fun.
Fake GPS Location is counted as one of the amazing mock location apps. Isn't it interesting to teleport your phone anywhere in the world with just two clicks? Definitely, it is, and this app allows you to do so!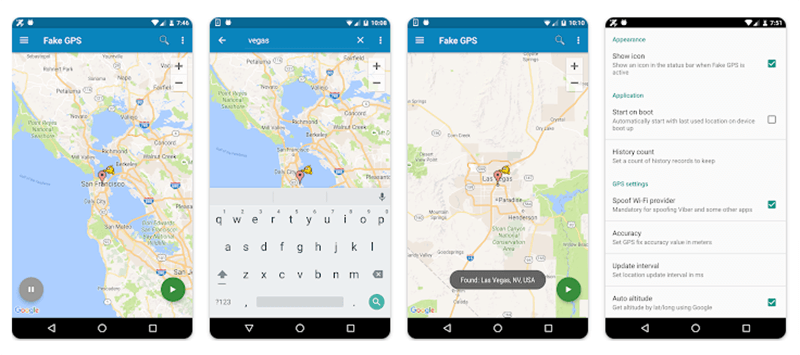 Features
Has tasker support.
Easy to start and support from command lines.
Works efficiently on Android 5.0 and up devices.
Imports and exports GPS files to your favorite routes or custom markers.
Features 3 customized speeds for your joystick.
This app is one of the GPS spoofing apps that falsifies your actual location. It shows your location to somewhere else in the world than your exact location. Doesn't it sound amazing?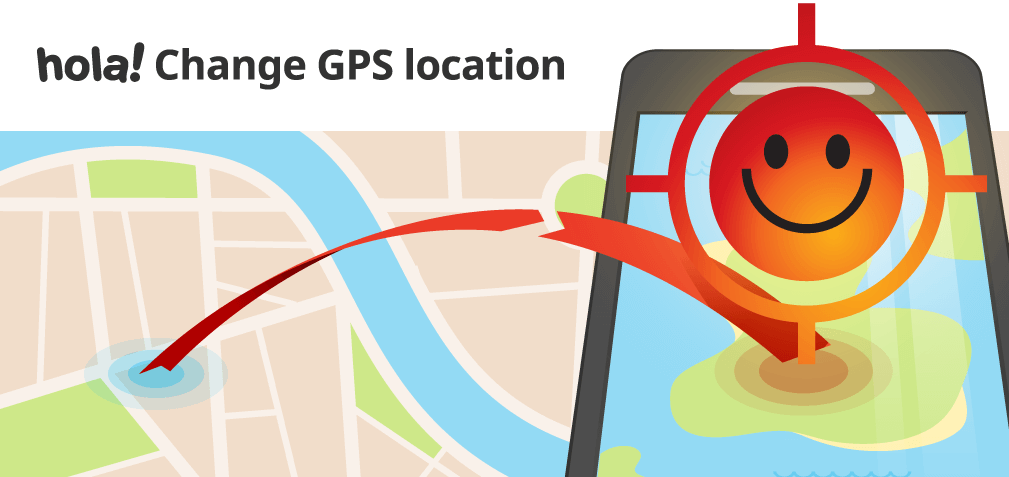 Features
Allows you to falsify your location with one click.
Works perfectly on android devices.
Easy to use.
Easy to download from Play Store free of cost.
Part 4. FAQs About GPS Spoofing
1. Is Location Spoofing Illegal?
GPS spoofing is totally legal as long as the GPS-enabled device owner approves it. However, spoofing someone's device using GPS spoofing apps is illegal without one's consent.
2. Can Fake GPS Be Detected?
There are multiple ways to detect fake GPS locations by cross-referencing data from various resources. Though there is no way to be sure about the location provided on the map.
Conclusion
Simply! GPS Spoofing apps perfectly change your location by showing you to another location. WooTechy iMoveGo is highly regarded options for spoofing your GPS location on both iOS and Android devices thanks to its easy-to-use and high-efficiency.
Some fake location applications only work for Android phones, such as GPS Joystick, Fake GPS Location, and Hola. Each of these apps has its own features and benefits. You need to understand your needs and select your mock location app wisely.