Snapchat is a social media application that allows you to connect with people all over the world. The reason Snapchat has become famous is because it allows you to stay connected using snaps. You can send and receive photos and videos in no time.
Snapchat also portrays the location from where you are receiving the snaps. It has a map that helps you to locate your friends in that very instant. However, sometimes people need privacy. In this article, we will discuss how to turn off location on Snapchat.
Part 1. Can Someone Track You on Snapchat?
Yes. By default, your location is exposed to all your friends and followers. You can also see your friends' location if they have allowed it. It means that Snapchat has settings through which you can enable or disable the exposure of your current location.
Although it is a good feature when it comes to the safety of your friends and family, the privacy of every individual should be protected and respected. Not every moment, every person is in the same mood. Let us investigate different options that you can use to turn off your location on Snapchat so that no one can track you.
Part 2. How to Turn off Location on Snapchat [2 Options]
Option 1. Exit Snap Map
This is a feature that cannot be disabled. However, you can hide your location when you start to use the app. This is what you will see when you install Snapchat for the first time.
Step 1. When you open Snapchat for the first time and go to maps, it will take you to the page Welcome to Snap Map.
Step 2. Here, you will have two options. To Allow or to Exit Map. If you choose to exit the map, then your location will never be shared with anyone. So, now Snap Map doesn't even exist for you.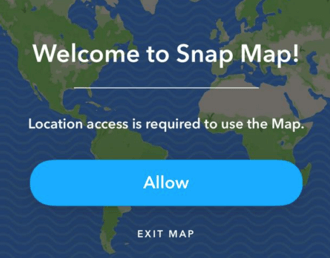 Step 3. But if you allow it, then your location will not be instantly shared with everyone. It will ask who can see your location. So, you can then choose your friends or exceptions that can see your location.
Step 4. You can also disable it afterward by going into settings and following the steps in the next option.
Option 2. Turn off Location on Snapchat from Settings
Step 1. Open Snapchat on your phone (Android or iPhone) and click on your profile on the top left side of the screen.
Step 2. Tap on Settings in the top right corner. You will see different settings here.
Step 3. Under the heading of Who Can or Privacy Control, you will see an option of See My Location. Tap on it.
Step 4. Here are different preferences from which you can choose who can see your location. You can set it to whoever you want to see your location. Choose Ghost Mode, and no one will be able to see your location.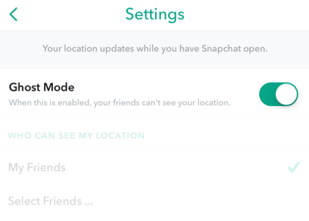 Part 3. How to Fake Your Location on Snapchat Map to Avoid Tracking
If you want to avoid your location being tracked, you can use a third-party tool, WooTechy iMoveGo, to fake your location. It is a very effective tool that works seamlessly. It only takes a few steps, and your location will be changed in a few seconds.
Features
75.000.000+
Downloads
iMoveGo allows you to spoof GPS location on any iOS or Android device.

It has a joystick that makes it easy to toggle through the map.

You can also simulate the GPS movement with custom speed and route.

Your privacy is guaranteed by the tool.

iMoveGo doesn't need you to jailbreak your iPhone.
Step 1. Download and install iMoveGo on your computer. Launch the tool and get started.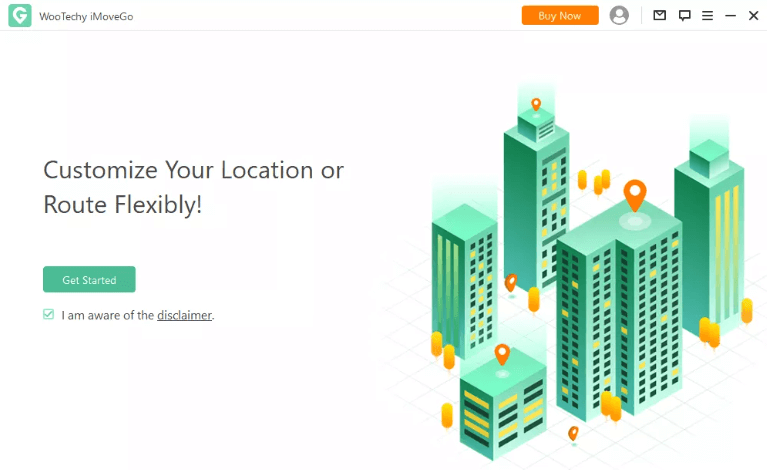 Step 2. With the help of a USB cable, connect your iOS device to the computer. You can also use Wi-Fi to connect it to the computer. However, make sure that your computer and phone are both connected to the same Wi-Fi. Click on the option to Trust this computer and proceed.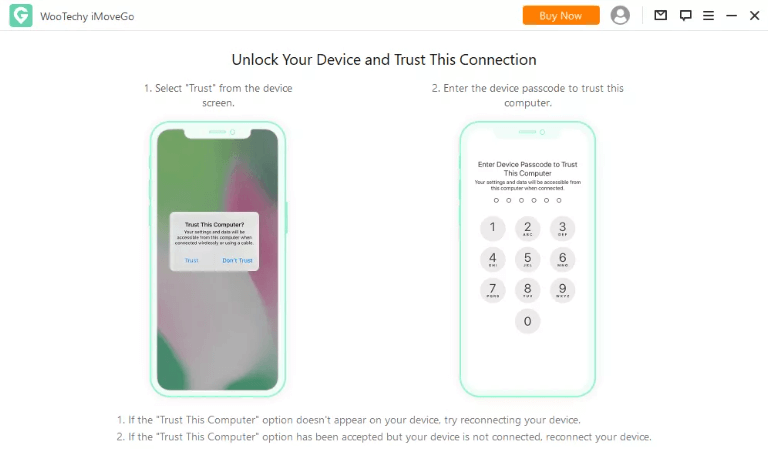 Step 3. You can use the teleport mode to change your location to anywhere you want. Click on the third option in the top right corner. You can choose the location on the map, or you can also enter the name of the location.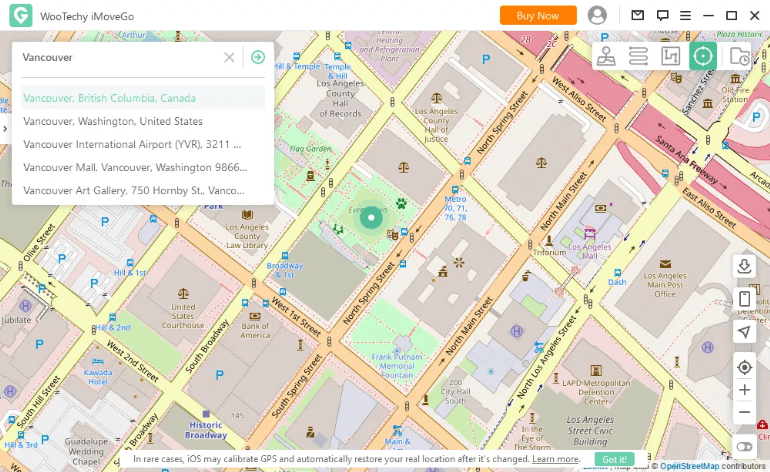 Step 4. When the location is finalized, you can click on Move, and the tool will take you there virtually.
FAQs: More About Hiding Location on Snapchat
1How to know if someone hides their location on Snapchat?
If you have a friend on Snapchat and you cannot see their location, then it means that they are hiding their place. Moreover, if you see frequent changes in anyone's location, you can interpret that they are spoofing their location.
2Does a VPN hide your IP from Snapchat?
A VPN simply encrypts all the data coming and going in and out of your device. So, apps and third parties cannot locate or read your IP. As far as Snapchat is concerned, it tracks your location and not your IP. So, you can fake your location on Snapchat easily.
Conclusion
This article summarizes the information related to Snapchat and its map. If you allow, Snapchat can share your location and theirs with one another. However, privacy is breached in this way. You can stop sharing your location by entering settings and choosing Ghost Mode. If you want to spoof your location, then you can use WooTechy iMoveGo. It will change your location to wherever you want. Download the trial version of the tool and change your location with just a click.