Life360 is a popular location sharing app that allows families and friends to stay connected and track each other's locations in real-time. However, some people may feel uncomfortable with the constant tracking and want to know how to stop Life360 from tracking location.
In this blog post, we will discuss everything about Life360 location tracking, including what it can track, three different methods to stop Life360 from tracking you, and some most frequently asked questions.
Part 1: Learn What Does Life360 Track
Life360 tracks a wide range of location-related data, including the current location of each member of the circle, their location history, and their location-based activities. The app also offers additional features like geofencing, crash detection, and driving analysis that provide more detailed information about a user's location and activity.
Here are some of the things that Life360 tracks:
Real-time location: Life360 tracks the real-time location of each member of the circle using GPS and other location-based technologies.
Location history: The app maintains a detailed location history for each member of the circle, allowing users to see where they have been over a specific period.
Driving analysis: Life360 uses data from a user's phone to provide driving analysis, including information on speed, acceleration, and braking.
Geofencing: The app allows users to set up geofences, which are virtual boundaries around specific locations. When a member of the circle enters or exits a geofence, the app sends a notification to other members of the circle.
Crash detection: Life360 has a crash detection feature that uses the phone's sensors to detect if the user has been involved in a car accident. If the app detects a crash, it sends an alert to other members of the circle with the location of the crash.
Part 2: How to Stop Life360 from Tracking Your Location?
Method 1: Spoof Your Location-Stop Tracking without them Knowing
Compared to directly turning off your location, if you want to stop Life360 from tracking you, the best way is to spoof your location using a location spoofing tool like Wootechy iMoveGo. By using this tool, you can change your location to any place in the world or freeze your location in a spot, and Life360 will not be able to track your real location.
Wootechy is fully support stopping Life from tracking your location whether your device is Android, iPhone or iPad, including the latest iOS 16 and Android 13. Check more features of iMoveGo here:
Key Features of iMoveGo
75.000.000+
Downloads
Works on all the location-based Apps such as Life360, Instagram, Snapchat, Pokemon Go ect...

Don't need to Jailbreak and Root.

Teleport to any place worldwide with only one click.

Customize your route and speed to simulate your GPS movement in the most realistic way.

Joystick control is also supported.

Pause or Continue the location changing at any time.

Support up to 10 devices at once.
Here are the steps to spoof Life360 location:
Step 1: Download and install Wootechy iMoveGo on your PC/Mac. Run the App and Click "Get Started".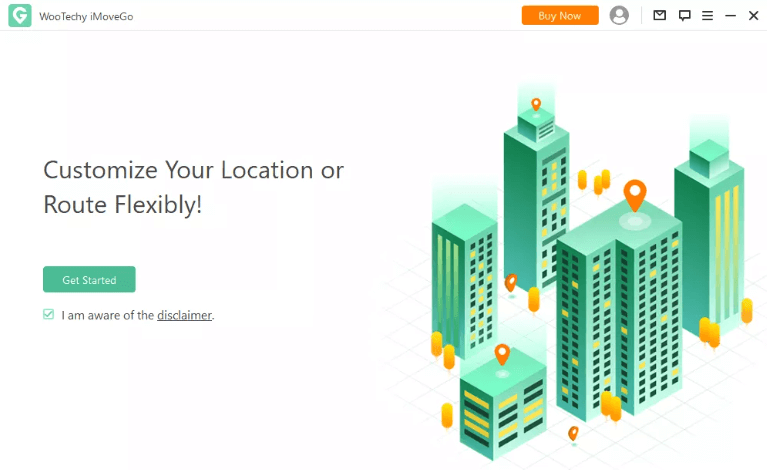 Step 2: Connect your iPhone or Android phone to your PC/Mac using a lightning cable or WiFi.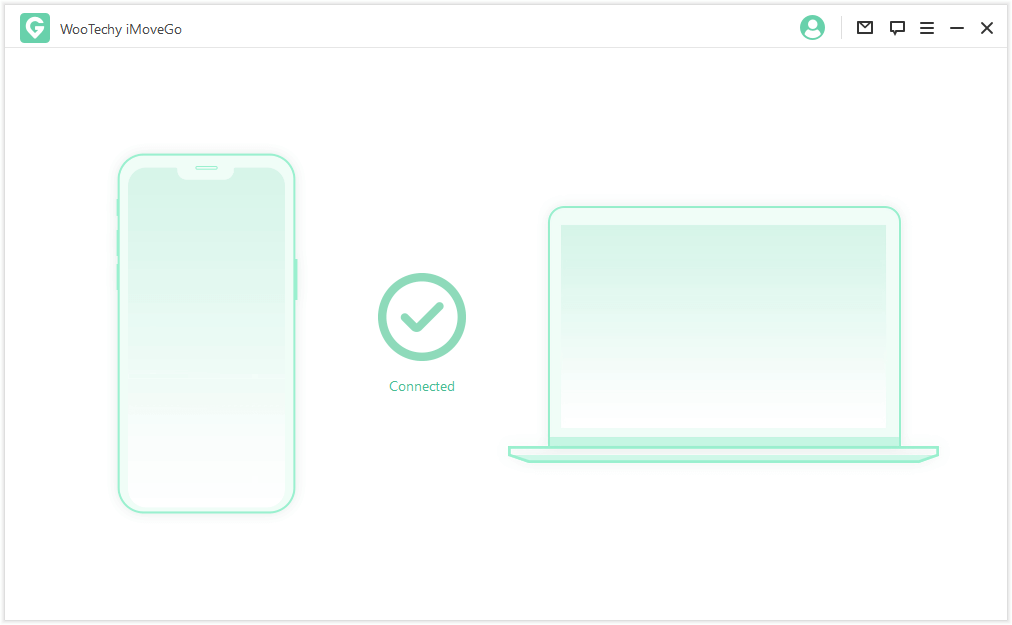 Step 3: Follow the guide in the program to complete the connection. Once Connected, you will get a map located your current location. Here, you can choose a favorite mode first.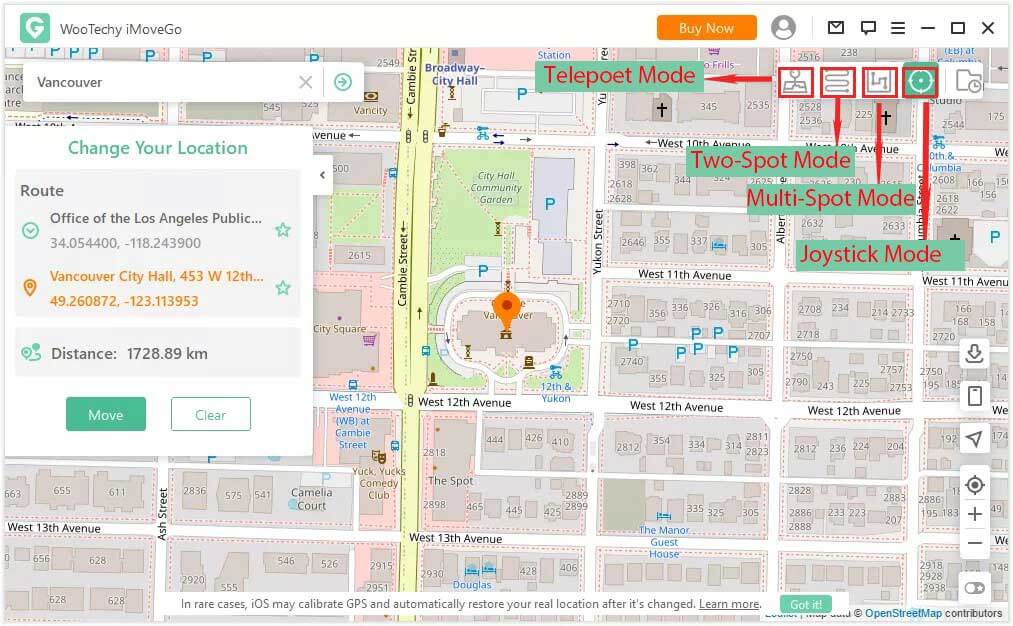 Step 4: Select the location you want to spoof to. Then, Click the "Move" button to start spoofing your Life360 location.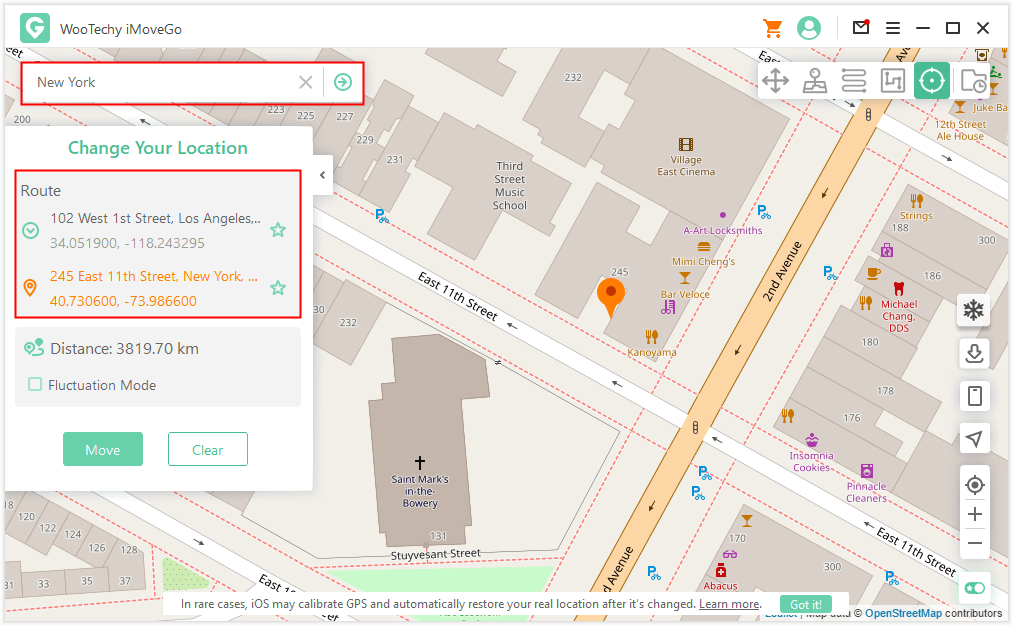 Method 2: Stop Sharing Location on Life360-Risk to Be Detected
Stopping sharing location on Life360 is easy to let the other side know about it. It's best to choose the right method for your own needs.
To disable location sharing on Life360, you can follow the steps below:
Step 1: Open the Life360 app on your device. Tap the "Settings" button, which is located in the lower right corner of the app's main screen. Then You will see a list of options. Tap "Location Sharing".
Step 2: You will see a list of circles (groups) you are a part of. Select the circle you want to stop sharing your location with. Toggle the "Location Sharing" button to the off position.
Step 3: Confirm that you want to stop sharing your location on Life360 by tapping "Turn Off" on the pop-up message that appears.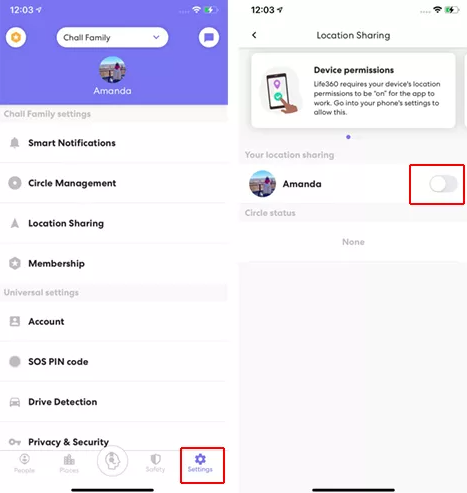 Once you have completed these steps, your location will no longer be visible to the members of the selected circle. However, you will still be able to see the location of other members in the circle, as long as they have not disabled their location sharing with you.
Note
It's important to note that if you want to completely stop using Life360 and have your location information removed from the app, you will need to delete your account. To do so, go to "
Settings
" > "
Account
" > "
Delete Account
". Keep in mind that deleting your account will also remove you from any circles you are a part of, and your location history will be deleted.
Method 3: Turn Off Location on Your Phone-Affect Phone Activity
You can also stop Life360 from tracking your location by turning off location services on your phone. Here are the steps to turn off location services on your phone:
Open the settings app on your phone.
Go to "Location" or "Privacy" settings.
Turn off the location services toggle switch.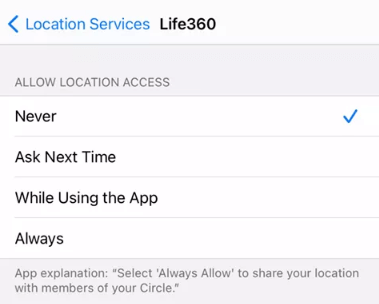 However, we do not recommend using this way to stop Life360 from tracking you as turning off location services can limit the functionality of certain apps that require your location information to work properly, such as navigation apps, ride-sharing apps, weather apps, and others.
Secondly, it's worth noting that turning off location services may not completely prevent your device from being tracked, as there are other ways to track a device such as through Wi-Fi or cellular data.
Part 3: Hottest Questions about Life 360 Location Tracking
1. If I delete Life360, can I still be tracked?
If you delete the Life360 app and log out of your account, no one in your circle, including Life360, can track your location. However, it's worth noting that if you reinstall the app and log back into your account, your location may be tracked again. If you want to permanently stop Life360 from tracking you, you can use methods such as faking your location or turning off location services.
2. Does Life360 tell me when someone checks my location?
Life360 does not notify users when someone checks their location. While it might be possible to access other people's locations with the app's features, this can only happen if the user has given permission or created a shared account with the other user. So, if someone in your circle is checking your location, you will not receive any notification from Life360 about it. However, if you are concerned about privacy and want to stop Life360 from tracking you without anyone knowing, you can follow some of the methods mentioned above.
3. If my phone dies can Life360 still track me?
If your phone is turned off, Life360 cannot track your location. If you are experiencing connection issues with Life360, you can try restarting the app or logging out and back in before contacting their tech support team.
Conclusion
These are three different methods you can use to stop Life360 from tracking your location. You can choose the method that works best for you depending on your preferences and needs. By our testing, we would recommend most to use iMoveGo. With that, you can maintain your privacy and stop Life360 from tracking your location without affecting normal phone activity. Free to download and see if it can meet your needs!