Do you live in a country where certain apps or information is restricted, and you need to find a way to use a fake GPS location on your iPad to be able to access things? Maybe you want to unlock more profiles on dating apps or stop someone from tracking your current location? And how to change location on ipad?
Regardless of the legitimacy of your reasoning, spoofing your location on your iPad isn't a trick that is limited to the tech savvy minds of the IT industry. Gone are the days where you had to go through the cumbersome process of learning how to jailbreak your device. In this article, we'll show you how to spoof your GPS location on iPad in the most easiest way, and other different ways to do it.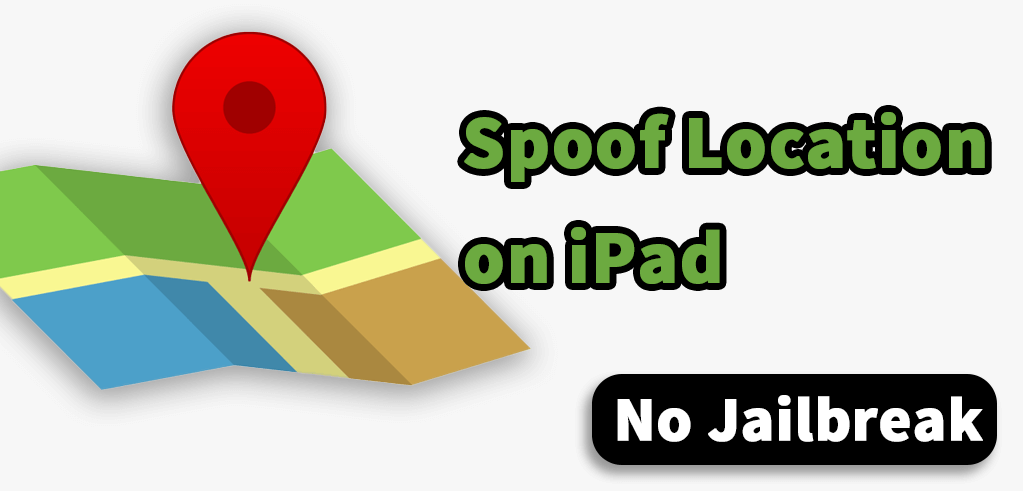 Part 1. Why Would You Spoof Location on iPad?
Wanting to change GPS locations on an iPad can have varying reasons depending on the individual.
Accessing location-based streaming content: Online streaming services such as Netflix and Amazon Prime curate their content based on geo-location. Using a fake GPS location allows you to access content that isn't officially available in your country at the moment.

Access location-based dating content: Maybe you feel that you need a change of scenery and want to move locations depending on the type of talent available in a city's dating pool. How would you find that on dating apps since most of them happen to be geo-locked?

Bypass information filters by governments: In more serious scenarios, some towns, cities and countries filter the news based on what they want you to see, thereby hiding a lot of essential information. The only way to work around that is to fake your GPS location.
Part 2. Common Ways to Change Location on iPad [Not always Work]
1. Spoof Location on iPad Using VPN
The first method we will cover today is spoofing your GPS location on your iPad by registering with a VPN.
Step 1. Register with a reliable VPN.
Step 2. Sign into the app and allow it to add a VPN config to your device. Tap Allow.
Step 3. You will be prompted to enter your passcode to allow a change in your VPN settings.
Step 4. Launch Settings from your Home screen.
Step 5. Select VPN. Toggle the status switch on.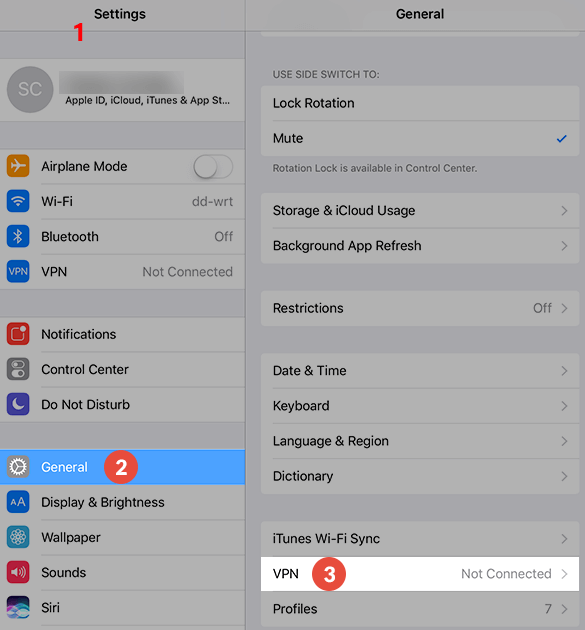 You will now be able to fake your GPS location to wherever your VPN allows you to.
2. Spoof Location on iPad Using Hola
Hola is a GPS spoofing app that works similar to a VPN. It isn't a complete foolproof way to hide you real location, but it does help bypass some of the restrictions apps place on a device based on geo-location.
The setup process is pretty straightforward. After downloading the app, turn off your location services via the setting page of your iPad. Next, go to Hola and switch on the VPN/GPS spoofing option.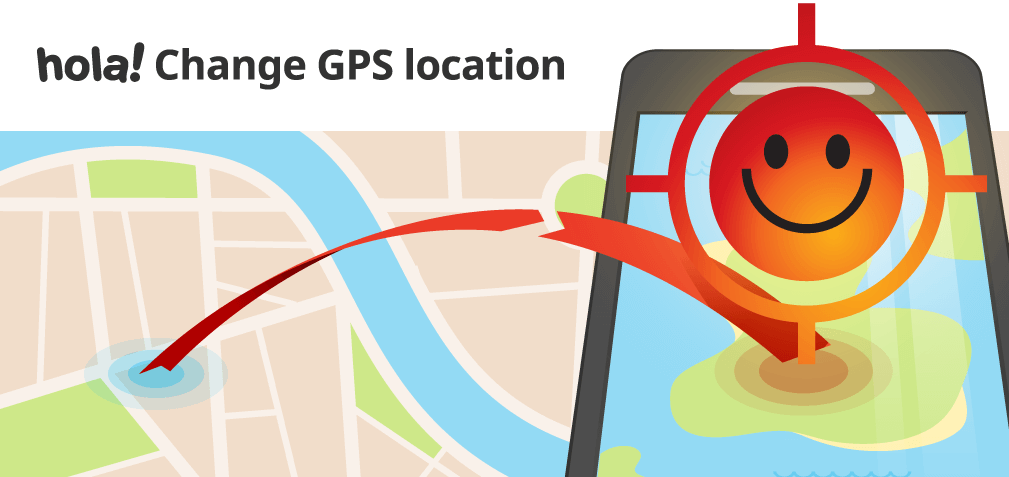 It is important to note that Hola doesn't help create a fake GPS location for all geo-restricted apps, so you need to be careful not to face repercussions by getting discovered and subsequently being banned. The best approach would be to research forums to see if an app that you want to log on to has had previous success or failure stories that anyone has shared online.
Part 3. Spoof Location on iPad Easily Without Jailbreak [Reliable]
To help you completely and successfully spoof your GPS location on your iPad, it's higly recommended to use a professional GPS location spoofer iMoveGo. Compatible with all versions of the iPad and being incredibly easy to install. Now, being limited by geo-location restrictions imposed by apps are a thing of the past.
Key Features:
Teleport your GPS location to any place in the world with just 1 simple click.

Work well on a full range of location-based apps, such as Pokemon GO, Tinder and Facebook.

Compatible with iPad, iPhone and Android devices. (Supports iOS 16)

Simulate GPS movement along customized routes while staying at home.

Free trial is available for every user to get initial experience.
iMoveGo comes jam-packed with some amazing features. Some of these include sharing your virtual location with others, hiding your device's location to prevent tracking, easily switching to absolutely any location you desire and supporting every new Apple OS update.
To use iMoveGo, follow these steps:
Step 1. Install and launch the software on to your PC. Connect your iPad to your computer with a USB cable. Click Trust on the iPad pop up.
Note: After connecting via USB successfully for the first time, you can connect your phone to the computer via Wi-Fi next time.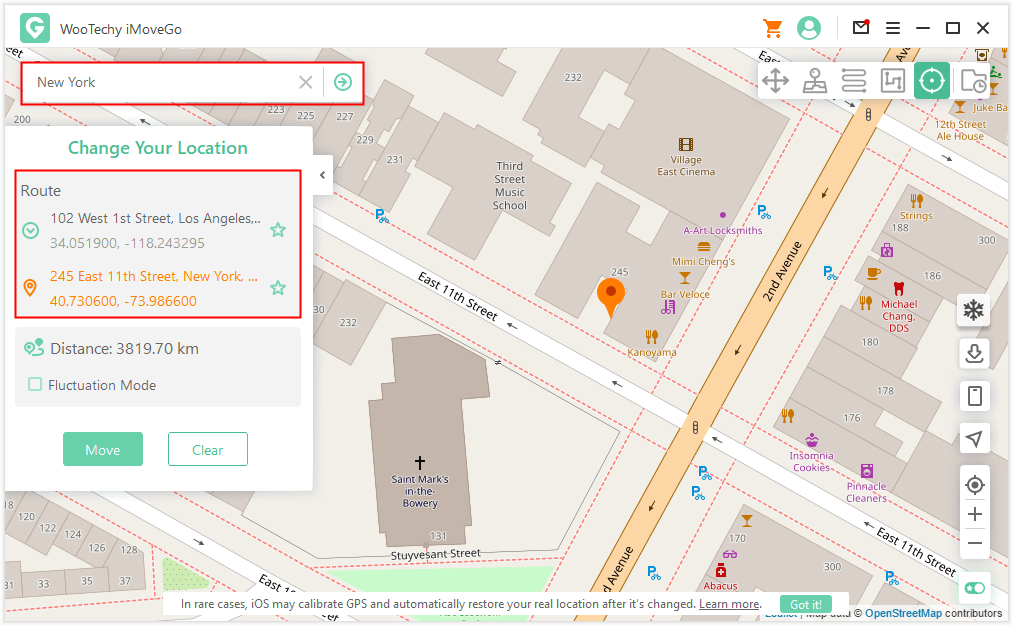 Step 2. Select a new location using the Teleport Mode (the 4th icon). Once you have a destination selected, click the Move option.  You can even create a customized route with Multi-Spot Mode or Two-Spot Mode.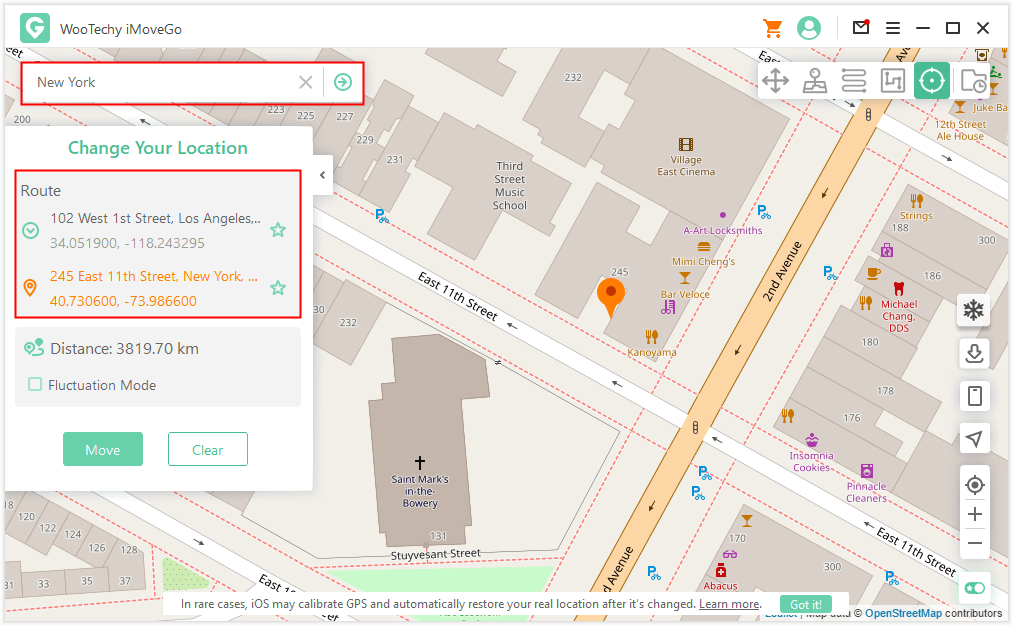 Step 3. iMoveGo will change your location on iPad or complete the movement as planned. The changes will be also updated to all of the location-based app timely such as Life360, Find My, Facebook, Snapchat ect..
What Could Be Affected With Faking GPS Location on Your Device?
As you now know, GPS location spoofing your iPad without jailbreaking isn't a built-in option. And although using iMoveGo makes it very easy to fake your location, you need to be aware of using apps where your real GPS location is required.
Apps that are reliant on geo-location will get affected. These apps can include:
Weather

Navigation

Uber eats and other food delivery apps

Uber and other ride sharing apps

Tinder and other dating apps based on location

Google maps recommendations

FindMyPhone app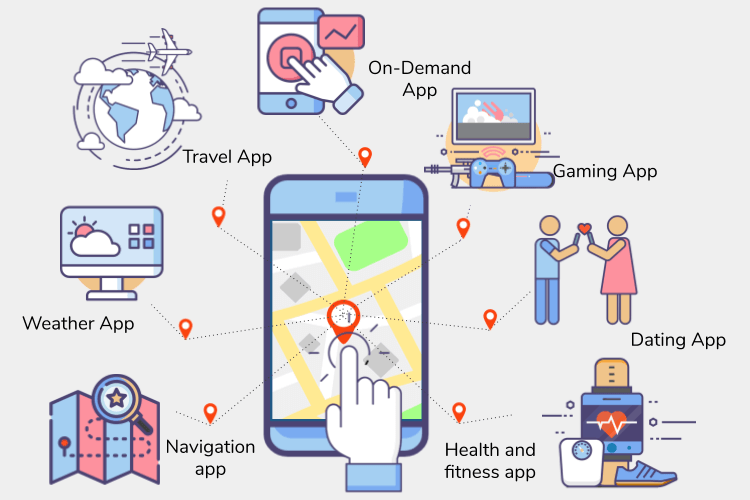 To prevent facing any unfortunate event, we highly advice that you find some way to remind yourself to turn off your location spoofer once you are finished with its specific use. One way to do so can be, if you need to spoof your GPS location while using a gaming app, set a timer for the duration that you plan to play the game. Attach a label to the timer with a note reminding yourself to turn off GPS location spoofing on your iPad so that you can always be sure to have your true location when you really need it.
FAQs About Spoofing Location on iPad
1. Why Does My iPad Think I'm in a Different Location?
Your iPad might be connected to your WiFI router which means it is attached to the location database of the router.
Second reason is that you might have been using a VPN or location spoofing app in a previous application and have forgotten to turn it off.
2. How to Find My iPad using My iPhone?
Step 1: Make sure your iPhone and iPad are signed in to the same Apple ID account.
Step 2: Open the "Find My" and tap on the "Devices" tab at the bottom of the screen.
Step 3: Select your iPad from the list of devices.The app will show the last known location of your iPad on a map. If the device is currently online, you can also see its real-time location.
Step 4: If your iPad is nearby, you can use the "Play Sound" feature to make it play a sound, even if it's on silent mode.
3. Why Can't My iPad Find My Current Location?
Your location feature may be turned off. Go to Settings > Privacy > Location Services and enable it.
If you are using a particular app, the location service might have been turned off for that particular app.
You might also have been using a VPN or location spoofing app and forgotten to turn it off. You can also reset your location settings. Go to Settings > General > Reset > Reset Location & Privacy and follow the instructions on the screen.
Conclusion
This article covers three ways on how to spoof/fake GPS location on iPad without jailbreaking it. The best and most secure way is to use the software called iMoveGo. This software is compatible with iOS and Android devices, and is safe and affordable to use, which allows you to change your location on iPad to anywhere. The second option is by subscribing to a VPN app and the third is to use a GPS spoofing app such as Hola. These methods don't always work, plus they can also be quite pricey.
Finally, you must always make sure to check back to your true location after you are done using your spoof GPS location. This is because several apps that you rely on everyday only work well based on your actual location. Therefore, make sure to remind yourself with either an alarm or any other method to remind yourself to switch back to your original location before moving on to other things.