I have just purchase the iPhone 14 device, all thing is right on going, But when I complete the face ID on the device, it doesn't work. Why is the face ID not available on my new iPhone 14? Does Anyone can help me?
iPhone Face ID not working is unfortunately a common problem. Thankfully, these problems are also really easy to fix! If you see Face ID not available on your screen, it means your iPhone needs a software update, your face is obscured, or you need to reset your phone.
The good news is that these are all really easy to fix! Read on to find out how to fix your iPhone when your iPhone face ID is not working. Here're the possible reasons for this error and top 13 ways to fix it done.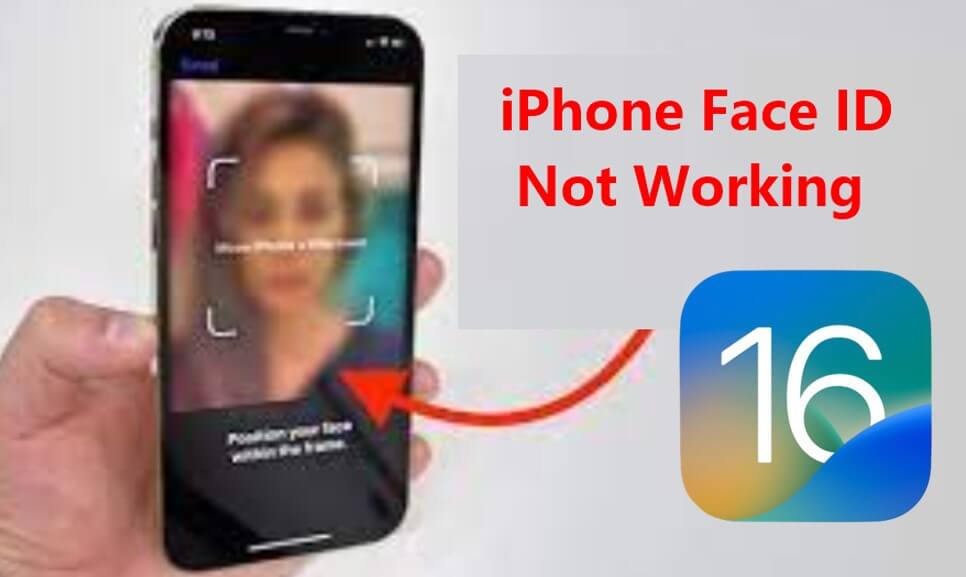 Part 1. Why Has Face ID Stopped Working?
Face ID could have stopped working on your iPhone because of a number of reasons.
One reason is that your facial features could be obscured by glasses or clothes. Face ID relies on your face being fully recognisable and identifiable to work. Make sure your face is fully visible, otherwise Face ID will not work.

Another reason Face ID stopped working is that you are not directly facing your TrueDepth camera.

The TrueDepth camera is the software behind Face ID. TrueDepth projects thousands of invisible dots onto your face. The dots are analysed by the camera and create a depth map of your face. The TrueDepth camera also uses infrared technology to provide an accurate image.
So, if your Face ID stopped working recently, you may not be looking directly at the TrueDepth camera in natural light for it to work.
Part 2. What to Do When Face ID Stops Working on iPhone? (100% Success Rate)
Face ID gives a great convenience for iPhone users, which is a shining point for new generations of iPhone devices. Thus it's a hard urge for each iPhone user to know a useful quick fix to address the face ID not working issues, in case you meet this kind of iPhone issue one day.
In order to help you fix this iPhone face ID not working issue in the fast speed, then using WooTechy iPhixer must come to be the first alternative to solve the trouble. iPhixer is one of the smartest iPhone software repair tools in the world, aiming to fix all types of iPhone/iPad/tvOS issues without any data loss.
Therefore, with iPhixer, you can troubleshoot the iPhone face ID not available error right away with 100% certainty. Besides, there are just 3 or 4 simple and easy steps to use this tool to repair your iPhone device, anyone can handle the whole process.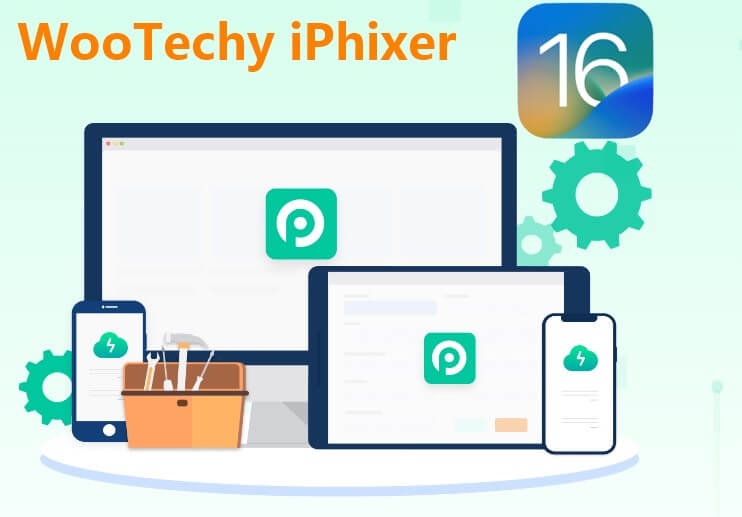 WooTechy iPhixer -- Fix iPhone Face ID Not Working with Zero Data Loss
75.000.000+
Downloads
Able to work with all models of iPhone device, range from iPhone 4 to iPhone 14 with the latest iOS 16 available.

You can also fix other types of iPhone errors, such as iPhone Keeps Scrolling Up, iPhone blinking Apple logo and more in the fastest speed.

Allow any user to exist or enter recovert mode for 100% free.

Much better then iTunes app , this tool causes no data loss and leads to no errors, which is the most useful alternative of iTunes.

iPhixer also can be used to solve any types of iPad software issues, such as iPad boot loop, iPad ghost touch.
Here's how it works to fix iPhone Face ID Not Working:
Step 1 Launch WooTechy iPhixer tool and connect your iPhone to your computer using a USB-C lightning cable. Make sure that your device is unlocked for it to be recognized. Select the Standard Mode and click Next.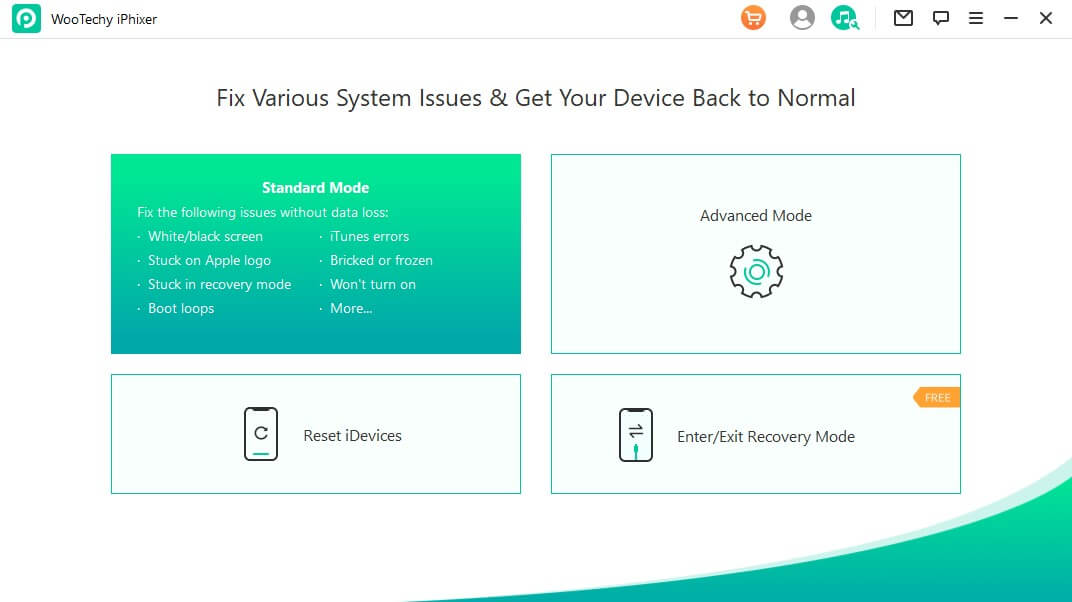 Step 2 The next step is to download the firmware. For this, you will have to choose your device model and firmware version from the given dropdown menu and click Download.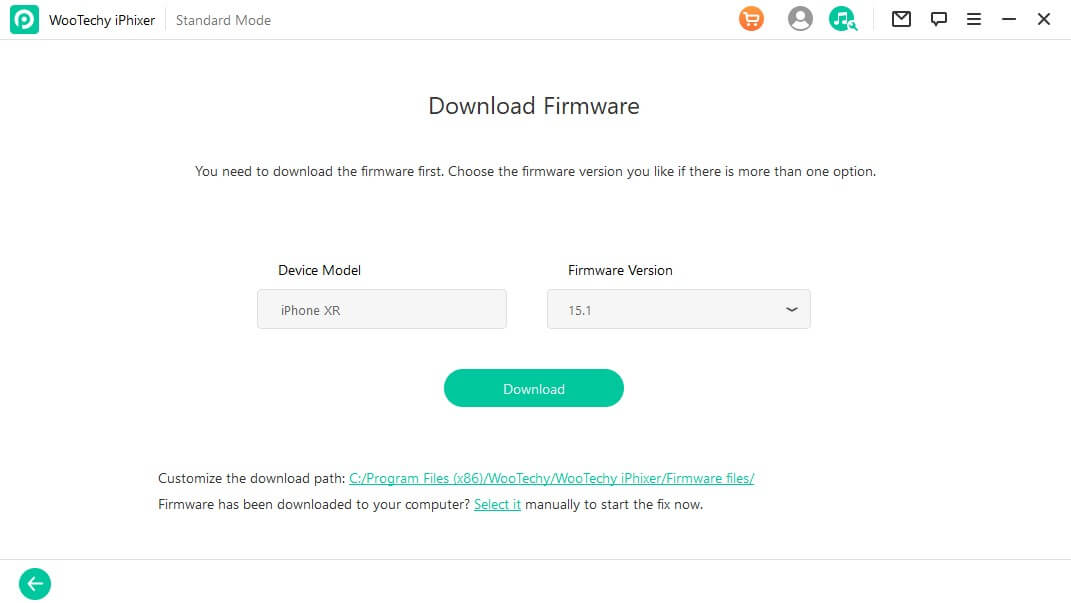 Step 3 Once the firmware has been downloaded, you can commence the repairing process by clicking Start. During the repairing process, make sure you don't disconnect or use your device; otherwise, it will mess up your device and further complicate things.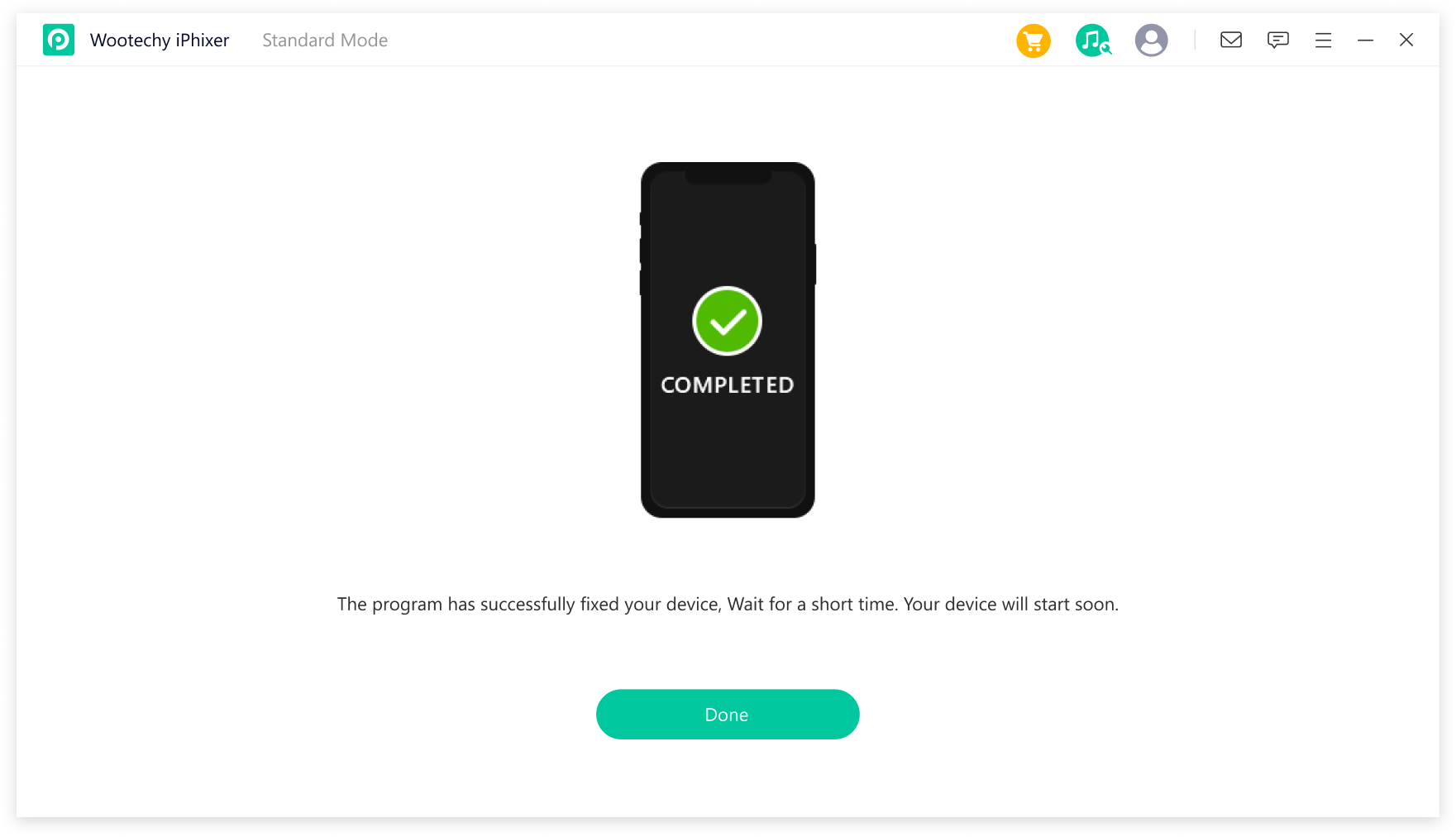 After completing the whole process, you can try to use your iPhone face ID again, the problem must be solve.
Part 3. Other 12 Alternaives to Fix iPhone Face ID Not Working Issues
By now, you know why Face ID has stopped working. We will now cover the specific steps you should take.
1

Remove Screen Glasses

Your glasses may be stopping Face ID recognising your face. Try removing your glasses and try Face ID again.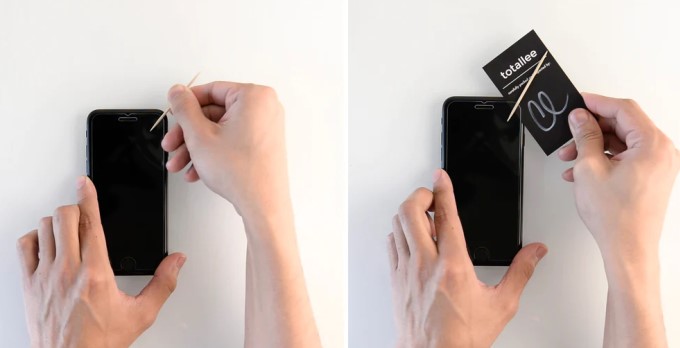 2

Check Your Face ID Settings

Check your Face ID settings to see if there are any blocks to Face ID. You have to manually consent to Face ID on some apps. Your Face ID stopped working because you haven't yet consented to its use. This is how to change your Face ID settings
Click on the Settings app > Face ID & Passcode > Use Face ID for, tap on the apps you want to use Face ID.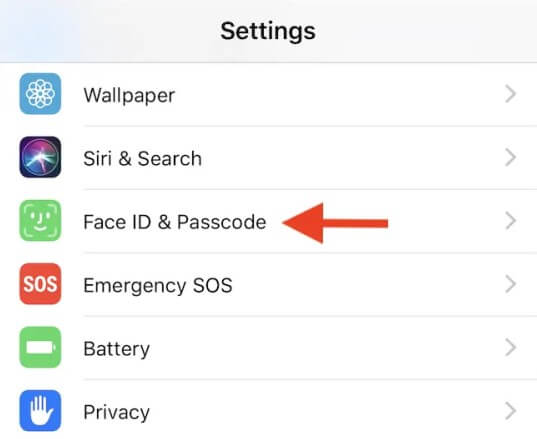 3

Face Your TrueDepth Camera Directly

Make sure you are directly facing the TrueDepth camera on your iPhone. iPhone Face ID not working can be caused by an obscured face. Put your iPhone camera close to your face, in bright, natural light. If your face is turned away or if it's too dark, the TrueDepth camera won't work.
4

Make Sure Your Face Uncovered

Make sure your face is completely uncovered. Remove any glasses or clothes that may be covering your facial features. Face ID can't work without a completely clear face.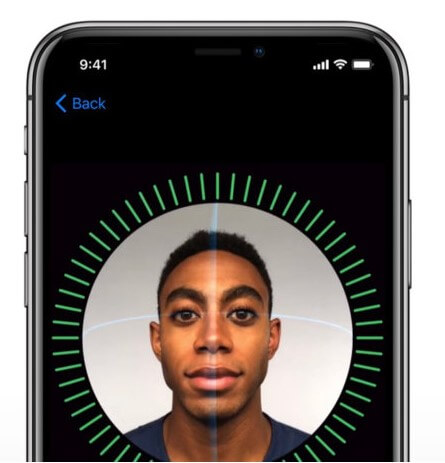 5

Use Face ID with A Mask

It's good to note that with iOS 14 and later you can set up Face ID to work with a face mask. This is how to use Face ID with a mask.
Make sure your iPhone with iOS 15.4 or later, Click Settings > Face ID & Passcode > Face ID with a Mask.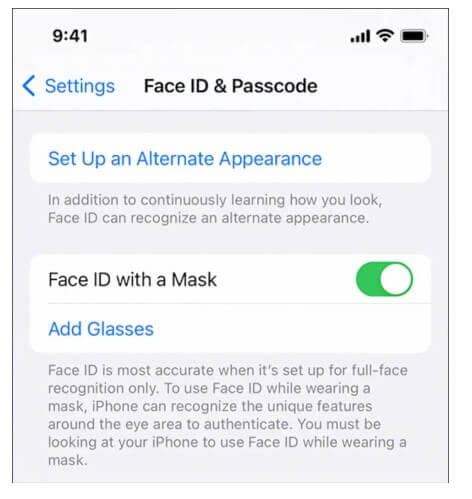 6

Turn On/Off Face ID

Sometimes the solution to your iPhone Face ID not working is as simple as turning it on and off. This is how to turn your Face ID on and off.
Click on the Settings app > Face ID & Passcode, click turn on Face ID, and wait for a while, turn off Face ID.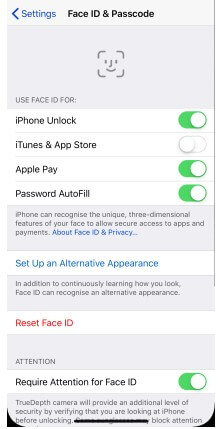 7

Force Reset Your iPhone

Your Face ID could be fixed by a force restart. A force restart is used to fully turn off your iPhone and restart it. A force restart should clear any bugs that are interfering with your Face ID. For iPhone 8 and later follow these steps.
Press and quickly release the Volume Up button > Press and quickly release the Volume Down button > Press and hold the Side button until the Apple logo appears.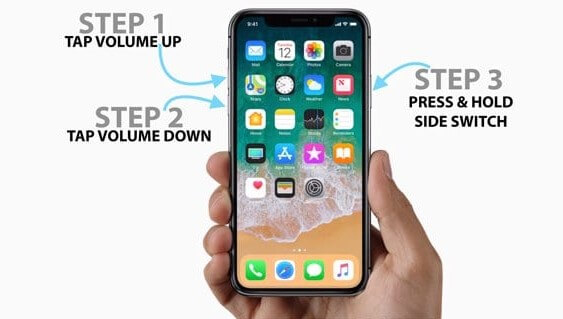 8

Reset Face ID to Fix "Face ID Not Available"

Reset Face ID to fix "Face ID not available." Resetting your Face ID gives it a much-needed refresh.
Click on the Settings app > Face ID & Passcode > Reset Face ID, select Set up Face ID to reset it.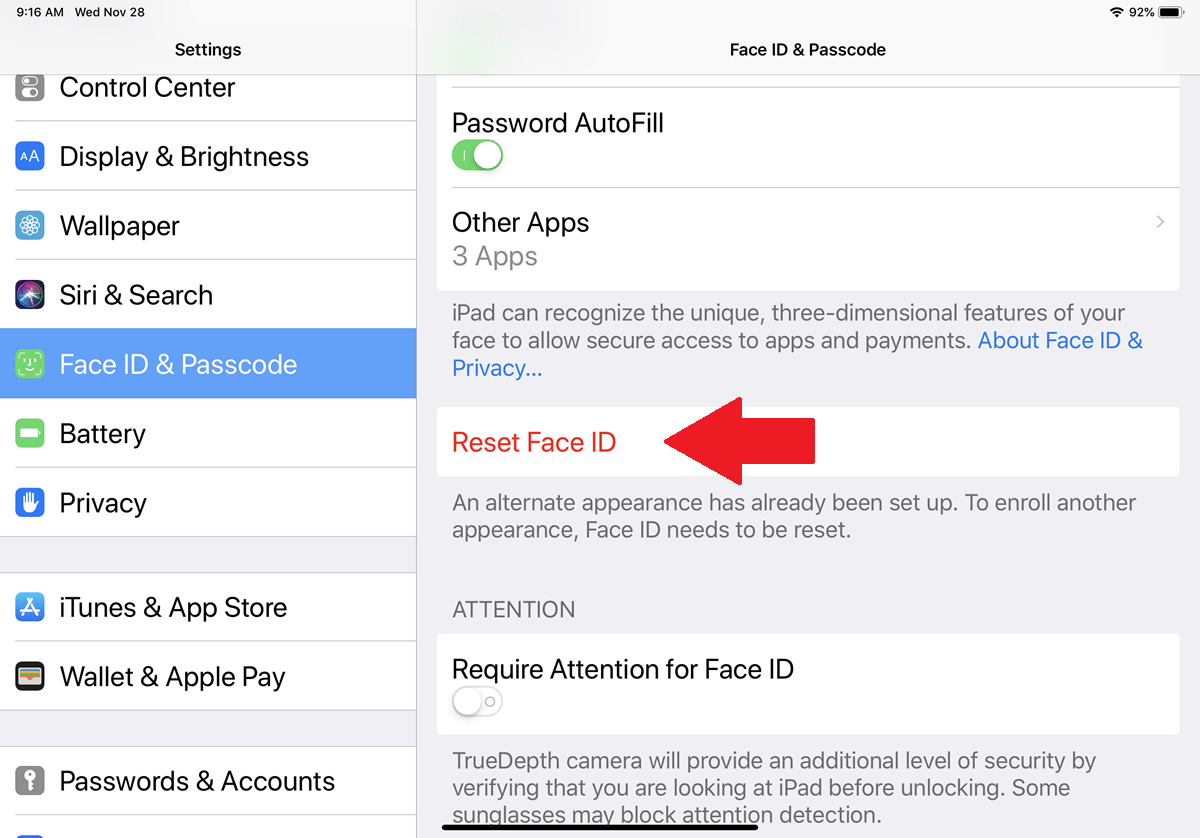 9

Check for a New Software Update

iOS is the mobile operating system developed by Apple, for Apple products. iOS is exclusive hardware that runs on all Apple iPhones. iOS updates coincide with the release of the new iPhone. This is because Apple makes innovative changes to the software that they release to all Apple users. This is how to upgrade to iOS 16.
Click on the Settings app > select General > click on Software Update > tap Install Now.
Note, there will only be the option to Install Now if there is a new iOS update. If you do not have this option, it means your iPhone is running on iOS 16. In this case, iPhone stuck on preparing to transfer is caused by another problem.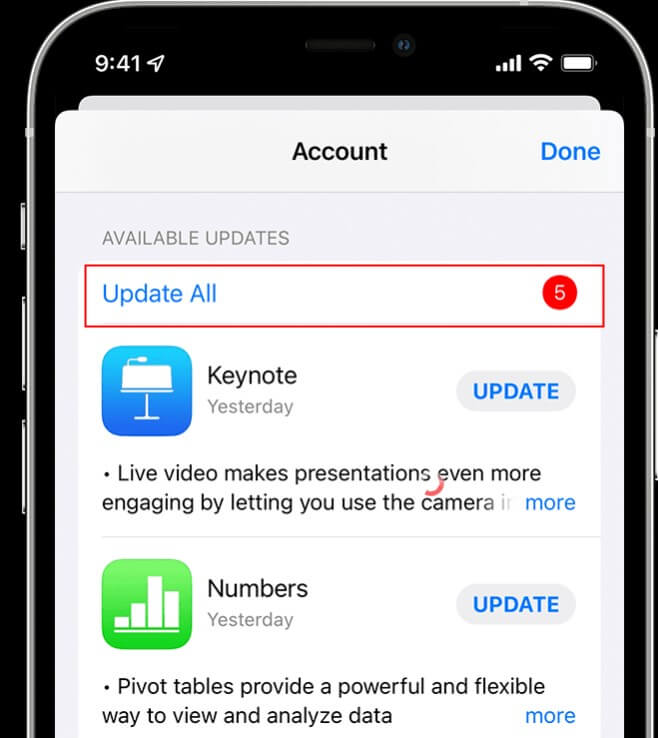 10

Reset All Settings

If your Face ID stopped working because of setting preferences, you will need to reset all settings. This will clear any bugs that have popped up over time that are interfering with your Face ID.
Click on the Settings app > General > Transfer or Reset iPhone > Reset.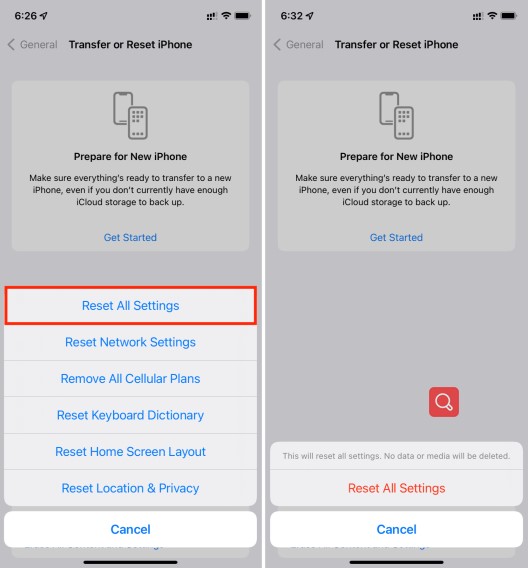 11

Reset Network Settings

Occasionally, there is a minor bug in your iPhone or in iOS 16 that causes the "Face ID not working" prompt To solve this, reset the network settings. A reset performs a scan of the whole iOS platform and finds any bugs that are getting in the way of the data transfer. It's really easy to reset your iPhone.
Click on the Settings app > General > Transfer or Reset > Reset > Reset Network Settings.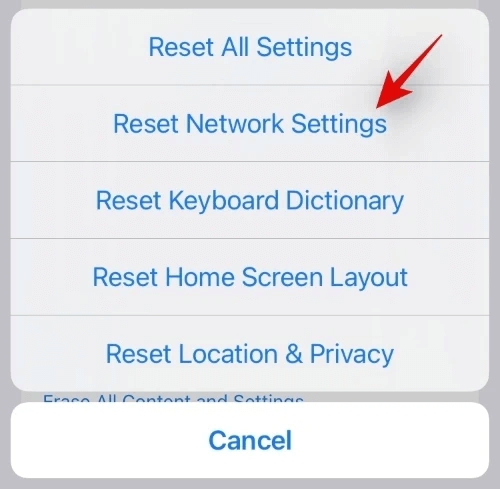 12

Contact Apple Support

Is your Face ID not working even after all of these solutions? Well, it's time to take your iPhone to the Apple store, since it is possible there are hardware problems in your iPhone. Apple professionals will be able to properly diagnose and repair your iPhone. You can also contact Apple Support on the App Store.

Apple Support gives you personalised advice on the issue at hand. Apple Support will be able to tell you exactly what to do to solve your unique problem.
Conclusion
After reading this whole article, don't you think that it's not as difficlut as you imagine to solve iPhone Face ID not working issues. With these 13 useful alternatives, you don't need to worry about this problem any way.
Moreove, this article also introduces a wonderful iPhone repair tool -- WooTechy iPhixer, just download and install this tool on your PC, since it can help you fix any kinds of iPhone/iPad software issues. You don't need to send your device to Apple store, you can fix the trouble on your own at home. That's amazing!