When an update is done, back rolling to a previous version of OS is quite difficult because iPhone may not give you quick access to it. Apple offers users access to their previous OS in a file format called iPhone Software (IPSW) to solve this issue. Users often need their iTunes app to use or install this file format.
But sometimes, installing IPSW with iTunes can have some bugs and some of you prefer to installing and restoring IPSW without iTunes. That is why this article will show you everything you need to know about how to install IPSW without iTunes.
Part 1. About Installing IPSW...
This section of the article focuses more on knowing what IPSW is about. It will also explore downloading IPSW and where to find the file on your device after it has been downloaded.
1. What Is An IPSW File?
IPSW, also called iPhone Software, is a file format used for installing, updating, or restoring Apple devices and OS manually. All these functions are performed with iTunes, but you can update, install, or restore IPSW without iTunes. Apple releases IPSW files to add new features and fix security vulnerabilities in compatible devices. Apple OS like iOS, iPadOS, tvOS, HomePod, and macOS firmware is installed on devices with Apple silicon through IPSW.
2. How to Download the IPSW File?
Since file activities via IPSW files are manual, downloading these files is also manual. That way, you can install IPSW without iTunes free on your iPhone. You can access IPSW files from different online utility stores. However, be careful of bugs. The steps below will show you how to download IPSW from ipsw.me site.
Launch the site on your browser. On the website, choose the device you want to install an IPSW file on.
Then, choose your iPhone models.
Choose the firmware still in the signed status and click Download button.
3. Where to Find the IPSW File on Computer?
Finding the IPSW file on your computer differs based on the PC you are using. There are two methods to find your IPSW file on your Mac computer.
The first method is to select Finder on your Mac, then hold down Shift+CMD+G keys. It will show an address box to enter the file path. Then, you can input ~/Library/ iTunes/iPhone Software Updates.
The other method is to select Finder in your Mac Dock, then hold down the ALT key. Next, click on the Go button from the menu and select Library from the dropdown list. In the Library, you can browse to the path iTunes/iPhone Software Updates.
On your Windows computer, you can enter the address of the path into your Windows search box or the File Explorer address box. However, the paths differ for Windows 11/10/8/7 from that of Windows XP. On the former, you can enter C:\Users\[username]\AppData\Roaming\Apple Computer\iTunes\iPod Software Updates. And on the latter, you can input C:\Documents and Settings\[username]\Application Data\Apple Computer\iTunes\iPhone Software Updates.
Note
Always replace the [username] with your PC username. For the address of each path, you can replace iPhone with iPod or iPad for the IPSW files of the iPod touch and iPad, respectively.
Part 2. How to Install IPSW Without iTunes
Instead of installing IPSW files manually with iTunes, you can use a third-party tool. Our recommendation is to use WooTechy iPhixer. It is the best way to install and restore IPSW without iTunes in the quickest and most convenient way. What's more, it can avoid common installation failures and fix potential bugs of your Apple devices without any data loss.
Pros
All IPSW files versions are included as it has complete compatibility to work for all iOS and iPadOS versions.

iPhixer supports all Apple devices like iPhone, iPad, iPod Touch and Apple TV.

Apart from restoring IPSW without iTunes, it can also be used to fix all system issues such as stuck on Apple logo, boot loop and iTunes errors with a high success rate.

It can update and downgrade your device with signed IPSW files.

Easy to use, it has a user-friendly interface and simple-to-operate steps.
Below are the steps to install an IPSW file on iPhone without iTunes:
Install iPhixer on your computer. Launch the application, then pick the Standard Mode.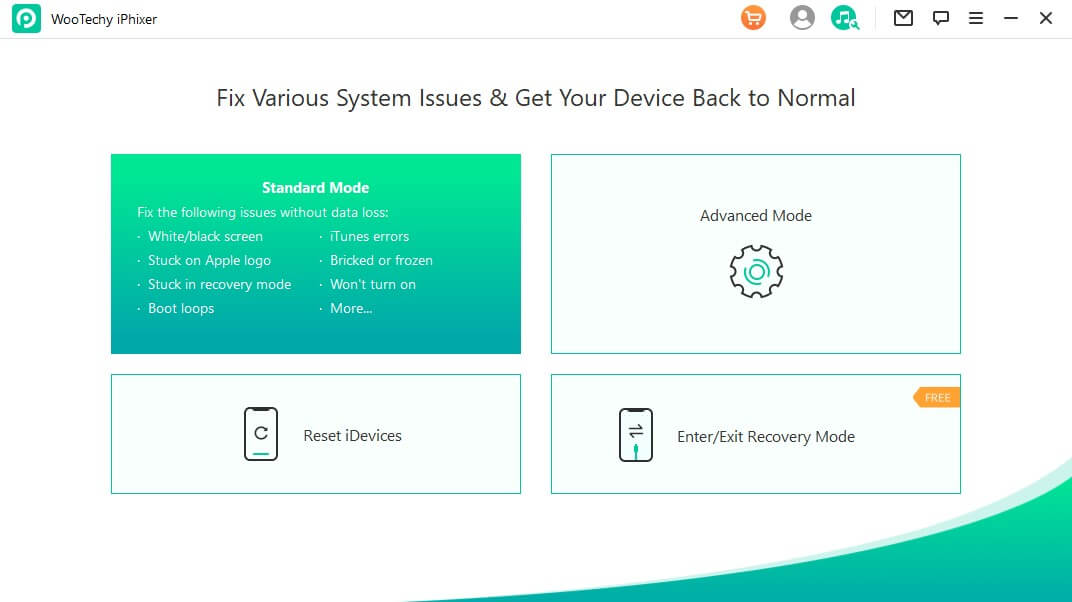 Connect your iPhone to your computer with a cable. Then, Tap on the Next option at the bottom of your screen.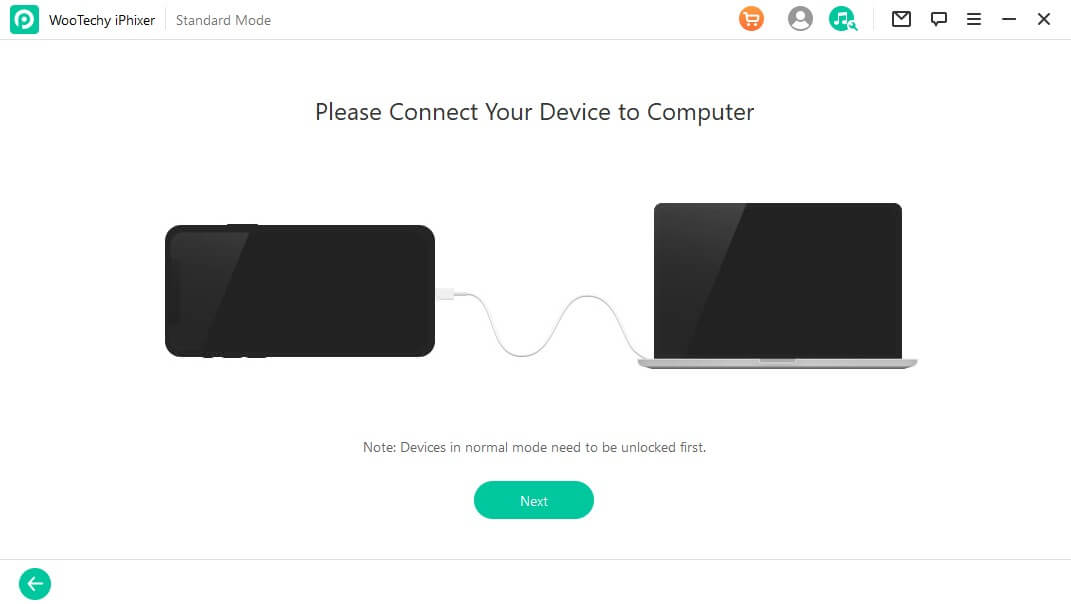 The firmware file is shown on the screen. You just need to click the Download option to get the file on your device.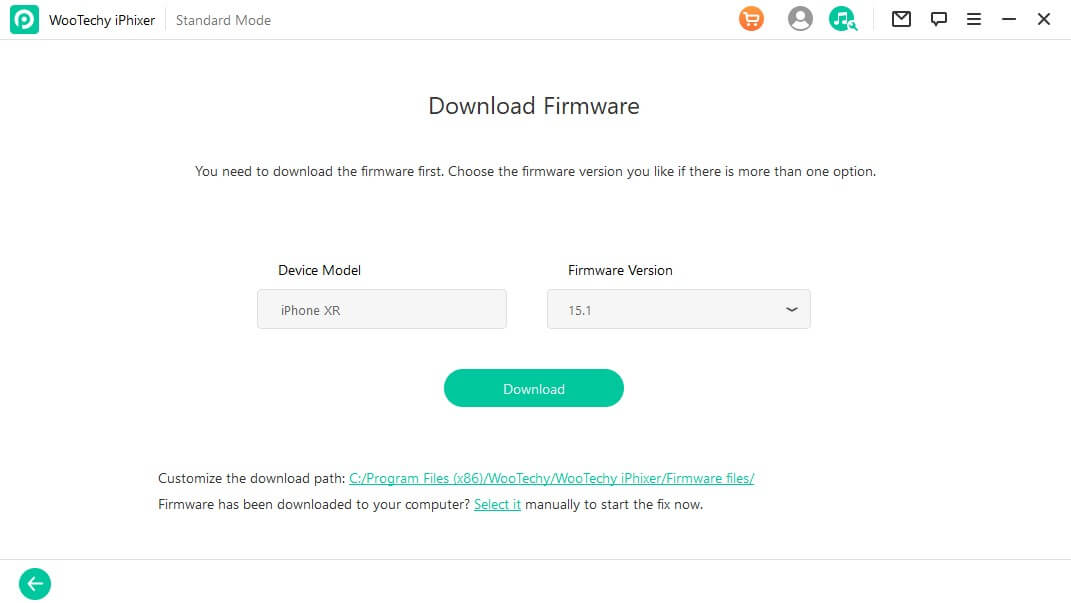 Once the file is downloaded and extracted, click on the Start button to initiate the installation of the IPSW file. Finally, your iPhone will restart automatically with the proper IPSW file installed.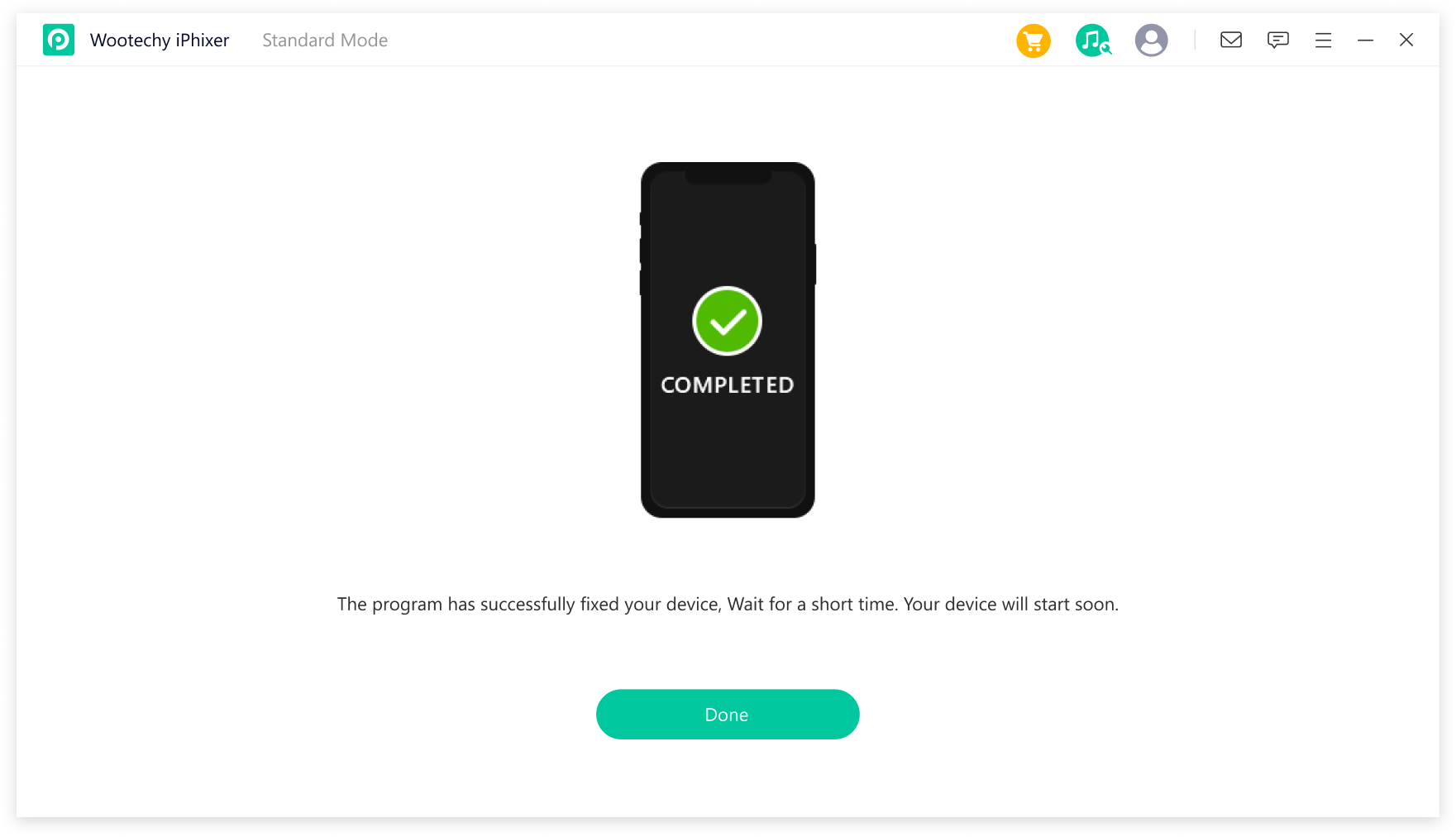 Part 3. How to Install IPSW with iTunes
iTunes is the default utility for performing essential software functions on iPhone. But the Restore Backup or the Restore iPhone options on iTunes will not work for rolling back a version update. However, this feature is not popular or encouraged by Apple for the manual installation of IPSW. Moreover, to install IPSW with iTunes manually is slow. Downloading new firmware can last up to 4 hours. However, it is still a viable option. That is why the steps to use it are shown below.
Launch the latest iTunes app. Connect your iPhone to the computer via a USB cable. Wait for PC to recognize iPhone.
Click the phone icon at the top of the screen. You will see the "Update" or "Check for Update" options on your screen.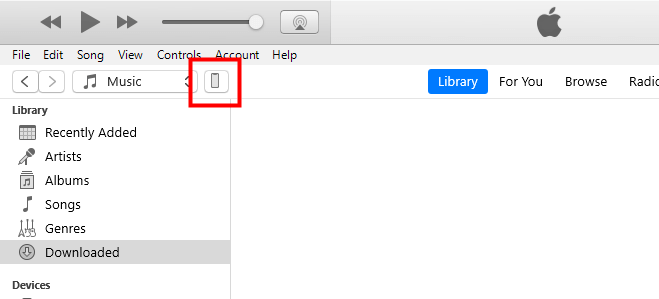 Hold down the Shift key and click Update or Check for Update for PC. Hold down Option key and click Update or Check for Update for Mac.
From the next screen, pick the IPSW file that you wish to install on your device from the path shown above as peculiar to your computer.
Wait for iTunes to install the file on your device.
Conclusion
That's all information about IPSW and installing IPSW with/without iTunes. You can use our software repair tool -- WooTechy iPhixer to further upgrade/downgrade and restore your device if you do not wish to use the iTunes app. It's pretty safe and useful. Just give it a try.