SOS!!! Last night, I was just making a call with my mom, but the iPhone speaker volume kept low even even though I have turned the volume up to the maximum. Does anyone know the reasons why iPhone call volume keeps low and how to fix it?
Actually, iPhone speaker volume low during calls is a common iPhone stuck issue, which can be caused by vaorius reasons. Some cases can be caused by your wrong iPhone call volume settings, some can be caused by your software issues or hardware issues.
Take it easy, no matter which cause leads to your iPhone call volume too low, this article can help you fix it with no hassle. The following will list all the possible reasons and top 11 useful methods to fix iPhone call volume low issue efficiently.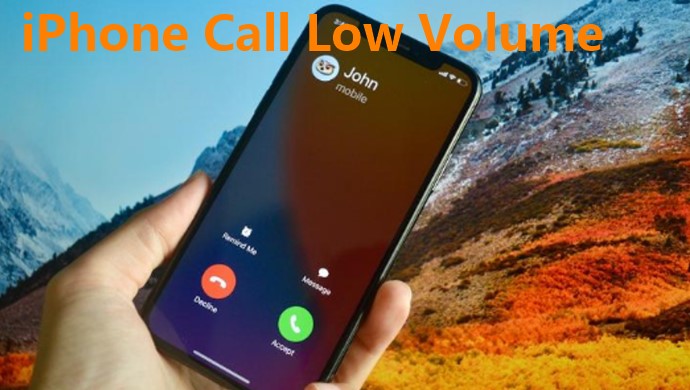 Part 1. Why Is My Phone Volume Suddenly Low?
As we mentioned above, iPhone call volume too low is a common iPhone issue, which can happen on every iPhone device. This problem can be caused by several reasons below:
In some situations, you may have accidentally hit the down volume button when you were on a call previously.

In addition, having bad service or having a phone speaker that have not been cleaned can also affect the volume of your phone.

However, if the issue is more serious, it could be a software issue or a hardware issue with your phone. For instance, if you have dropped your phone a lot or your phone is old, your hardware won't work properly and iPhone phone volume will be too low.

Finally, if your noise settings are not correct or your phone is not fully updated, this could also make iPhone call volume low. The next part of this post will address this problem fully and show you how to fix it!
Part 2. Fix iPhone Call Volume Low with WooTechy iPhixer [100% Success Rate]
As we mentioned the possible reasons above, it's probably the software or system bugs that cause your iPhone call volume low error. Thus in order to better fix your iPhone call volume too low, you had better choose a professional iOS system recovery tool to help you out.
Not all the iOS system recovery tools can succeed in fixing your iPhone call volume problem, so you need to be careful to select a right one. Honestly, here would like to highly recommend WooTechy iPhixer to resolve your iPhone call volume low problem.
Because iPhixerl has the 100% success rate to fix all iPhone errors including iPhone call volume low problem withhout any data loss or causing any other new errors. iPhixer can fix your iPhone call volume too low error in root, this issue won't happen on your device again any more.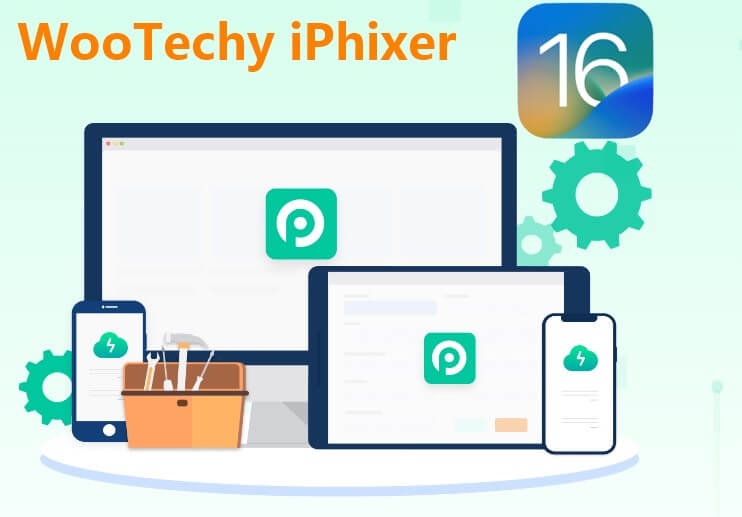 Powerful Features of WooTechy iPhixer: Fix iPhone Call Volume Low Issue at Once
75.000.000+
Downloads
It is professionally developed to fix all iPhone issues including iPhone call volume low, iPhone stuck on Apple logo sound not working, iPhone storage full won't turn on, iPhone ghost touch and screen problems.

It supports all iPhones, from iPhone 4 to iPhone 14 and iOS versions, iOS 15.5 and iOS 16 included.

Better than using iTunes to restore your iPhone, you won't meet any errors like 4005/4013/4014 errors if using iPhixer to fix the issue.

With the fastest speed, it is very easy to use. And it also has other features like resetting your iPhone with or without password.

You are also allowed to freely entering/exiting recovery mode with one click.
4 Simple Steps to Fix iPhone Call Volume Low Problem:
Step 1 Get the software and open it up. Choose the Standard Mode and connect your iPhone to your computer.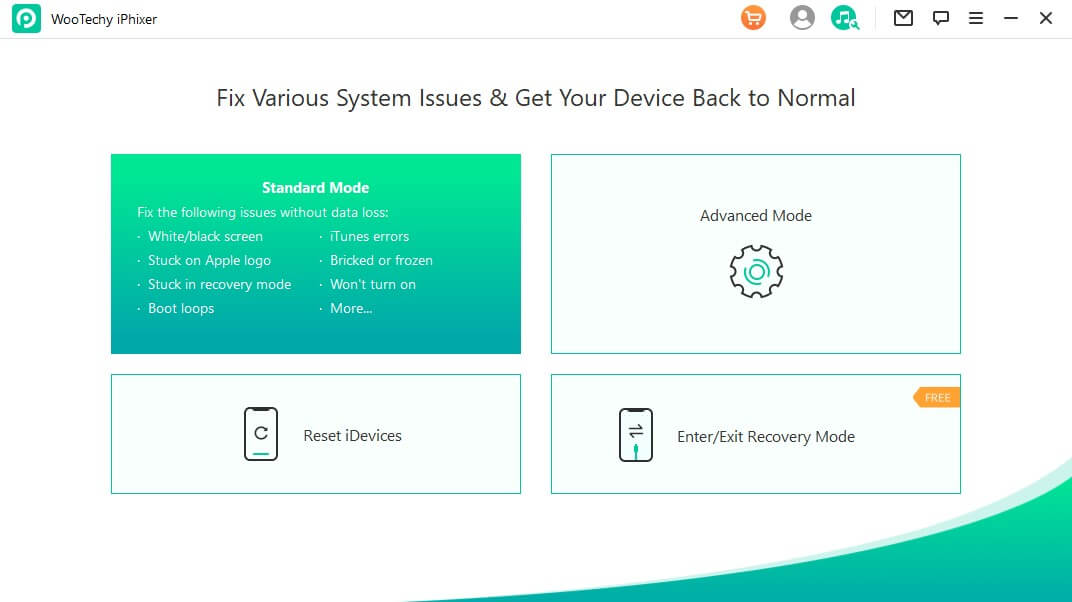 Step 2 Click Next button if your device is detected. Otherwise, follow the instructions to enter Recovery Mode.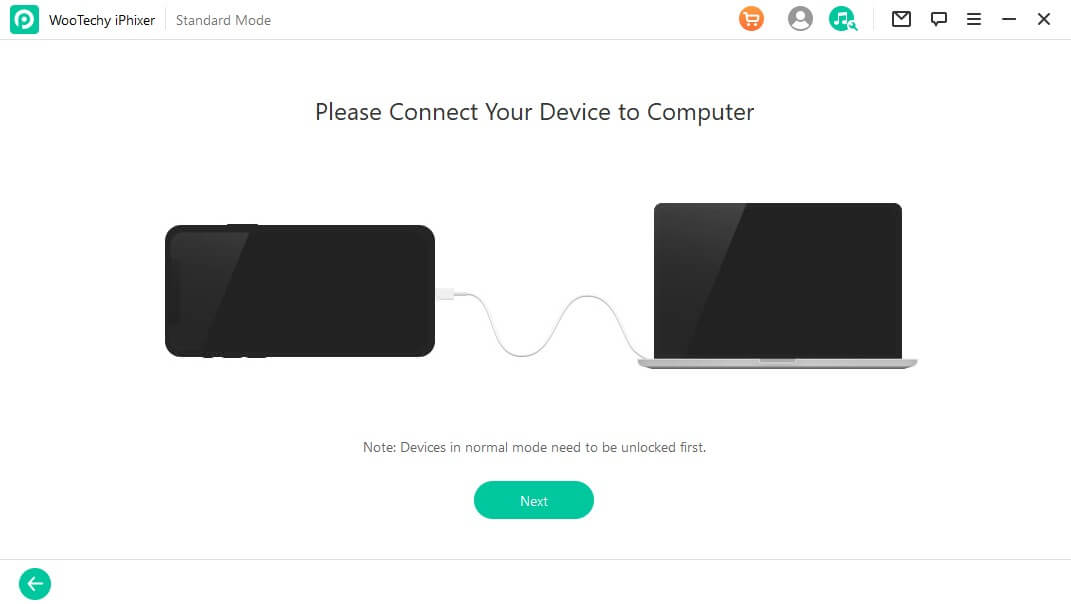 Step 3 Click Download button to get the working firmware for your iPhone which has no software glitches and won't cause to any data loss.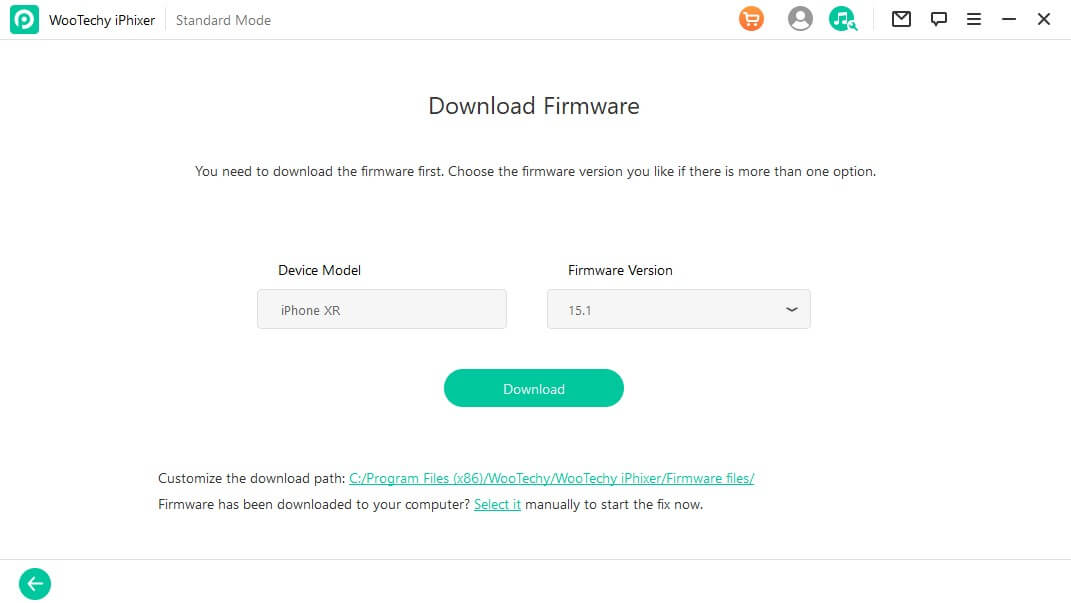 Step 4 Once it is downloaded, iPhixer will fix your iPhone call volume low issue. Finally, your iPhone will restart automatically and the call sound goes back to normal.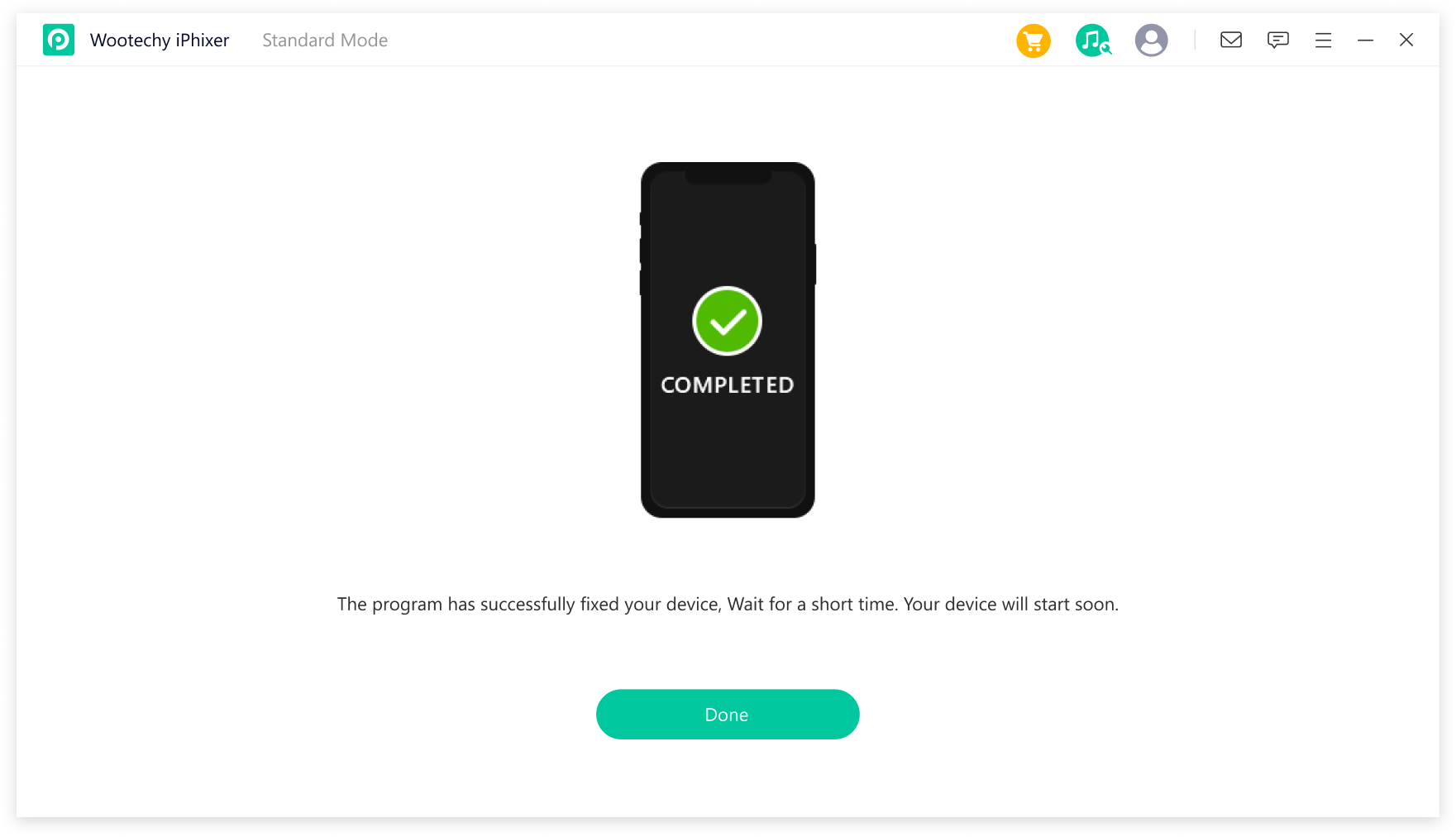 That's WooTechy iPhixer, one of the greatest iPhone repair tools in the world. If you want to fix your iPhone issues quickly and won't send it to the Apple repair store, you can be never hesitated to use iPhixer to solve the iPhone software error like iPhone call volume low you meet.
Part 3. (10 Common Solutions) How Do You Make Your iPhone Calls Louder?
How do you fix phone speaker volume suddenly low on iPhone? We also list other commonly-used methods to fix call volume low on iPhone. But these 10 method cann't make sure 100 % success rate to fix the error done like using WooTechy iPhixer. If you are interested in them, you could try them one by one.
1

Check the Bluetooth Connection

To fix iPhone low volume on calls issue, the first thing you need to do is to make sure your iPhone is not connected to another Bluetooth device or speaker. If your iPone is connected to a speaker or headset, then your phone volume will be lower or not work at all.

Thus disconnect the Bluetooth or other speaker to make the iPhone call louder.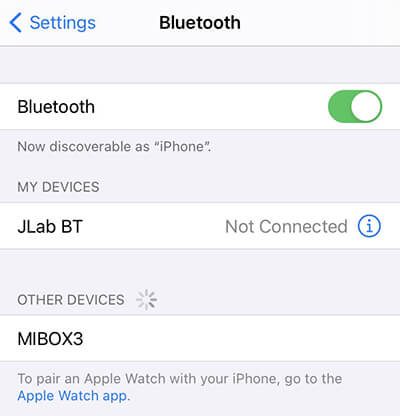 2

Use the Speaker Mode

Putting your phone into speaker mode will let you know if your phone speaker is broken or if you are having a software glitch issue. When you are in the middle of a call, press the speaker button.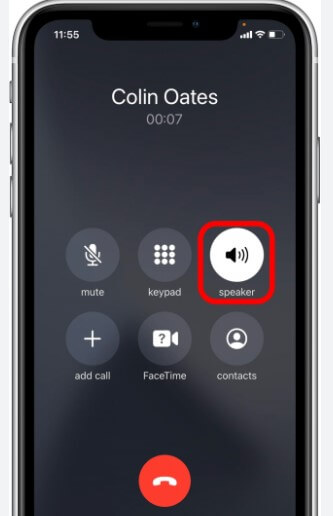 If your call gets louder, then the issue might be with your phone software. Look at our other steps to address any wrong settings. However, if your iPhone call volume low erros haven't been solved, then the iPhone call volume low issue has to do with your device's software or hardware.
3

Adjust Noise Cancellation Setting

The "Noise Cancellation" setting could make the iPhone call volume too low. For some people, this setting will help them hear better in noisy and crowded areas. Still, this setting could interfere with call volume. So, it might need some adjustment.

Go to the Settings icon on your iPhone's home screen.

Then you want to scroll down to Accessibility. (The Accessibility option is in the General tab for iOS older 13 version.)

Go to your Audio/Visual setting. Look for Phone Noise Cancellation, then you can adjust it by switching it on or off to see which situation could make your call volume louder.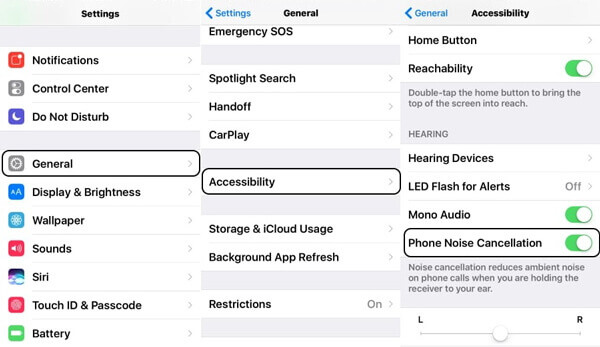 4

Check All Audio Routing Settings

You want to make sure that your sound is routed to your phone and not to another device, thus avoiding the iPhone call sound low.

Go to your Settings icon on your home screen, then click on Accessibility and Touch options.

Tap on Call Audio Routing. From here, you will click on the option that says Automatic. This way your audio is automatically routed to your phone and not any other device.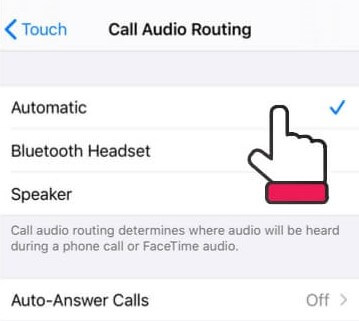 5

Turn on Hearing Aid Mode/Compatibility

This option could make your phone a little louder if the iPhone volume too low on calls. This is especially workable for the hearing impairment and other people who can't hear the person on the call.

Again, you are going to need to access your Settings on the home screen. Then go to Accessibility.

Turn on the Hearing Aid Mode/Compatibility. (Sometimes, this option can be seen the Hearing Devices tab.)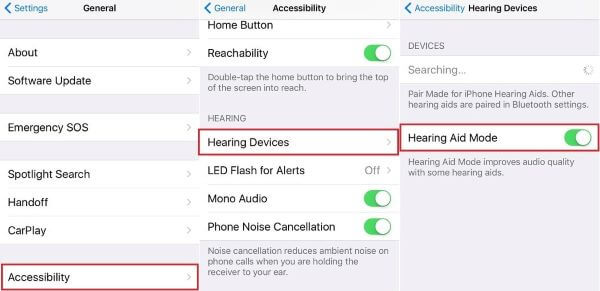 6

Check iPhone Audio Balance

This is also an alternative to fix your iPhone call volume low problem:

To check your iPhone audio balance, go into your phone Settings first. Next, click the Accessibility tab and Audio/Visual. Then look at the audio balance slider at the top. The slider should be adjusted so that the volume is located in the center.

Move the circle to the middle of the slider if it isn't already adjusted there. Then call someone and check if the call volume is working properly again.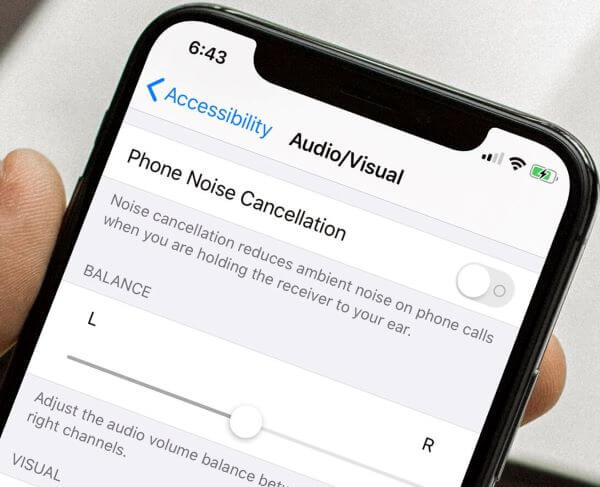 7

Disable Headphone Audio Limit

While you are using your headphones and you found the iPhone call sound low, go into the Settings and disable your Headphone Audio Limit.

In the Settings, go to Sounds and Haptics. Then click on Headphone Safety. From here, you can press the off button on the reduce loud sounds tab. This will take off the headphone audio limit.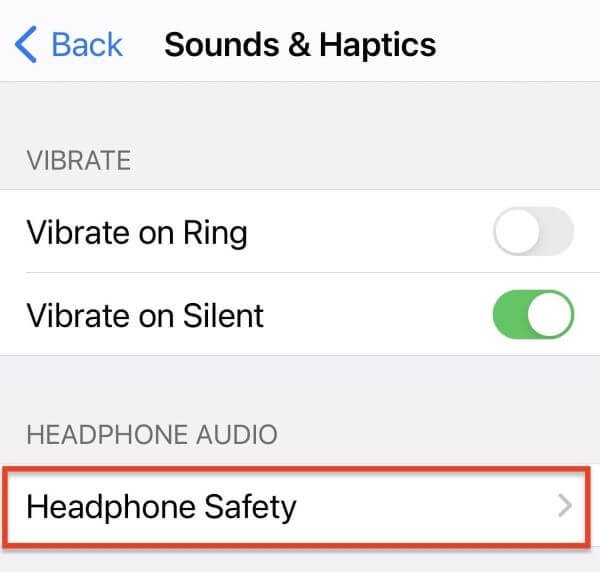 8

Clear the Receiver

Cleaning your phone receiver can also help with fixing the iPhone call volume low. You should get a clean cloth and gently wipe it over your phone receiver. Your receiver is at the top of your iPhone. Once it has been cleaned make a call and see if your phone volume is working properly.
9

Clean iPhone Speaker Slot

Call volume low on iPhone issue could simply be that your phone has accumulated a lot of dust and dirt which is clogging up your speaker slot. You can use something thin and sharp to dislodge any dirt or dust that is stuck in your speaker. This is a simple but effective way to increase call volume.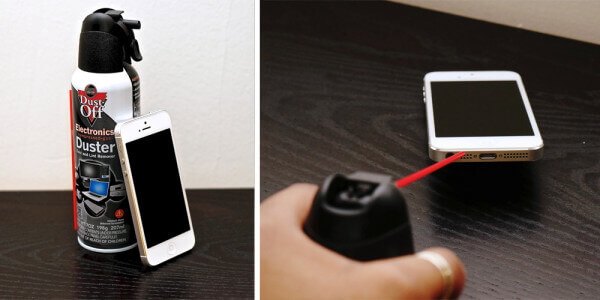 10

Reset All Settings

If your iPhone call volume low issue still exists after trying out all the options we listed above, then you should consider resetting your phone settings.

Go to your Settings first, then scroll down and click the General option.

Look for Reset (Transfer or Reset iPhone) tab and click it. Then tap on Reset All Settings. Your phone will restart but your device should work normally after you reset it.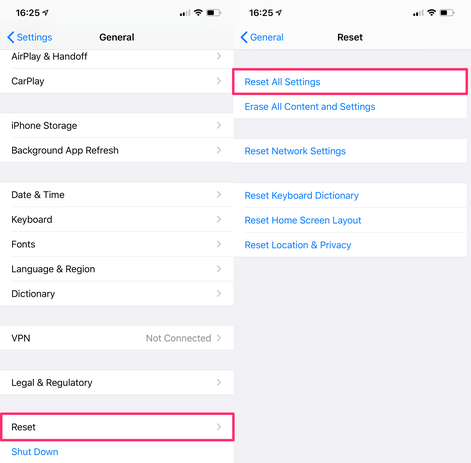 Conclusion
There are many ways to fix your iPhone call volume low issues. We went over the best these 11 practical solutions for this issue here throughout the post. Read over each way you can fix your iPhone speaker volume low during calls.
If you desire to fix your iPhone call volume low issue quickly, then we sincerely recommend you to use WooTechy iPhixer to resolve it with the 100% success rate. Aside from this iPhone issues, you also can use iPhixer to solve any kinds of iPhone software issues, which is a great helper for iPhone users.