Long-time Apple users have faced various device issues. So, wouldn't it be great if there was a tool that let you fix those problems from the comfort of your home? Among various iOS system recovery tools in the market, you may have heard of or used iToolab Fixgo.
Does it work? Well, in this article, we will fully review iToolab Fixgo. And we will also introduce a better alternative which has a higher success rate and a faster speed.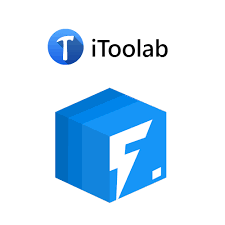 Part 1. What Is iToolab FixGo?
The iToolab Fixgo is a tool that fixes devices running on the iOS system. So, you can use it to solve various issues on your iPhone, iPod touch, iPad, and Apple Television. Such issues include frozen or black screens, progress bar updates, and similar problems.
This tool lets you solve common iOS problems without needing to leave your home. Most importantly, you will not suffer from data loss after the phone is fixed. Plus, you don't need any tech expertise to work with the software. In addition, it costs you way less than a typical iPhone service store.
iToolab Fixgo provides an all-in-one solution to various iPhone problems. Some of these issues are:
iOS device stuck on the update screen.

Enter or exit recovery mode when Apple device won't go into the mode.

Device freezes on the Apple Logo after an update.

Bricked device following an update.
Part 2. How To Use iToolab FixGo?
You can use iToolab Fixgo in either of the two modes it offers. These are the standard and advanced modes. And for most of the typical system issues, the standard mode works best. Plus, there isn't any data loss after you use it. So, all your photos, apps, and other personal files stay intact after you fix the device in standard mode.
Standard Mode
The first requirement for using the fixer is an iToolab Fixgo download. And you can do it for free. Afterward, launch the tool on your computer (PC or Mac). Then follow these steps for the standard mode:
Connect your Apple device to the computer. Select the tile Fix iOS System – Standard Mode. Click the Fix Now button.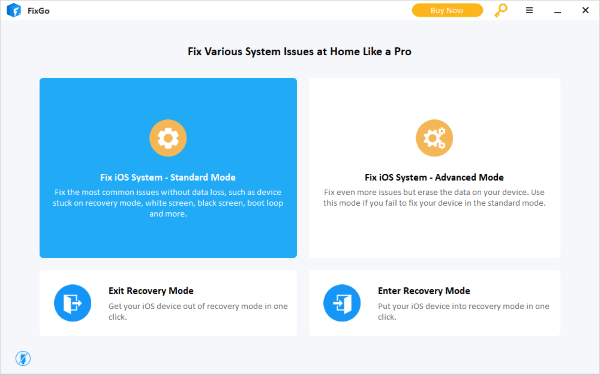 Put the device in recovery mode or DFU mode. A screen appears saying Download Firmware. Select Download if you haven't already downloaded it.
The subsequent screen confirms successful download. Click on the Fix Now button here.
These steps will complete the process and solve common issues (black or white screen, frozen in recovery mode, boot logo, etc.).
Advanced Mode
However, if the problem is unsolvable in Standard Mode, you must use the Advanced Mode. Here, the steps are precisely the same. However after connecting your device to the PC/Mac, you will select the Fix iOS System- Advanced Mode from the left instead of the standard mode.
Remember, the advanced mode will wipe away all the data from your device. So, before you use it, make sure you have backed up your data in cloud storage or on a computer.
Part 3. Is iToolab FixGo Free?
The iToolab Fixgo isn't free at all. Although the iToolab Fixgo download for windows doesn't cost anything, and you can enter or exit iPhone recovery mode free of charge, you have to buy its license when use the two modes to fix your Apple devices.
You can fix your issues in the standard or advanced mode. But when you reach the final steps, it will ask you to purchase the complete version.
The cost of itoolab fixgo is $29.95 if you choose the one-month plan. But, if you are on a one-year program, the price would be $39.95. And if you are satisfied with the tools after using these plans, purchase the lifetime package. That will cost you $49.95.
Part 4. Pros and Cons Of iToolab FixGo
iToolab FixGo is quite a valuable tool for iPhone users. So, when it is on your computer, you won't have to run to the service center for each minor issue that arises during your iOS experience.
Pros
The software is quite simple and easy to use. It has a pleasant interface that the user can navigate easily.

Can fix virtually all minor to moderate issues regarding iPhone.

There is a trial version with free enter and exit to recovery mode.

The paid plans are affordable.
Cons
Data loss in the advanced mode.

Maybe in one itoolab fixgo review or a few more, users also complain of data loss in standard mode.

It doesn't have an entrance to reset your Apple devices on its interface.

There are some users on forums reporting that it is useless.

Part 5. The Best Alternative To iToolab FixGo
Owing to the users' complaint online, you might need to find a better alternative to iToolab FixGo. Well in this case, we would like to recommend you WooTechy iPhixier. This powerful iOS system repair software offers all the perks of iToolab Fixgo and maybe even a little more.
You can solve all the iOS/iPadOS/tvOS issues you typically have with this tool. Similarly, there is no data loss. And it has a faster speed and a higher success rate in bringing your device back to normal.
iPhixer – The Must-Have iOS System Recovery Software
75.000.000+
Downloads
Fix all issues on your device such as stuck on/flashing Apple logo, boot loop, not turning on, all types of iOS update issues, and more without data loss.

Support all Apple devices like iPhone/iPad/iPod touch/Apple TV and compatible with all iOS/iPadOS versions including the latest iOS 16.

It can also be used to downgrade iOS 16 beta to iOS 15 with its Advanced Mode through several clicks.

Has other functions, for example, reset your iPhone/iPad/iPod with or without password, freely enter/exit recovery mode in 1 click.

Without using iTunes, iPhixer can update and restore your devices without incurring unknown errors, so it is 100% secure and also won't invade your privacy.
Like iToolab FixGo, you won't need any particular expertise to use this tool to repair your device. As a matter of fact, the steps to solving your issues are much more straightforward than iToolab.
Step 1 Download WooTechy iPhixier for free. Afterward, install it on your Win or Mac computers and launch it. Select the Standard Mode. Then, click Next.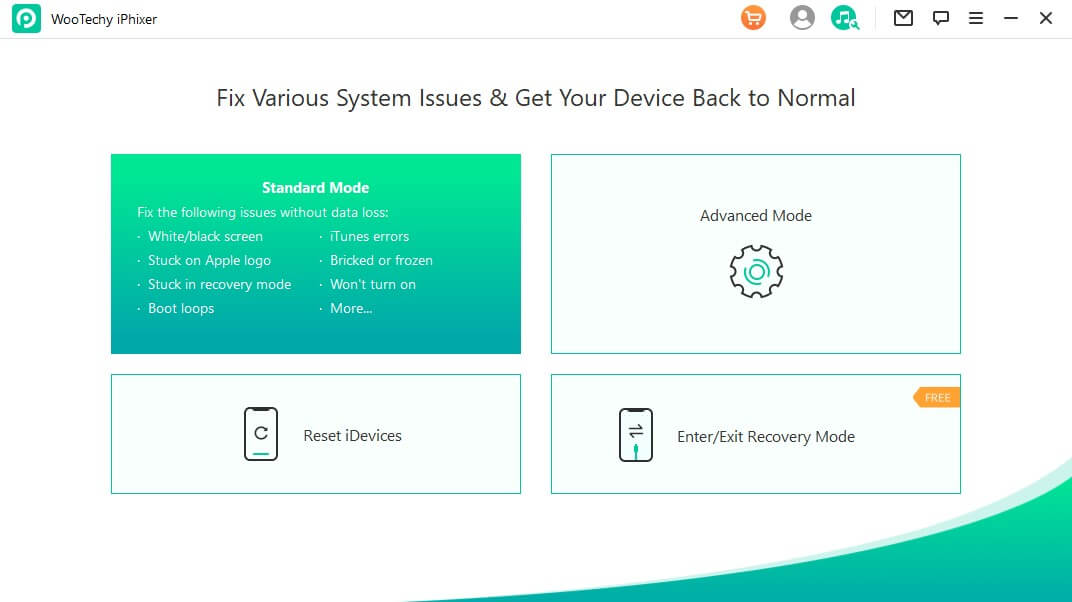 Step 2 Connect your iOS device to the computer with a USB cord and unlock it. If there is wrong with your device, you may need to put the device in recovery/DFU mode.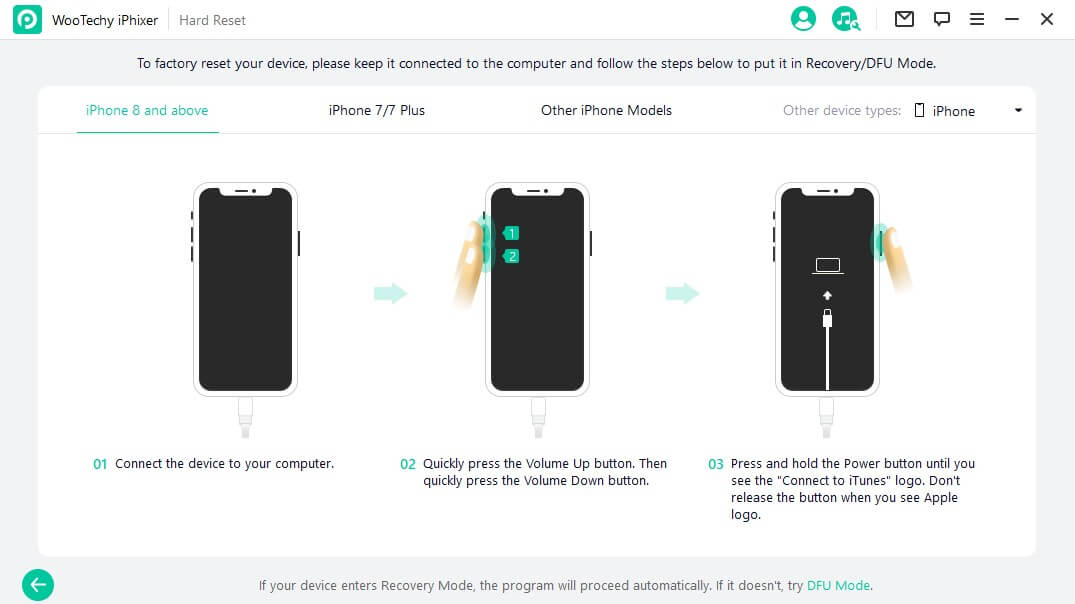 Step 3 The next screen will ask you to download the firmware. So, click on the Download button on that screen. After that, the iPhixier will verify and subsequently extract the suitable firmware for your device.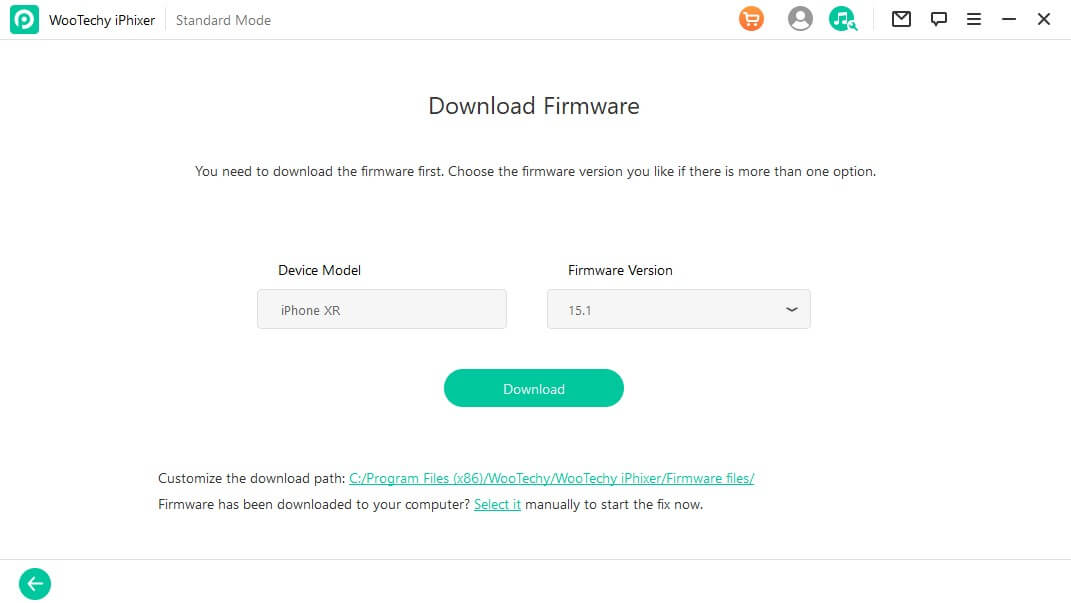 Step 4 Hit the Start button to begin repairing the issue. Once done, your device will restart automatically without any issues.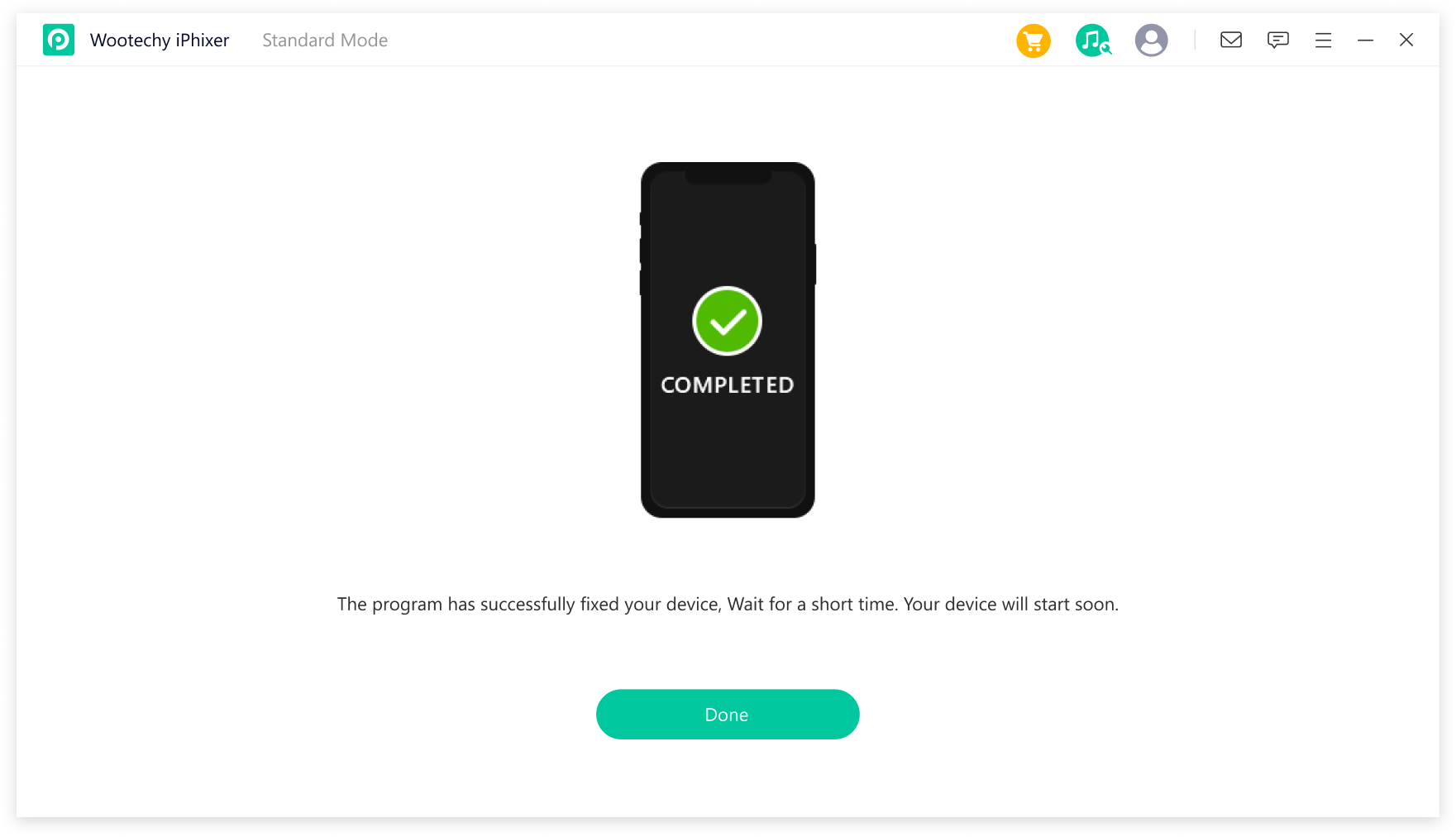 Comparison Between iToolab FixGo And WooTechy iPhixier
| Features | iToolab FixGo | WooTechy iPhixier |
| --- | --- | --- |
| Data Loss | No data loss in standard mode | No data loss |
| Usability | For a percentage of users, the steps might be too elaborate. | The steps are easy for most users. |
| Performance | Can solve problems the majority of the time, but not always. | It has a hundred percent success rate at fixing all iOS problems. |
| Speed | Moderate | Very quickly |
| Efficiency | Firmware downloading can fail at times. | No errors and failure. |
Conclusion
iToolab FixGo is one of the best iPhone fixers in the market. It lets you solve all the standard iOS issues at a reasonable price from the comfort of your home. However, if it doesn't suit you, switch to the better alternative WooTechy iPhixier, which has everything you need while enjoying the highest success rate and the fastest speed.